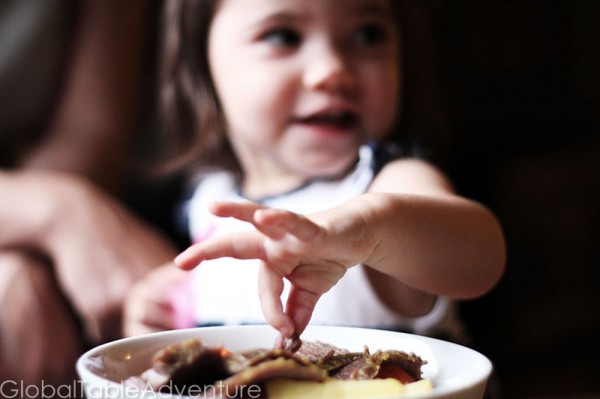 "He who plants a coconut tree, plants food and drink, vessels and clothing, a habitation for himself and a heritage for his children." – South Seas Proverb
I love this quotation. Not only does it show the importance of the coconut in the region, but it also shows a deep regard for one's family and the future. Of course, it also makes me think of sweet Miss Ava. If there were a tree I could plant that would afford Ava all of these same luxuries my hands would be blistered from the effort of digging 500 trees. For now, I'll have to continue passing on the heritage of our world's countries, one by one.
Fijian Curried Corned Beef & Veggies [Recipe]
A hearty pot filled to the brim with potatoes, carrots, onion and corned beef. Oh, and a healthy dose of curry powder, too. Fijians love canned corned beef, but in honor of St. Patty's Day I went all out and bought a fresh piece of corned beef. 
Homemade curry powder [Recipe]
Golden, fragrant and mildy spicy – this is a great all-purpose curry powder recipe. 
Fijian Coconut Ceviche (Kokoda) [Recipe]
Raw mahi-mahi "cooks" in lime juice and is served in a mixture of creamy coconut milk, tomatoes, and peppers. Use the freshest fish you can get your hands on. If you like things spicy, use jalepenos. Serve with lettuce. 
Polynesian Bananas in sweet coconut milk [Recipe]
Small, red bananas take a quick dip in simmering, sweet coconut milk. Simple, decadent treat after a heavy meal.
As usual, all recipes and meal review will be posted by Monday morning. The Corned beef recipe will be up tonight, in time for St. Patty's Day!