This week we had a friend join us for our Global Table dinner.
While this doesn't seem like a big deal, I assure you – it is.  You see, we aren't really doing dinner parties any more. I could list all 97.5 reasons but I'd rather highlight the two most important reasons.
1. I don't like to vacuum. It makes Ava (and my back) cry.
2. We cook during Ava's nap. This means we're subject to the whims of a 16 month old. Whether she sleeps 45 minutes or 3 hours, can make or break our… sanity… not to mention our eating schedule. If we even get to finish cooking!
But. This week. We mixed things up. We took a risk. We had a friend over.
Well, as you know, our kitchen is torn to shreds – the cabinets are being painted and new counters recently went in. Our glassware is on the TV armoire and liquor bottles are strewn about my sofa table. Some days it feels like I am living in a frat house. The entire situation feels extraterrestrial.
Yes, extraterrestrial.
Anyway, my friend Tina and her husband have been helping us with the kitchen.
The beauty of it all?
She knows the house is trashed. She's aware of the strewn about bottles and glassware. In fact, she's been wading in the general insanity of sawdust and newspaper littering my floors … for… for… weeks.
She knows.
And that's why I invited her over.
Now. Let me tell you a big secret.
I took immense pleasure in not tidying up before her arrival.
I've never been more free.
Everyone should have a friend they don't need to clean up for.
And Ava? She was completely smitten by Tina's presence. Just take a look at Ava's Corner (the video on the bottom of this post).
Avocado Boats filled with Shrimp Salad (Avocat Crevette) [Recipe]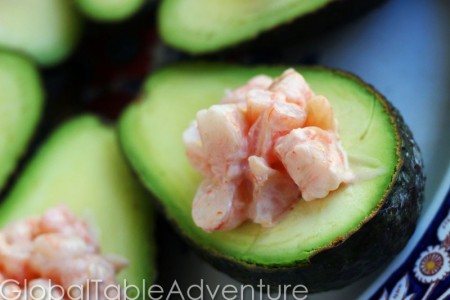 What I like most about this dish:
This dish is beyond easy. I'm pretty sure that, if I left Ava alone in the kitchen with the ingredients (already chopped up of course), I could come back five or ten minutes later and she would have a platter filled with lovely avocado boats. It is that easy.
What I like least about this dish:
I initially hated the idea of using ketchup and mayo but the flavor was light – it was really just enough to bind the shrimp together and moisten them. If you're in a hurry, I suppose you could use any shrimp or crab salad – pick your favorite and pile it high on the gorgeous green avocados. But, for less money and almost no effort you can make your own, which'll probably taste better.
Smoked Turkey with Egusi Sauce (Ground Melon or Pumpkin Seeds) [Recipe]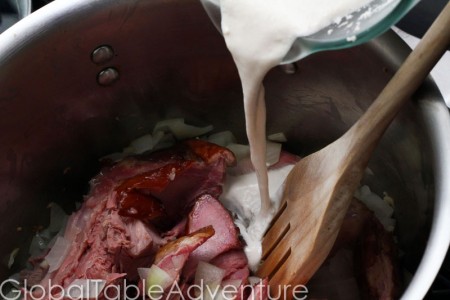 What I like most about this dish:
This dish is a real winner. Not only did I get to try something I'd never had before (ground melon seed sauce), but with a much loved Oklahoman ingredient – smoked turkey. The combination and flavor was incredible, especially given how quickly it comes together.
What I like least about this dish:
Turkey always seems a little bit bitter to me. Thankfully, smoking dulls most of that out. As for the sauce, do be sure to puree completely or you'll have a regretfully curdled looking sauce (although a bit of white speckling is normal).
Fat Rice (Riz au Gras) [Recipe]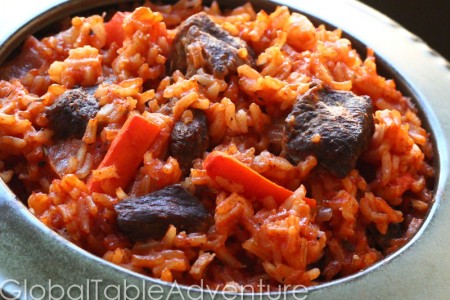 What I like most about this dish:
Riz au Gras wasn't at all what I expected. In the best of ways. This is straightforward comfort food – with tantalizing spiciness. (Mr. Picky even commented on how spicy it was – whoops. Does this mean I'm growing immune to spicy food? The prospect is incredible.). The tomato and oregano give the dish a faint Italian taste, while the seared beef and rice make it … well.. not very Italian.
What I like least about this dish:
I'd like to play around with adding different veggies in here. I think peas would be a logical addition. Yum!
Fruit Salad Côte d'Ivoire [Recipe]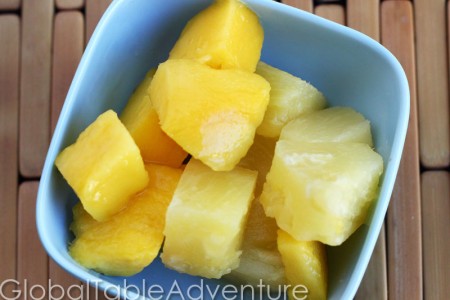 What I like most about this dish:
Fruit salad is always delicious. Especially when served cool but not cold. After all, it is hard to taste the sweetness when the fruit is cold.
What I like least about this dish:
Since this fruit salad is a snap to make, the dish relies completely on the quality of your fruit. And, unfortunately, November is most decidedly not mango and pineapple season in Tulsa, Oklahoma. I'll be in mourning until next year.
Ava's Corner