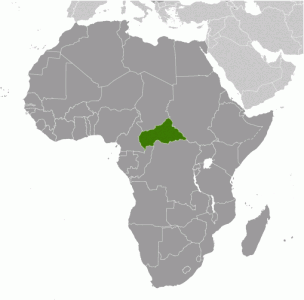 The dusty, rolling plains of Central African Republic (CAR) lead to fertile river beds in the south, and sandy desert in the northeast.
Many people live on stewed greens, cooking whatever is available, including cassava (recipe), spinach, or kale. Groundnut butter (a.k.a. peanut butter) is used to add flavor and protein to food when meat is unavailable. Most often, greens are served with rice or foutou – a pasty mash of plantain or cassava.
Groundnut butter is also used to add flavor to local desserts. Sometimes the creamy spread is cooked into sweetened rice for a particularly addictive treat which looks like tan rice pudding (recipe).
Egusi, or melon seed, is particularly popular in Central African Republic. When finely ground, combined with hot chili peppers, tomato, and onion, the seed makes a thick sauce (recipe) to add interest to plantains, yams, rice, fish or grilled meat.