NOTE: A WINNER was selected by random.org! Yay! See who was selected.
No, we aren't giving away Linda Bladholm herself. We're doing the next best thing.
This week, during our Canadian Global Table Adventure, we're giving away two of Linda's books. Canada is indeed a melting pot of Asian, Indian and other cultures – so it is appropriate that we give away The Asian Grocery Store Demystified today and The Indian Grocery Store Demystified Friday.
And, if you're following our Adventure, these books will certainly help you cook along with us and eat your way around the world! 🙂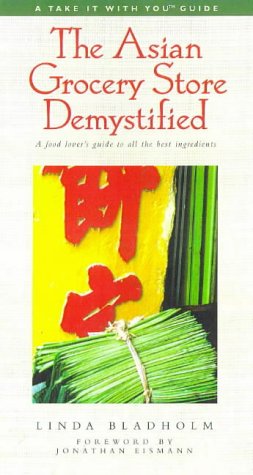 Before I even opened this book, I fell in love.
Linda made this book the perfect size to tuck away in a purse (or man purse) for impromptu stops at Asian Grocery Stores. Genius!
And, yes, in case you're wondering… in this case, you can tell a book by its cover – the insides are just as great.
A little about The Asian Grocery Store Demystified:
While the ingredients are readily available in more than 5,000 Asian markets dotting America's landscape, many potential cooks give up in confusion because they can't figure out what all the items cramming crowded shelves are or can't understand how to use them. If you are one of these people, I have designed this book to meet your needs by anticipating questions and explaining what you will find, what it will look like, taste like, and be used for. I want to share with you what I learned living in many Asian countries.

L. Bladholm
Ever wonder what a Two-Horned Water-Caltrop was? Linda tells you all about this shiny black water root that looks like a twin-horned rhine beetle and tastes like a water chesnut. Phew! Who knew? She also tells you how to cook and store it. You'll find the listing in the "Vegetables" chapter.
In 234 pages, Linda fits in a total of twenty "one topic" chapters such as Rice, Canned Goods, Sweets and Teas. This focused approach really helps the reader thumb through the book, quickly putting their finger on what they are looking for (or at!).  As a bonus, the epilogue includes some cooking techniques and recipes.
This is your own personal tour guide of a typical Asian grocery store. Pretty handy, even if you only go to the Asian market once in a blue moon.
How to Enter to win:
Logon to our Facebook fan page and answer the question of the day. Contest ends at midnight (CMT) 9/1/10. Must be a fan to enter. One response will be chosen at random as the sole winner.  The winner will be announced on Facebook and must contact me with shipping information to claim the prize.
Have fun and thank you for reading!
PS. Please also check out Linda's new blog Food India Cook!