Although there are many recipes in Cambodia with epically long ingredient lists, I chose a collection of unusual dishes with refreshingly short ingredient lists. Did I mention I have a 13-month old?
This Global Table Adventure, I'm most looking forward to trying the Cambodian Grilled Eggs – mostly because I am tickled by the idea of grilling a whole (yet seasoned) egg! Confused? Don't worry. It will all be clear come Monday, when I post photos, recipes, and Ava's video review. Special thanks to Karen Coates –  accomplished journalist, traveler, and one of my favorite bloggers – who was kind enough to hunt down a Khmer friend for an authentic recipe for me to adapt. It's going to be mmm, mmm, good!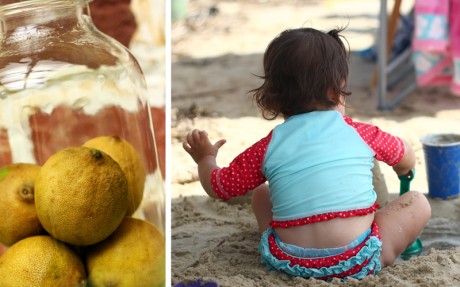 Grilled Corn with Coconut Milk [Recipe]
Sweet corn basted in coconut milk and grilled until tender.
Cambodian Grilled Eggs [Recipe]
Egg mixed with fish sauce, sugar, and pepper, then poured back into the shell and grilled.
Chicken and Pickled Lime Soup [Recipe]
A light broth made with chicken, sour pickled lime, green onion, and fresh garlic.
Pickled Cambodian Limes [Recipe]
Limes, dried in the hot summer sun, are then pickled in salted water.
Tip: Slice and serve in sugar and soda water for a sweet and salty drink.