One day of 100+ degree weather is bad enough. My thermostat showed 105 twice in the last three days. Heck, it was 100F before noon yesterday! This is a summer heat blizzard of epic proportions. The worst part? You can't shovel it away.
In light of our heat wave, I put together a Burkinabe menu that can be made without much indoor heat. The kabobs are perfect for the grill, the Kan Kan Kan requires no cooking (hurrah), and the hibiscus tea is steeped in a bit of boiling water and then chilled with ice. The only exception is Babenda, which gets cooked on the stovetop, but this dish was simply too interesting to pass up. Come to think of it, if you have a burner on your grill, you can probably make the Babenda outside, too. Wonderful!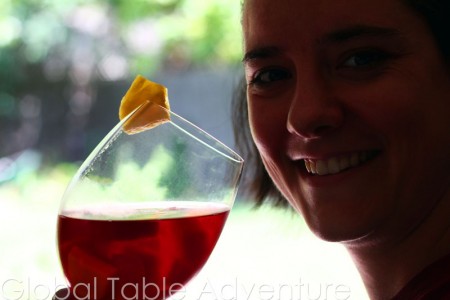 Spiced Lamb Kabobs (Broasheht) [Recipe]
Lamb marinated in a tangy spice rub made with cinnamon, paprika, cayenne pepper, and vinegar.
Spiced Peanut Powder (Kan Kan Kan) [Recipe]
Sprinkle this alleged aphrodisiac over any grilled meat. Made with peanut powder, maggi cubes (powdered stock), chili powder, and allspice.
Spinach and Rice with fermented Locust Beans (Babenda) [Recipe]
This funky spinach dish gets its unusual flavor from soumbala and smoked anchovies. Try it with any bitter green for a healthy meal.
Iced Hibiscus Drink with Fresh Pineapple (Bissap a la Bonne Dame) [Recipe]
Vivid pink hibiscus and sunshine yellow pineapple combine forces to make a tasty and refreshing drink.
Special thanks to Jeanette M., a Global Table Adventurer who helped me immensely with this menu, sending recipes and ideas via facebook. She even roped in her niece who lives in the area! What a small world we live in. Thank you! 🙂