With a few simple steps, our Botswana Global Table Adventure transformed minimal ingredients into a tasty feast. Although I struggled to get Keith to eat the spinach (spoiler: I won), the general consensus was that this was a great meal, worthy of any weeknight menu.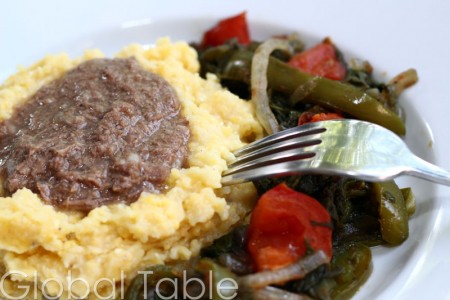 Stewed Beef (Seswaa) [Recipe]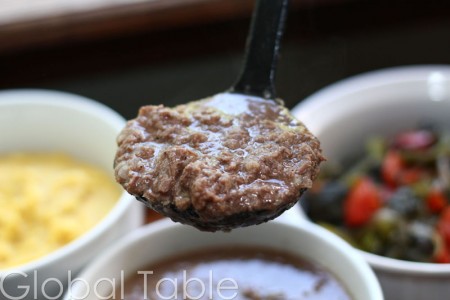 What I liked most about this dish:
I made Seswaa with a beautiful, fatty piece of chuck. As the marbling broke down, the stew's flavor grew deeper and richer. I was amazed at how much meaty deliciousness came through this simple dish. I found myself smacking my lips and wanting more. Looking around, seemed like the family was in agreement. Since making Seswaa, I've been dreaming of ladling the meaty gravy over freshly baked biscuits. Oh man, that would be good.
What I liked least about this dish:
I know Seswaa isn't much to look at, but the stew is just so tasty. Since there are few ingredients, Seswaa's flavor depends on the cut of meat you get. Ideally, choose a fresh piece of well-marbled meat. Think of those flowing white lines as rivers of flavor! Just be sure to skim the top of the meat every twenty minutes or so, to reduce the "greasiness."
Also, while I used an immersion blender to quickly break apart some of this meat, you can also mash it with a mallet or by hand (a more traditional way to go). An immersion blender breaks up this meat into tiny pieces, really quickly. While the flavor is still wonderful, you might prefer to hold back a little power to make a chunkier blend.
Stewed Spinach Greens [Recipe]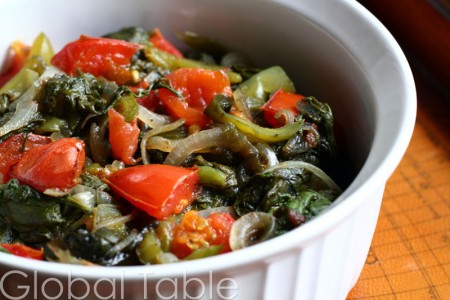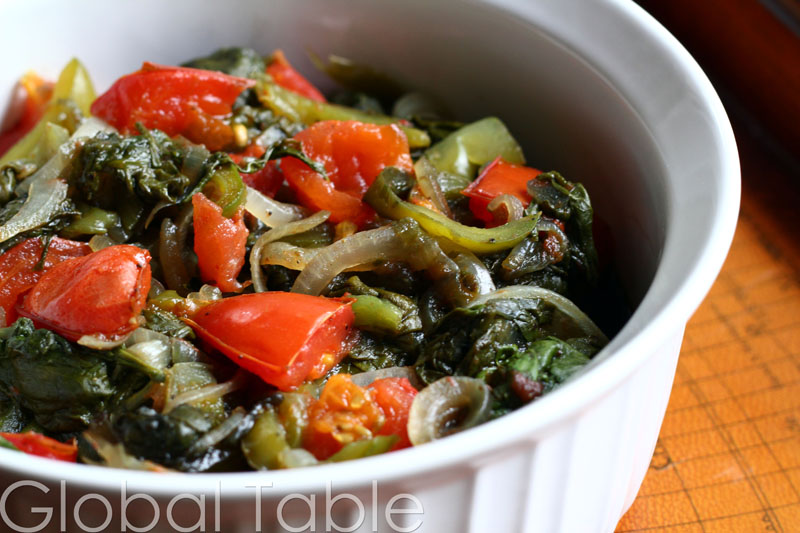 What I liked most about this dish:
As the baby spinach, onion, pepper, and tomato wilt down, their juices release and mingle. The result hits a spinach lover's sweet spot – slightly bitter greens sweetened by softened onion and pepper, and brightened by a shot of mildly acidic tomato. With minimal fussing required, this is a perfect week-night vegetarian side dish. We'll definitely be making these greens again, much to Keith's disappointment (see below).
What I liked least about this dish:
While I enjoyed these Stewed Spinach Greens, my husband put up a big, fat, pathetic fight. I had to pull the "our baby is watching you" card. I had no other recourse. He just kept muttering "slimy" and "bitter" over and over again, while whimpering. He's obviously not a spinach lover… Ava watched the entire show he put on while munching away on her spinach. The look on her face was something between "Papa, what's the big deal?" and "I love you!" She's such a sweet girl. The peer pressure broke him down and he ate his whole serving. We're very proud.
Cornmeal Pap [Recipe]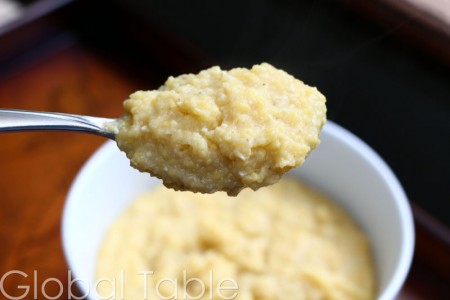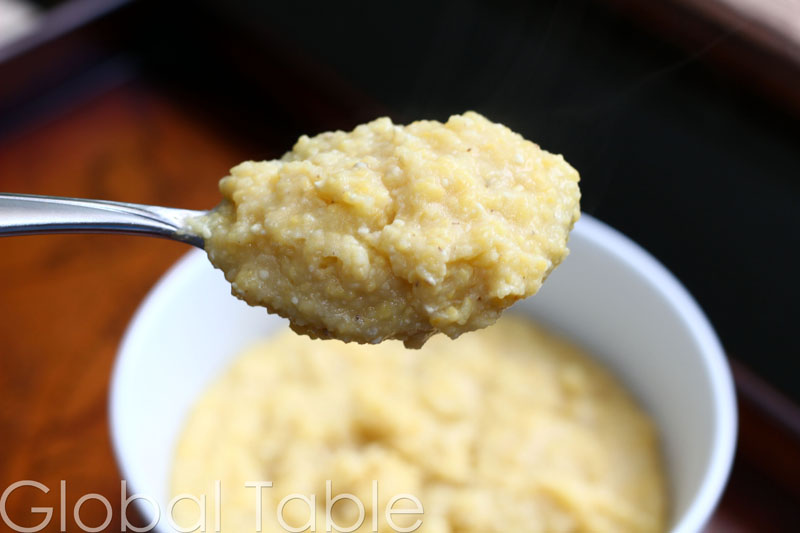 What I liked most about this dish:
Cornmeal Pap is a fun way to break up the uninspired routine of rice, pasta, or potato that usually goes on in our house. Pap is filling and comforting, if a little plain. Really more of the supporting element of your meal, most of the flavor will come from whatever stew you put with the cornmeal mixture.
What I liked least about this dish:
I knew this dish would be plain, so that did not bother me very much. However, I did not realize the softened porridge texture would quickly set up into a firm, almost sliceable polenta… In the 30 minutes we spent snapping our photos for the blog, things were getting rather stiff in the pap bowl. Just be sure to serve the dish hot from the pot and you'll be fine.
Rooibos Tea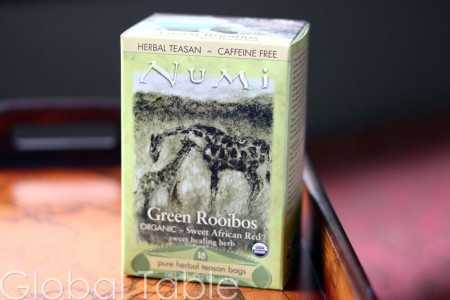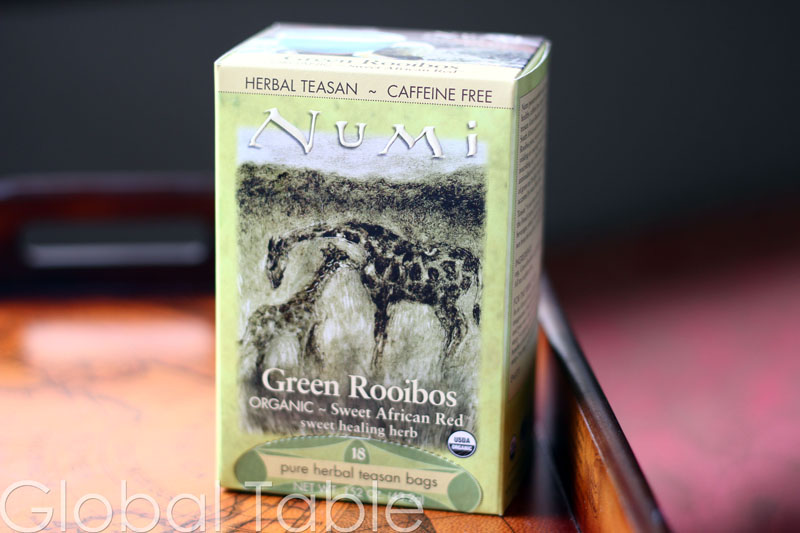 About this drink:
Another delicious decaffeinated tea to add to my arsenal (nursing Ava means I try to drink as little caffeine as possible). There are two kinds of Rooibos – green and red. I tried the green and enjoyed the slightly smoky, grassy undertones. The drink begs for a little lemon and honey (this is the traditional way to drink it). I also tried it with milk (I have a tough time not putting milk in my tea or coffee) and found this to be fine too.
Ava's Corner
Ava's Botswana review: "It's all good!"
Don't ask me how I know… I'm her mamma! 😉