World Food Day seems like a strange day to have a party:
This isn't one of those holiday-non-holidays, like Moment of Frustration Day (October 12) or Punk for a Day Day (October 25). World Food Day is a day of action every October 16, when people all over the world make a commitment to eradicate hunger.
So why have a dinner party when so many are hungry?
Because you're probably going to have a dinner party sometime soon anyway.
Why not make it a meal with a cause?
This World Food Day make your table larger by donating the cost of your meal to help make the world hunger free. A World Food Day dinner party is a great way to sample new foods while raising awareness & funds for those most in need around the globe. This year I partnered with HungerFree, an initiative of World Vision, to do something really special – and you're invited.
Imagine if we could fit the whole world around a single table?
We can start by making room in our hearts.

Here's how it works:
1. Host a dinner party with your loved ones in honor of World Food Day.
2. Make your table larger by donating the cost of your meal through HungerFree's
interactive portal
.
3. Share your plans & event photos on social media to help spread the #HungerFree movement.
Boom.
HungerFree is a new initiative by World Vision to unlock the full potential of young people to break the cycle of poverty and free communities around the world from hunger once and for all. By simply 'doubling-up' the cost of your meal, you will help grow their work with young people around the world.
5 Tips for hosting the Perfect World Food Day Dinner Party
1.  Create a themed menu
Whether it's a potluck or you're flying solo, dinner parties are more fun when they have a theme. World Food Day is an ideal time to highlight food systems that help developing areas become self-sustaining. Here are a few thematic opportunities for on-point (but not overbearing) education:
2. Map it
Use maps to connect your World Food Day dinner party to the communities you're learning about. Easy solutions include hanging a map in your dining room or placing a globe on your tablecloth/picnic blanket. Kids of all ages will love the challenge of finding countries or calculating distances between their home and the featured community. You can also compare a modern map to one from antiquity and discuss how the mapmaker's perspective and context changes how parts of the world are represented.
3. Tune in
Add ambiance by playing world music during your dinner party. Radiooooo is an amazing resource: Just click on a country and it will play music from that country. You can narrow by decade, too! They have an app if you prefer to stream music from your cellphone.
Speaking of cellphones, encourage your guests to tuck them far, far away. Tell them there's no international phone plan for this dinner party. Without the dings and beeps and glowing screens, everyone will have an easier time tuning into each other.
4. Plan ahead
Clean early in the week and decorate/set the table the night before. When you're scrambling at the last minute with food prep and the doorbell rings, you'll be glad to look up and see the table ready to go. If your dinner party will be outside you can still gather all needed items into a box or basket. Place it near the back door for easy setup. Don't forget condiments and serving spoons.
You can also do a drink inventory the day before. Place any drinks that are meant to be enjoyed cold into the fridge. This is also a great time to make that gallon of ice tea (Vanilla Ginger Bissap, anyone?).
5. Smile
As host or hostess, you set the tone for your party. Take a cue from Julia Child: smile through your successes and your failures. If you keep a sense of humor, your guests will be more at ease should any mishaps (or debates) arise.
Oh, and there's one more reason to smile: a World Food Day photo opp. Take a group picture, then share the photo on social media to help spread the movement. I'll be tagging my photos #HungerFree #WorldFoodDay #GlobalTableAdventure – I invite you to join me as we build momentum for a well-fed world. Here's a snapshot of all the people participating as of early October: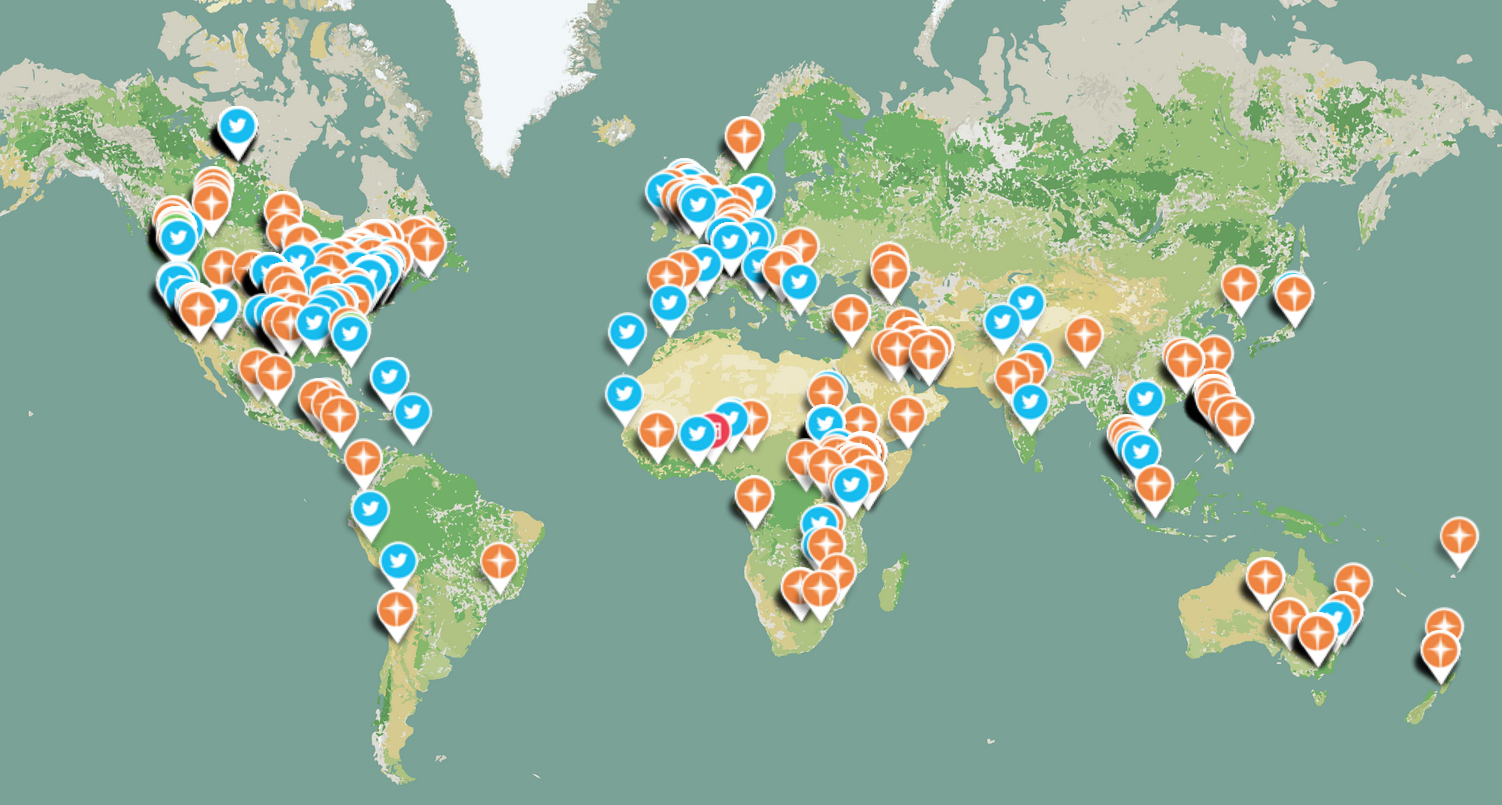 P.S. After all that effort, don't forget to donate the cost of your meal on HungerFree.org. When we share our abundance, the world smiles.
Thank you for your giving heart.
Will you host a World Food Day dinner party? What will you make? Will it be for your family or for a crowd of friends? Feel free to brainstorm below!