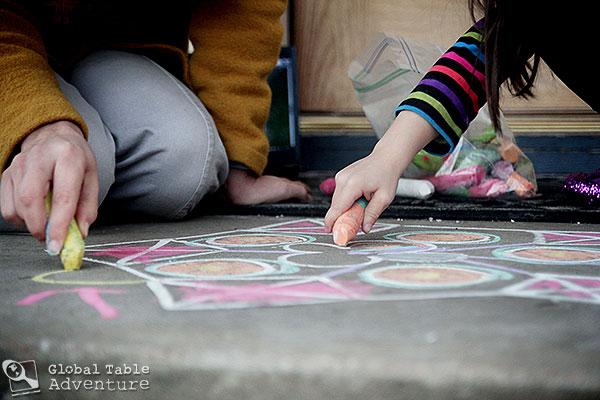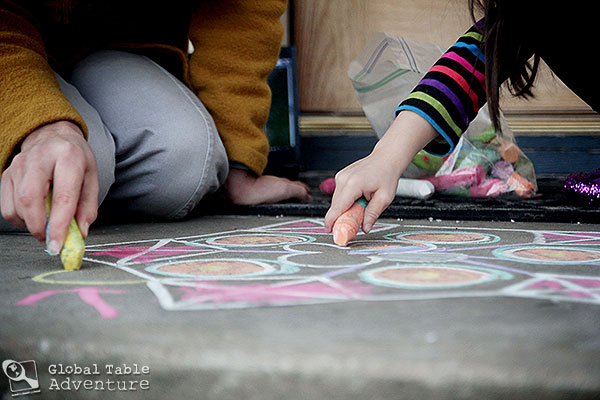 You know that old saying, "It's 5 o'clock somewhere"? Well the same can be said of springtime. Even while ice and and snow pummel the northern hemisphere and hot days sizzle in the southern, there are plenty of people celebrating springtime in India and other South Asian countries… Yes, in January. After the wild hair seventy degree day we had a couple of days ago, Ava and I were ready to say goodbye to winter, too.
So how do we get there?
This January 14 marks Makar Sankranti, the Hindu Harvest Festival.
While Makar Sankranti is intended to celebrate the winter solstice and last year's good harvest,  it also celebrates the arrival of spring. This is one of those "looking forward" to warmth, while looking back with appreciation.
To Hindus, the Sun stands for knowledge, spiritual light and wisdom. Makara Sankranti signifies that we should turn away from the darkness of delusion in which we live, and begin to enjoy a new life with bright light within us to shine brighter and brighter. We should gradually begin to grow in purity, wisdom and knowledge even as the Sun does from the Day of Makara Sankranti. (source)
The celebration is on January 14 because the days are (finally!) getting longer – the perfect time to celebrate light.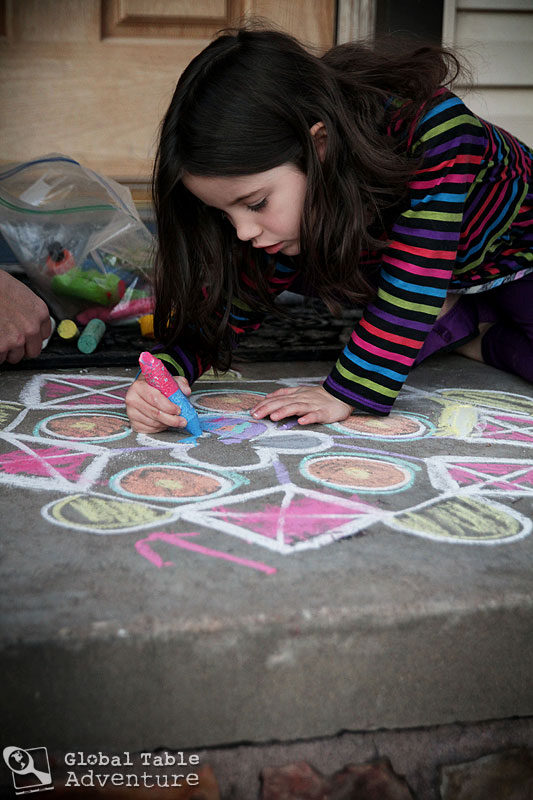 Every region has their own unique ways of celebrating – some even spread this BIG festival over as many as four days (each day broken down into own smaller, named festivals). Either way, the key is to celebrate!
Here are a five quick ways you and your family can help bring in the spring with the spirit of Makar Sankranti:
1. Bag it
Sugar cane is an important crop in Southern India, from which most sweet things come. Desserts such as "tilgul" (above) are made with sesame seeds in a caramelized cardamom spice mixture. Here's a nice recipe. Or, if you're in a hurry try this microwave recipe (for those who still have one!). When you're done, simply fill small bags with the goody.
Give the bag to a loved one while saying, "Eat this sweet sesame and speak sweetly to me."
2. Go fly a kite
And when I say "Go fly I kite," I mean it in the happy-go-lucky way Mary Poppins did. Up to the highest height. The children above certainly know what I mean – they climbed a rooftop!
3.  Burn it
Build a bonfire and throw rice and sugar cane into the flames. Or toss your old, worn clothes on there… or any old junk that will hold you back from a spring-filled life, full of brightness.
4. Chalk it
This is the tradition Ava and I decided to try.
The idea is to welcome the dawn of spring with  chalk art in front of your home. Traditionally the "chalk" would be made of a paste from last year's rice grains. In the morning, the sunlight falls on the drawings – a harbinger of good things.
Colorful flowers, birds, leaves and other shapes can be linked to make intricate patterns.
On the morning of Makar Sankranti the whole neighborhood glows brightly with the designs.
5. Flower petal art
For the overachievers in the bunch (you know who you are), add colorful flower petals in the chalk outlines. Pumpkin flowers make for an amazing, golden, sun-filled sight!
So that's what I'm thinking about, even as I scramble to finish up my memoir over the next couple of months: spring, spring, spring.
May we all grow in lightness and joy.
Peace.
And happy Sankranti Muggu.
P.S. Don't let perfection be the enemy of the good! Just get out there and have fun… while you draw, talk about bringing light and love into the home and heart. A kite is a good quick fix, too – if you have one!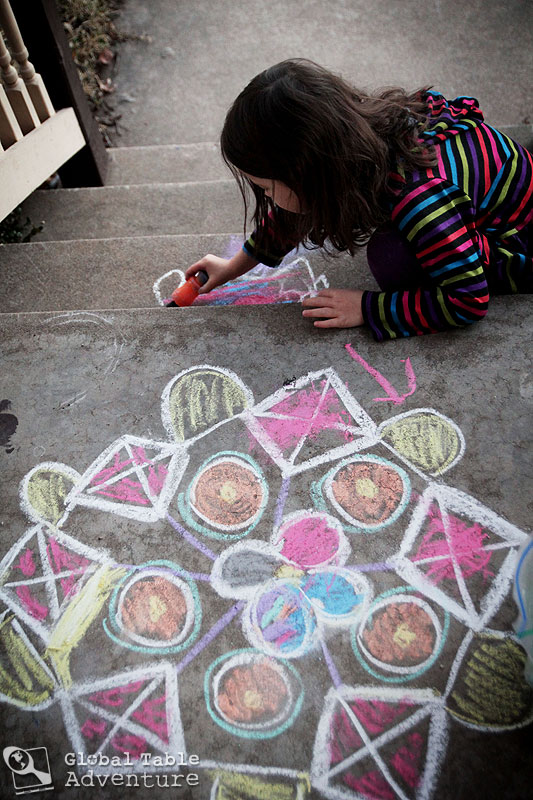 P.P.S. I'd love to hear how you plan to celebrate the arrival of spring…
What's that? It's too soon? Well, let me know why. Is it the skiing? The shoveling? What about those icy cold fingers?
😉