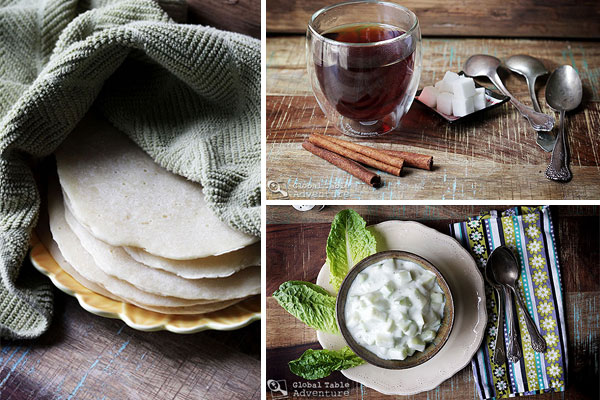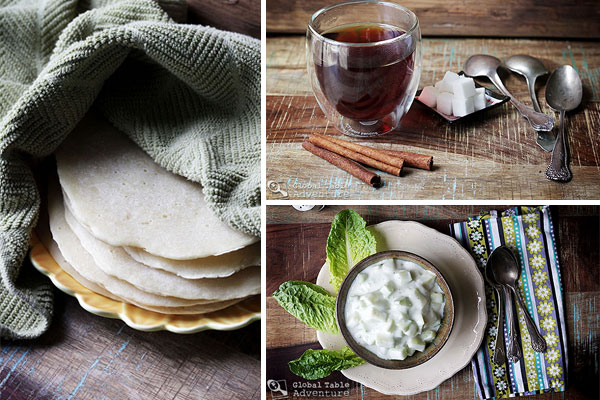 "Better a meal of vegetables where there is love than a fatted ox where there is hatred."
Sudanese Proverb
I'm taking this proverb to heart. This week happens to be a simple week. We're breathing easy with vegetables, grain, and tea. We're making room for love in a busy, busy time.  The end result? This is a quick menu, something that can be made on a weeknight… without stress or strain.
Thankfully, North Sudan accommodated us easily (and I felt guilt-free about going so simple since we've made so many of her other favorite recipes during other Global Tables (for a list of them see our post from yesterday… you can click through to the recipes and try them whenever you like).
All recipes and the meal review will be available throughout the week.
Cucumber Salad | Salatet Zabady bil Ajur [Recipe]
An easy, refreshing blend of cucumber, yogurt, and crushed garlic.
Goraasa [Recipe]
Soft, doughy flatbread leaved with baking powder.  (vegan)
Cinnamon Tea [Recipe]
Find out why the Tea Ladies of Sudan call this their best-seller.
P.S. I'm curious.. Do you agree? Would you rather eat a simple meal in good company or eat a feast in bad company? And, on a similar note, would you rather add the stress of creating a feast to your days? Or would you rather relax into something simple, making your life easier? Why or why not?