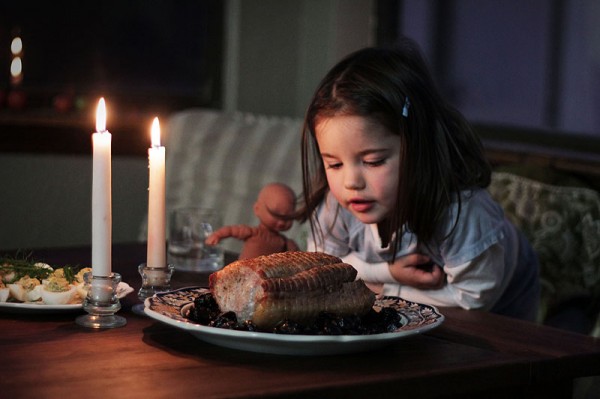 The other day we took Ava on a hike in the woods and pretended we were exploring Lithuania. We brought a backpack to carry her when she got tired, which I expected to be about three minutes down the trail considering she's only 2 1/2. Fortyfive minutes later she was still happily scrambling over the trails.
That day, Ava walked more than a mile; clearly I've been underestimating her tiny baby legs. Now she gets to walk a lot – I let her walk the half mile to the library, school and grocery store. She loves it, singing and running almost the entire way!
But there's a wicked side effect…
After every walk she comes down with the hungriest hunger.
This week, our Lithuanian menu is partially a solution for this, the appetite of an insatiable toddler. I'd say, given their beautiful forests, they have some experience with hungry hikers like Ava.
Lithuanian-inspired Deviled Eggs with Mushrooms [Recipe] 
I know, I know. But this kid loves her eggs. And her mushrooms. When I read that Lithuanians do, too, well.. I knew I had to make these.
Rosemary Pork Roast with Boozy Prunes [Recipe] 
Hello, cozy afternoon with white wine infused sweet prunes and rosemary garlic pork roast. You are the dreamiest way to stovetop travel. And possibly the easiest. And Ava loves you.
Roast Beet Slaw with Spicy Horseradish [Recipe] 
Don't be fooled by this pretty-in-pink concoction; she's spicy. Lithuanians use this salad both as a slaw and a condiment – enjoy it with fish, meat, or just because.
Homemade Lithuanian Honey Spirits (Krupnikas) [Recipe] 
Winter will never feel too long when you have this drink in hand. And, please forgive me in advance. I'm going to ask you to make this very, very soon… for next year's holiday gifts. (Does tomorrow work for you?)
*All recipes and the meal review will be posted by Monday morning.