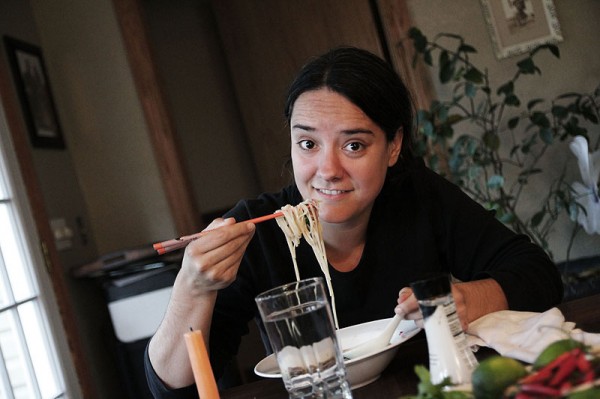 Considering I knew nothing about Laos prior to this Adventure, there was quite a bit of excitement this week. The more I read about the food the more butterflies I got. Delicious. Warming. Fresh. But when I shut the books the butterflies kept coming. I thought perhaps it was because we've had two earthquakes in 2 days. Or because during the second earthquake we had a tornado warning. And then I realized it is because Keith is going to be a grandfather any.minute.now. And by extension, me too – in a stepmotherly sort of way. Oh goodness. And the world keeps on turning. Or is it… as the world turns…
What sounds good to you?*
Jeow [Recipe]
Laos' answer to salsa. Spicy, roasted, and fingerlicking good. Instead of corn chips, however, enjoy Jeow with a happy handful of sticky, sticky rice.
Sticky, Sticky Rice [Recipe]
Glutinous rice is the staple of Laos. This short-grained rice is soaked overnight then steamed in a wicker basket or bamboo steamer. Because the grains stick together, the rice is typically pressed into balls and eaten by hand.
Laotian Rice Noodle Soup (F0e)  [Recipe]
Fragrant broth with rice noodles, beef, and a mountain of fresh herbs and toppings including lettuce, mint, basil, cilantro, bean sprouts, lime wedges, tomatoes, fish sauce and more.
Golden Coconut Dream  [Recipe]
A simple dessert made with sticky rice, coconut milk, brown sugar and sweet, golden mangoes.
*All recipes and the meal review will be posted by Monday morning.