THE SCENE
Mom smeared the cream cheese onto the shiny black date and offered it to me. I looked up at her, the way only a stubborn seven year-old can, and shook my head slowly.
"Try it, you'll like it," she urged, popping one in her mouth herself.
It looks like a roach, I thought.
I watched her chew.
"When is dinner?"
"Not for a few more hours," she replied.
I wouldn't budge. There was no way I was going to eat the cream cheese date.
My stomach growled. I chewed my nails. I drank some water.
Ten long minutes later, I caved.
It was sweet. Too sweet. Leathery on the outside, creamy in the center. Roachy, roachy, roachy.
I shuddered, barely swallowing what I had in my mouth before putting the rest back down on the plate.
"No thank you." I whispered and never ate another date again.
Not, that is, until this week, during our Iraqi Global Table.
The glorious, long-standing history of Pistachio Date balls were too fantastic to pass up.
When I thumbed through the assortment of recipes, I knew I simply had to try this treat that has not simply survived for millenia, but that thrives, even today.
Hopefully the pistachios will help things out, I thought to myself.
Ten minutes later – that's all it takes to whip together – and I was faced with the cutest, prettiest date balls.
They looked to good to be true.
Tentatively, I bit into one, closing my eyes.
Abruptly I opened them again. It was good. It was really, really good.
I looked down at the balls of sweet goodness… The mashed dates no longer looked offensive, and the pistachios balanced out the sweetness with their natural oils. Amazing.
I'd eat date balls over and over again. I'd make them for parties. I'd give them for gifts.
And I just might never say never again. Not ever.
After all, time changes everything. Now is as good a time as any to try, try again.
Thanks, Iraq! (Sorry, mom) 😉
THE FOOD
Pistachio Date Balls (Mersu) [Recipe]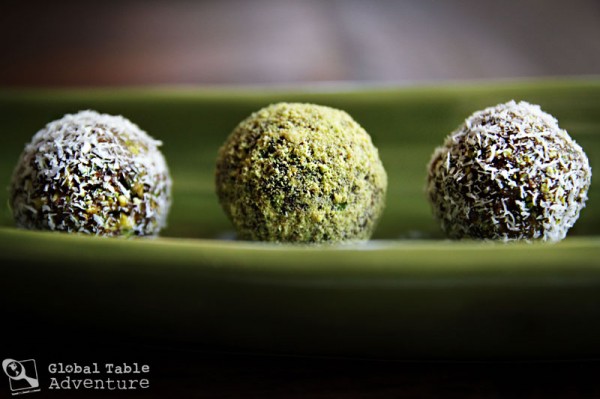 What I liked most about this dish:
Ah, I finally found a way to enjoy dates. The sweet dates with pistachios is an incredibly satisfying combination. I love that this is something from ancient Babylon. I also love how just one date ball fills you up – lots of good fiber.
What I liked least about this dish:
I never ever thought I would like anything made with dates. I was wrong. Even Mr. Picky and Ava ate this one (I told them what it was made from afterwards). After all the drama, I can honestly say I like everything about these date balls.
Muhammara (Red Pepper Dip)  [Recipe]
What I liked most about this dish:
Absolutely everything – another winner. I liked it best warm with the homemade pita. This is one of those dishes, when you make it you wonder – where has muhummara been all my life?
What I liked least about this dish:
Nothing. I'm ready for more.
Tabbouleh  [Recipe]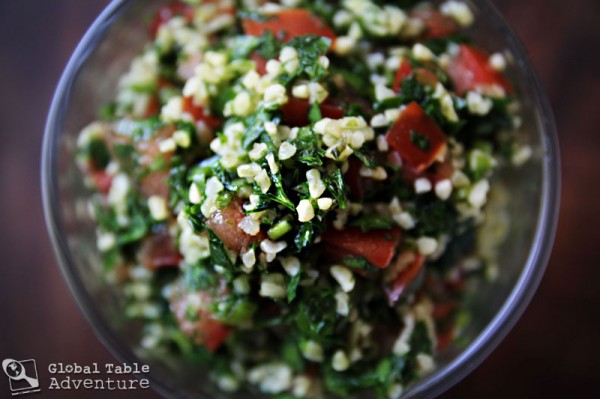 What I liked most about this dish:
I've always wanted to make my own tabbouleh. The method is surprisingly easy and forgiving. You can make it as green as you'd like and as lemony as you can stand – the more the better (of everything), in my book.
What I liked least about this dish:
Nothing. I had some trouble getting Ava to eat it but the next morning she ate quite a bit with scrambled eggs. She made funny faces (because of the lemon juice, I'm guessing), but she kept going back for more.
Grilled Whole Wheat Pita Bread  [Recipe]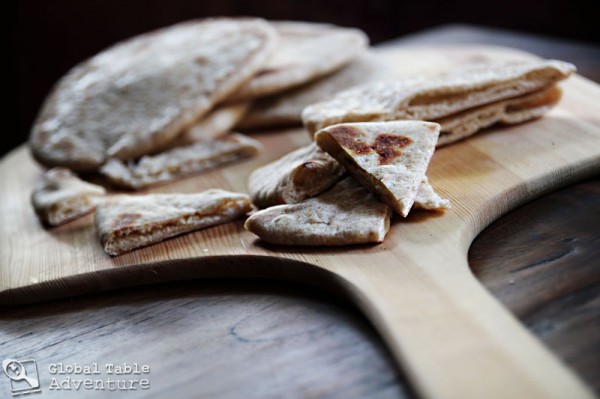 What I liked most about this dish:
Grilled pita bread. Seriously. This has to be the highlight of my culinary summer. What more can a girl ask for?
What I liked least about this dish:
Getting the pita bread to "pop" is dependent on many things – temperature, thickness, moisture, etc. In that sense it can be tricky, but it's worth trying because it tastes great even if just used as a flatbread or pizza dough.
Ava's Corner