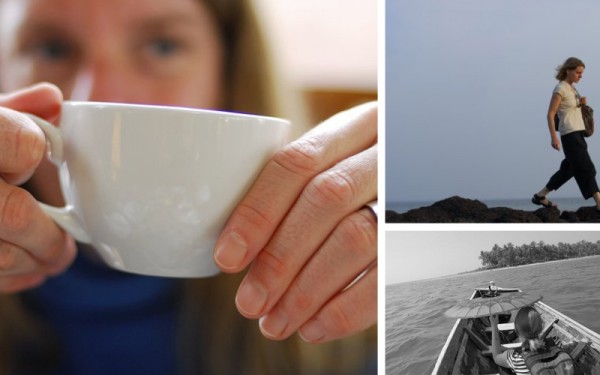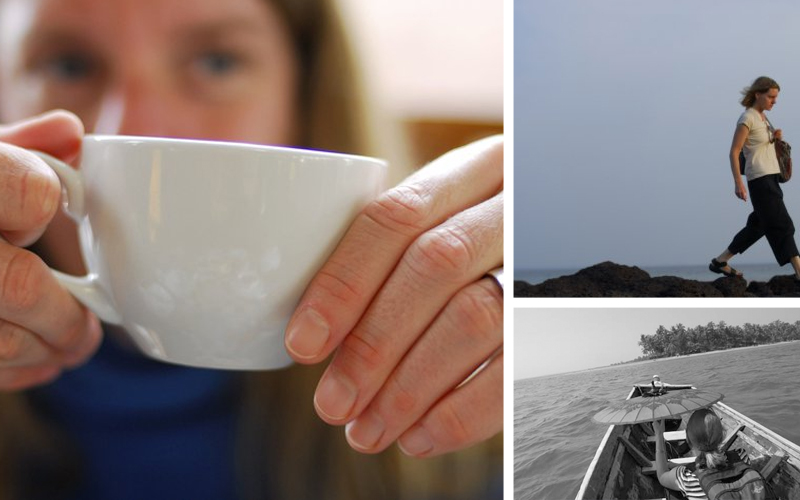 While I was once a world traveler, my life is now all about raising Miss Ava and quietly celebrating my family. Even if the travel bug has to wait a little longer, I can still get my travel fix in the kitchen or on travel web sites like Karen Coates' The Rambling Spoon. The list of reasons I love her web site is long – her writing is at once beautiful, funny, tragic, and heartwarming. And her husband, Jerry Redfern takes killer photos.
Who is Karen Coates?
Karen Coates has spent a dozen years covering food, environment and social issues across Asia for publications around the world. She is a 2010-2011 Ted Scripps Fellow in Environmental Journalism at the University of Colorado at Boulder. In addition, she is a correspondent for Archaeology magazine, and she writes a Food Culture column for The Faster Times. Karen was Gourmet's Asia correspondent until the magazine closed in 2009. She is author of Cambodia Now: Life in the Wake of War and co-author of Pacific Lady: The First Woman to Sail Solo Across the World's Largest Ocean.
Now, I'll let her speak for herself…
Share one memorable food experience you've had in your travels. What made it memorable?
The East Timor fish on the beach ranks right up there in memory. We'd gone to that end of the island in pursuit of an archaeological story about nearby cave paintings. By chance, we found this incredible beach that was popular (meaning: a handful of other foreigners would show up, pitching tents) at the time as a weekend getaway for UN workers. Villagers would camp in the beachside caves and spend their days spearfishing, as they have for many generations.
That beach was the most pristine I'd ever seen, with long stretches of live coral and waters teeming with porpoises, turtles and tropical fish. We bought a whole tuna from the fishermen, and they grilled it over open flames with nothing more than butter, salt and garlic. It was so fresh, so simple—one of the best meals I'd ever eaten. It wasn't just the food that made that evening so memorable, but our encounters with the fishermen on a patch of seaside land that has seen 30,000 years of human history!
What advice do you have for someone just learning to cook "foreign" food?
Keep a wide, open mind and don't be afraid to experiment. Dabble in new flavors. We are all conditioned to understand certain ingredients and tastes based on the culture in which we live. For example, bitter is a flavor many of us in the West do not like or understand, but it is instrumental to certain Asian dishes (it also can indicate medicinal benefits). Strong bitter vegetables might taste "off" to an unaccustomed eater. It takes time to develop the palate. If you're new to a country's food, try to find a local who can teach you how to taste for a proper balance of flavors.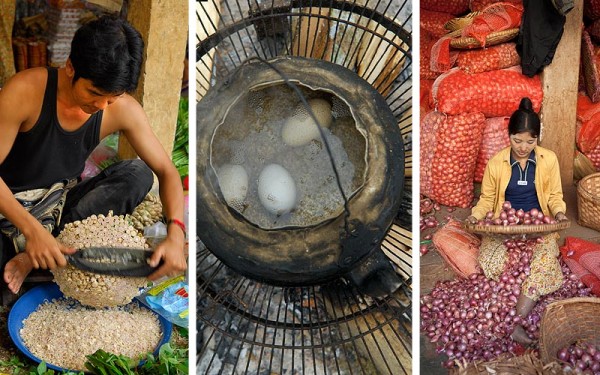 What's your favorite meal? Where would you eat it?
That is so hard to answer! I can't choose one and only one meal. But I do frequently crave the order-ahead menu of family-style Lao dishes at Louis's, a small and often overlooked restaurant on the Mekong in Luang Prabang, Laos. Grilled buffalo patties mixed with minced lemongrass, dill, shallots and chile. Pa dek (fish) sauce simmered with minced meat, galangal, spring onions, scorched chiles, shallots and garlic. Grilled eggplant stew with spices, herbs and local sour fruit. Grilled fish stuffed with lemongrass, garlic, shallots, chiles, basil, onion and dill. Crispy, salty fried riverweed with chile jam. A big bottle of BeerLao. Sunset over the Mekong. Friends to share the feast.
Another prominent memory was cooking dinner by ourselves in the kitchen of a small beachside "resort" on Malaysia's Perhentian Kecil. By chance, we'd found the place while seeking refuge from a storm that had struck as we kayaked around the island. We returned later, booked a bungalow and stayed for a few days—we were the only guests. The manager was a laid-back guy named Lan who offered us his kitchen one night, and we had yet another exquisite experience with fish on the beach. I wrote about that incident, "Paradise Found," for the Gourmet site, back when the magazine still existed.
Were you ever picky? If yes, what foods did/do you avoid? Why? Has anything helped you overcome this?
Eggs. My grade school served scrambled eggs for lunch one day when I was about 6 years old. I got sick in public and found the whole scene terribly embarrassing. I refused to eat eggs after that (and for a long time, I refused to eat school lunches). I still don't like the taste of eggs and the smell occasionally makes me gag. Curiously, Jerry had a similar childhood experience with eggs, and he doesn't like them now either. So this works out well in our kitchen, where eggs are reserved for baking.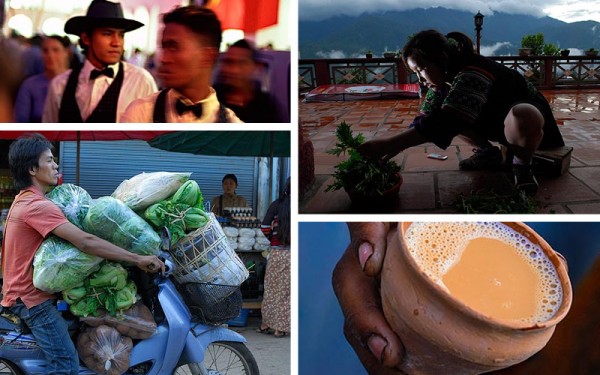 What did you eat as a child and how did it influence your career path?
My Dad was diagnosed with diabetes when I was very young (his Dad had it, too), so my mother always made "healthy" meals. In that era, healthy meant low-fat, low-salt, low-sugar and well-rounded. We almost never ate fast food. The intersection of health and food has always stuck with me, but my tastes have evolved dramatically. I grew up in the Midwest and my family was accustomed to foods with few spices. Plus, my Dad hates garlic, so we had little of it in the kitchen. I can't imagine that today!
My Dad's side of the family had a few far-flung travelers and adventurers, and I picked up those genes. Today I eat copious quantities of garlic, spicy dishes and curries. I love to experiment. I also maintain the emphasis on health that was instilled in me as a child, but my ideas of "healthy food" have changed with the times and new science. For example, we now know that natural fats are healthier than their processed substitutes. I don't aim for a low-fat, low-calorie diet. I aim for fresh and natural foods with minimal processing.
What's the best way to handle cultural differences? Share one funny example of a mix-up due to cultural differences.
Jerry and I have always traveled with the knowledge that we will make cultural mistakes, sometimes embarrassingly so. But that doesn't stop us from exploring. I think a lot of people are afraid to screw up, and that fear keeps them from diving straight into a culture. Locals are almost always generous and forgiving if you show interest in their food and culture.
One day, we stopped for lunch at a shack near the Angkor temples in Cambodia. At that point, we'd learned enough Khmer to get around and order meals—we thought. We asked repeatedly for "no egg" in our rice, but the women in the shop (and the shop next door) whispered and chuckled, then laughed uproariously every time we said it. Well, Khmer is one of the most complex languages in the world with 33 consonants and 23 vowels of varying forms for a total of 60 vowel sounds, with ridiculous opportunities for messing up pronunciation. We later learned that what we'd been saying all along was, "Please don't fart in my rice."
What's next?
Jerry and I are finishing work on two manuscripts to be published this year by ThingsAsian Press. Eternal Harvest: The Legacy of American Bombs in Laos is a documentary project examining the effects of unexploded ordnance (UXO) remaining since the US bombings in Laos nearly 40 years ago. This Way More Better is a collection of travel stories spanning more than a decade.
In addition, as a Ted Scripps Fellow in Environmental Journalism this year, I'm developing a global forum and website on food security, coming soon at www.appetiteearth.org. I'm hoping to link food and environment journalists with scientists, farmers, fishers, cooks and anyone interested in the future of food. I welcome emails from anyone who wants to get involved. theramblingspoon at gmail dot com
Anything else you'd like to share with our readers?
Thanks for reading, eating and cooking! I've always found food to be one of the best segues into people's lives and cultures.
All photos copyright Jerry Redfern