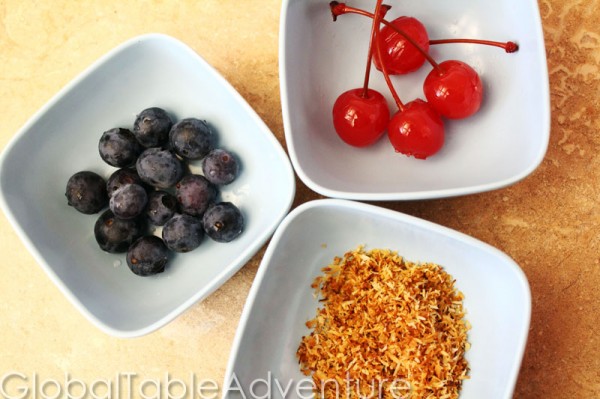 Some would blame the moon. Lady fortune. Michael Jackson.
The last few weeks I've had this creepy, crawly feeling. It starts in my elbows and works its way up the back of my neck. It's like stardust is sparkling on my skin. Like I'm dancing in the rain.
In great part, I blame you.
You see, this blog is coming up on its one year anniversary. I've learned a ton about food from A-D, have watched my family grow healthier and better fed, and, finally, have had so much fun getting to know you! I'm really looking forward to another few years of fun (only 2.75, actually).
However, it's not just that.
From what I can tell, 2011 is shaping up to be a really special year … so special it gives me the tingles.
Here are the highlights so far:
1.  Ava finally got her molars in. I can give her hard food! The world feels so big… so… magical.
2. Mr Picky ate beets and liked them. How did I do it? I bought yellow ones so he wouldn't know what they were. Sneaky, sneaky.
3. Food52 gave our Adventure a fabulous review. I wish I could give them all candy.
4. This weekend I ate dinner at former Mayor Kathy Taylor's house, with guest of honor, Amanda Hesser, Judy Allen, and many, many more. Amanda has a new book – The Essential New York Times Cookbook: Classic Recipes for a New Century. This massive book is going to become your new best friend – all 11 pounds of it. Oh, and at the dinner we sampled an incredible ginger-lentil soup – one of 1,400 recipes. Loved everything about that soup.
5. I fed this week's Domincan meal to Natalie Mikles from the Tulsa World. I was nervous until Natalie told me that she juggles writing for the paper, caring for 18-month old twins, and a 4-month old. Then I was just in awe.
6. We have a new web site design. What do you think?
Sofrito/Sazon Seasoning [Recipe]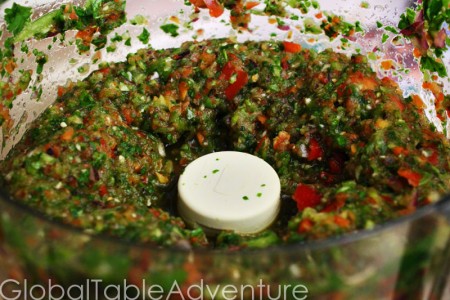 What I liked most about this dish:
Having a container of chopped aromatics, veggies, and herbs in the fridge is perfect for a busy mom. All one needs to do is scoop out a spoonful and cook it down with whatever you are making that day. I'm into it. This recipe has already seasoned 4 different meals and I couldn't be more pleased over not having to do the prep work but one time.
What I liked least about this dish:
Not much. In fact, if you aren't crazy about some of the ingredients, no problem – just make a switch. A little bit of this, a big splash of that – the only limitation is your pantry. Try a new combination every week to see what works best for your family.
Stewed Kidney Beans (Habichuelas Guisadas) [Recipe]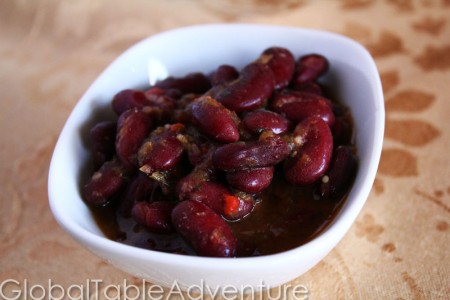 What I liked most about this dish:
These highly seasoned, slightly brothy beans made a great side dish. Browning the sofrito a little before adding the beans adds rich depth of flavor.
What I liked least about this dish:
I would caution you to check your seasonings and make sure you have them right. It is easy to over or under-salt food. Just remember, you can always add more, but you can't take it away.
Dominican Stew Chicken (Pollo Guisado) [Recipe]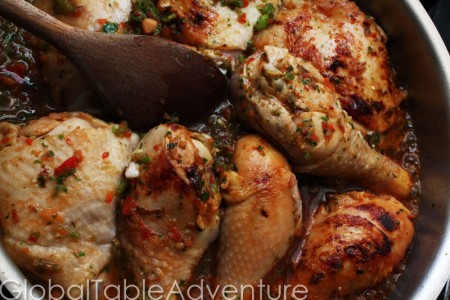 What I liked most about this dish:
The broth had a delicate lemony flavor which complemented the chicken and built upon the tart tomatillos in our Sofrito. I also adored the technique of caramelizing a teaspoon of sugar in the oil before adding the chicken. This gives the chicken beautiful color, even when stewed. In fact, I missed a few pieces, so next time I will add a 1/2 tsp more sugar next time – so that the sugar would could evenly distribute across my rather large skillet.
What I liked least about this dish:
I think I should have marinated the chicken or seasoned it more. While the broth was flavored really well, the chicken itself was flat. Perhaps sitting overnight in the lemon and sofrito would do the trick.
Caribbean Tres Leches Cake [Recipe]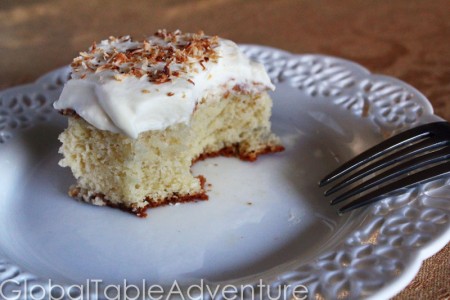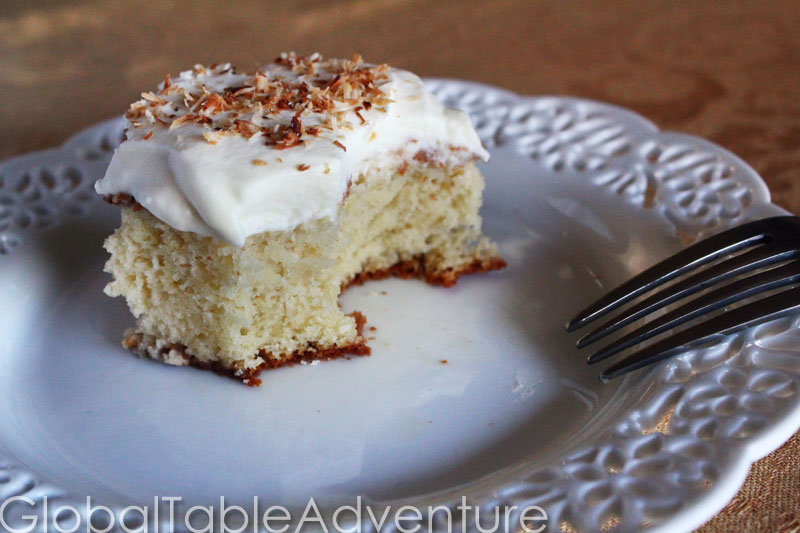 What I liked most about this dish:
This cake has the simplicity of a potluck-sheet-cake with the elegance of a wedding cake. The rum makes itself known without being overbearing. I wasn't sure what I would think of the moist, almost squishy – but not soggy – texture but fell in love immediately. Absolutely marvelous cake. Will be making it again. And again. Which, for the record, makes Mr. Picky so very happy.
What I liked least about this dish:
I'm impatient by nature and hated to let the cake sit overnight. While letting the cake absorb milk for just an hour or two is acceptable, the texture will be vastly improved if you leave it overnight. Here's why: after just two hours, the bottom of the cake is moister than the top, making it seem a bit sloppy to bite. However, after a rest in the fridge overnight, the moisture evenly distributes throughout the entire slice, making for a much more consistent and therefore enjoyable experience.
Ava's Corner:
Ava ate the beans and chicken like a trooper. We grabbed video, but with the web site redesign there just hasn't been time for Keith to edit it. Have a click through and let us know what you think!