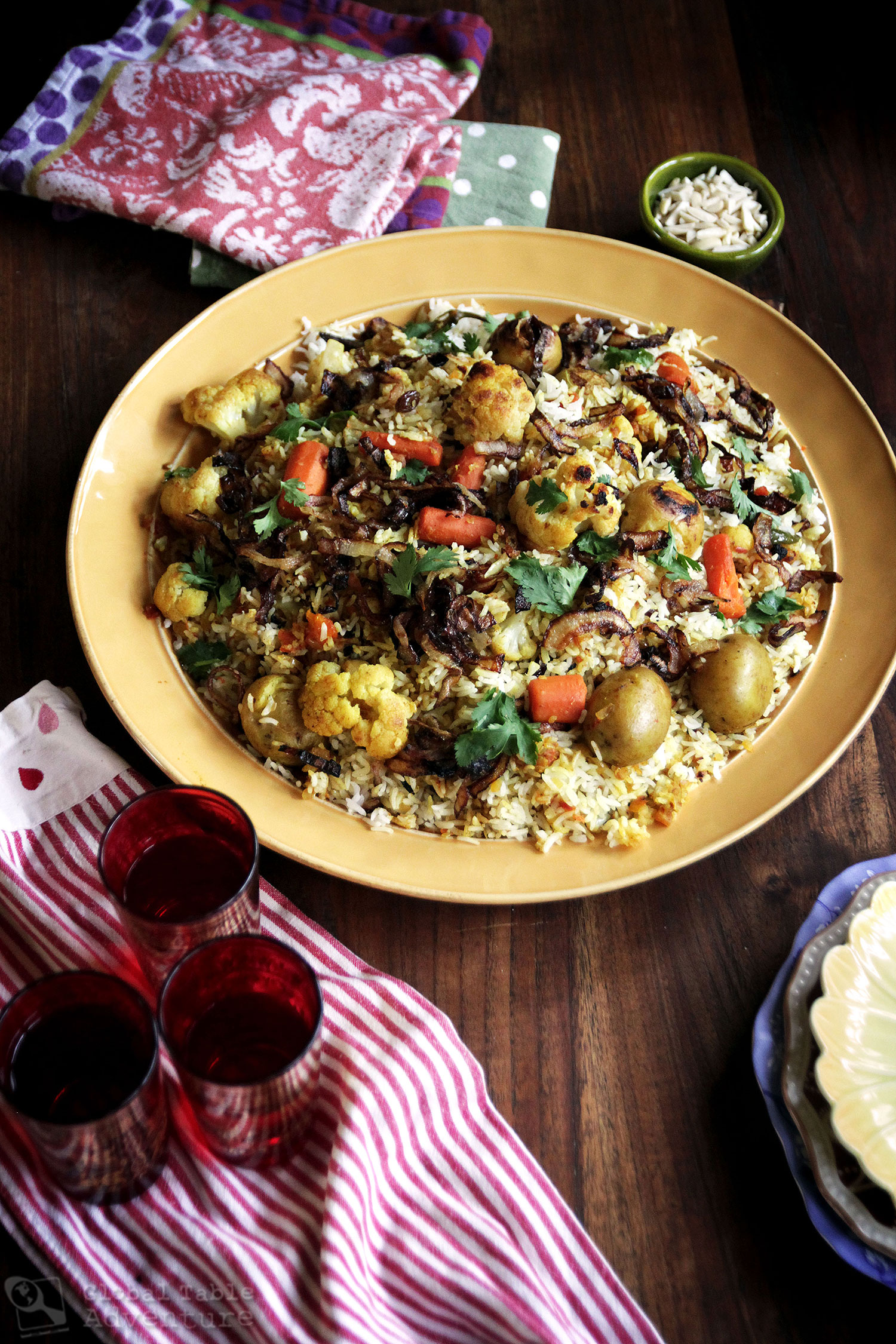 Cooking a pot of Biryani can be deer-in-the-headlights overwhelming – so much so, most people wouldn't consider getting the spiced rice dish anywhere but a restaurant. But – ah! I recently learned a few tricks that make cooking this party dish less like facing an oncoming semi-truck, and more like conducting a well-orchestrated fireworks show.
A lesson in perseverance
Real talk: The first time I made biryani I crashed, burned, and vowed to never make it again. Though you can also find the recipe in India and other nearby countries, I first got the idea of tackling biryani while reading Rickshaw Girl with my daughter. This empowering Bangladeshi chapter book features a young artist who wants to help her struggling family. Though the little girl can't make money with her Alpana drawings, she hatches a plan to drive her sick father's rickshaw to supplement the family's income. Though men traditionally earn the money in her community, she perseveres, proving that girls contribute as much as boys.
When the girl's family shares a platter of biryani on International Mother Language Day (February 21 – "to promote the preservation and protection of all languages used by people of the world") I thought how fun – bringing biryani into our kitchen is the perfect way to bring Rickshaw Girl to life for my daughter… and extend the book discussion to the dinner table.
I went into the process with little preparation or experience (unless you count the dozens of rice dishes from around the world we tried – but many of those were quite simple). After the first failure, wherein my kitchen was inundated with dirty dishes, spills, and questionable scraps, I struggled with whether to try making biryani again.
Tasting the dish was all the courage I needed.
This recipe is full of bold spice, tender vegetables, and feather-light grains of basmati rice. 
Taking inspiration from Rickshaw Girl herself, I reminded myself that not everything that's good is easy. Plus, my family loved the dish – even eating with their hands, in the traditional manner.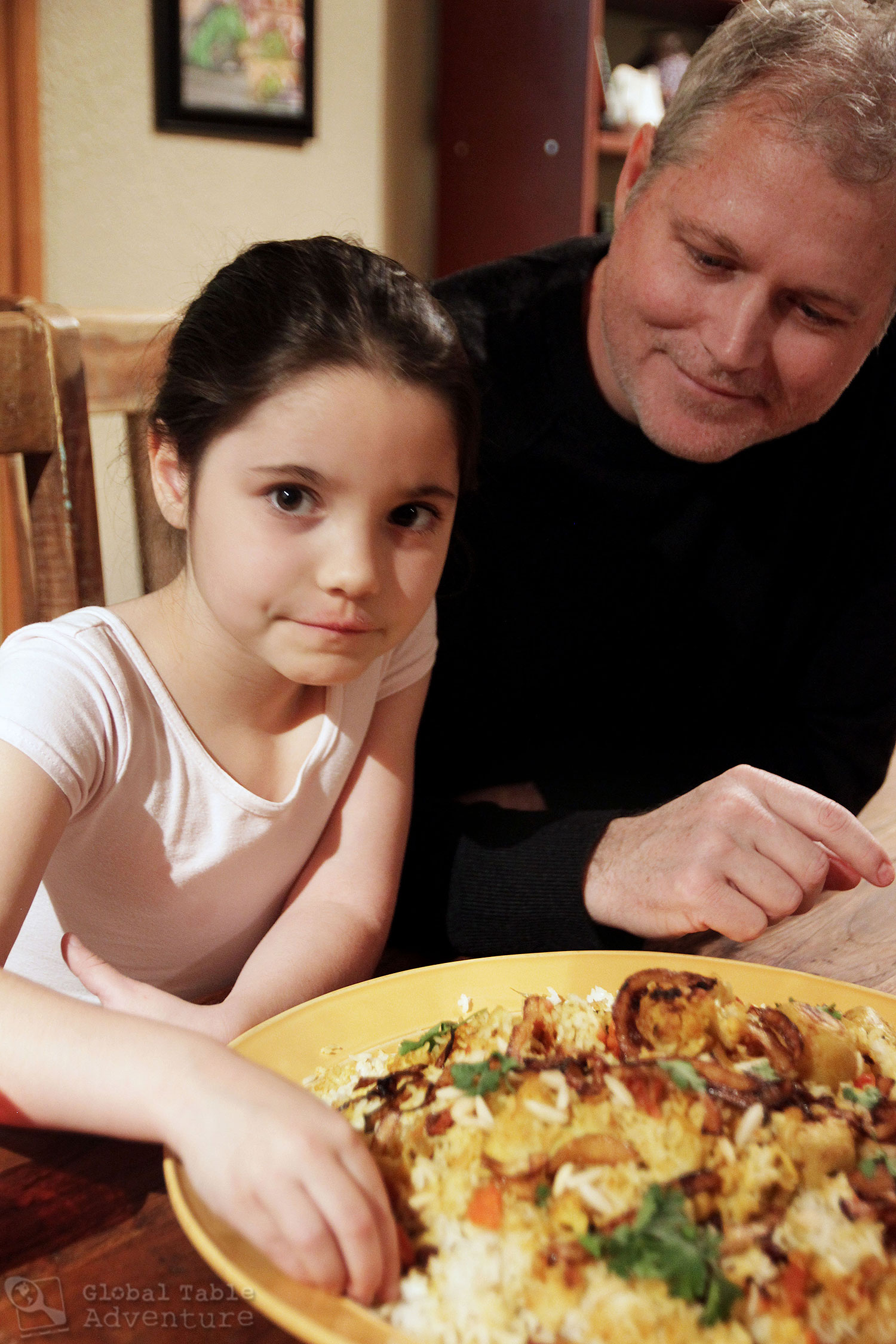 After some practice and streamlining, I came up with a recipe I'm thrilled to add to our meal rotation. So, without further ado…
Here's how to make Biryani without losing your mind:
1. Plan (& prep) ahead

Do not – I repeat – do not attempt biryani if you haven't prepped your food ahead of time. I watched dozens of people make biryani over the years and the only ones not breaking a sweat were the ones who had nice little bowls with all their ingredients laid out in  front of them. In cooking school we called this mise-en-place, or everything in its place. It can take a good thirty minutes to cut and organize each ingredient… but I promise you this is time well-spent.
2. Take your time

Cooking isn't fun if the process is rushed, especially if you're trying a recipe for the first time. I consider biryani one of our "Weekend Projects" — I'd recommend setting aside an afternoon to make it when you have nowhere in particular to be.
Put on some tunes, tie on your favorite apron, sip a little wine and hunker down for an afternoon in the kitchen with no other distractions.
You'll be glad to have the music and wine while you're browning your vegetables and caramelizing your onion. That step alone cannot be rushed – if you do, the fact-of-the-matter is your dish will lack depth of flavor.
3. Make your rice nice

A good biryani is all about the rice. Long grain basmati rice is necessary; it should be washed and parboiled before steaming among the vegetables. These extra steps will make the grains light, fluffy, and distinct, instead of heavy, mushy, and clumped together. While it might seem like a lot of work, the results are well-worth it.
4. Add flavor in layers (but use one pot)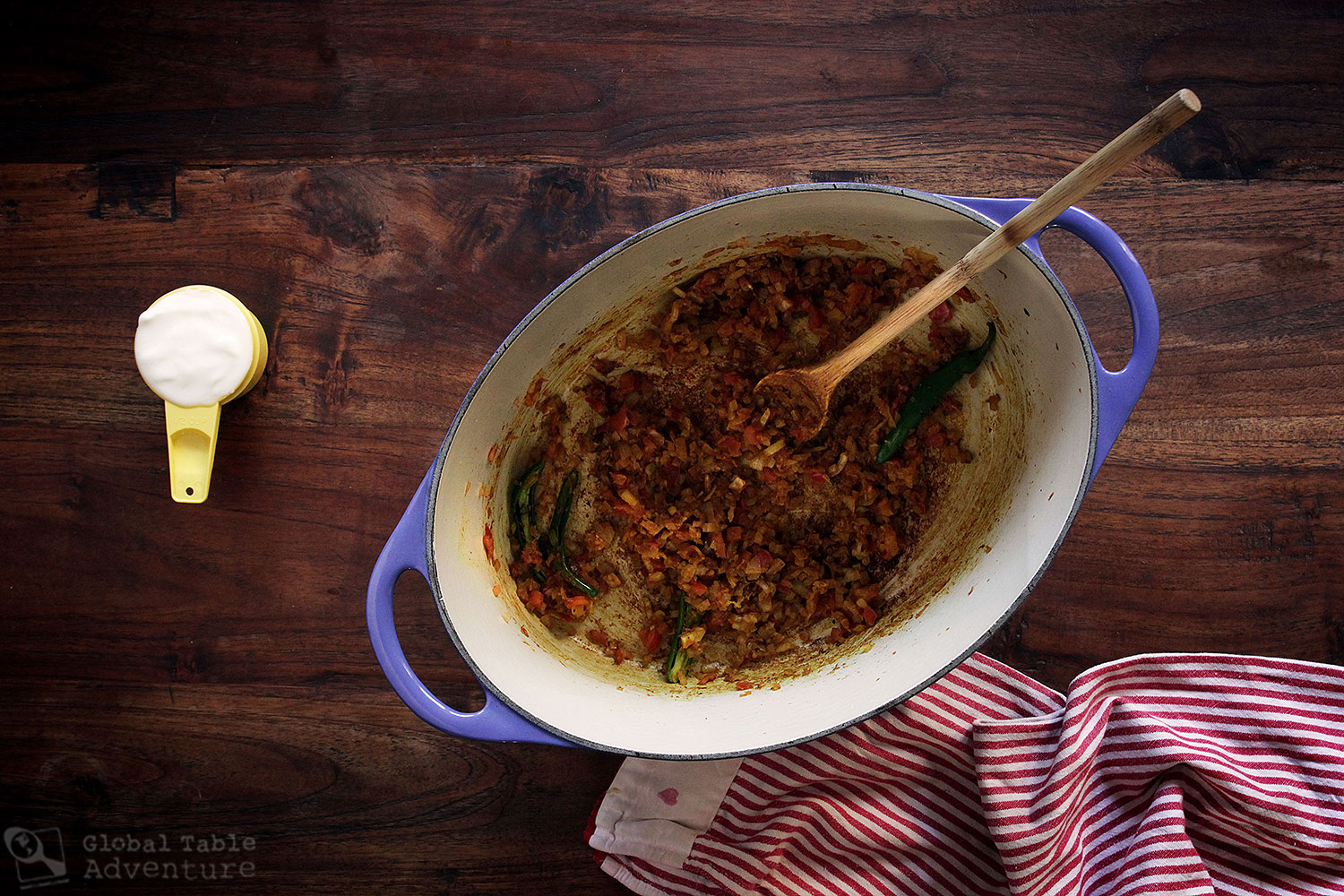 Taking the time to prepare each layer of flavor gives great dimension to the finished biryani. First, in goes the spices and aromatics. Then, some yogurt for creaminess.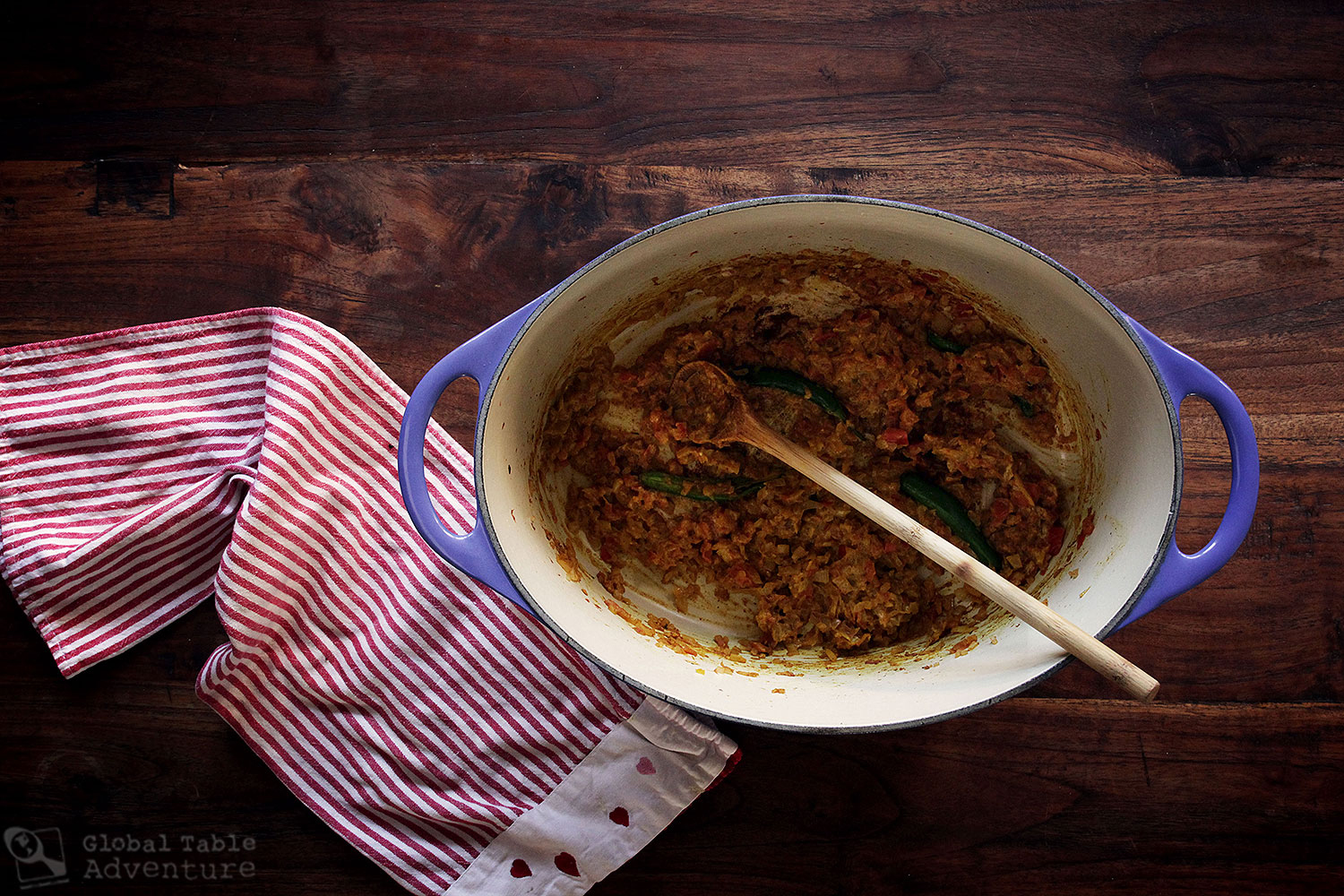 Finally you'll toss it with those veggies you browned.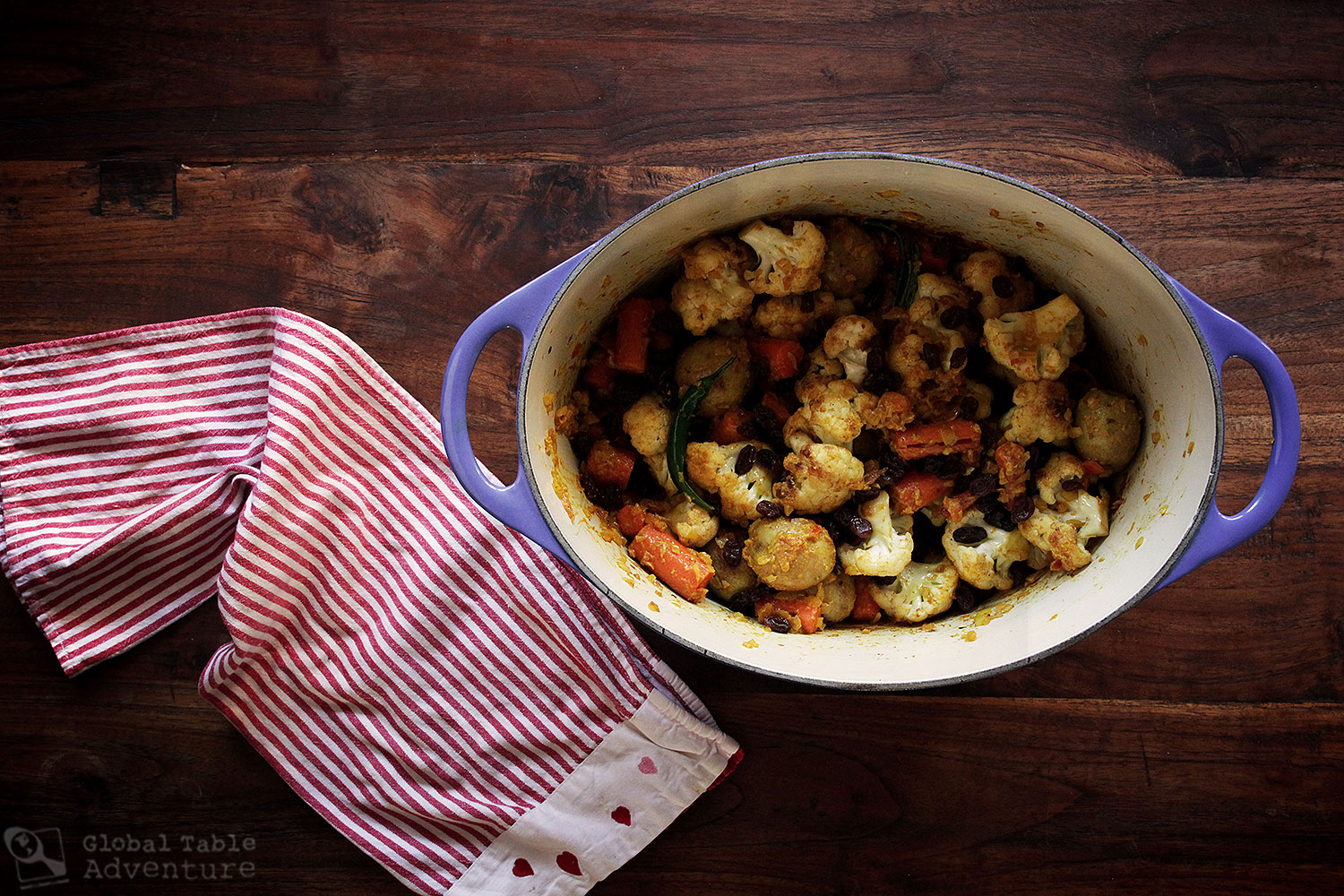 Can you smell that amazing aroma through your screen!? Yum.
Each of these steps adds BIG flavor to the finished dish.
Also: I borrowed a trick from a famous biryani chain in Bangladesh, Fakruddin – After I make my vegetable curry, I add the rice in one thick layer on top of the vegetables to steam, only tossing it after cooking. This is a little less fussy and comes out just as good as if you'd alternated layers.
5. Finishing touches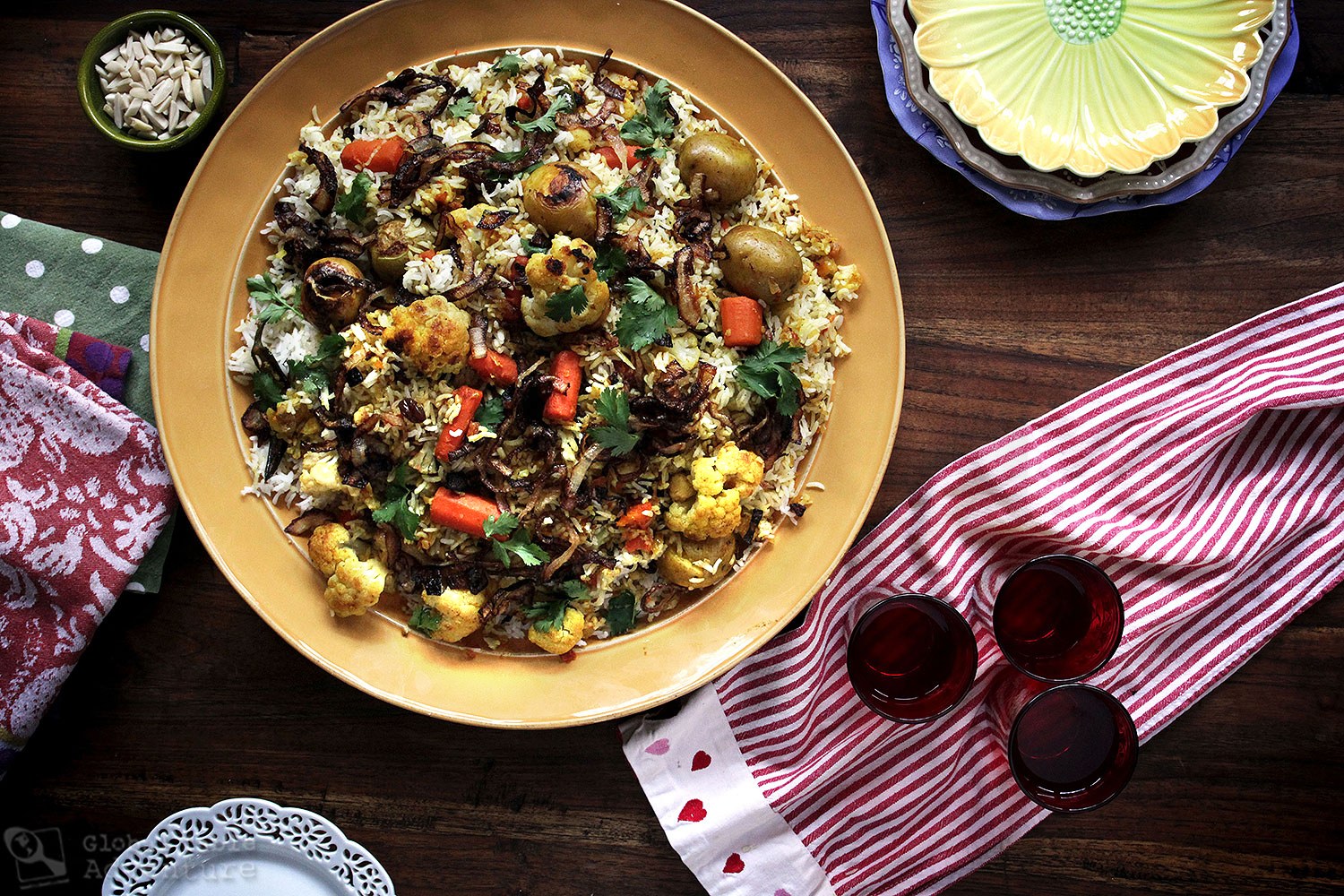 The best biryanis really are like well-orchestrated fireworks displays – but instead of exploding in the sky, they light up your taste buds. You'll find sweet notes thanks to a handful of raisins and caramelized onion. There's a hefty crunch of slivered almonds. And all those deeply browned vegetables are balanced out by a few freshly torn cilantro leaves. You could switch from almond to cashew, from raisins to prunes, and from cilantro to mint, but whatever you do, don't skimp or your biryani display will be lackluster.
Most important of all? Have fun cooking and eating with the spirit of discovery!
Tools & Resources:
Rickshaw Girl by Mitali Perkins
International Mother Language Day: 1, 2
Le Creuset Dutch Oven
Biryani-making video from Fakruddin (starts around 9 min)
Print Recipe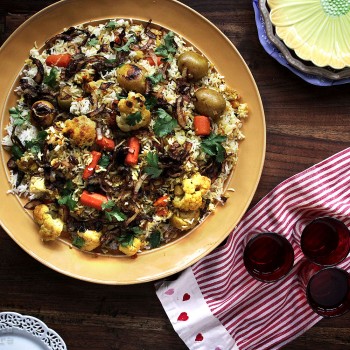 Packed with flavor, vegetable biryani is well-worth the effort. Set aside an afternoon the first time you attempt the recipe and don't do anything before you cut up and measure out the ingredients. Trust me. It'll save you a minor breakdown if this is your first time making biryani. Note - if your pot's lid doesn't seal perfectly, as with a Le Creuset, you will lose too much moisture for this recipe to work properly. To remedy this press aluminum foil onto the pot before covering OR seal the lid onto the pot with a piece of dough made with flour and water (this latter is the traditional method).
Vegetable Biryani
Servings

Prep Time

6-8

people

45

minutes
Cook Time

Passive Time

90

minutes

30

minutes
Servings

Prep Time

6-8

people

45

minutes

Cook Time

Passive Time

90

minutes

30

minutes
Peel, slice, and prep all ingredients. To make things easier, set them out in small dishes, ready to go.
Wash the basmati rice under cool water until the liquid is no longer cloudy. Soak in a bowl of clean, cool water for 30 minutes (this can soak while you prepare the vegetable masala). This step helps keep the rice from getting sticky. While the rice is soaking, put on 6 cups of water in a pot along with the whole spices and salt. Cover and gently bring to a simmer (there's no rush here, but it speeds up getting the water to a boil later, and it helps the spices infuse the water).

Keep prepping the rest of the recipe as written below - whenever the 30-minute timer goes off, follow these steps to parcook the rice: Crank the heat up on the simmering pot of water to a full boil. Drain the soaked rice and add to the pot. Gently boil for 5 minutes. The rice needs to have a little raw bite in the center or it will be mushy at the end! Strain the rice and spread in a very large platter to stop the cooking (I just use the serving platter).
Fry the garnish & brown vegetables:
In a large heavy-bottomed pot with well fitting lid (you'll use that later), heat ghee and fry the sliced onion until deep brown over medium-high. Stir often to keep from burning. When done, remove with slotted spoon onto a plate lined with a paper towel and set aside. Season with salt.

Fry the potatoes, cauliflower and carrot in the remaining ghee until browned on all sides (watch for splatters when adding them to the pot). Stir once to coat everything with the ghee, then only stir occasionally or you'll get in the way of browning. This can take a good 10-15 minutes. Season with salt, remove and set aside.
Fry the vegetable masala:
To the same pot with the remaining ghee, fry the second onion (minced) along with the tomato over medium high until soft. Add the garlic, ginger, sliced green chili peppers, and the spices (red chili powder, ground coriander, ground cumin, and ground turmeric). Stir until well combined and fragrant. Cool slightly, then stir in the yogurt. Add the chopped vegetables and stir to coat in the masala. Season with salt as desired.
This is the last cooking step! Scatter the raisins on top of the vegetables, then spoon on the parcooked rice (Remove the whole spices from the rice if desired). Smooth the surface and drizzle with rose water. Drizzle on the melted ghee if you want a more indulgent biryani (I usually skip it). Cover and cook over low/medium-low for about 45 minutes or until the rice is cooked through. (To help prevent excessive browning of the ingredients on the bottom of the pot, you can put a comal between the pot and flame*).
Taste the rice to make sure it is cooked to your liking. Tip onto a large family-style platter, stirring gently to combine all ingredients as you go. Top with reserved fried onion, slivered almonds, and cilantro.

Enjoy the fireworks of flavor!
*A comal is a flat piece of cookware typically used to make tortillas etc - placing it between the pot and the heat source keeps thinner pots from scorching the bottom of the food. A comal is *not* nonstick (you never want to heat up nonstick cookware without food in it - the fumes can be toxic). I don't typically use one because my pot is so heavy-bottomed and I don't mind some browned bits.
Source:
Recipe Copyright Sasha Martin, Global Table Adventure. For personal or educational use only.