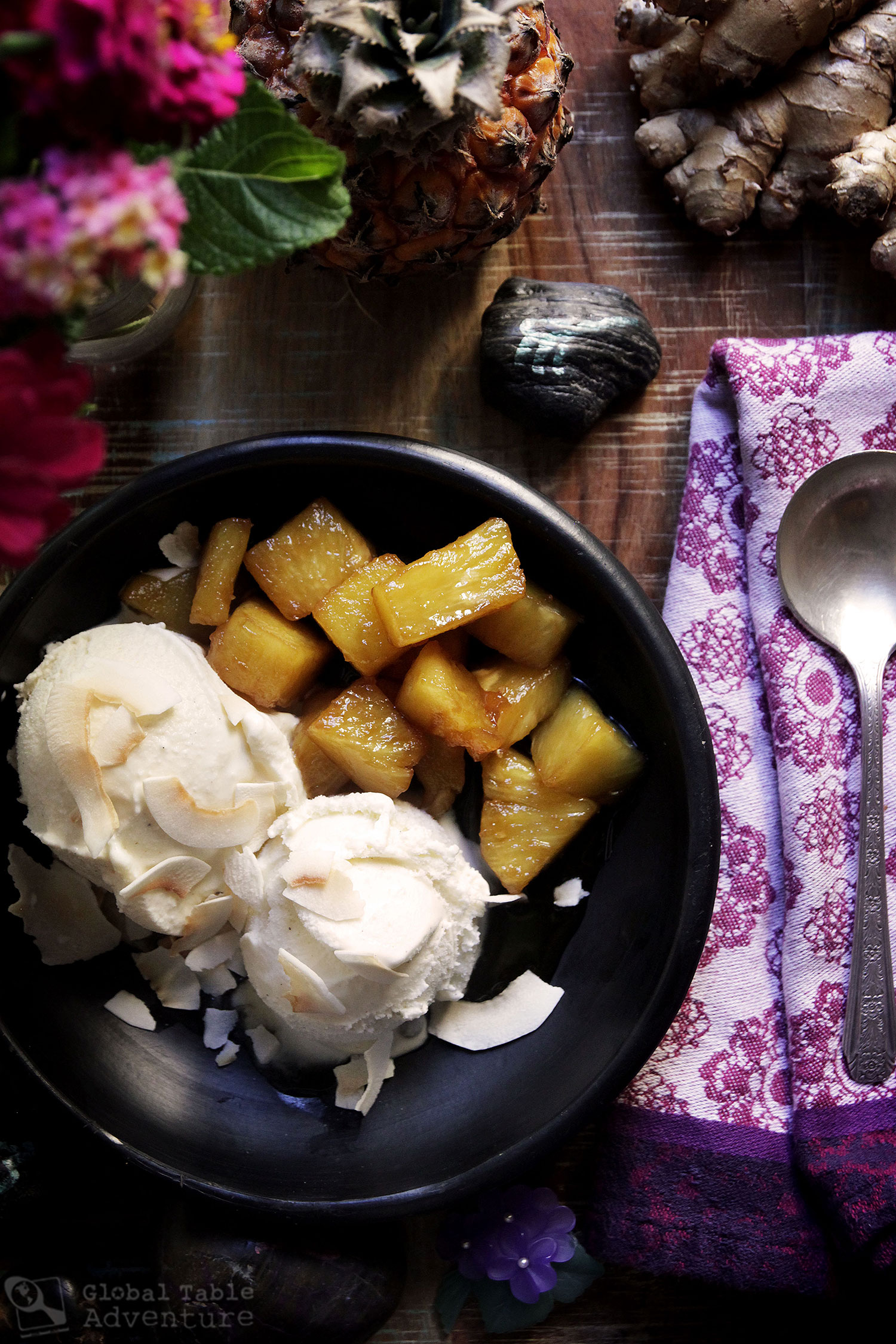 Let's travel to Sub-Saharan Africa, where the flavors of the tropics make an ordinary ice cream sundae outstanding.
Start by harvesting real vanilla beans from Madagascar to make the ice cream. Then head to Nigeria to pluck a heavy, sweet pineapple and a knob of ginger root. Nigeria is the world's 8th largest producer of pineapple and the 4th largest producer of ginger.*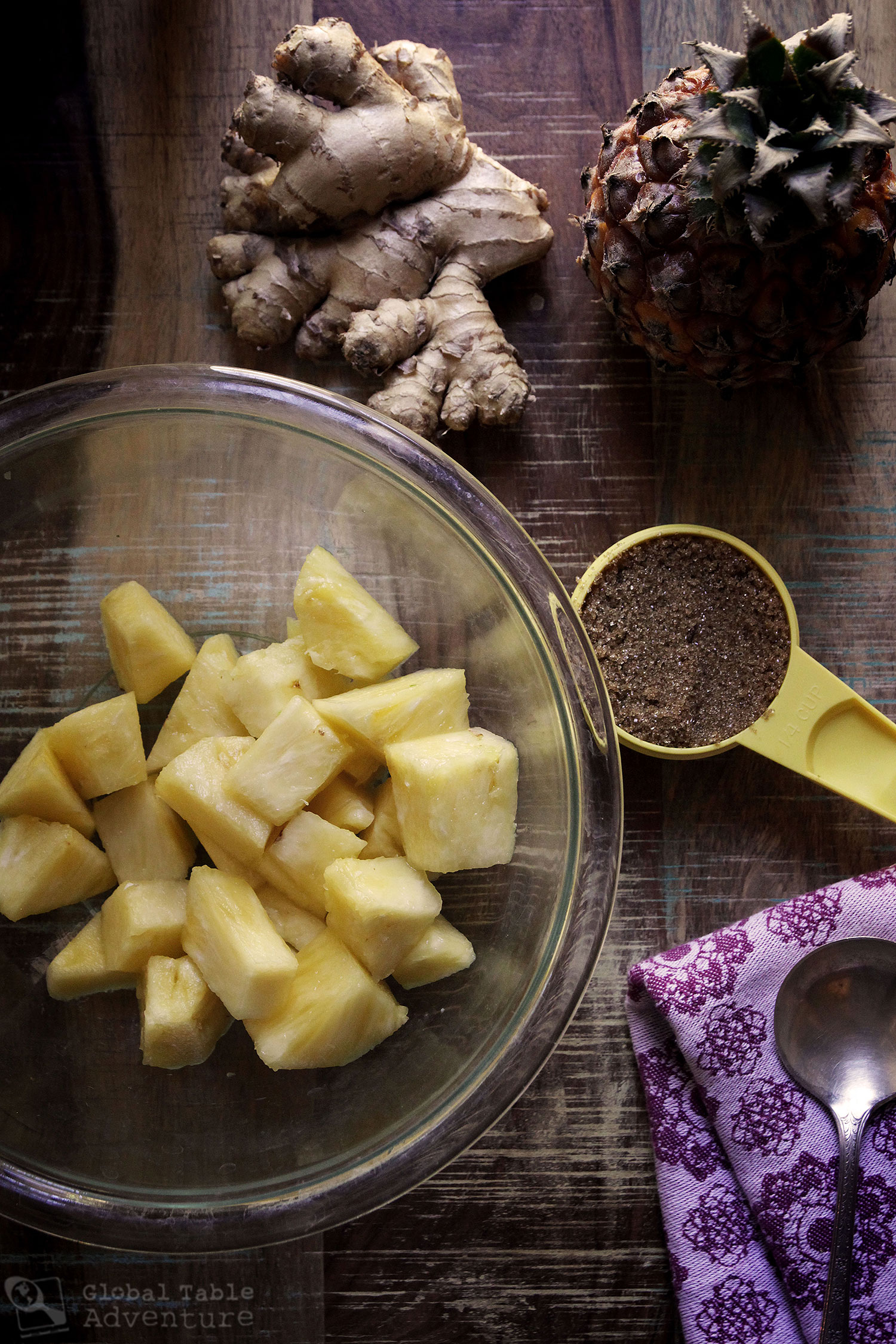 Chunk up the golden fruit, then cook it with brown sugar and a whisper of the freshly grated ginger. Ten minutes on a flame will release the pineapple juices into the brown sugar, making a sticky, caramel-like sauce.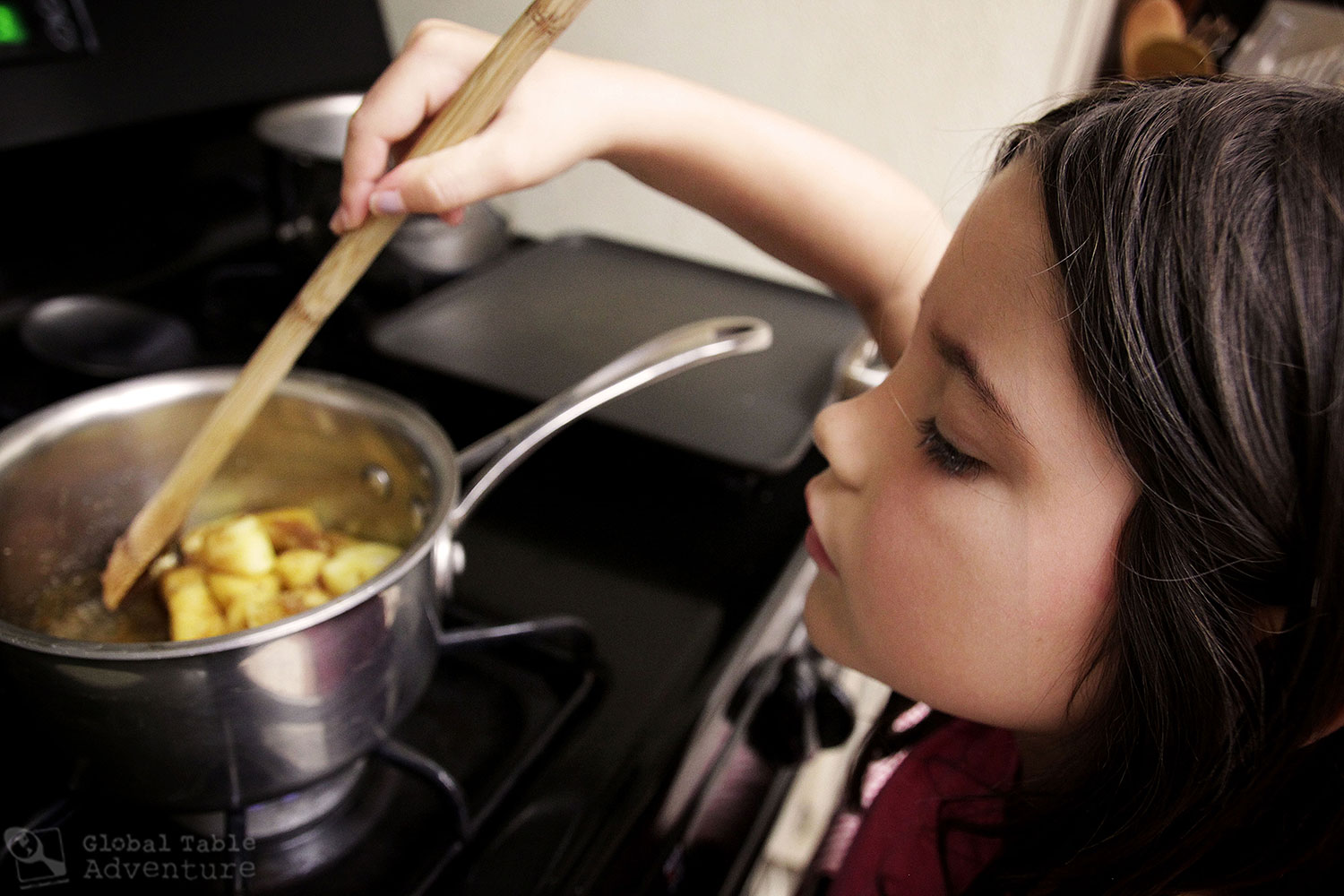 Look how tall my little girl is getting…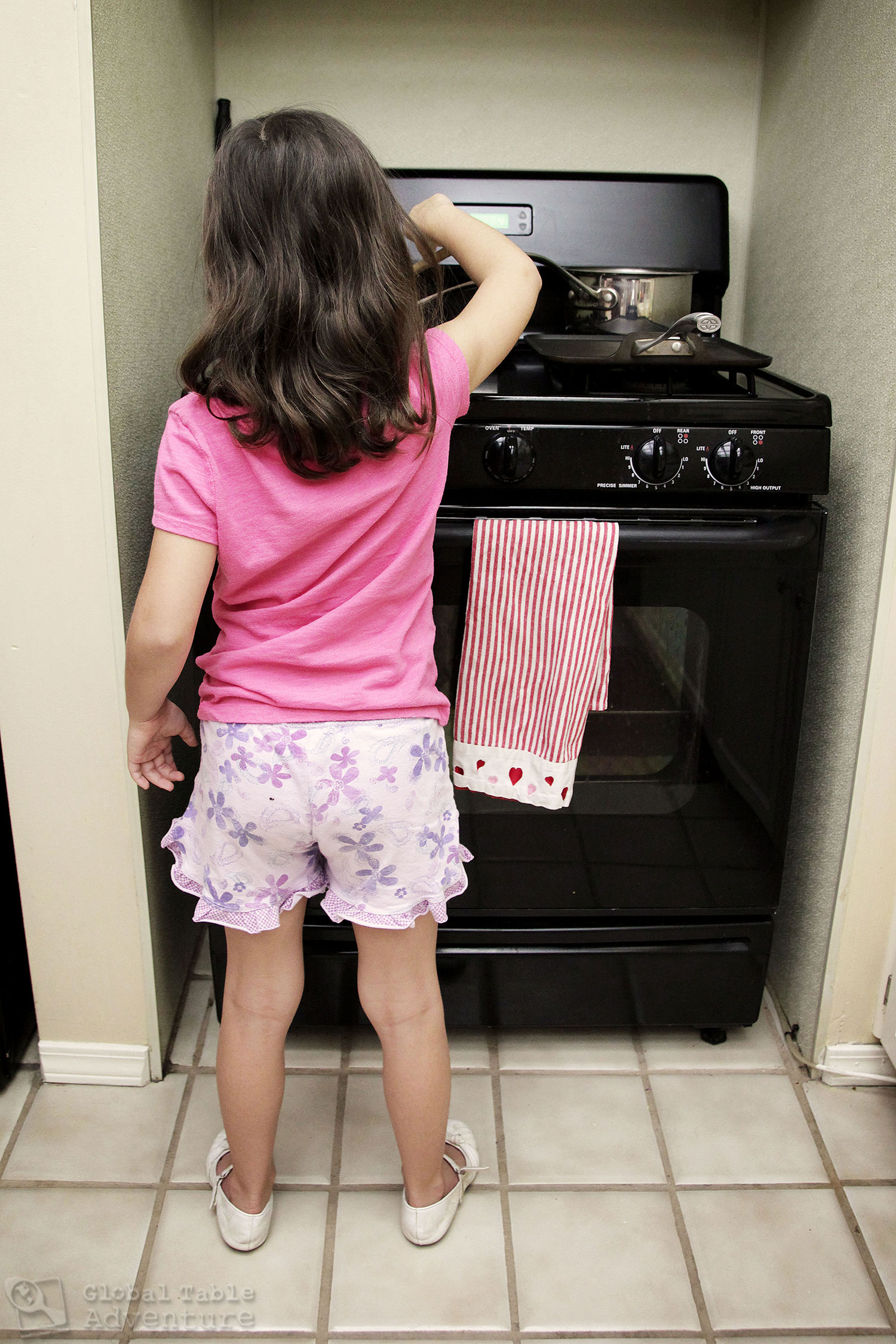 Sometime this fall she stopped using the step stool.
I always knew bringing the world into our kitchen was good nourishment, but she grew an inch over the summer.
<sigh>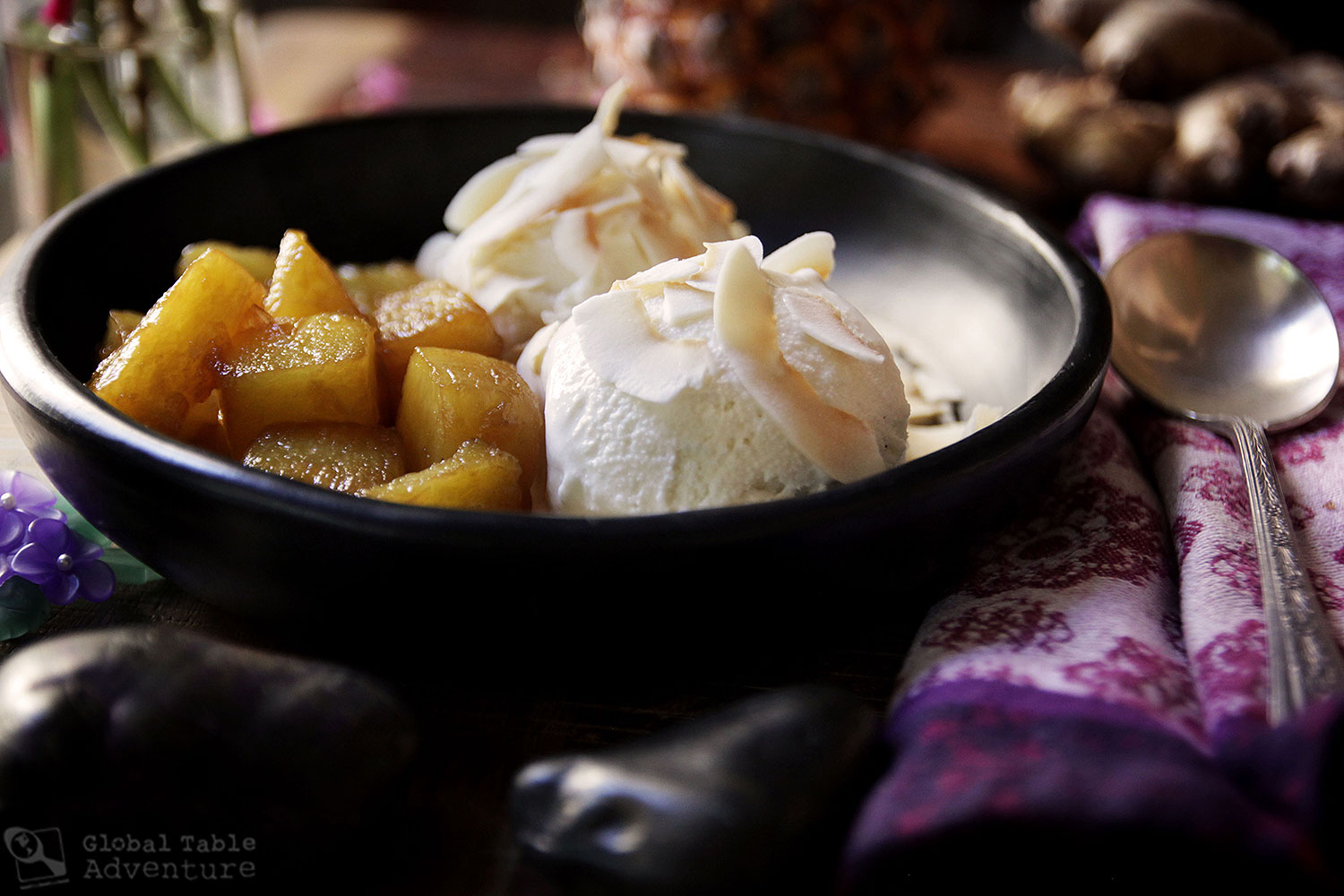 When you're done bemoaning how fast life flies, assemble your ice cream sundae.
First: Drop two fat scoops of vanilla ice cream into a shallow bowl.
Second: Spoon on the hot pineapple and sauce. Work quickly to sprinkle with lightly toasted coconut flakes (you can pick these up in Tanzania, the world's 10th largest producer of coconut).
Even as the ice cream slumps into the pineapple, the coconut adds crunch.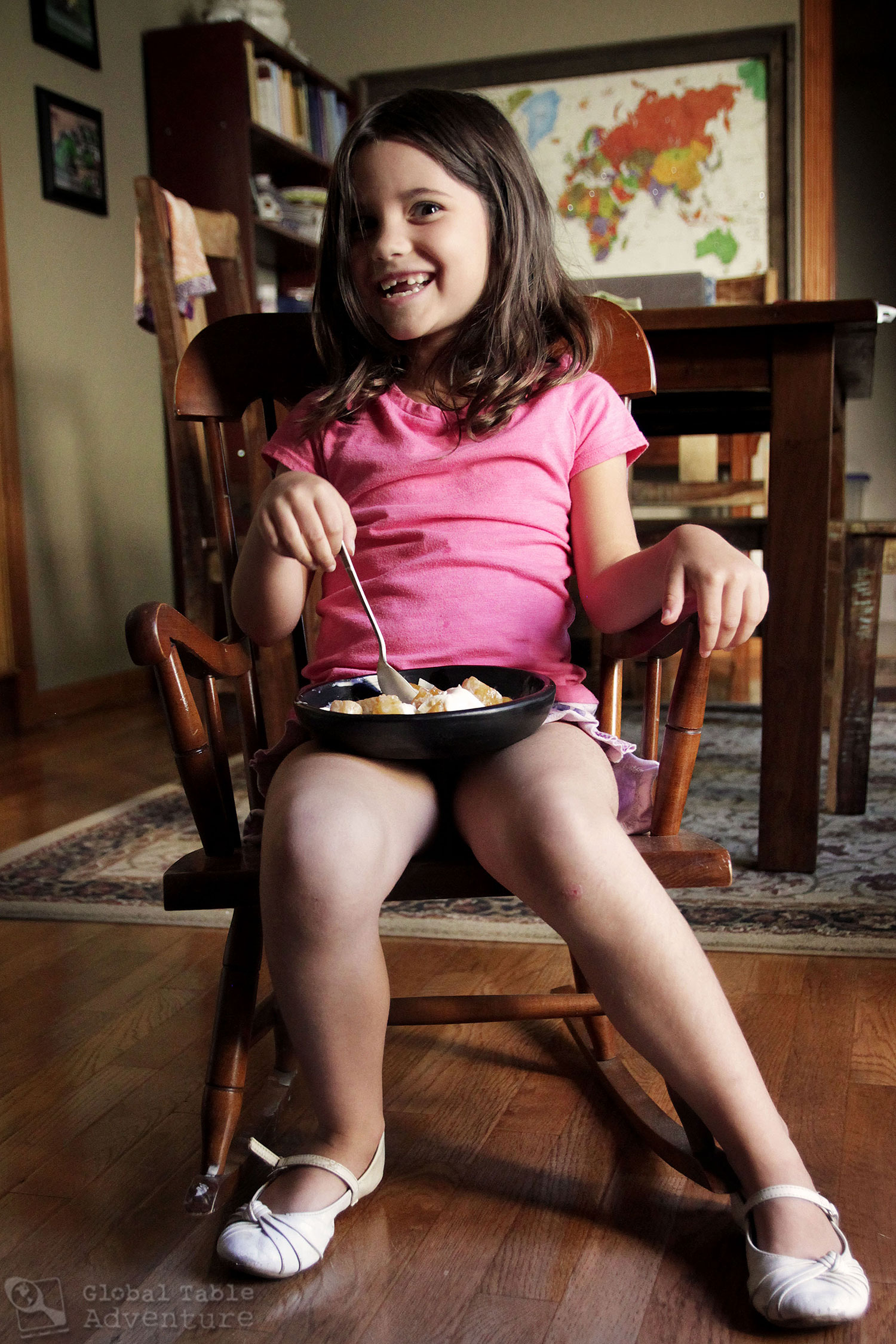 This recipe was one of the biggest wins with my family – out of 650+ recipes from every country in the world this little treat stands out as one of the yummiest.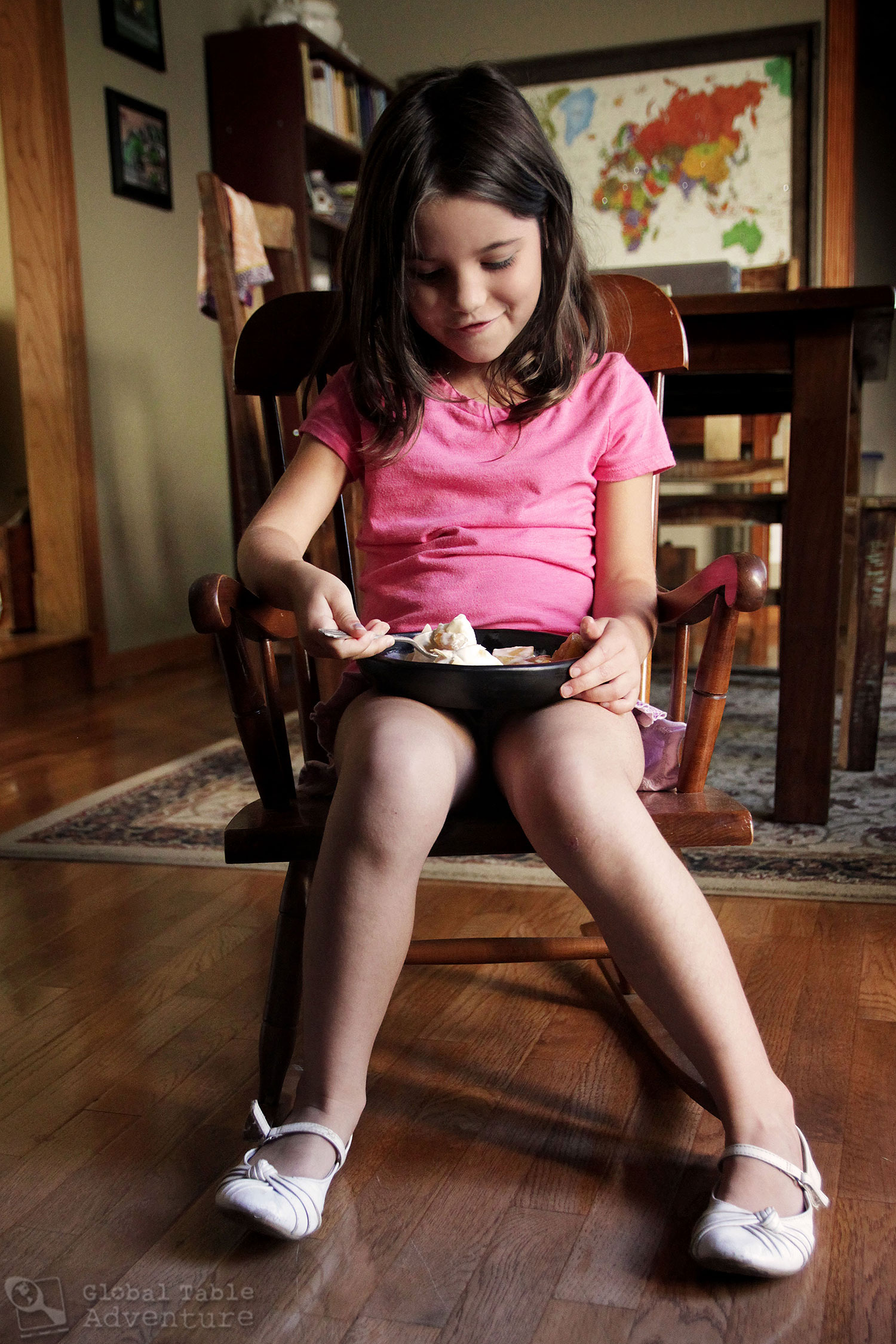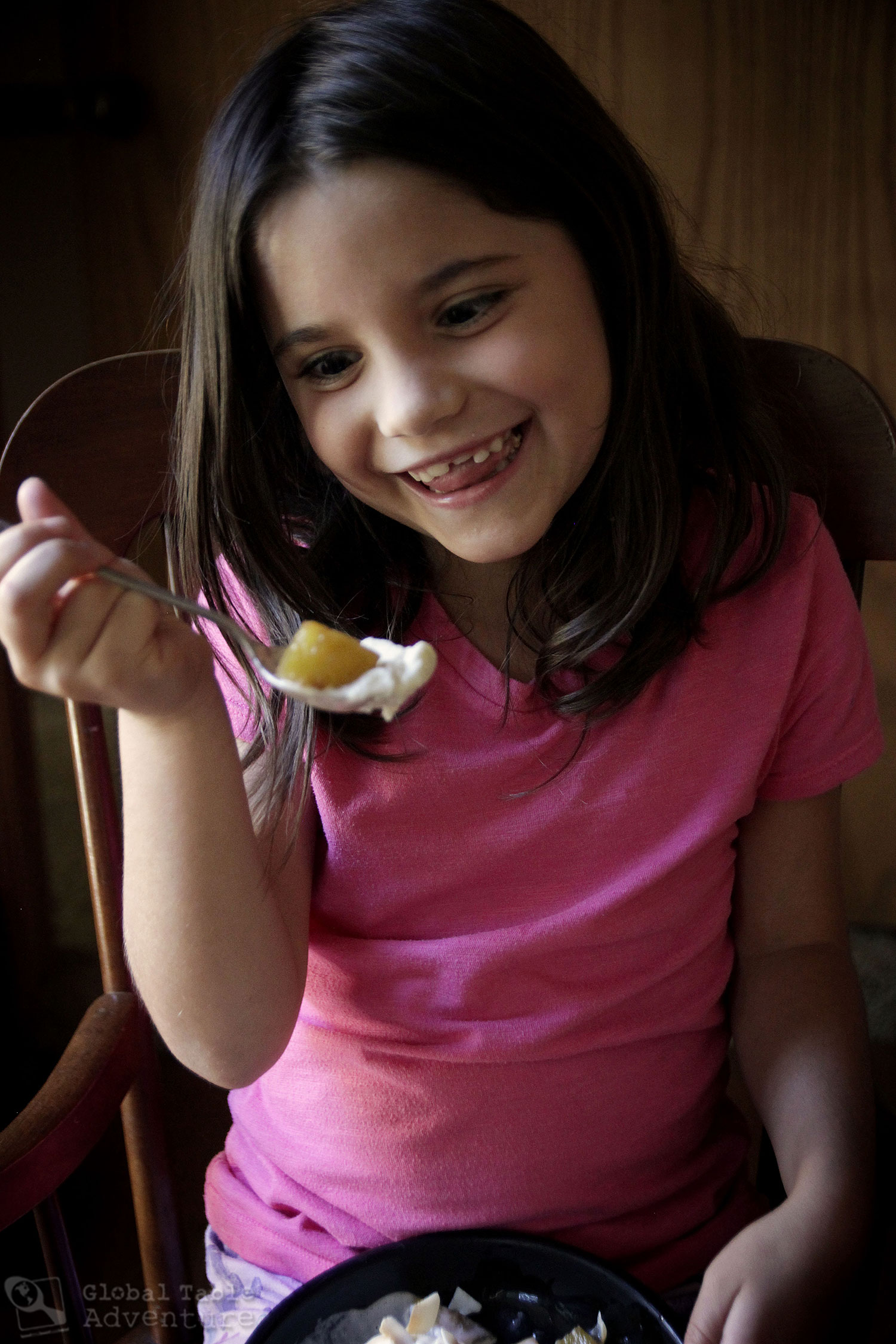 Keith barely got any…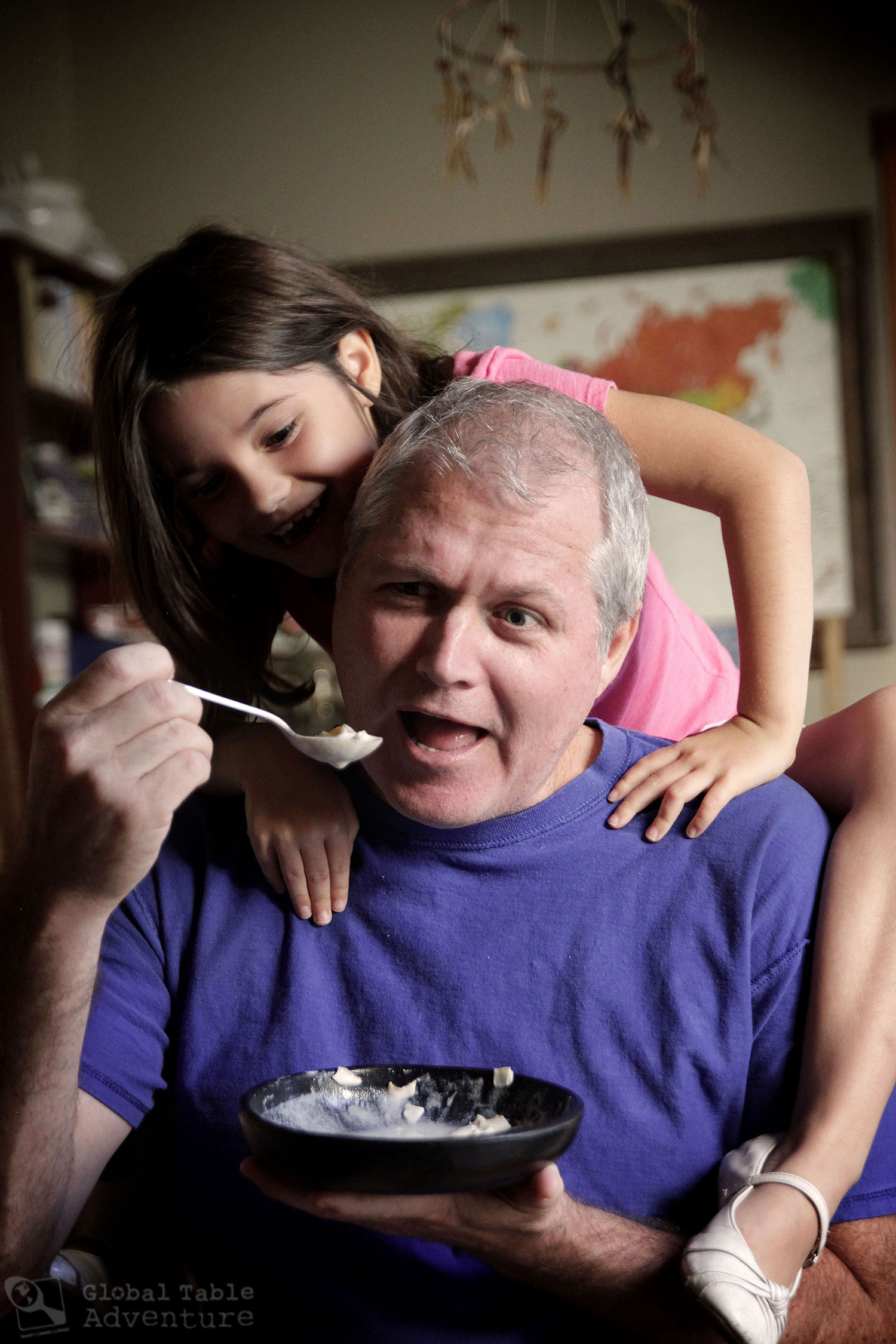 …thanks to this little monkey.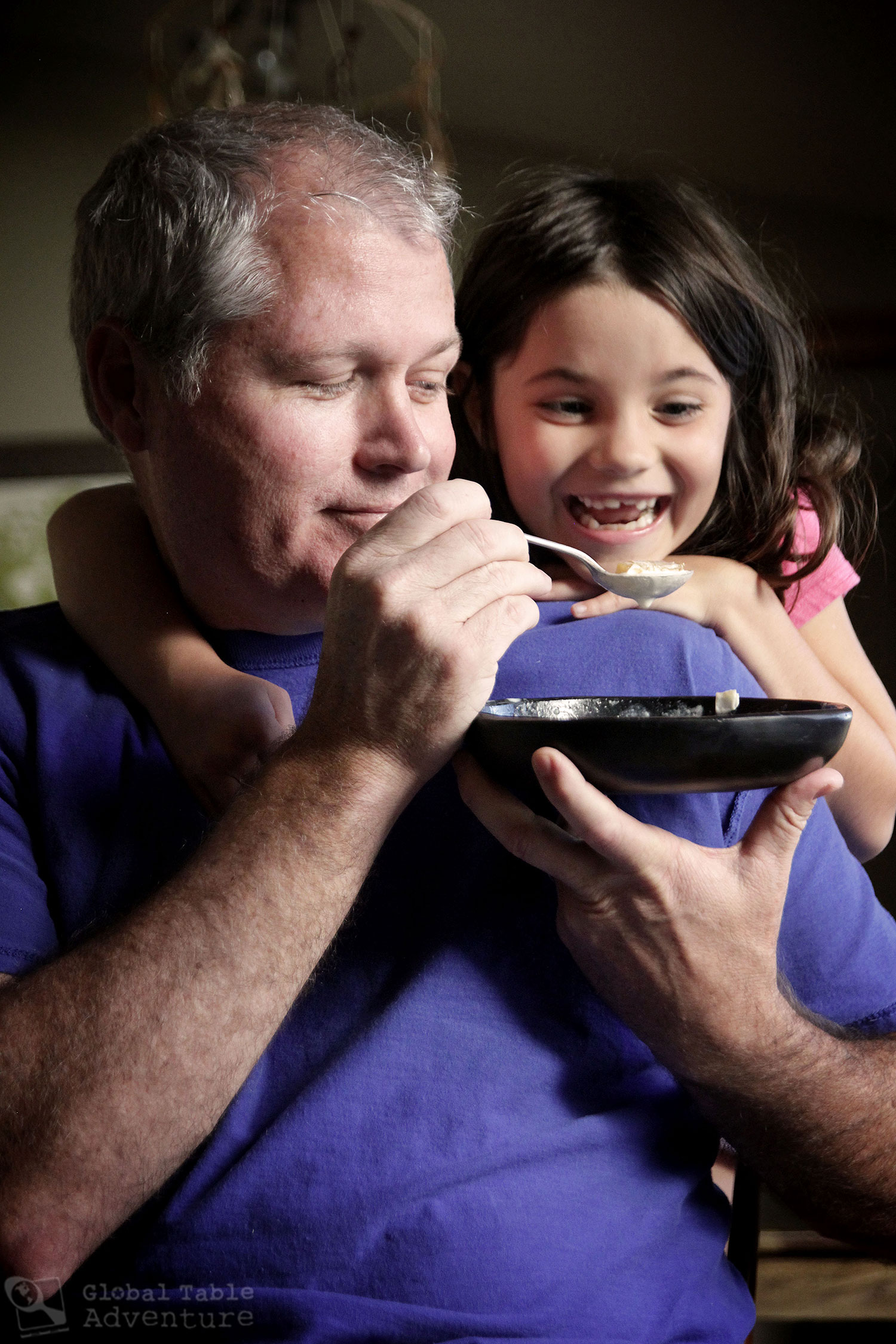 He's such a good sport.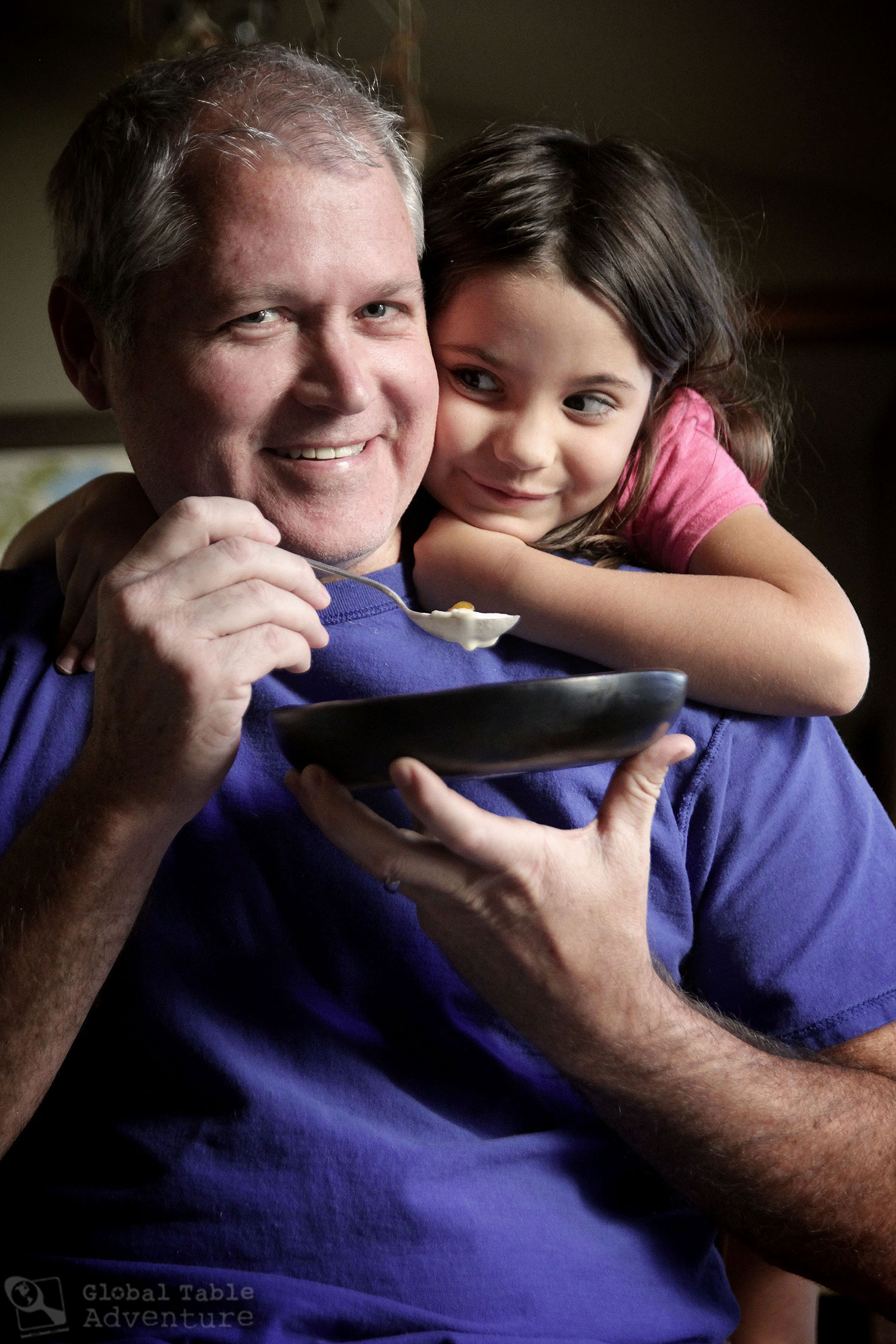 Best of all, this isn't just another sweet treat.
This sundae honors the flavors of sub-Saharan Africa… and provides an opportunity to discuss the regional importance of vanilla, pineapple, ginger, and coconut to locals. Try it as a quick and simple option for World Food Day – October 16. And while you're at it, why not become a real-life superhero? Make your table larger by donating the cost of your sundaes to Hunger Free, an initiative of World Vision.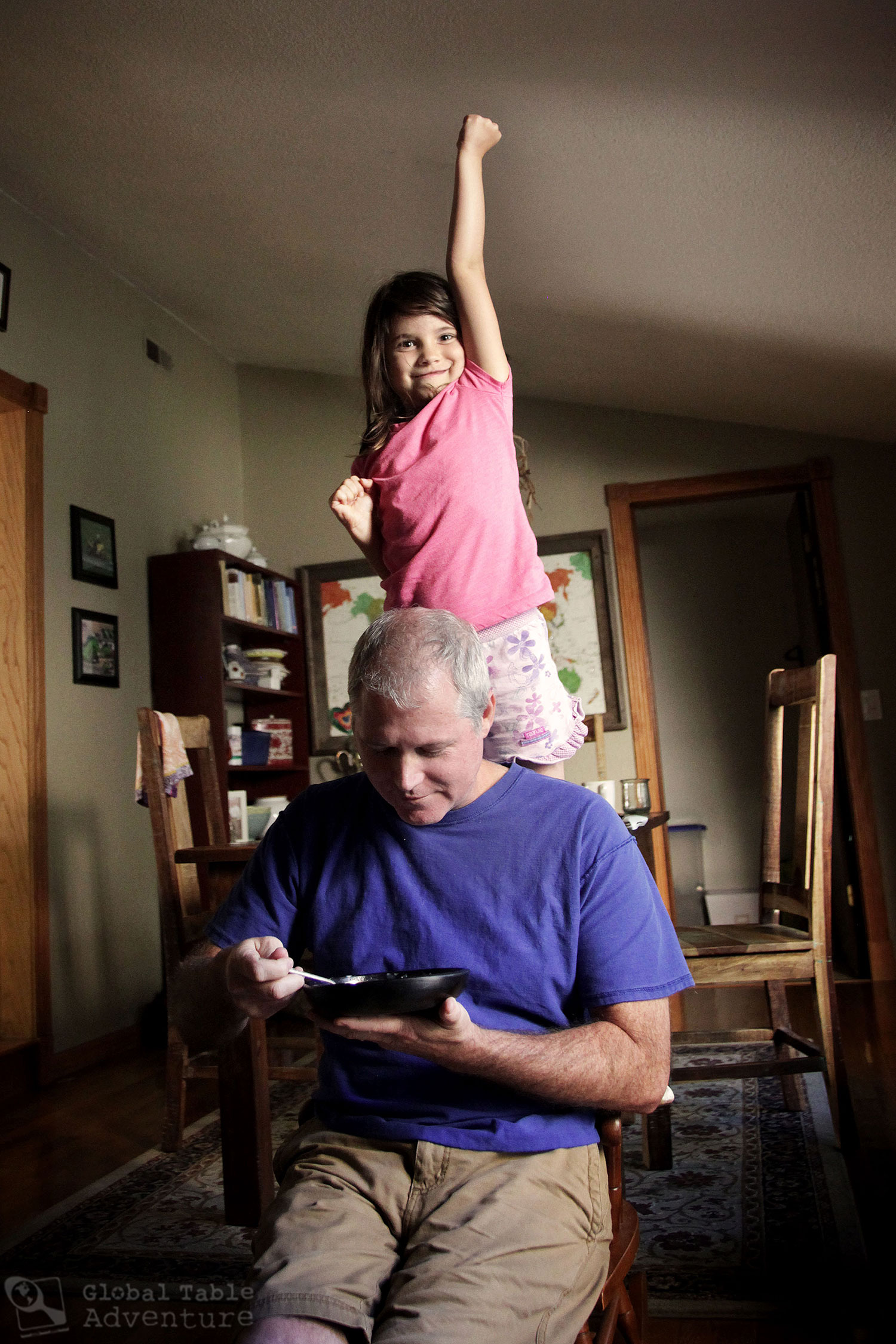 With your support, families all over the world will enjoy the relief that comes with food security.
* Food and Agriculture Organization, 2009
Print Recipe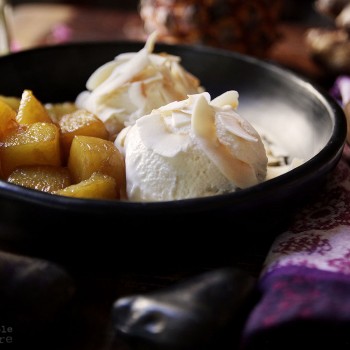 Inspired by a cooked fruit salad in Jessica B. Haris's "The Africa Cookbook" and an ice cream topper in Marcus Samuellsson's "A Taste of Africa." While this sundae is not specifically from any one country, we put together flavor profiles for the dessert that are very typical of sub-Saharah Africa - pineapple, coconut, ginger, and vanilla. In particular these crops are a big part of the economies of Nigeria, Tanzania, and Madagascar.
Gingered Pineapple Ice Ceam Sundae with Toasted Coconut
Servings

Prep Time

2-4

people

5

minutes
Servings

Prep Time

2-4

people

5

minutes
Add the pineapple, brown sugar, and ginger root to a small pot and bring to a simmer over medium heat (the pineapple will release its juices). Cook 5-10 minutes until the brown sugar dissolves and thickens into a syrup. Stir occasionally.

Serve with vanilla ice cream and toasted coconut chips to make a sundae.
Source:
Recipe Copyright Sasha Martin, Global Table Adventure. For personal or educational use only.