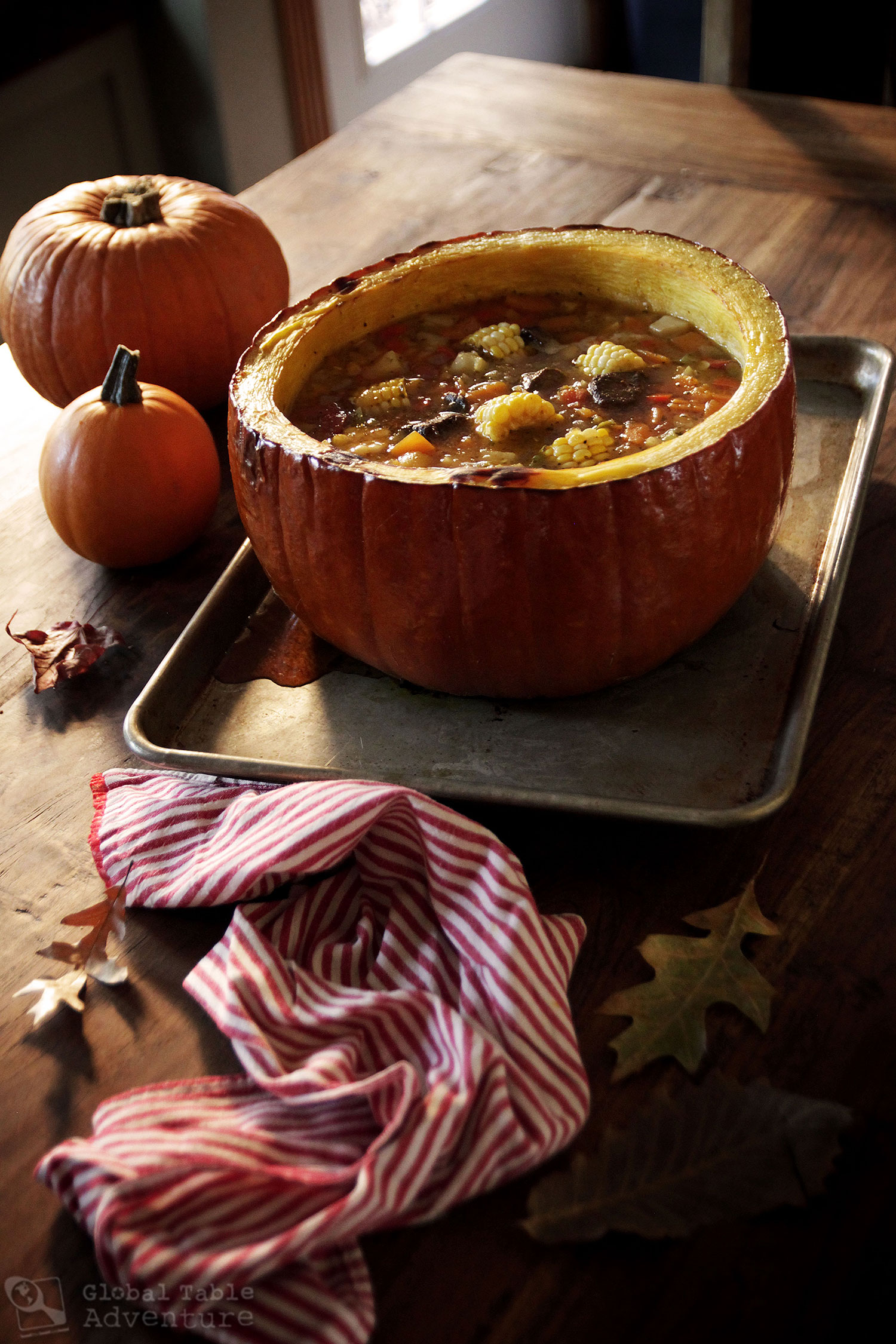 In 2011 a young Argentine man went viral in a 6-second video when he laughed about the cost of a burger at a soccer stadium. His exact words were:
Con quince peso me hago alto guiso.pum

For 15 pesos I could make quite the stew.
To put this young man's remarks in perspective, 15 Argentine pesos is just under $2 USD. It seems as though, relatively speaking, overpriced stadium food is a shared phenomenon – as common as rainy days and sunny dispositions. What is remarkable – and what made the young man's comment go viral – is the assumption that good, homemade stew can be made for the cost of an overpriced burger.
I looked into his logic: here in the USA an overpriced stadium burger in Silicon Valley goes for $12.
Surely, I could make a soup for less than $12, even shopping at costly American grocery stores.
Testing the theory…
Curious (and inspired), I began looking into Argentine stews – sending me down a delicious rabbit hole of beef and root veggie based bowls. I finally emerged victorious, ready to adapt the most epic Argentine stew of all – Carbonada en Zapallo,  or Argentine Beef Stew in a Pumpkin. While the name might sound rather unremarkable, this soup follows the Argentine tradition of roasting and serving foods in gourds. True to tradition, this simple, earthy stew is, in fact, roasted and served inside an enormous pumpkin.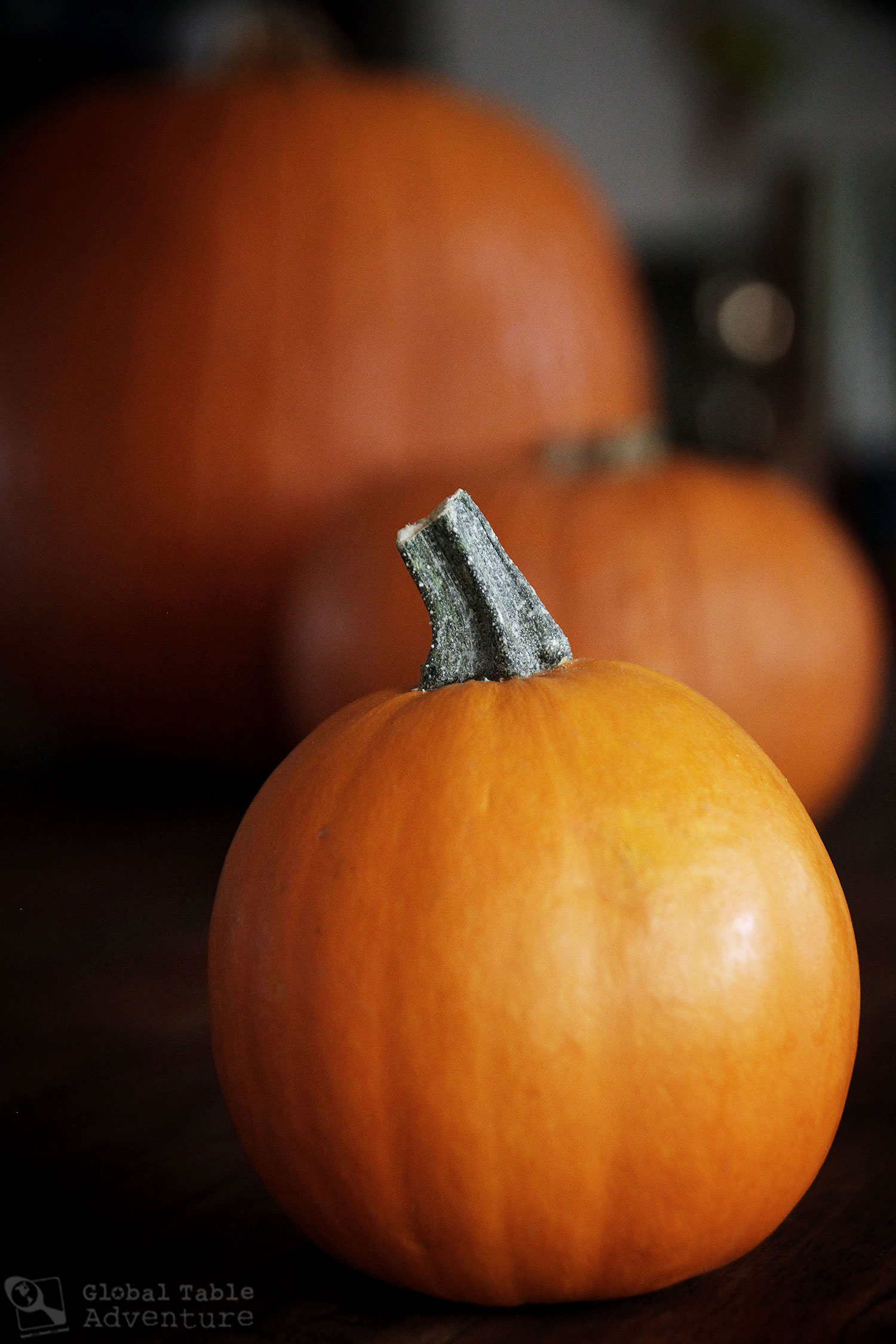 Typically, Carbonada en Zapallo is made for Christmas. I think it would make a grand Halloween or Thanksgiving dish, as well. Recipes vary but generally feature beef, potatoes, peppers, corn, and dried apricot. Sometimes there's rice to thicken the mix. While the ingredients cost more than a $12 stadium burger, the soup would serve 8 times as many people making it much cheaper than the $96 it would take to purchase buying 8 fancy burgers.
Turns out the boy has a point!
Attempt # 1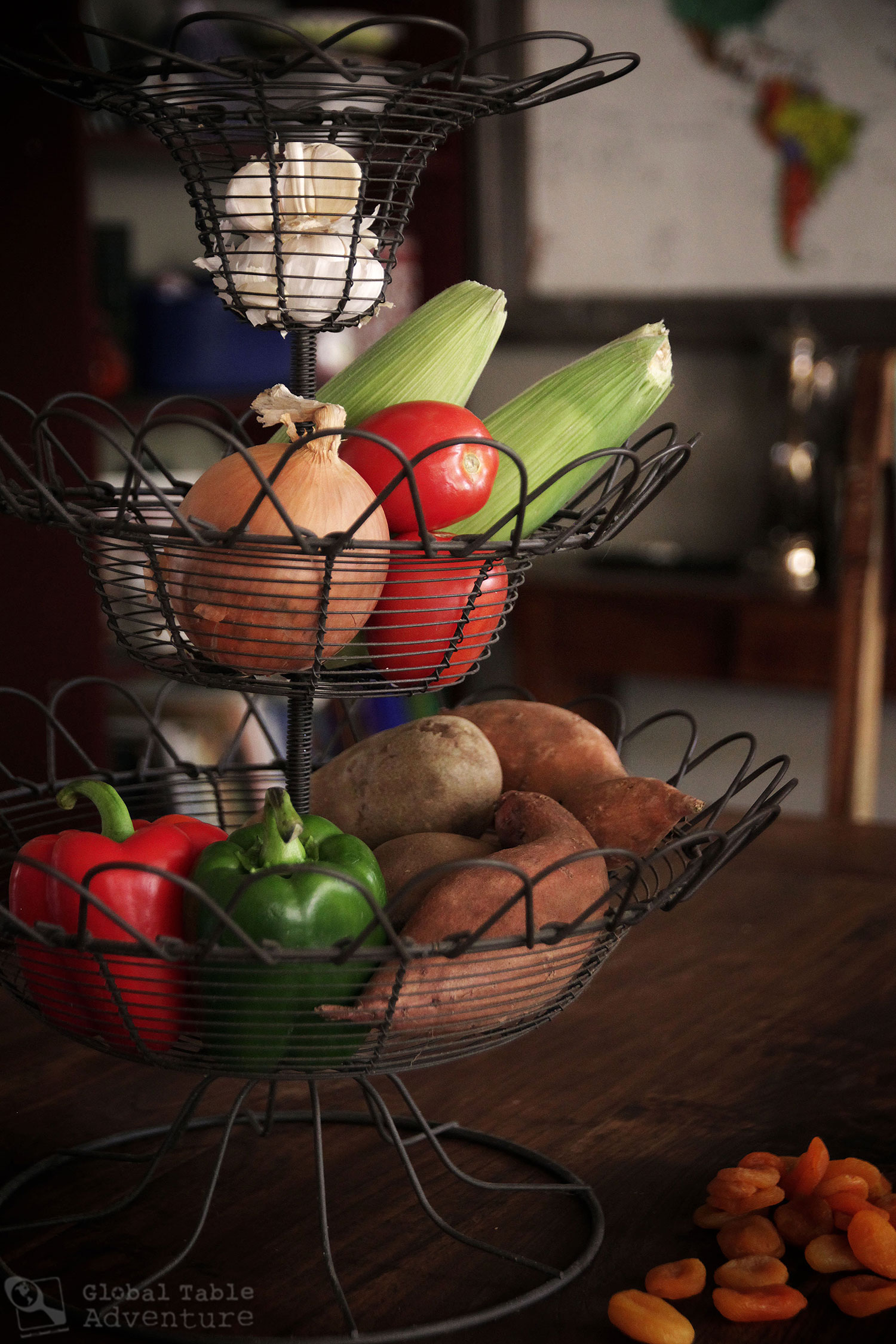 My first attempt was a comical mad-dash, tearing through the kitchen at 4:30 p.m. on Halloween, half-dressed as Mary Poppins – daisy-covered hat cocked sideways, Victorian blouse unbuttoned for breathing purposes. We'd spent the afternoon on a Disney-themed float for Tulsa's BooHaHa Halloween Parade. Keith, Ava and I wore our costumes from Ava's British Mary Poppins Birthday Party this summer.
We got home with barely 45 minutes left before we needed to head to our next event: an evening Halloween Potluck and Trick-or-Treating extravaganza with friends. I tore through vegetables at speeds worthy of a television cooking competition. And, in an error characteristic of those competitions, I completely forgot to season the stew OR put the pumpkin "serving bowl" in the oven. Thankfully Keith seasoned the soup before loading the pot into our car for the party.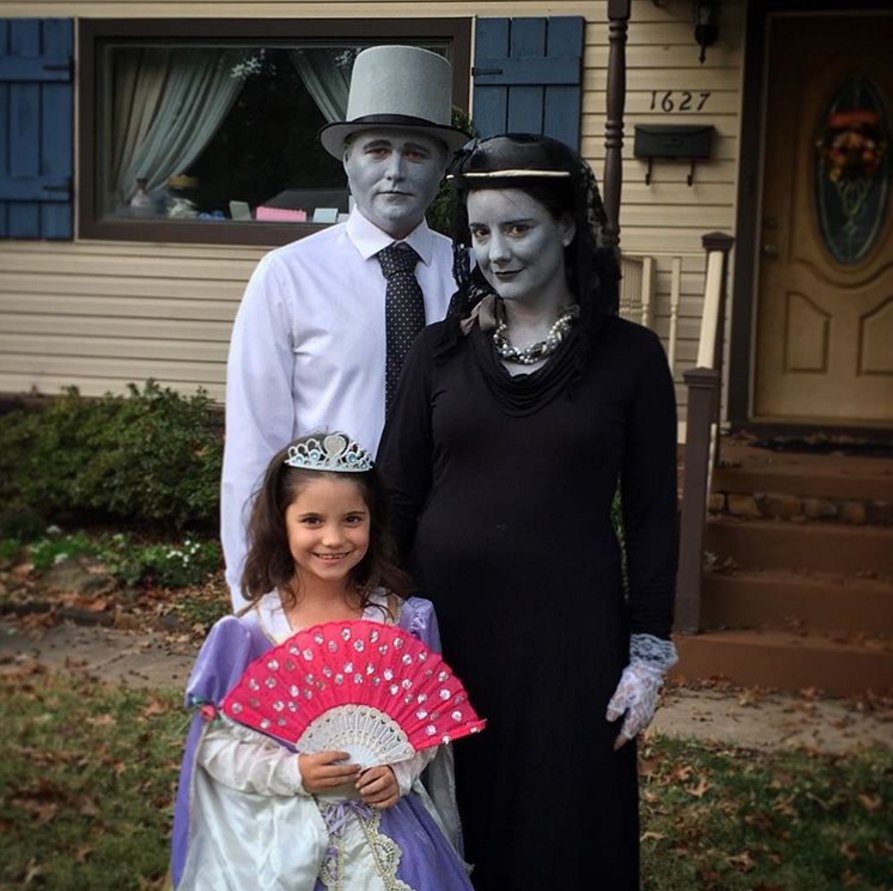 While the soup bubbled on the stove (at a simmer furious boil, in hopes of softening the veggies), we all changed into our costumes for the 5:30 Halloween party – including Keith and me smearing entire containers of black and white face paint on ourselves. After only 57 minutes we pulled away from the house as silent film stars and a Renaissance princess … with a pot of Argentine stew on the floorboards. We were only 12 minutes late to the party. Later, when I  tasted the stew, I was shocked – it was delicious, managing to survive my haste and frazzle with grace.
Attempt #2
The second time I attempted Argentine Beef Stew in a Pumpkin I wanted to do anything but cook. I'd spent almost an hour crying in my parked car  (in my own driveway no less … am I the only one who does this?!). I followed that crying session with another on the couch, in my husband's arms. All this while my daughter was at school, thankfully. With all those tears you'd think something terrible had happened – and in a way it had, but that was more than 2 decades ago.
Grief has no rhyme or reason. It is an old, unwelcome friend that pops in, unasked, and always outstays its welcome.
On this particular day the remarks of an acquaintance had scratched open old grief. What they said doesn't matter – I want to put it behind me. But one thing is certain… No one is strong all of the time – we all have weak spots in our hearts – and the wrong thing uttered carelessly can take days to recover from. People like to tell me how "well I turned out" given my childhood – but some days I don't feel like much of a survivor.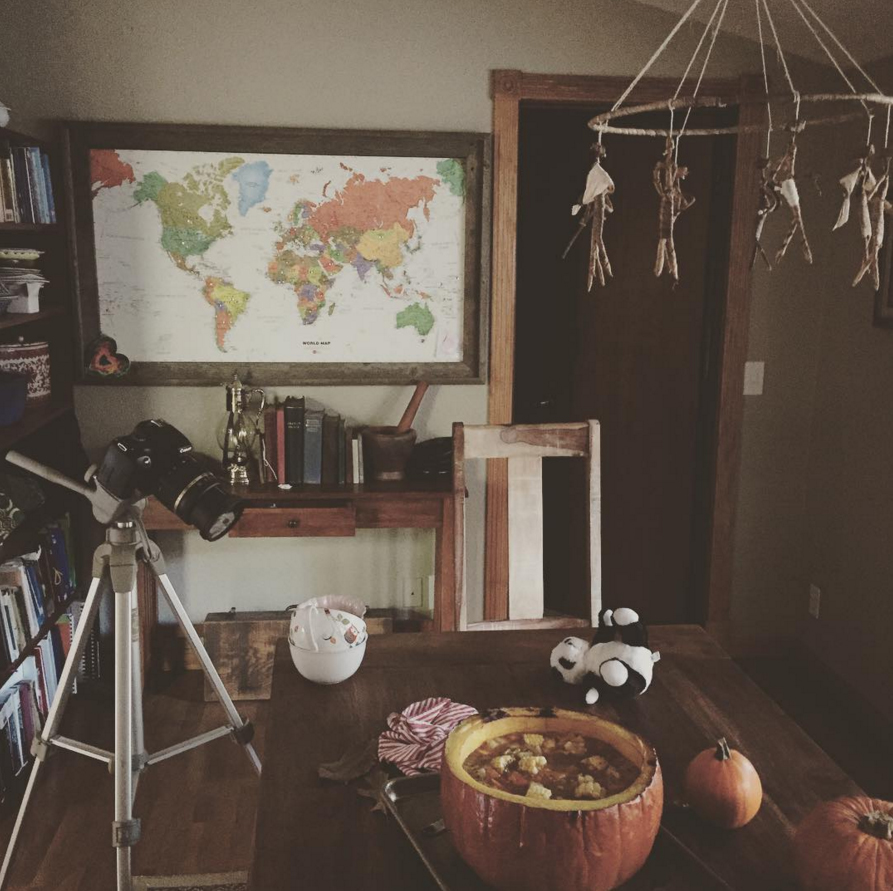 Knowing I was running out of time to test the recipe (and light for the photos), I hoisted myself off the couch, away from the numbing scroll of my cellphone, and forced myself to cook. Every knife cut felt labored. But chopping through the great list of vegetables – onion, two kinds of peppers and potatoes, an enormous pumpkin – became meditative. I'm not sure if my mood lifted when I was scraping the seeds and sticky strings from the pumpkin, or if it was when I'd tossed the last herb into the simmering pot – but eventually I could breathe again.
I cooked the beef separately so my vegetarian daughter didn't have to have any. Then, I ladled the soup into the pumpkin and roasted it for 30 more minutes. When it came time to serve the soup, I found I could not lift it off the baking sheet (the tender sides of the pumpkin threatened to crack in half). So I brought the enormous, brimming pumpkin and baking sheet to the dining table and stared at it. This soup was tremendous. A show stopper. Stellar.  There was enough for a party, but this was a school night – there'd be no party, no costumes, no festivity.
Cooking might have helped me pop back to the surface, but I wasn't hungry.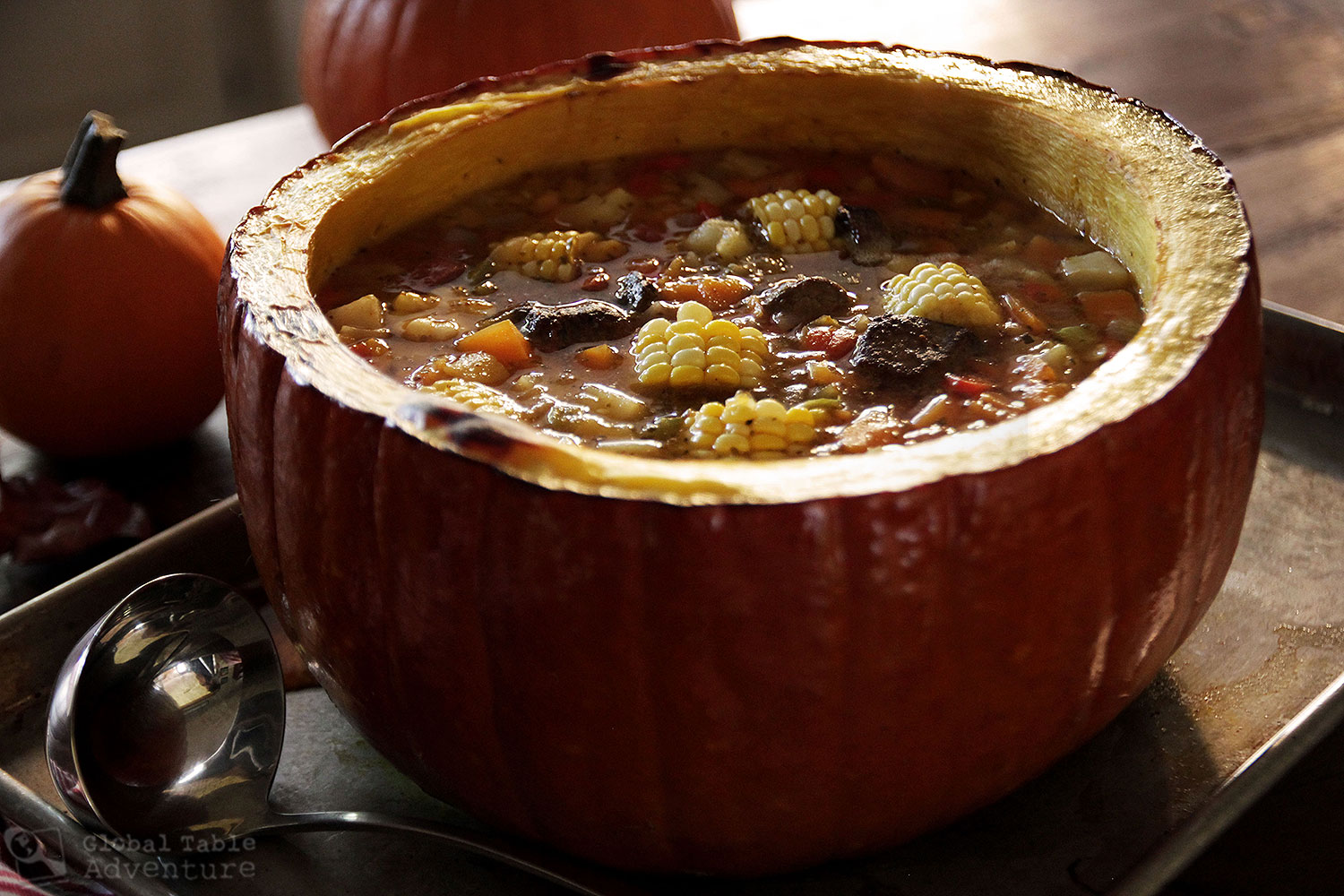 I called Keith into the dining room, showed him how to scrape the pumpkin into the soup when serving and asked if he'd mind if I took some time for myself. Before I left, I let him take me in his arms and squeeze me. I gave my daughter a kiss and a reassuring smile, and then I drove down the road, to a place where I wasn't a blogger. Where I had no obligation to be chipper. Where my life wasn't required to be all happy ending, all the time. Where no one knew my story.
I took some time to think, write, and breathe.
When I came home that night I asked Keith how he'd liked the soup.
"It was sweet," he said, taking me in his arms,"Is that because you cooked it in a pumpkin this time?"
I thought about how Keith's love and support sweetens my life, even when I feel as gnarly as a knob of garlic. I thought about how my daughter says something every single day to make me laugh.
"Yes," I said, letting my head fall on his shoulder, "the vessel makes all the difference."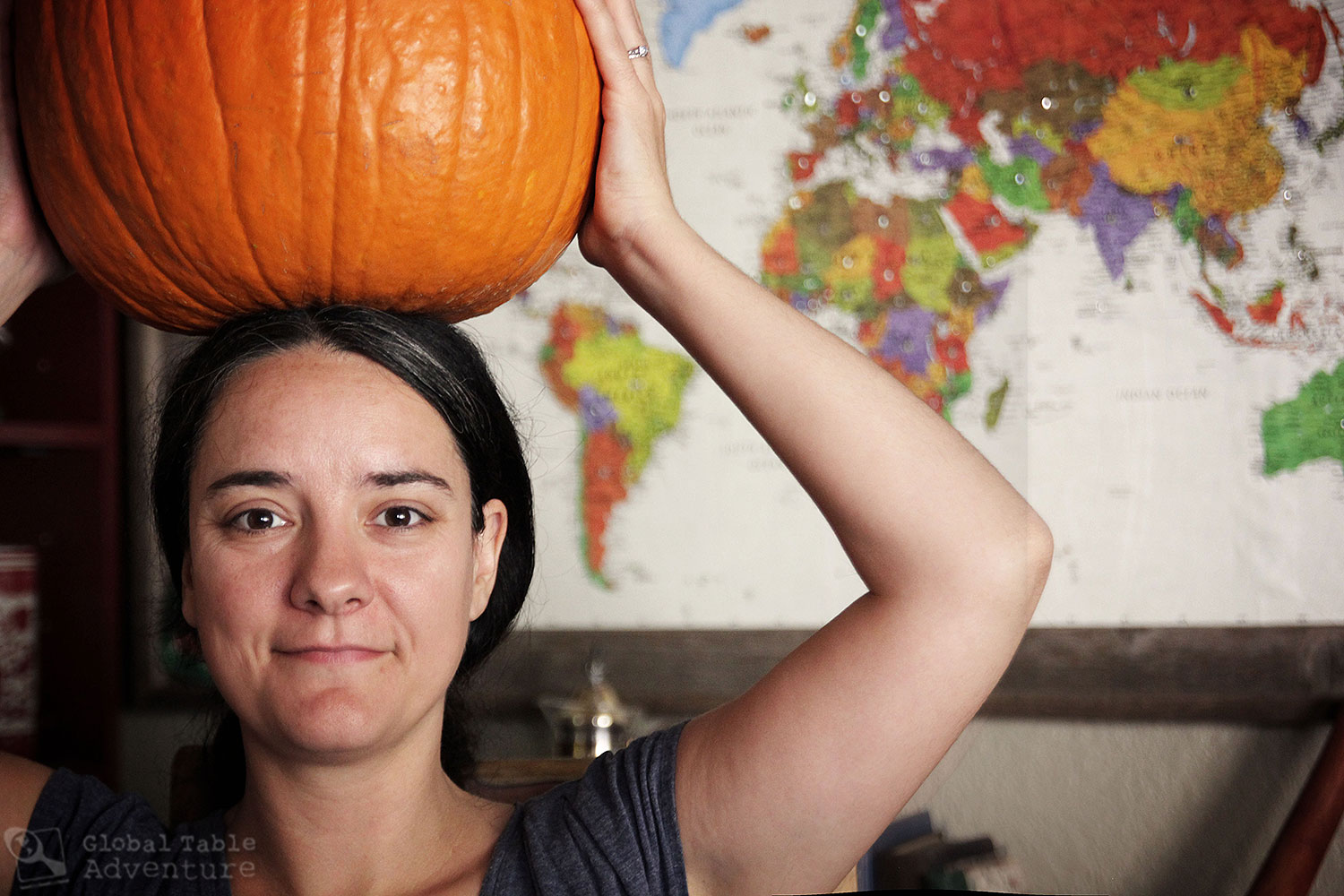 P.S. Keith took this photo of Ava enjoying her vegetarian portion that night. The stew is just as good without the beef. No matter how you cook it, the stew works for happy, festive days, and it works for sad, winter days. This soup just.. works.
Thanks, Argentina.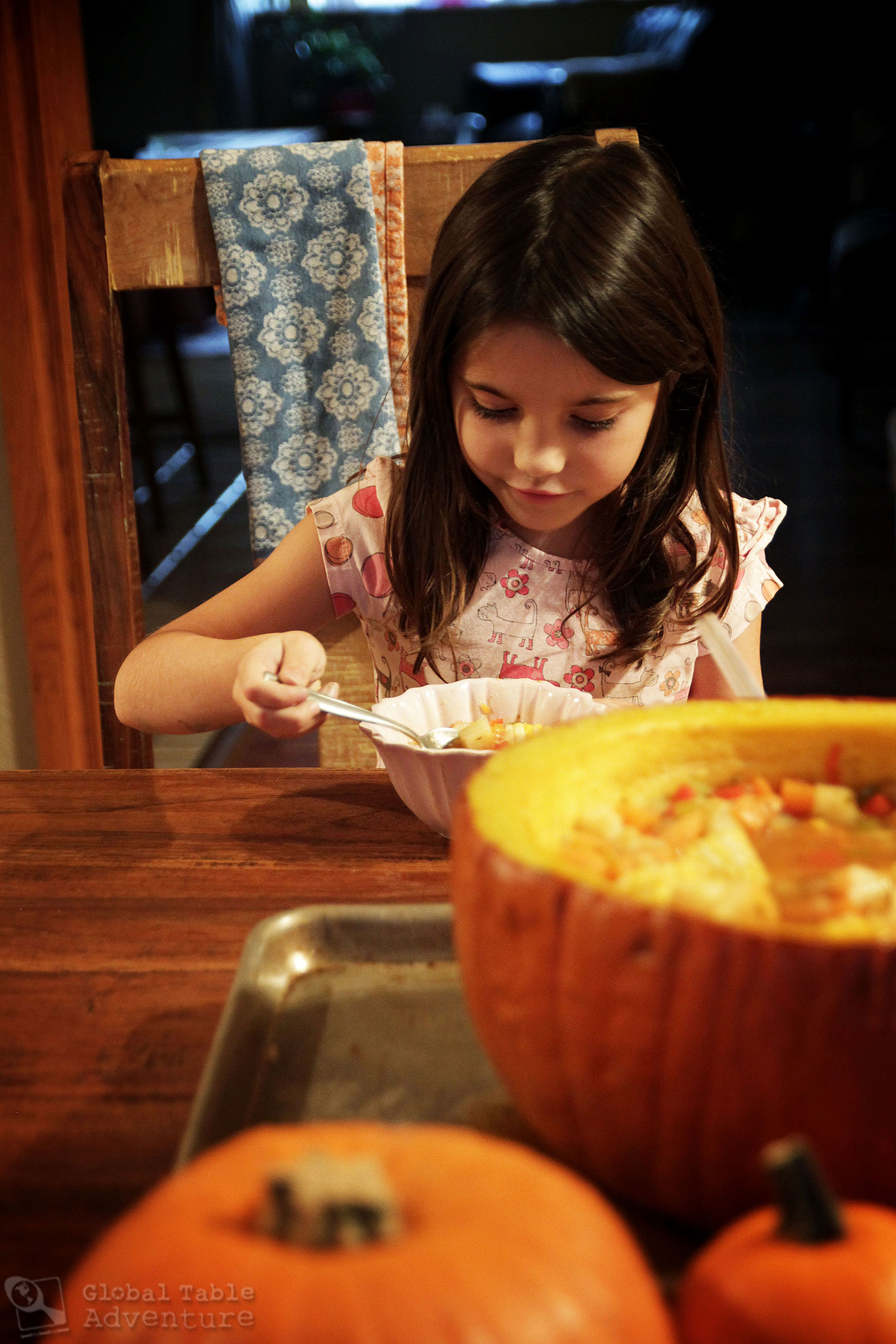 Print Recipe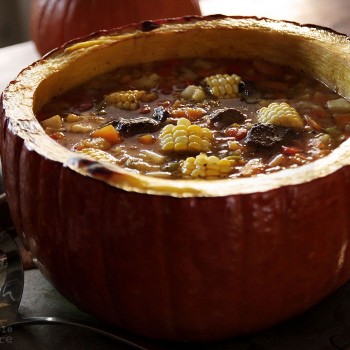 Carbonada en Zapallo is a traditional Christmas dish in Argentina, it also makes a wonderful dish for Halloween or Thanksgiving potlucks. It's best to bake the pumpkin on something you can use for serving because trying to lift a softened pumpkin full of soup ... well, let's just say it begs to crack in half and spill everywhere. If this is not an option, roast the pumpkin on a baking sheet until well browned - about an hour and fifteen minutes, remove to serving platter and fill with completely cooked soup right before serving.
Argentine Beef Stew in a Pumpkin | Carbonada en Zapallo
Servings

Prep Time

1

gallon

30

minutes
Servings

Prep Time

1

gallon

30

minutes
Preheat the oven to 375F.

Meanwhile, Cut the top off the pumpkin. If you are able to get a large one, as I did, you can cut it about 1/3 of the way down so that it is wide but shallow. Remove the strings and seeds - I find it helpful to use a paring knife to cut smooth the top four inches of the inner edge for presentation. Brush the cut edges with vegetable oil. Roast the oven for about 45 minutes.
Add about 2 tablespoons vegetable oil to a large pot over high heat. Add the beef, stirring a couple of times to ensure even browning. If there is excess liquid, it will need to boil off before the meat begins browning.

Reduce the heat, then add the onions and garlic. Once translucent, add the peppers and continue cooking for about five minutes. Add on the potatoes, tomatoes, corn, apricot, oregano, and bay leaves. Cover with 8 cups of broth.

Simmer gently until the vegetables are just tender - about 30 minutes. Season to taste. Ladle into the pumpkin in the oven and bake 30 more minutes to finish cooking . Serve hot, on a chilly day. Spoon with some of the pumpkin flesh into each bowl.
Source:
Recipe Copyright Sasha Martin, Global Table Adventure. For personal or educational use only.