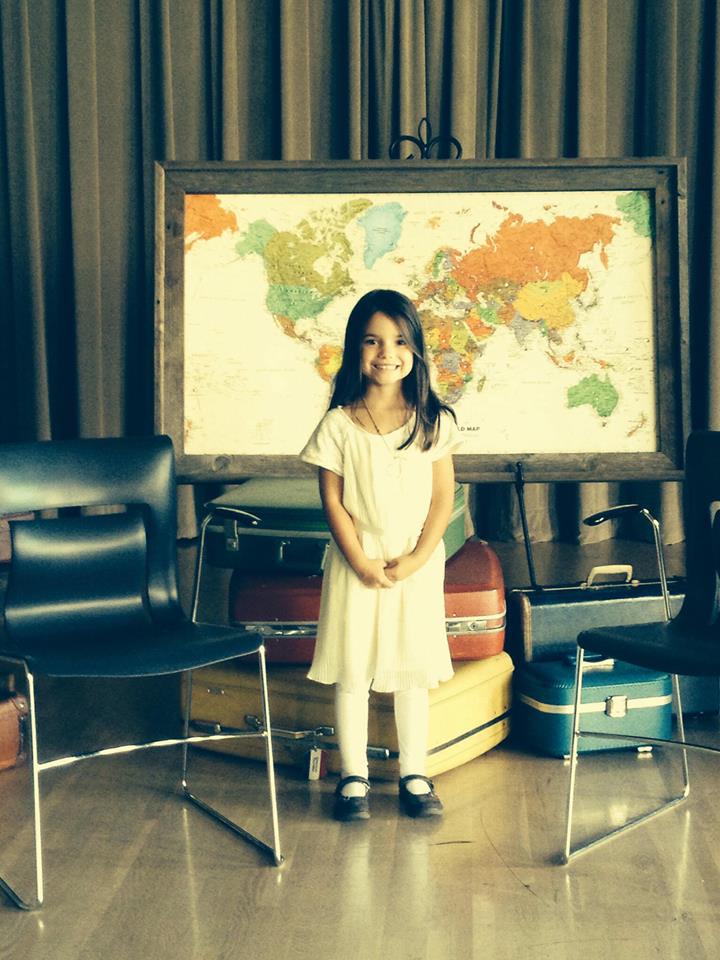 Look up recipes for world peace and you'll find one of two things – a moral diatribe or Dori Greenspan's chocolate chip cookies. While the former is on point, and the latter is undeniably incredible, I'm looking for something a little more… grounded… in the holiday.
So I went back to the source for inspiration. Turns out the United Nations came up with "International Day of Peace" in 1981 and the first celebration occurred in 1982. Lots of people – myself included – simply call the September 21st holiday "World Peace Day."
What's World Peace Day all about?
World Peace Day is about having one day.
One day without weapons.
One day without killing.
One day of treating each other with compassion, kindness and humanity.
I get turkey fatigue on Thanksgiving and go chocolate bezerk on Valentine's Day, but World Peace Day is one holiday I wish could last forever.
OFFICIAL WORLD PEACE DAY RECIPE
Serves 7.25 Billion
Ingredients:
1 large heart
1 recipe from a country in conflict
7.25 billion friends
Method:
STEP 1
Imagine how mealtime would change in a world without war.
So much of war is outside of the average person's control. Most people just want to wake up happy, healthy and able to feed their families. If they could concentrate on feeding their families without fear of air strikes or raids, there could be time for the simple joys of sitting and visiting together well after the last morsel is consumed.
They could #EatInPeace.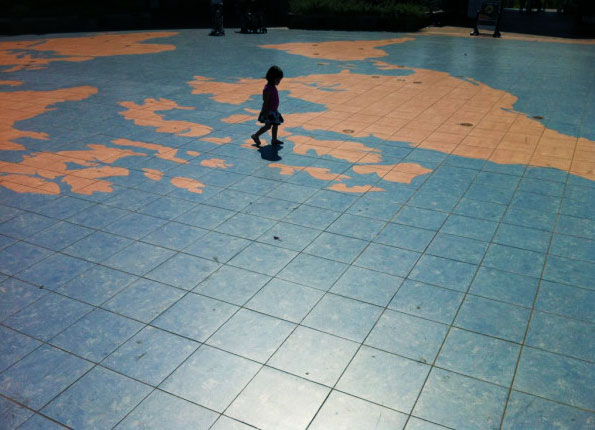 STEP 2 
Make it age appropriate.
For some, sharing the basic culture of country without going into current events is the only age-appropriate way to teach young children about a country. Keep in mind, even if you aren't talking politics with your youngest children, you are still laying the groundwork for peace and understanding simply by giving the country a place at your table!
"With Ukraine in the news so much, it is a perfect time to explore the country… It is also a perfect time for lessons with older children about current events and such. Since we do not let Hazel know about current events or watch the news, we looked at tradition, food and crafts…

I have always loved learning about different cultures and feel it is important for everyone to know a bit about other people in order for us to be able to get along… To introduce the countries I usually type the country name in the library search engine for children's books and see what comes up.

Carrie, excerpts from Around the World in 12 Dishes.
STEP 3
Cook a meal from a country in conflict.
By cooking countries in conflict, we can bring ourselves closer to their culture and see our global neighbors as real people, not just some news story. We can understand the peace they want and all people deserve.
"I like to think, actually I pray that my children will know a person is a person no matter where in the world they are. That bad things happen not because of a dot on a map, or a religion – but simply because bad things happen because of people who have bad ideas."

Amanda from MarocMama
Think of it as any international night you might host for your family, but with a cause. To get started, take a look at the countries I've cooked map and select one whose struggles speak to you. There are over 650 recipes representing every country in the world for you to choose from!
STEP 4
Take time during dinner to acknowledge or discuss whatever conflict you chose.
You will learn so much about the country over dinner – and perhaps more about your family. I was particularly touched by Farrah's story – how her Uncle never would eat daal:
The first time I offered daal to him, he refused, saying he had eaten it every day of his 4 year imprisonment as a prisoner of war. That's all he says. Despite my prodding, I haven't gotten any more details from him. Here's what I do know, though. During the Indo-Pak War of 1971, Bangladesh waged its own liberation war…
But there's a happy ending: the family finally does sit down to share the daal. As they eat this simple dish they'd once avoided, the conversation flows – and the simple meal heals their painful memories:
My mom recounts tales of digging trenches and lying in them when they heard the sirens. She remembers that all the girls in the family learned to handle guns, and practiced emergency drills in case of invasion. All these stories come gushing forth over a bowl of daal, if you can believe that.

Farrah, Global Advocate Jr.
Tip: If you'd like to start with something more tame because of young children, discuss challenges like extreme weather with your little ones. 
STEP 5
While eating talk about how to bring the world closer to peace.
It is not just enough to enjoy the food of anther culture – but also to talk with our hearts towards peace. Respect and kindness should rule the conversation, even if the tone is serious.
My husband remembers civil unrest when he lived in South Africa that would eventually lead to his family having to return to Germany. Our friends were raised by parents that survived the horrors of Nazi occupied Germany.

Talking about conflict can easily turn the mood somber, we all fell quiet for a moment as we took in everything we had just heard. But we decided to turn it around and toasted to "May the world one day figure out that life needs us all."

Adriana, Changing Plate.
For all the families that tried it, this challenge was a wonderful, eye-opening experience.
So, you might be asking… now what?
Well…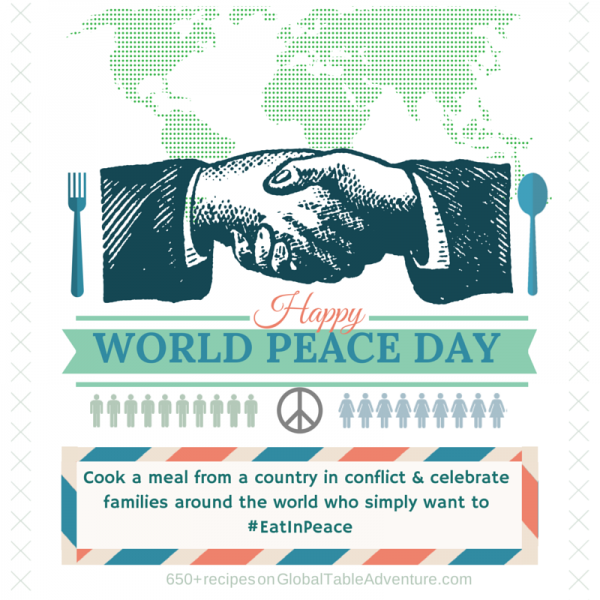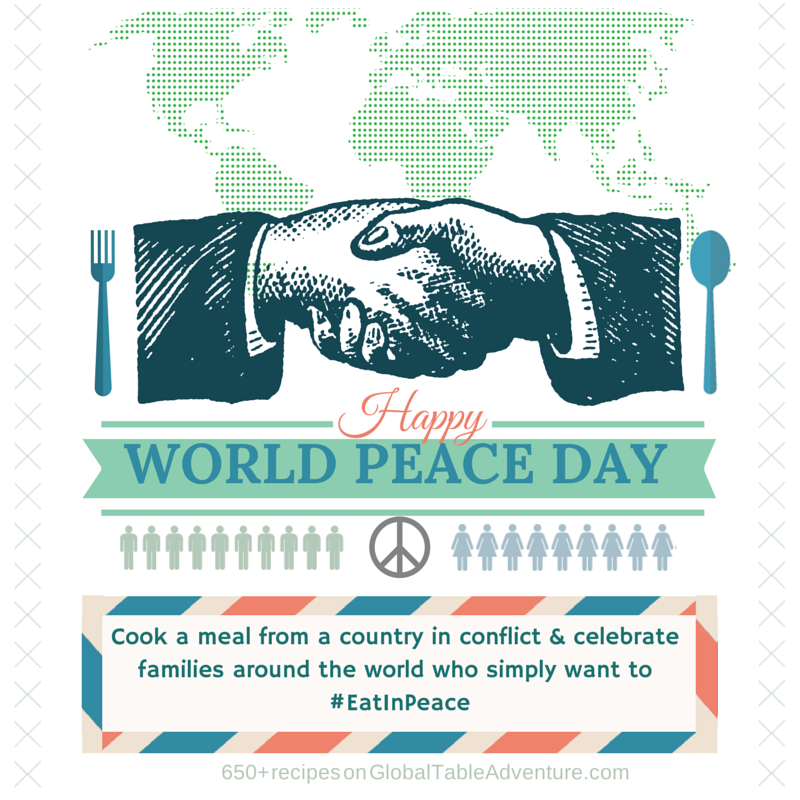 Now it's YOUR turn… take the challenge!
You'll be in great company – this summer I started a challenge on GOOD for people to cook food from a country in conflict. It quickly landed on the front page of the web site and got a lot of people talking.
I'd like to extend the challenge to you today.
Cook a meal from a country in conflict and share your experience.
Will you laugh? Will you cry? Who knows. But you WILL eat well.
#EatInPeace
#GlobalTableAdventure
#WorldPeaceDay
xxoo
Sasha & family