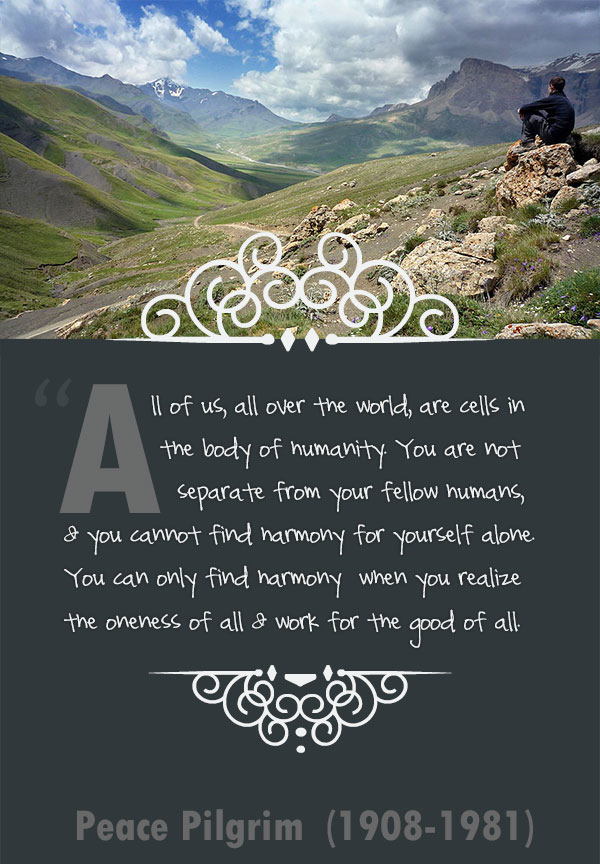 Nearly four years ago, when I set out to cook a meal for every country in the world, I didn't know I was embarking on a pilgrimage.
I just had a bout of wanderlust.
A picky husband.
A baby I wanted to raise with an appreciation for the world's inherent beauty.
I wanted her to love the world (and I wanted her world to love her!).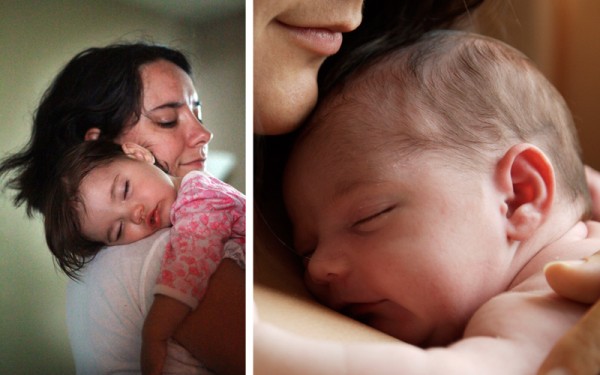 I cooked, cooked, cooked. I took thousands upon thousands of photos. My husband, Keith, filmed Ava, week  after week.
I was so focused on checking countries off my list, I didn't notice the hole in my own spirit.
What the real adventure was all about.
From the time I was a little girl, all the way into my twenties, I struggled with separation, loss, death. There were foster homes. There was estrangement. Again and again, I had to relearn what family meant. I had to figure out where I belonged.  How to love and be loved. Unconditionally.
When life is filled with one challenge after another, it has a way of making us wonder how we survive.
Why we're here.
So, even as I cooked the recipes of the world, I ached to find my purpose.
My place in this world… both as a mother and a wife, but also a global citizen – a citizen of spirit, heart, love.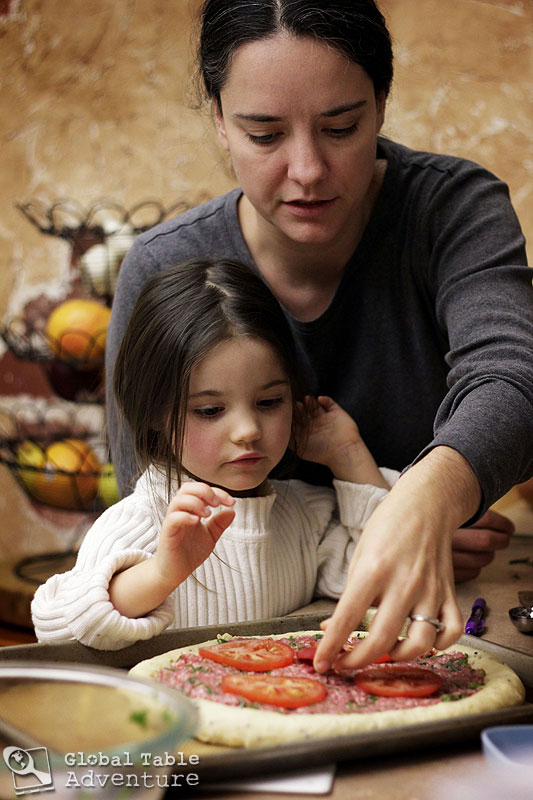 The Pilgrimage Concept
One of my favorite people in the world is Peace Pilgrim (that's what she called herself). This woman dedicated her life to walking the United States for peace.  First, she walked 25,000 miles. Then she kept going, walking from 1953 until 1981. All the while, she slept when offered shelter, ate only when offered food. Her only belongings were the clothes on her back, a few pamphlets, a comb and a toothbrush. She lived this way until she died suddenly at age 72 in a head on collision (she was in the car of someone who had offered her a ride to a speaking engagement).
Despite her untimely death, Peace Pilgrim's wise words live on:
"This is the way of peace: overcome evil with good, and falsehood with truth, and hatred with love."
…and…
"All of us, all over the world, are cells in the body of humanity. You are not separate from you fellow humans, and you cannot find harmony for yourself alone. You can only find harmony when you realize the oneness of all and work for the good of all."
In thinking about her words, I realized that, for this Adventure to bear fruit – to effect real change – I couldn't just cook the world.
I had to share what I learned with the world.
This is the seed – the germination, if you will, of the pilgrimage concept…. of doing something, not for selfish reasons, but with a higher spiritual purpose.
Work for the good of all.
I started by sharing the recipes. Our stories.
All so that you can embark on your own adventure, with your families.
(And many of you have)
But I wanted to do more.
I had a vision of the entire world coming together around a stretch of tables in peace and harmony.
So we took it one step further.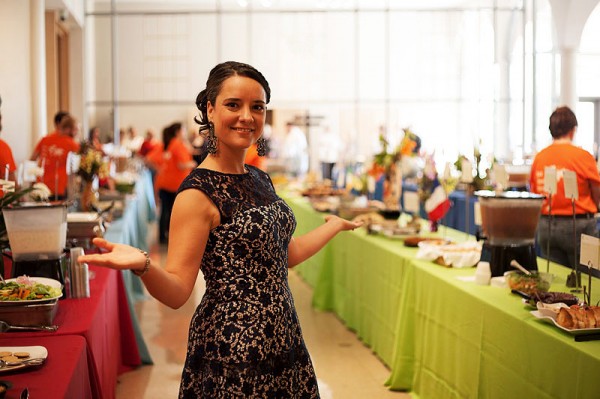 The Global Table Experience
This past October we brought the food of the world to life – all in one place, at one time.
A buffet filled with dozens of tables – several for each continent.
Recipes from 176 countries.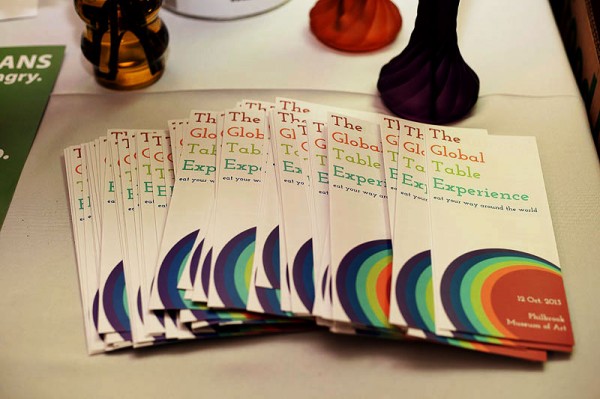 Chefs from all over Tulsa came together to prepare food from all over the world at Philbrook Museum of Art (A full list of chefs is at the bottom of this post. Check them out. They have amazing hearts.).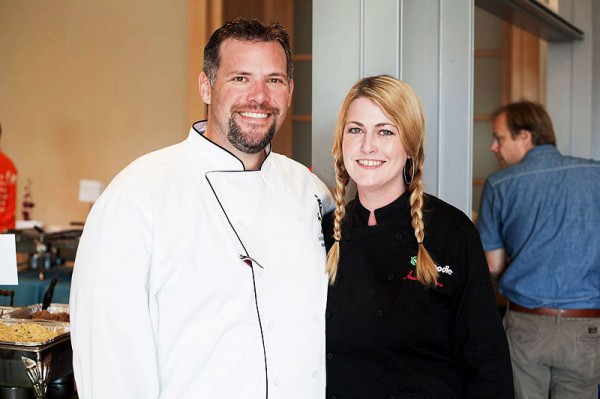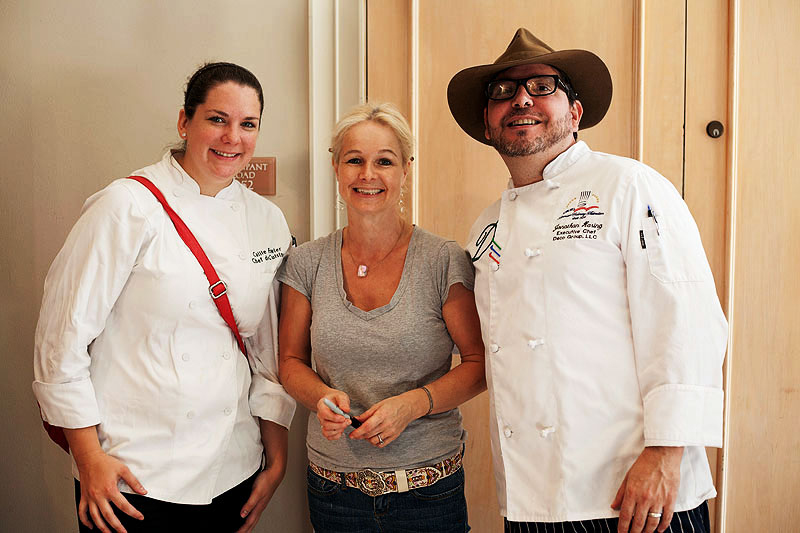 Thanks to their generosity, as well as our donated event designer, Concepts PR, we were able to keep the tasting free. Any canned food donations were given to the Community Food Bank of Eastern Oklahoma.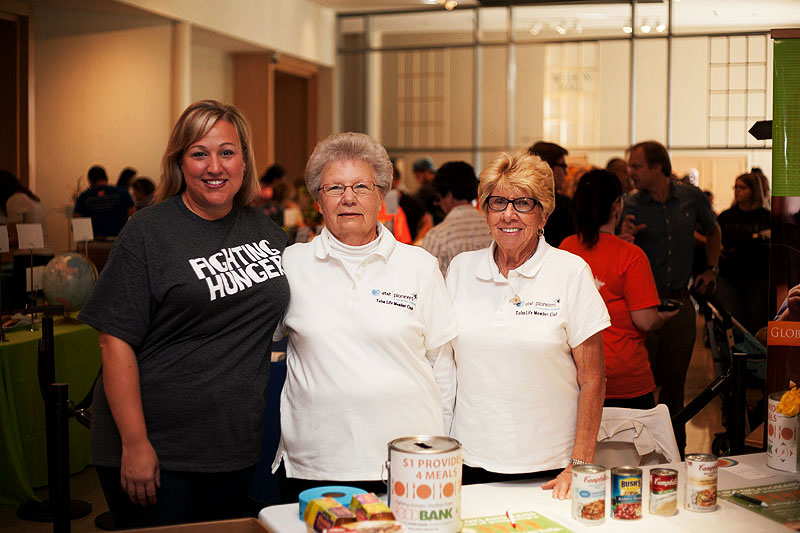 Crowds of people brought a quarter ton of canned food items, plus hundreds of dollars in cash donations.
Amazing!
Family flew in from multiple states. A flurry of hugs and last minute preparations, and before I knew it, it was time.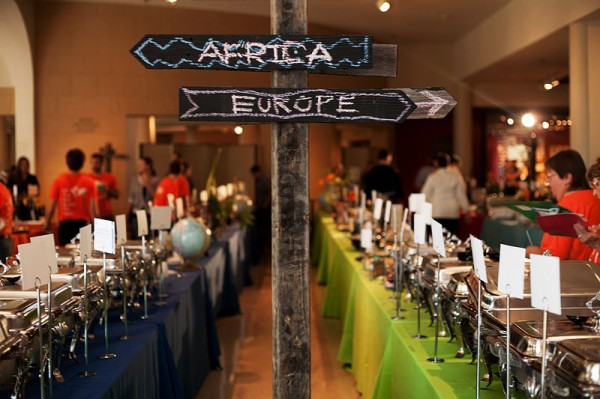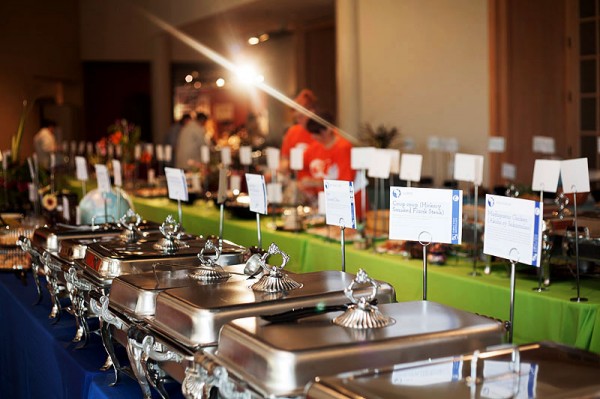 The food? Hot.
The line? Long.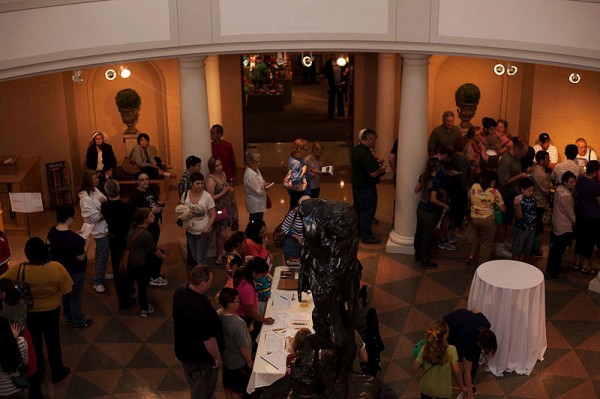 Watching the crowds snake through the tables was overwhelming.
They started on one side of the museum and continued around, down and out, and around again.
People told me it took two hours to get their food… but that it was worth the wait.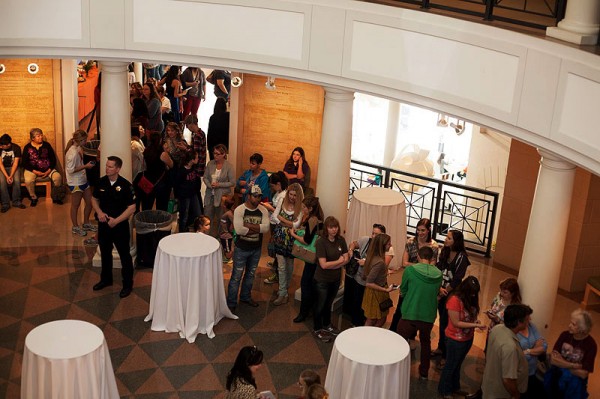 And, just when I though the museum couldn't get more packed, it did.
Look at this line…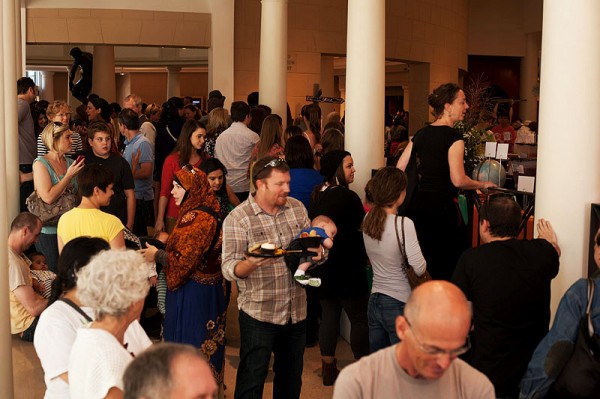 There eventually came to be such a crowd, that the line had to double back on itself…
…thus, when you got your plate and left the buffet area, you were flanked on either side by waiting guests…
Amazing.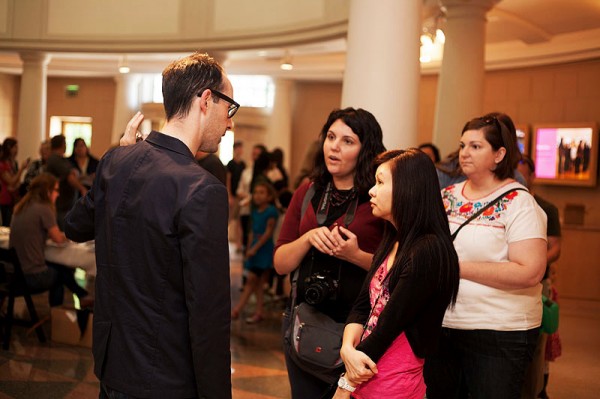 Of course, museum staff was on hand and we had a team of volunteers to help with flow.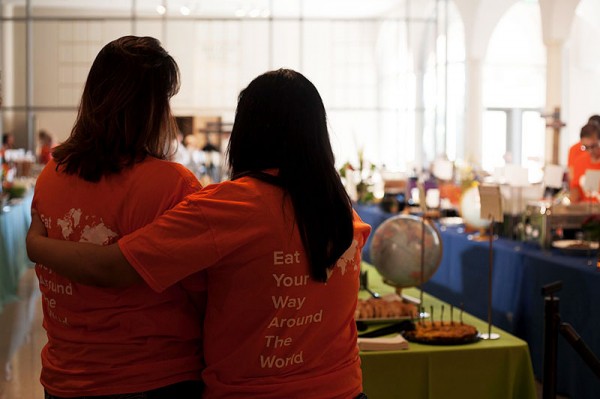 As well as west African drumming to entertain the kids!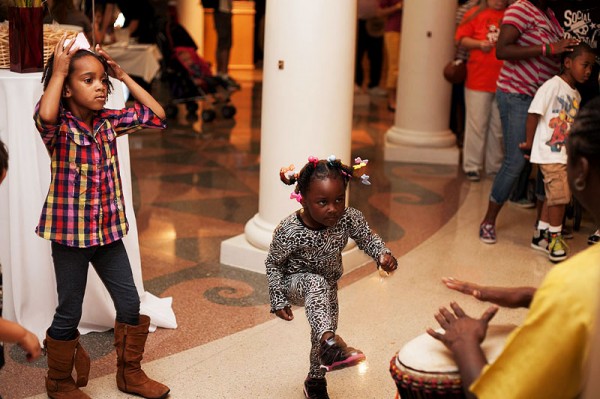 But the food… the food was the real star.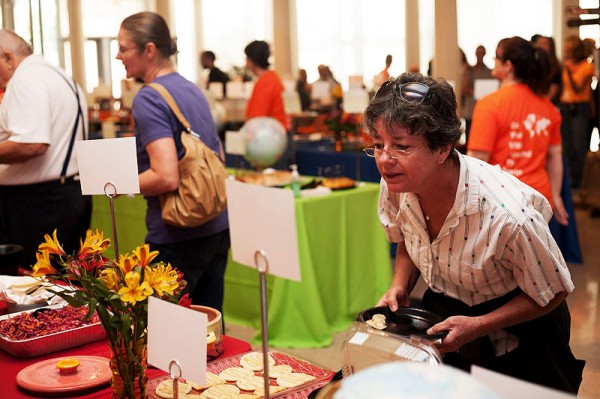 People weren't just grabbing the food. They were learning.
Reading the signs.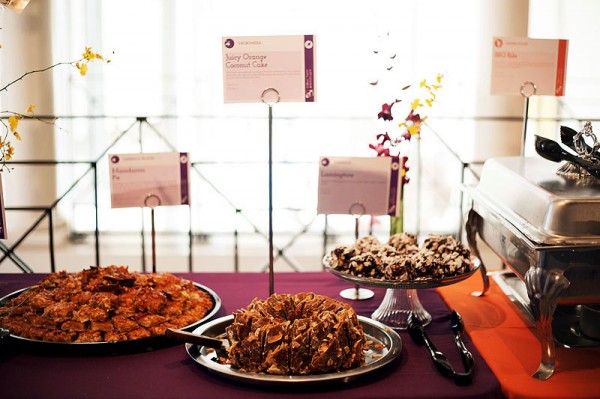 Learning about cultures…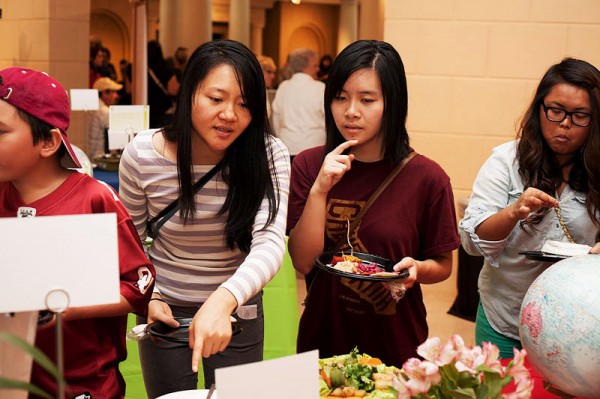 And there was much to learn about…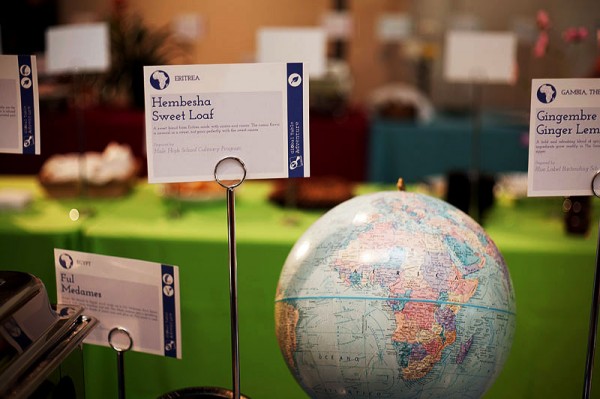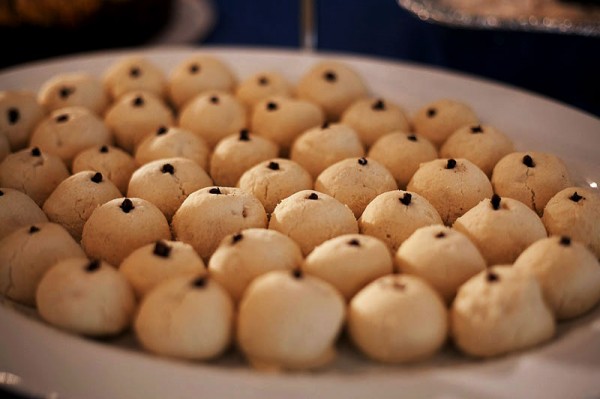 The kids had a tendency to pick out sweets.
Who can blame them?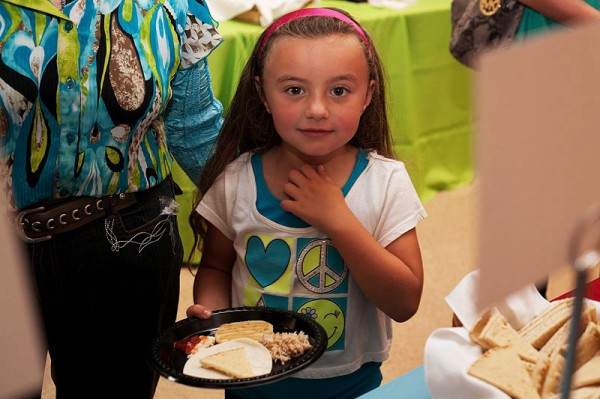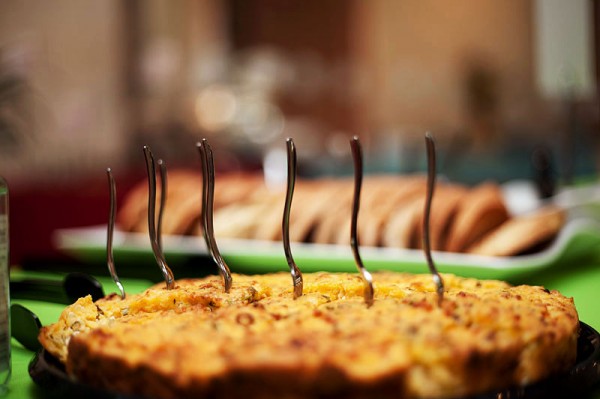 Love the famous face peeking back out at us, from under this girl's arm.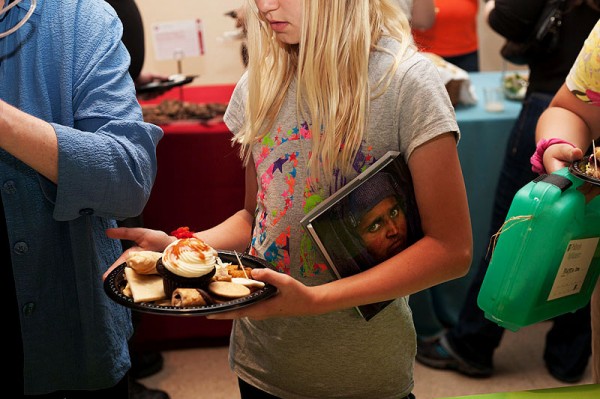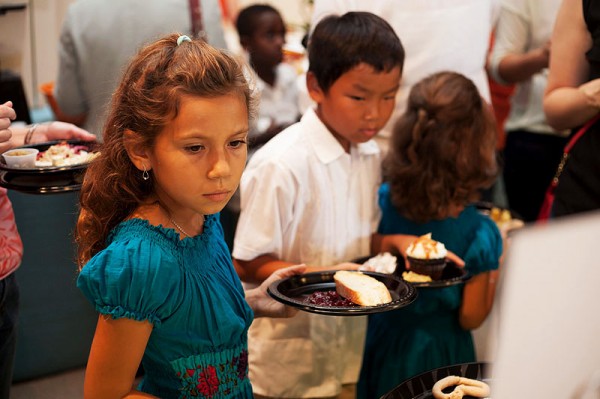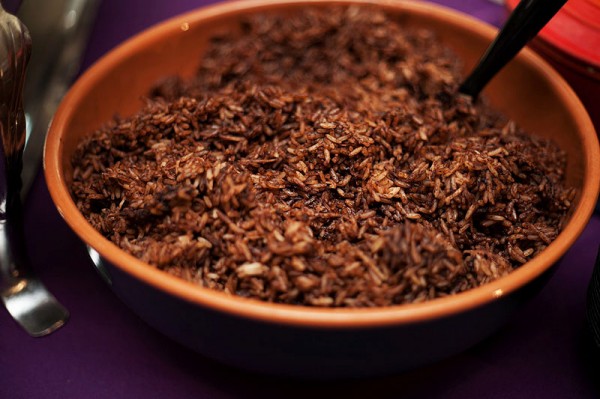 Becky from Kids World Citizen drove all the way from Texas with her family. So fun to meet them in real life!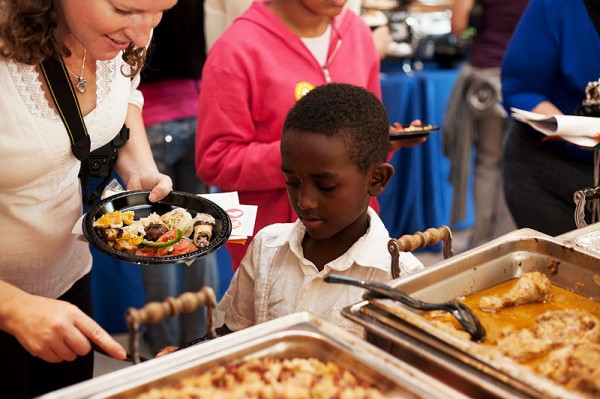 Tabbouleh! Ava's favorite…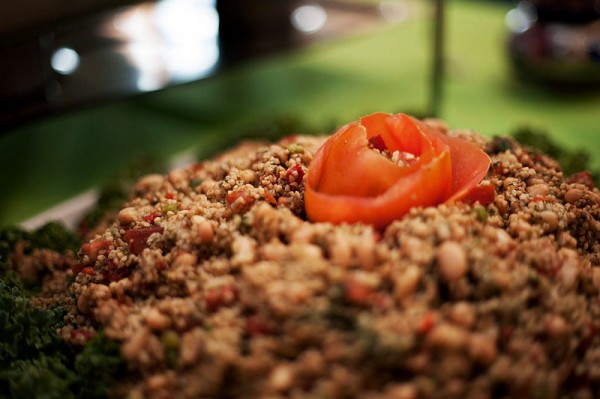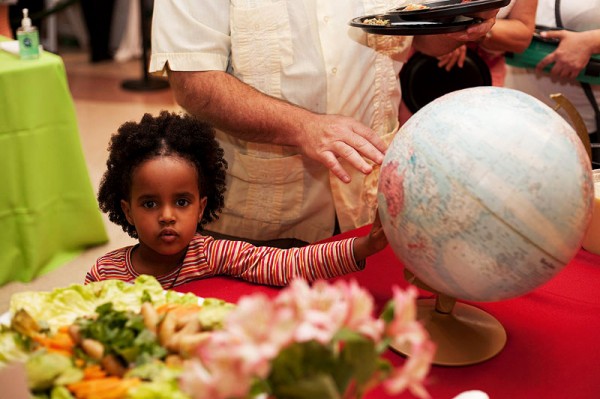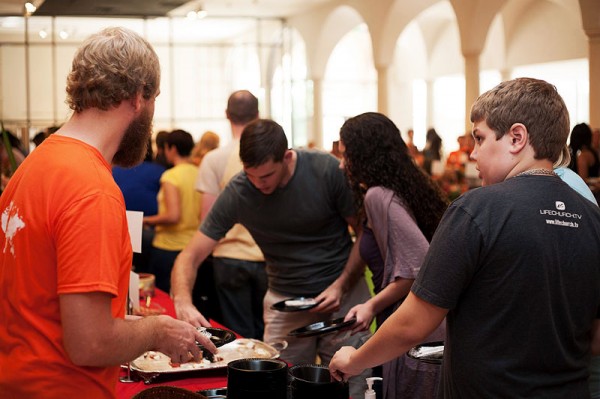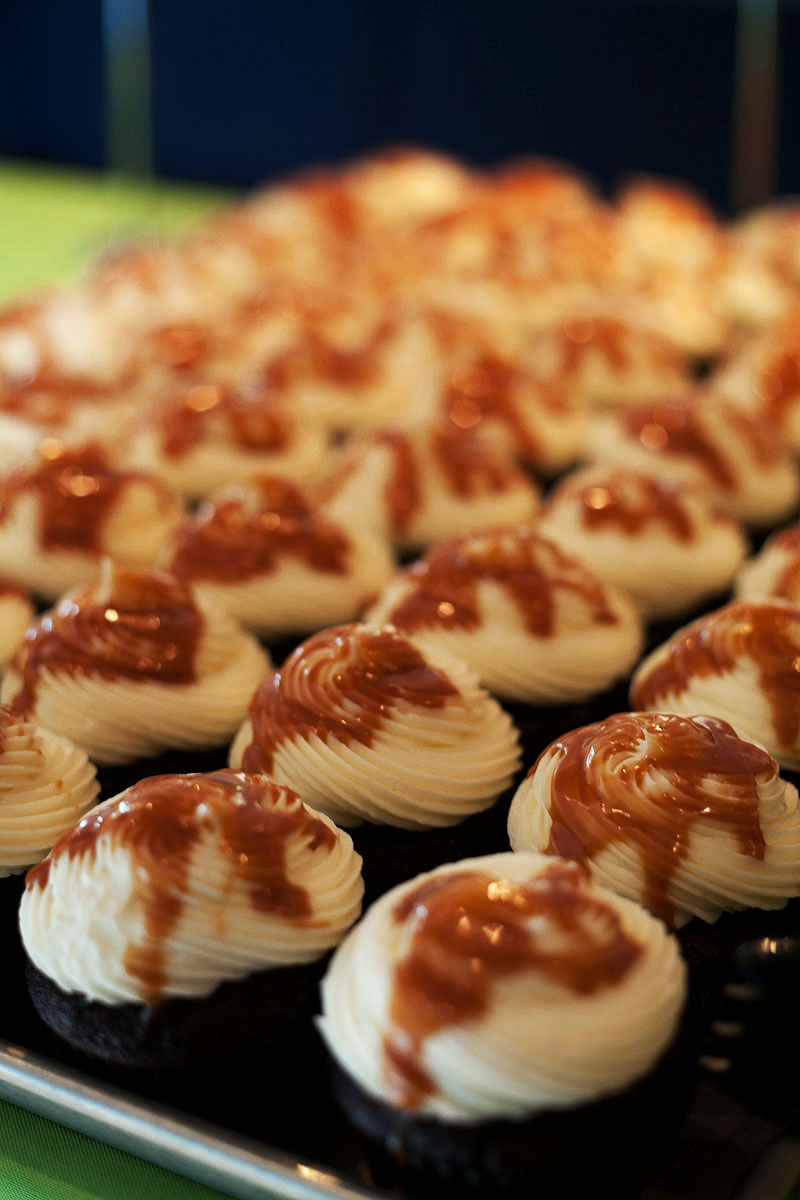 This boy (and several others) went for the Guinness Chocolate Cupcakes with Bailey's Buttercream. Nice.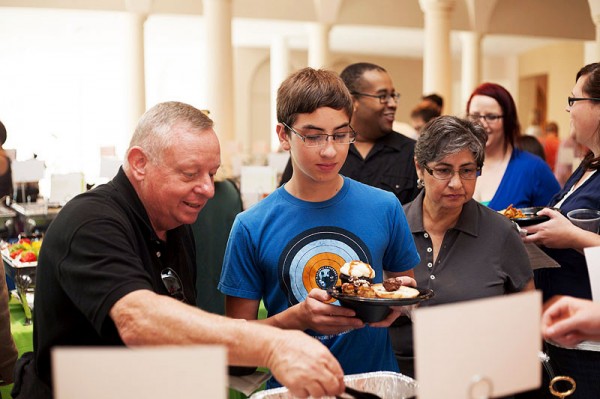 I think these two girls had a strategy: one made a plate full of savory food; the other made a plate full of sweet food.
Good thinking…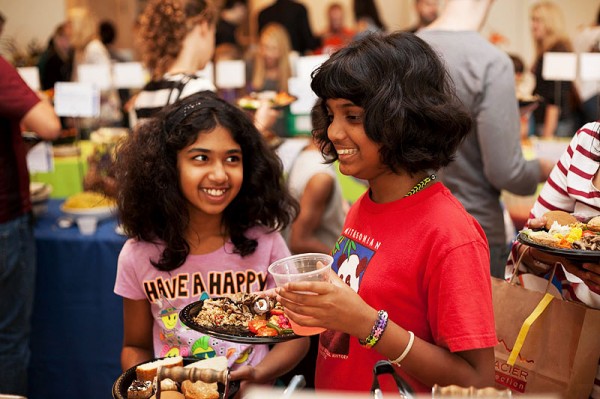 After Lunch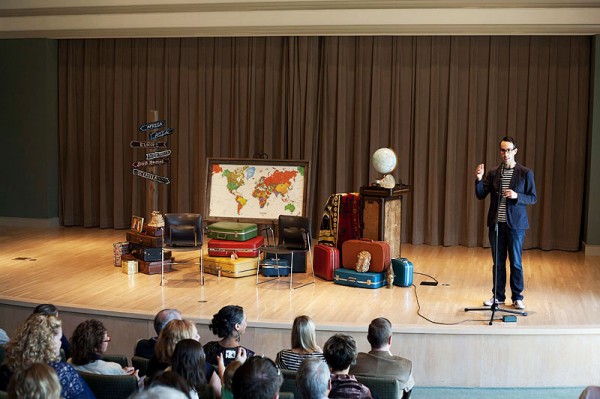 After lunch, we convened in the theater.
Andrea Leitch, from National Geographic Traveler, interviewed me on stage.
That was fun!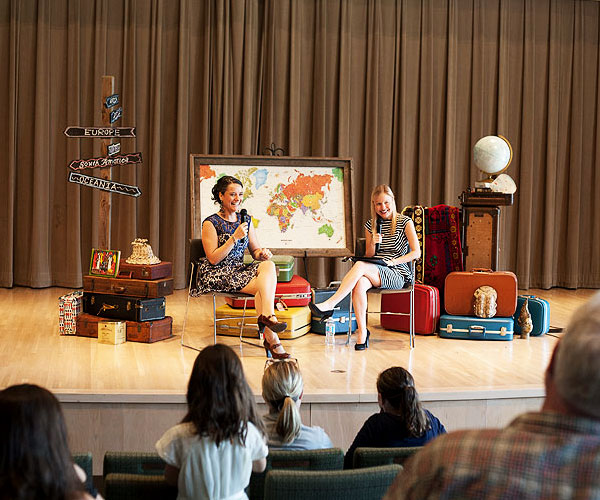 I got to tell people about how I donated my microwave, bread machine, and toaster.
How I filled two drawers with spices.
And much, much more.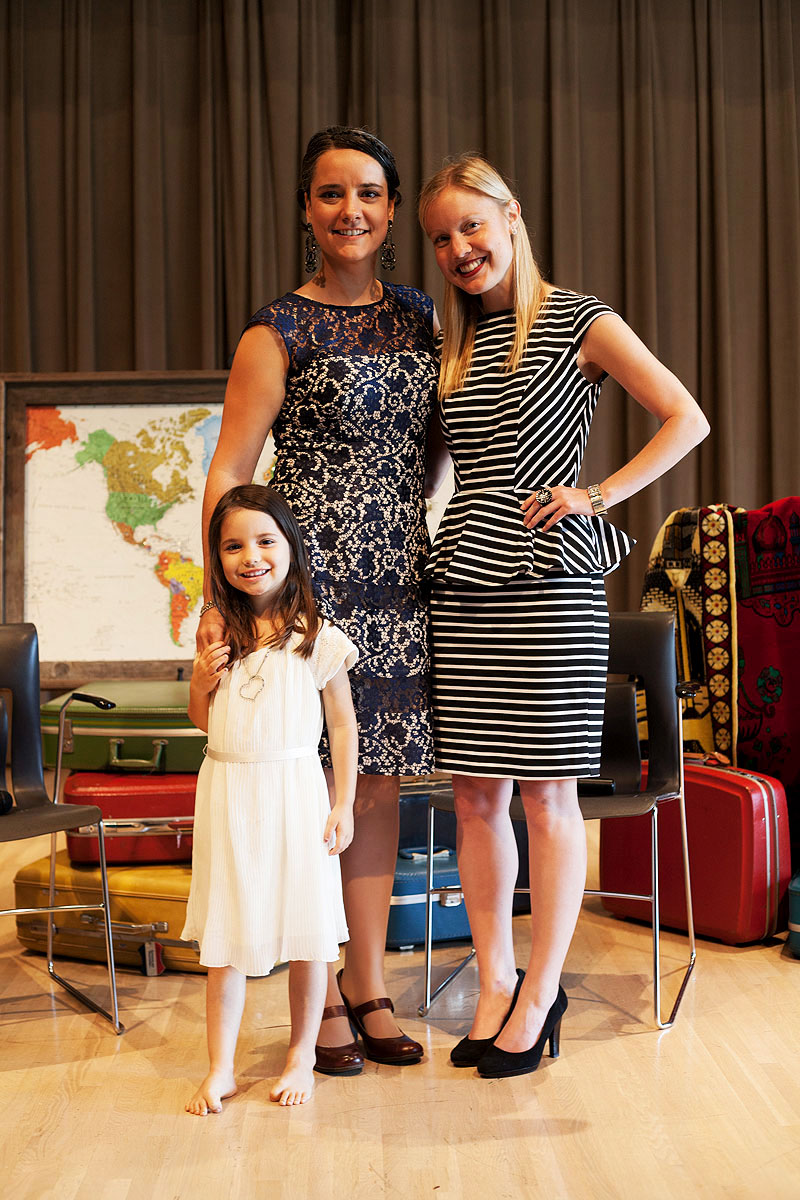 (I'm not sure when Ava lost her shoes, though…)
When it was all said and done…
360 men, women, and children ate food from all over the world.
This meant 360 people had experienced their world in a new way.
Their minds had opened a little.
Their hearts expanded.
Several told me they were inspired to go home and cook the world, too.
On this day, the world became a friendlier place.
A suitable ending to our Adventure.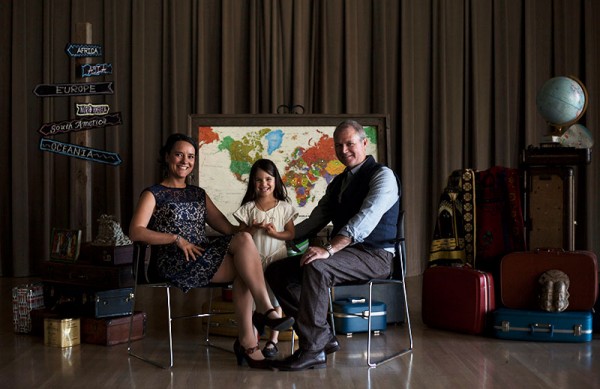 So, now what? What does it all mean?
For nearly four years I worked in my own kitchen, blind to the impact this adventure had on people beyond my computer "screen." When I saw crowds of people enjoying food from so many countries – engaged and excited – I felt like I'd finally tapped into the real spiritual nature of this adventure.
To bring people together.
To celebrate all cultures.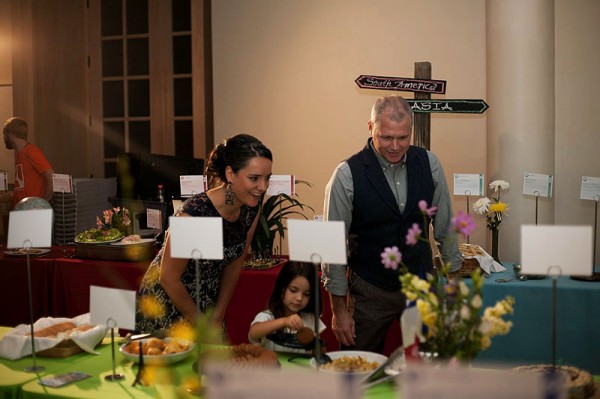 Peace Pilgrim always knew that when we devote ourselves to a pilgrimage for peace, we reap unexpected benefits.
We find our purpose. We find our place in this world.
Things just fall into place.
On top of all this, I learned one more critical lesson:
The more I love the world, the more the world loves back.
Special Thanks
CHEFS & ORGANIZATIONS:
Culinary Institute of Platt Culinary, Blue Label Bartending, Cancer Treatment Centers of America, Chimera, Deco Restaurant Group, Euro-Mart, Global Gardens, Hale High School Culinary Program, Justin Thompson of Juniper Restaurant & Martini Lounge, PRHYME: Downtown Steakhouse, and Tavolo, An Italian Bistro, Laffa Medi Eastern Bar and Restaurant, Libby Auld of Elote & The Vault, The Girl Can Cook!, Tuck Curren of Biga Italian Restaurant, Tulsa Technology Center, Whole Foods Market Tulsa, Women In Recovery Culinary Creations Family & Children's Services
EVENT SUPPORT:
ABCO Rents, Angela Evans, Media Consultant, Argie Lewis Flowers, Eisenhower School, Meghan Hurley, Concepts PR, J. Traczyk Creative, Philbrook Museum, Restaurant Equipment & Supply, Rebekah Shannon Photography, Retrospec Films.
WITH ADDITIONAL SUPPORT FROM:
Anonymous, Brian Schwartz, Judy Allen, Kami Collins, Kelly Crow, Keith Glennon, Amanda Simcoe, Marina Teper, Amanda Waller.