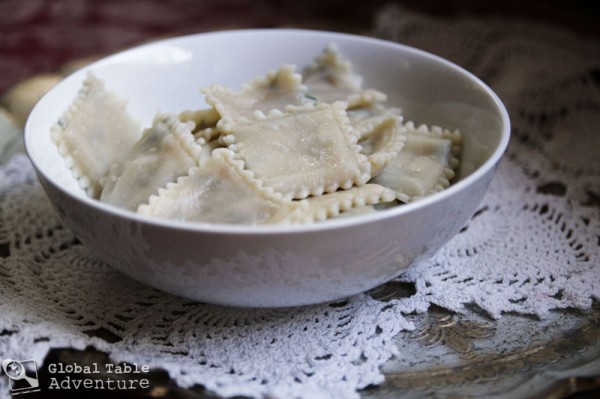 Makes enough filling for at least 150 standard ravioli
I have fond memories of curling up on the basement stairs, hanging over the railing, watching my great-great, very distant I'm-not-quite-sure-how-we're-related cousin, Alfred, make ravioli. I'll never forget the way the ravioli rolling pin zipped out dozens of ravioli in a heartbeat.
Alfred lived to 103 and I attribute that partly to the fact that he continued making ravioli two-three times a year, well into his nineties. He'd make a few hundred at a time, spreading out the work over several days (you can read his letter below to see exactly what he did).
Here's my recommendation:
Day one: Eat pork chops for dinner. Save leftovers.
Day two: Make the dough and filling. Refrigerate.
Day three: Roll the dough and make the ravioli. Dry overnight, turning once.
Day four: Freeze.
Ingredients:
3 bone-in pork chops, grilled and cooled
1 lb frozen chopped spinach, defrosted
4 large eggs
1 cup plain breadcrumbs
1 cup Parmesan
1/4 tsp ground nutmeg
1/2 tsp pepper
1/4 cup whole milk
1/4 cup olive oil
approximately 2 batches homemade pasta dough
Method:
DAY ONE:
Grill up pork chops for dinner. Make three extra for the ravioli filling. Move frozen, chopped spinach to fridge to defrost. Go to bed and dream about Italy.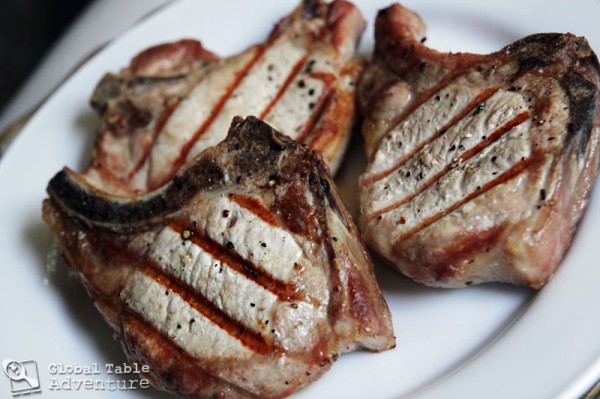 DAY 2: Debone and grind the pork chops.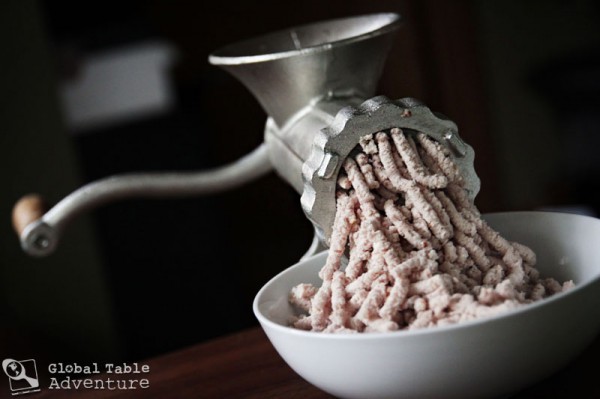 Next, mix pork with spinach, eggs, breadcrumbs, Parmesan, nutmeg, pepper, milk …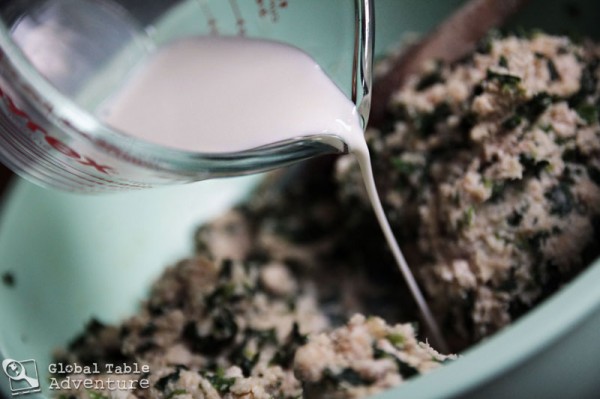 … and olive oil. Adjust consistency with more milk if needed. It should be thick but easily spreadable.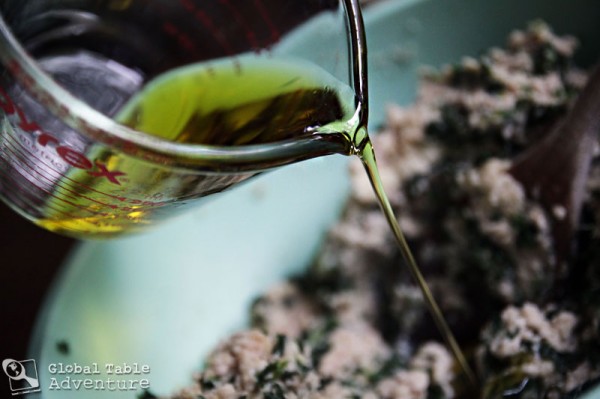 Here's the final result: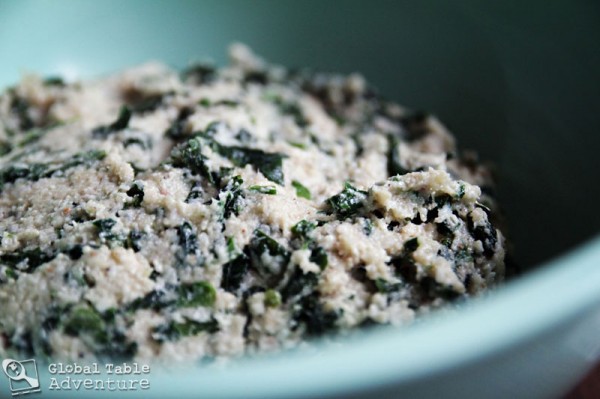 Next, roll out your homemade pasta dough nice and thinly. Here's Alfred's. And the back of my head. Hello three year-old head! (I look so blond).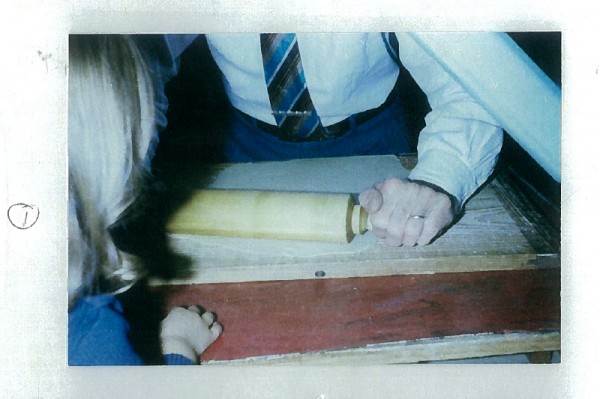 Continually dust with flour as you roll the dough out. Before you spread with filing, add a healthy amount of flour beneath the dough so the ravioli do not stick. The sheet of dough should easily slide around on the table, even as big as I rolled it.
Proceed to spread with filling…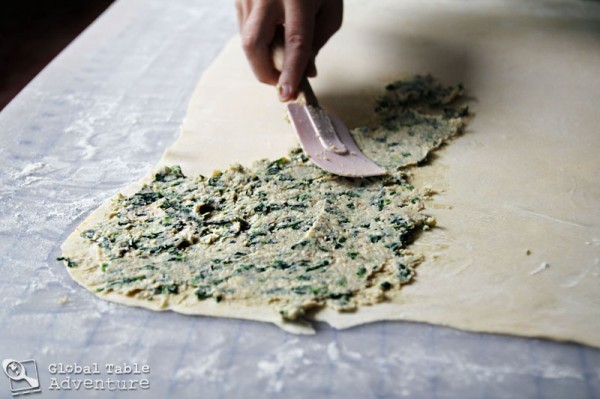 For comparison's sake, here's Alfred's, plus the back of my head (again).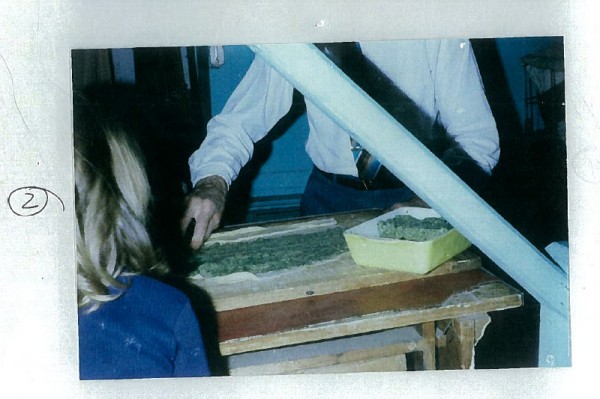 It looks to me like he ground his spinach up even more – maybe he passed it through the meat grinder. I'll try that next time, just for fun.
Anyway, cover half of the sheet with the filling – in a very thin layer. If you add too much the ravioli won't seal.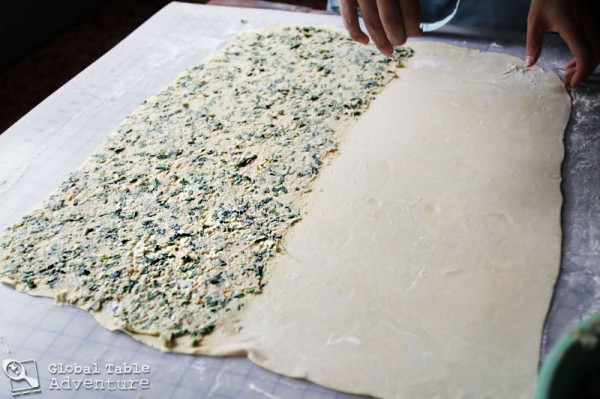 Fold the plain side over the filled side. Press all over with the palm of your hands to remove air bubbles, starting in the middle of the folded side, working up down and out until the whole thing is patted. Air pockets will make the ravioli burst when cooked.
Alfred shows you how it's done (there's Damien peeking out over his head):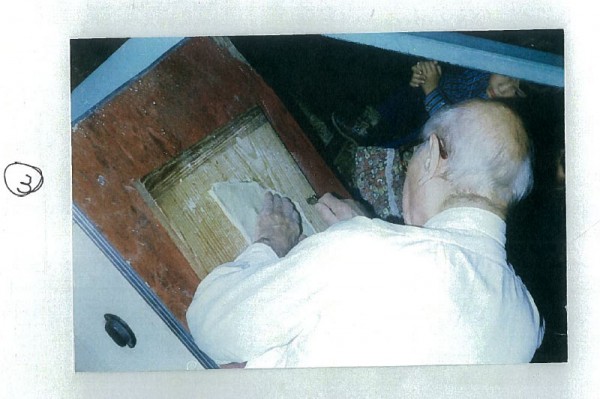 Next, line up the ravioli rolling pin in order to get the most ravioli out of the piece of dough you're working with. Slowly roll and press firmly to crimp the ravioli well.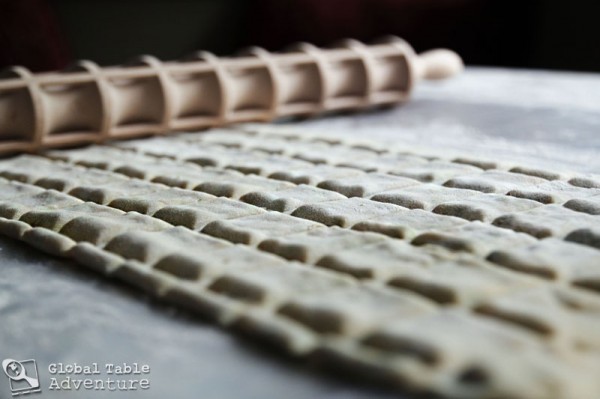 I like Alfred's ravioli pin better than mine. It looks sturdy and true. I wonder where it is today? Hopefully well loved.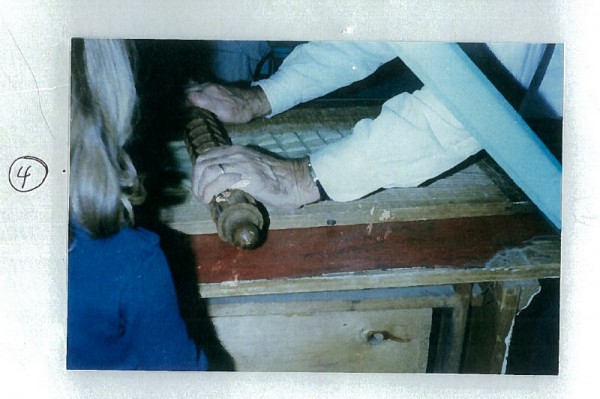 Next, take a ravioli wheel and cut along the center of the crimp marks.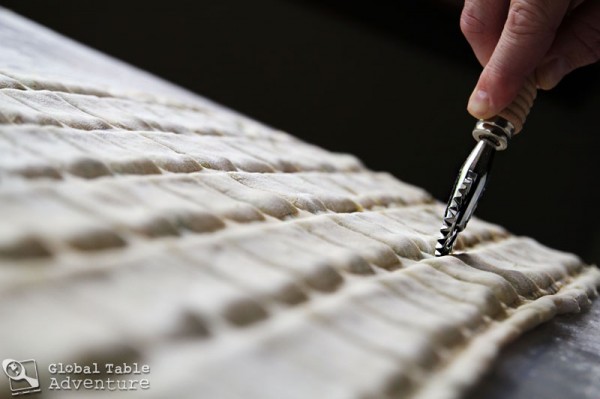 Beautiful!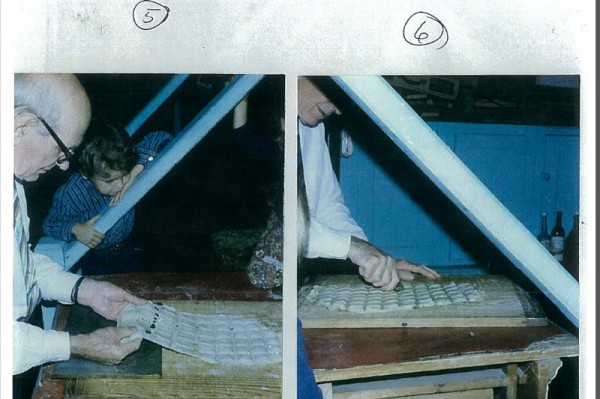 Transfer to a flour or cornmeal coated cookie sheet. (I used a spatula, Alfred used his hands)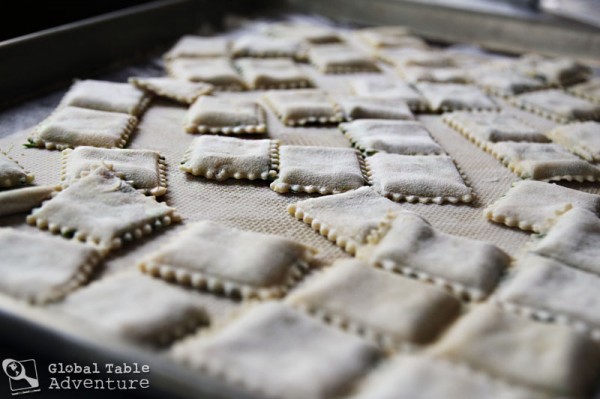 Now you have three choices:
1. Cook immediately in gently boiling (almost simmering) salted water for about 5 minutes (depending on how thick you rolled the dough).
2. Freeze on the cookie sheet. Transfer to zip lock baggies and return to freezer.
3. Let them dry overnight, turning once. Then freeze in zip lock baggies.
Frozen ravioli take a little longer to cook. Ravioli dried overnight take even longer. Taste test to be sure they're done.
The most wonderful thing about Alfred is that he dressed up for the occasion. Everyone should wear a tie when making ravioli.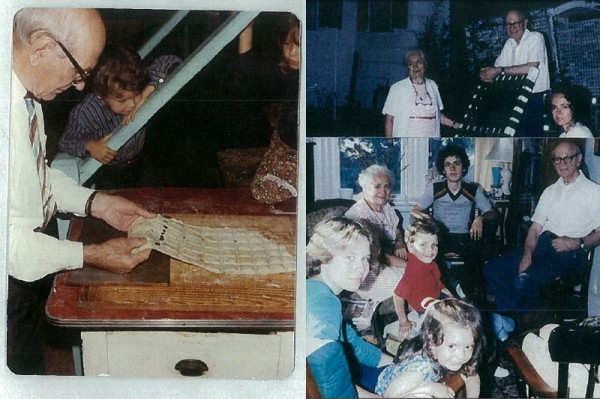 Thank you Alfred. Your legacy lives on. We'll think of you every time we eat your Pork Ravioli.
Next time we cook Italy we'll make your sauce, too!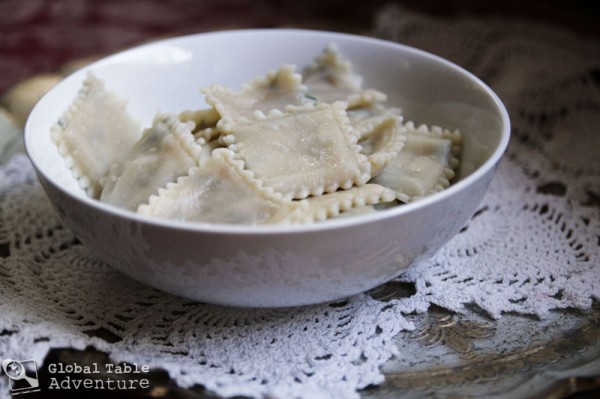 Much love and light, wherever you are!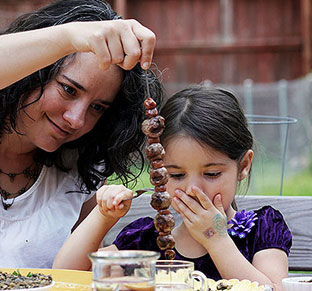 Hungry for more?
Be notified when National Geographic releases my memoir.
Simply fill in your details below.