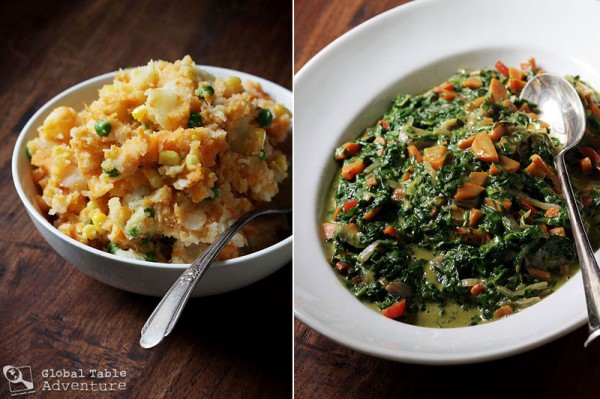 "The roaring lion kills no game"
Tanzanian Proverb
In honor of this all-too true saying from Tanzania, we're going all veggie this week. Truth is, I've been doing my fair share of 'roaring', which leaves me with a deficit of time for anything but quick (but fun!) dishes.
Veggies fit the bill rather perfectly.
In fact, our menu feels like a bulletin from Smokey the Bear, but without fires… and lots of veggies… "Thanks to Tanzania, you, too, can prevent veggie boredom!" 
Whether you're tossing corn and peas in your mashed potatoes, or stirring peanut butter and coconut milk into your leafy greens, Tanzania definitely steps up with fresh ideas for your weeknight side dishes.
All recipes and the meal review will be posted throughout the week.
Greens with veggies & Peanuts | Kisamvu [Recipe]
This vegan treat is inspired straight from the heart of Tanzania; enjoy spinach cooked with carrot, onion, pepper, and a creamy, tantalizing blend of peanut butter and coconut milk.
Mashed Potatoes with Veggies | Irio [Recipe]
Turn boring mashed potatoes upside down; this white potato mix is made lively with sweet potatoes, peas, and corn.