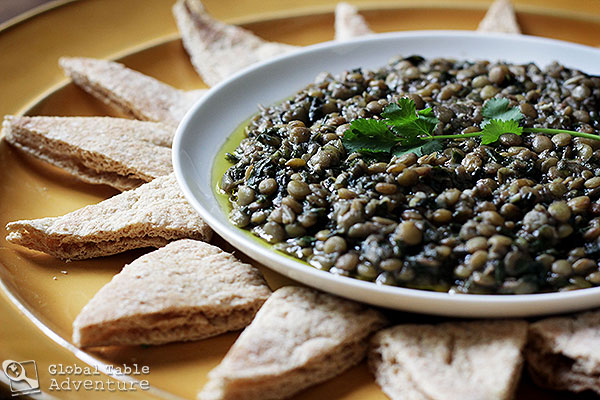 There's a whole head of garlic up in these cyber pages. By now you should be able to smell it through the screen.
I know. You have boys to kiss. Important business meetings and no Altoids. You don't have time to smell like garlic.
But indulge me for a moment, please.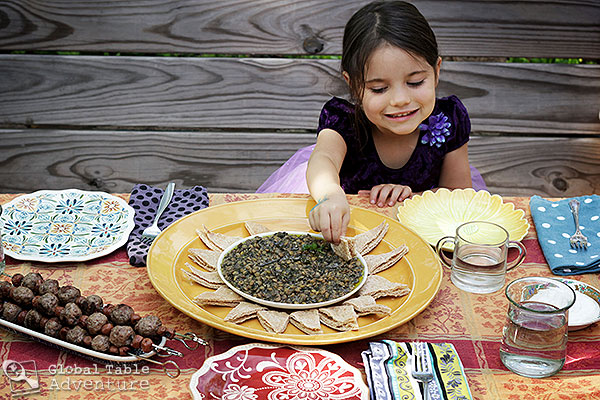 We've eaten a whole head of garlic on this Adventure before, as with our Lebanese garlic sauce Toum, but this time our garlic is making friends with lentils and Swiss chard. They bubble and steam up together, considerably mellowing out the flavor.
To round out the flavor, there's a squeeze of fresh lemon juice, a splash of pomegranate syrup, and a pile of cilantro.
(To my cilantro haters: don't worry, the offending leaves get waaay cooked down. If you can eat Salsa, you can eat these lentils).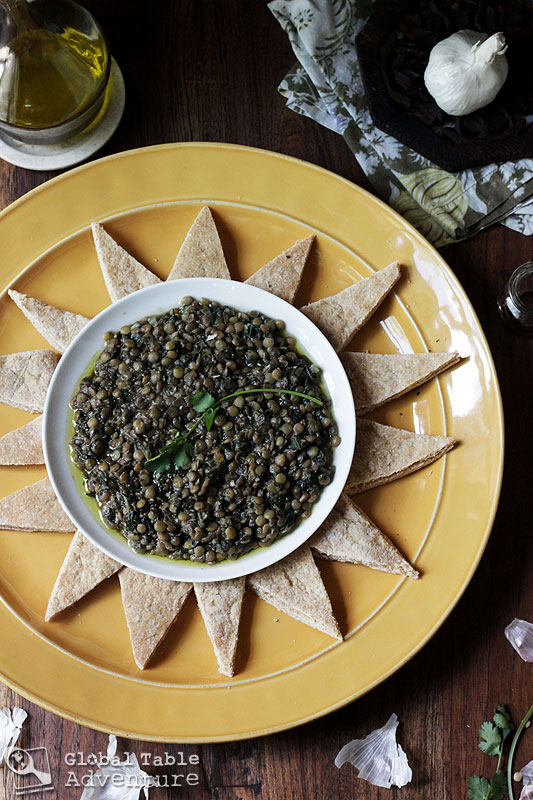 The result is a lovely warm lentil side dish or dip (best enjoyed with homemade pita bread). I even like it cold, with salad. And it's definitely better the next day, although you might want to "refresh it" with another squeeze of lemon juice and another sprinkling of salt.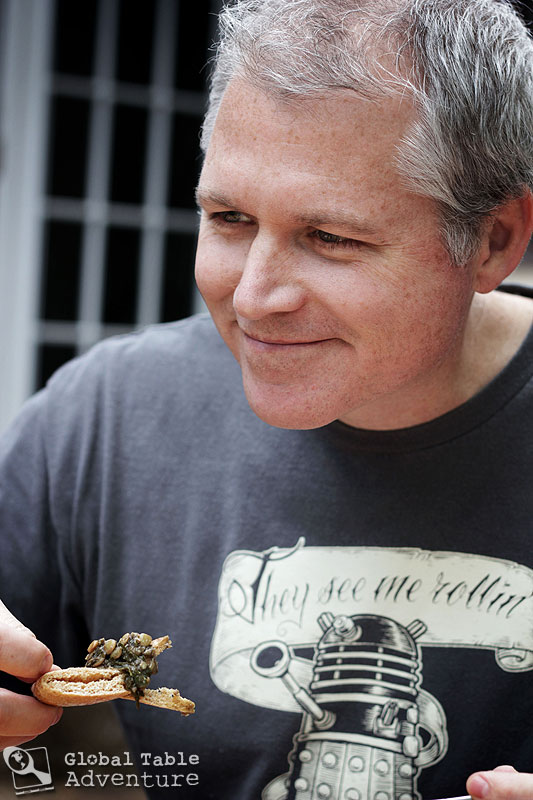 (Thank you for voting on this recipe on our Facebook Fan Page!)
Adapted from A Mediterranean Feast  by Clifford A. Wright.
Serves 6 (as a side or a dip)
Ingredients:
2 cups lentils
1/3 cup olive oil, plus extra for drizzling
1 small head garlic, mashed or crushed
1 bunch swiss chard, stems removed and sliced very thinly (about 8 leaves)
1 bunch cilantro, minced
1 lemon, juiced
3-4 Tbsp pomegranate syrup (available at Whole Foods or a Middle Eastern market)
water, as needed
salt & pepper
Method:
Rinse the lentils, cover with a few inches of water, and cook 20-40 minutes, until just tender. (Cooking times really vary with lentils, so I suggest checking them after 20 minutes)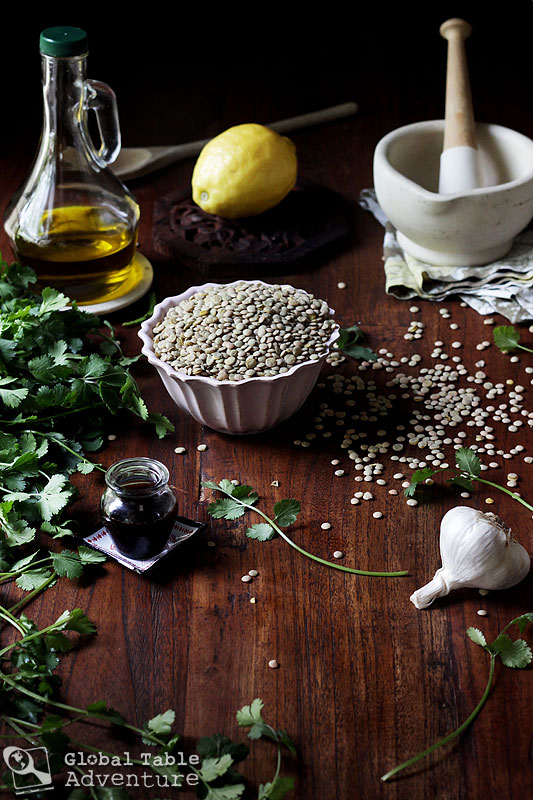 Heat olive oil in a large skillet. Add garlic and cook for a minute until fragrant.
TIP: Clifford A. Wright, whose recipe I adapted, says that the flavor is not the same if you don't pound the garlic in a mortar and pestle. I cut the work in half by crushing it into my mortar and pestle, then banging it out for the rest of the way.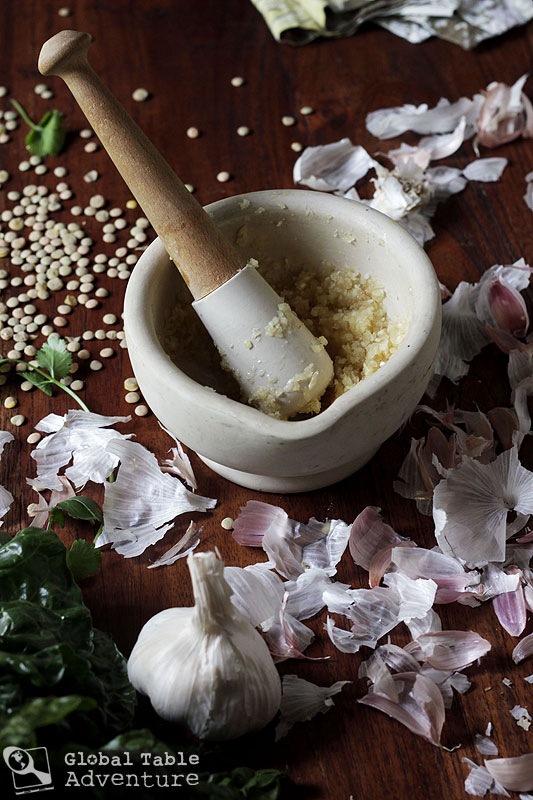 Add in the thinly sliced chard and de-stemmed cilantro leaves (reserve a bit of cilantro for garnish, if desired) and cook another two minutes.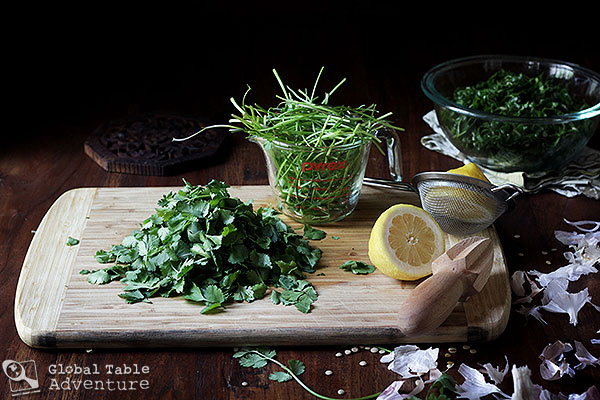 Add the cooked lentils, lemon juice, and pomegranate syrup and cook until the lentils are a bit mushy, about ten more minutes. Add water as needed to keep the mixture loose and to keep it from drying out.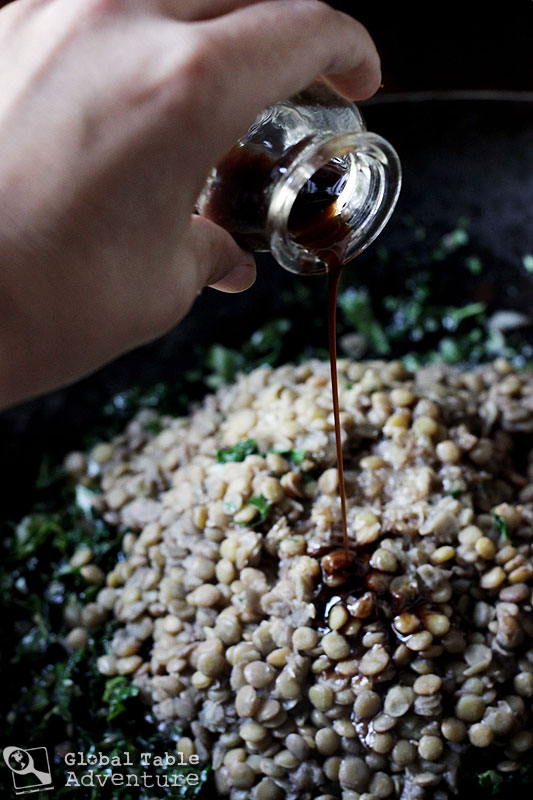 Season really well with salt, to brighten up the flavors.
Serve warm with an extra drizzle of olive oil and wedges of pita bread.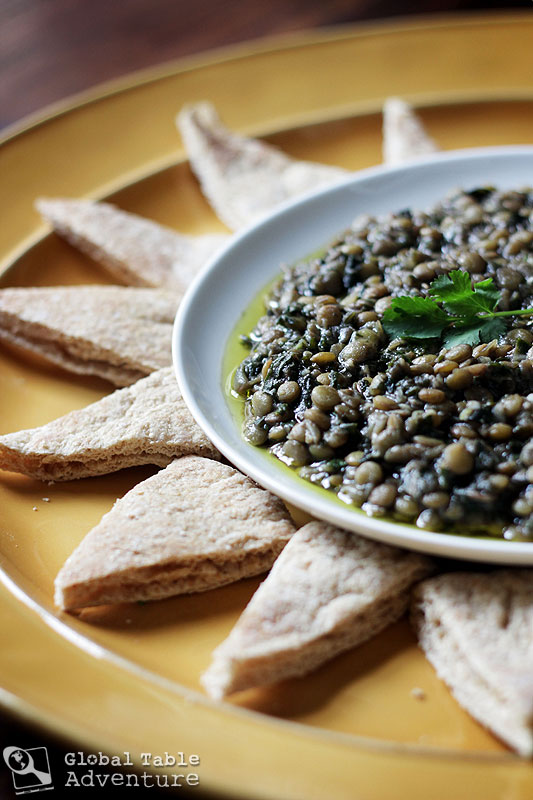 Enjoy!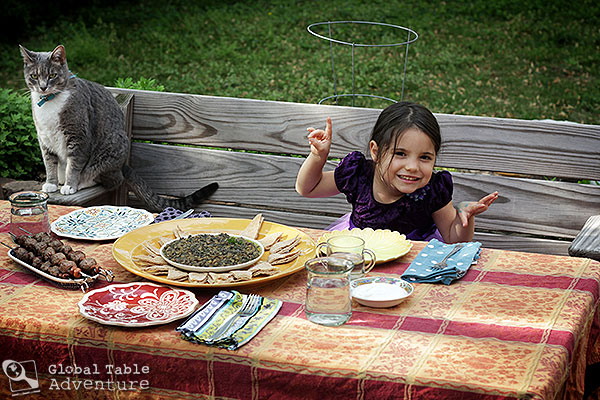 Perhaps with a kitty cat… perhaps with a view.
P.S. Do you eat garlic whenever you like, or – is there safety in numbers, and you only do it when other people are indulging?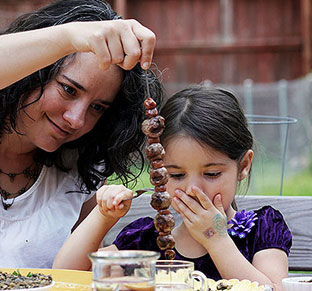 Hungry for more?
Be notified when National Geographic releases my memoir.
Simply fill in your details below.