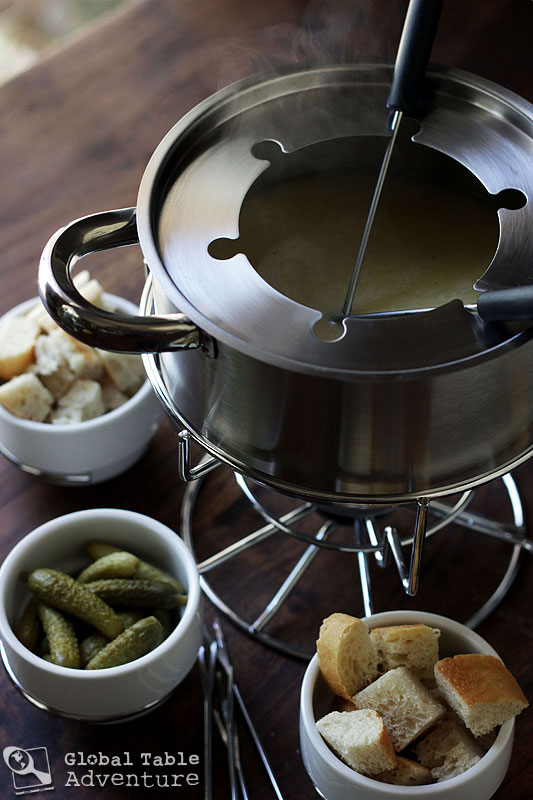 If I had to face life or death, I'd choose Swiss Fondue.
Every. Single. Time.
This decision is purely based on personal experience.
A) I know that life gets better whenever I dunk hunks of rustic bread into ooey-gooey cheese.
To support my case, I must call attention to a fictional character: Heidi (does this help me or hurt me?). She knows all things are better with melted cheese because, apparently, this is the only thing she eats at her grandfather's house, on the flower dotted Alps… and she is happier there than anywhere else in the world
B) If I'm faced with death, I'm willing to bet that, if I crack open a pot of fondue, Mr. Death would certainly realize they are no match for boozy cheese.
I'd like to think that, as he slunk away, I'd toss him a cube of cheesy bread for the road.
A peace offering of sorts.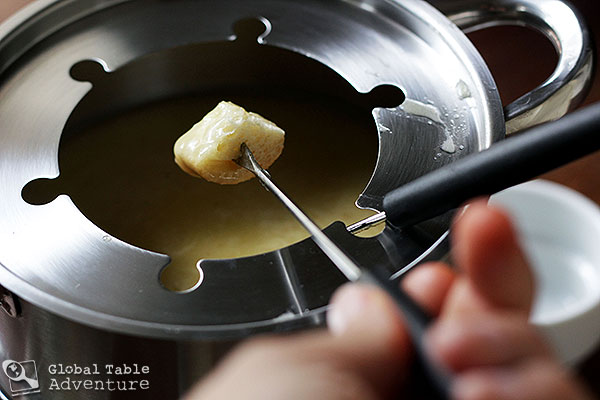 Two days ago I wrote about my near death experience in the Swiss Alps and how Fondue is one of the few comfort foods that can bring a person back from the shock of such an event.
It's also just a really cozy way to spend an evening with my husband and child. (Since I'm not nearly the daredevil I used to be.)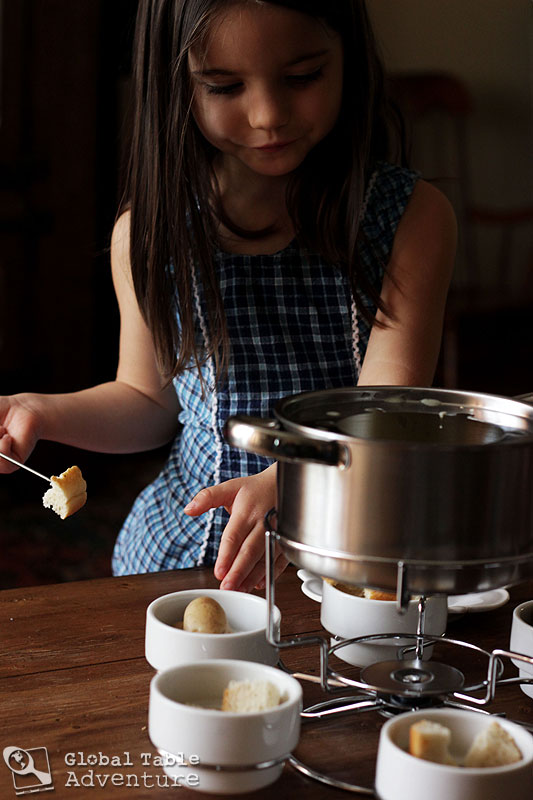 There are many ways to make fondue, but today I'm showing you a basic Neuchâteloise recipe that takes just a few minutes to pull together. The only requirements are a good quality dry white wine, plus a 50/50 blend of Emmentalier and Gruyere cheese. Feel free to serve it up with bread, gherkins, steamed veggies, pickled carrots, pickled cauliflower, boiled fingerling potatoes … you name it.
There are just a few points of etiquette.
No Double Dipping 
The food should be cut small enough so that no one has to double dip. Because, let's be honest, double dipping is gross when in polite company (if it's just you and your husband? Go for it!).
No Eating off your Fork Unless you're with close family, don't eat off your long fork. It's the same as double dipping. The fork should only be used to transfer the cheesy food to your plate. From there, you can pick it up with a regular fork.
Kissing & Drinks If you drop your food into the "caquelon," you'll have to kiss your neighbors, or buy everyone a drink.
Regarding that last rule… you could always play it safe, like Ava did…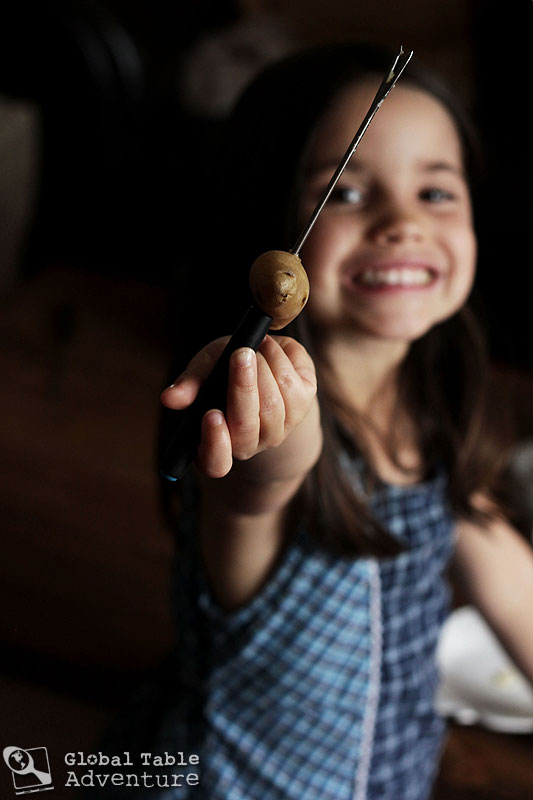 Serves 4-6
Ingredients:
1 clove of garlic, sliced lengthwise (no need to peel)
2 cups dry white wine (preferably Neuchâtel)
1/2 lb Gruyere cheese, cubed or shredded
1/2 lb Emmentaler cheese, cubed or shredded
1 1/2 Tbsp cornstarch
pinch nutmeg
salt & pepper
Accompaniments, as desired:
1 loaf Crusty bread, cubed
gherkins
boiled fingerling potatoes
pickled veggies
steamed veggies
Method:
Let's go to Switzerland…
For starters, rub a small, heavy bottomed pot with the cut end of raw garlic. This will help infuse the faint aroma of garlic into the fondue, making the whole pot sing.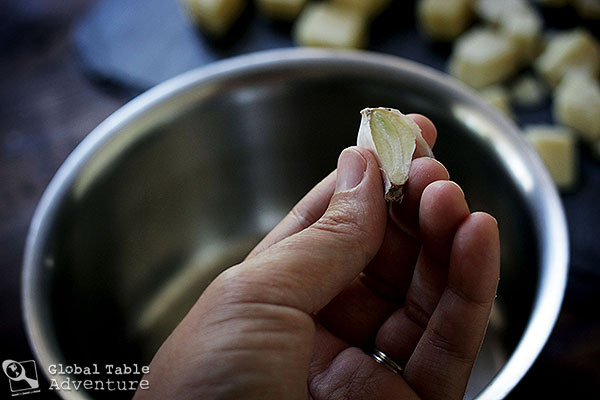 Next, pour in the wine and heat it up until a few bubbles just begin to break the surface. Whisk a little wine into the cornstarch to make a smooth slurry and whisk it back into the pot.
Tip: Serve the rest of the wine with dinner!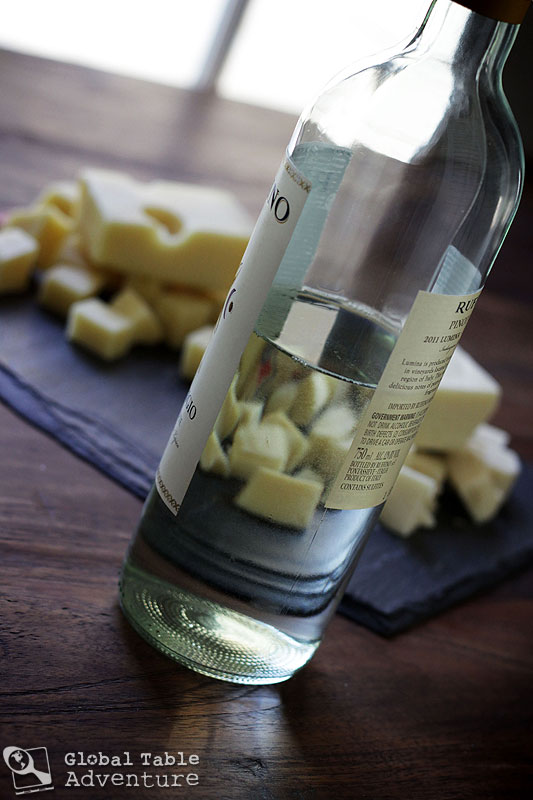 At this point, add the cheese.
As with most things in life, the key is to use great cheese, so don't skimp here. I used a traditional Swiss blend of Gruyere which is nutty and somewhat sharp, and Emmentalier, which leans more towards the milder side of things.
Cube it up. The smaller the cubes, the quicker it melts. You can also shred it, if you have the patience; this does help it melt into the wine fastest of all.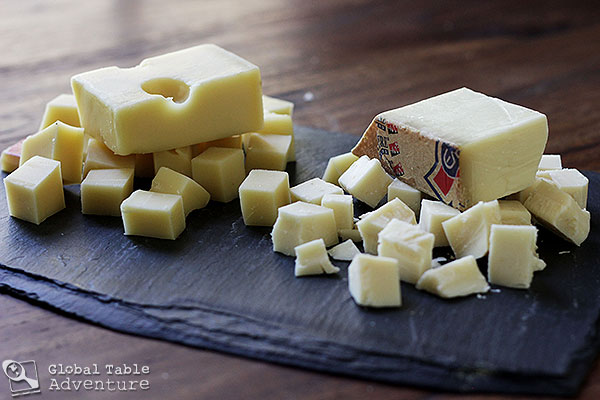 Keep the heat low, and continue stirring until all the cheese melts in and the mixture thickens. For cubes, this can take ten minutes.
Then stir in the nutmeg, salt, and pepper, to taste.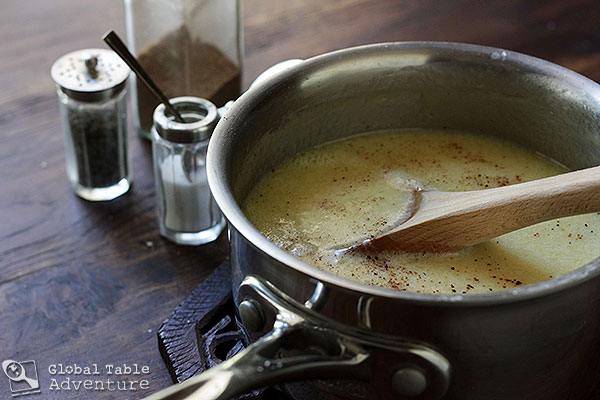 Keep the cheese warm, over low heat, or add it to the "caquelon" part of a fondue set (the pot).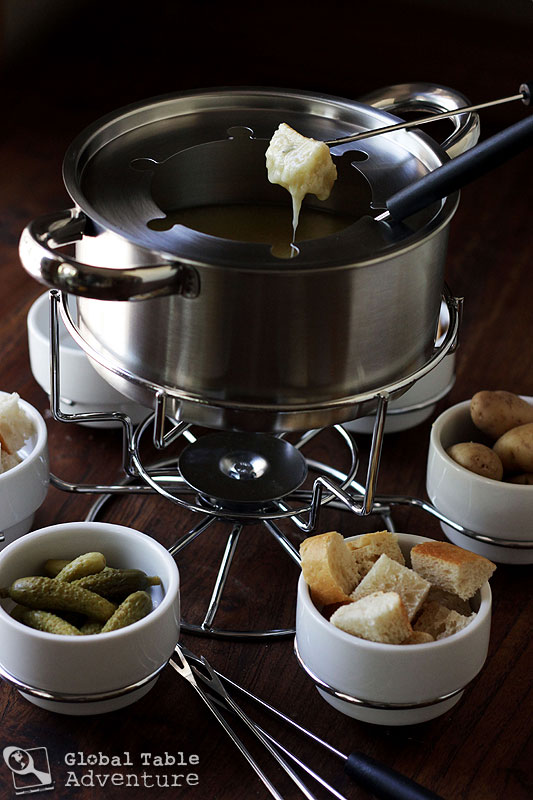 Enjoy on a rainy day.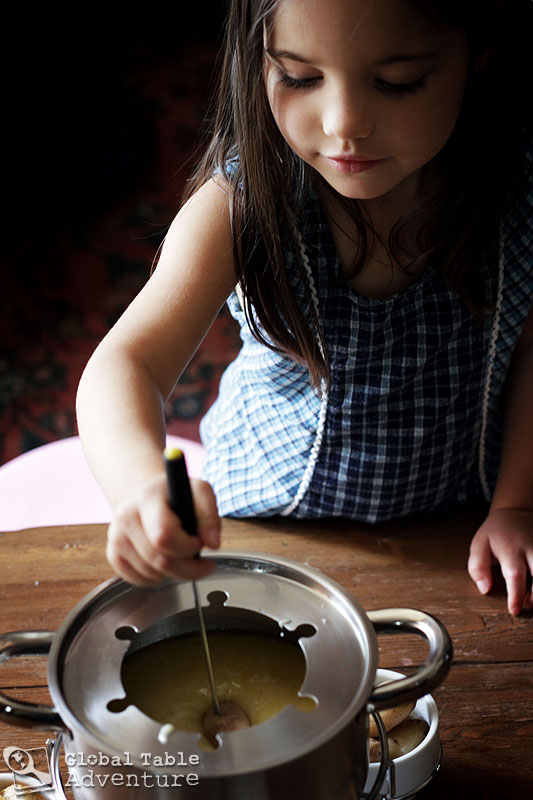 With smiles on your mouth and heart.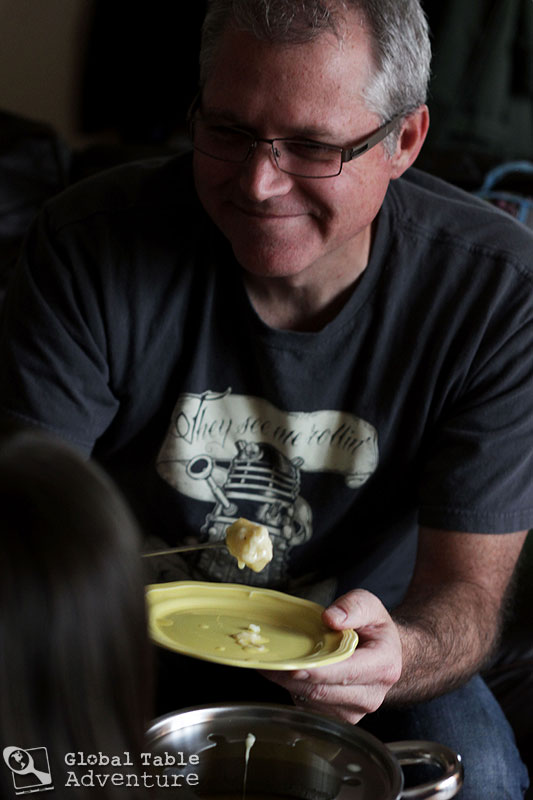 Delicious!
(The fondue AND Keith's new glasses!)
P.S. Because I love you… This week, I'm doing a special Facebook Giveaway. Check our Facebook Fan Page this Friday morning for a chance to win the same fondue set I used here. A winner will be announced on Facebook on Monday. For every Tweet you tag #myGTA, you'll get an extra entry.
Good luck!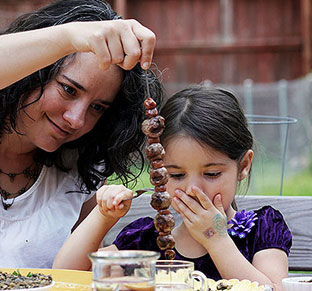 Hungry for more?
Be notified when National Geographic releases my memoir.
Simply fill in your details below.