This week we're back in Africa, in a little tropical/temperate country called Swaziland, just north of South African and Lesotho.  The Swazi people live in this beautiful land, among the mountains and undulating hills, tending their farms and rearing their cattle.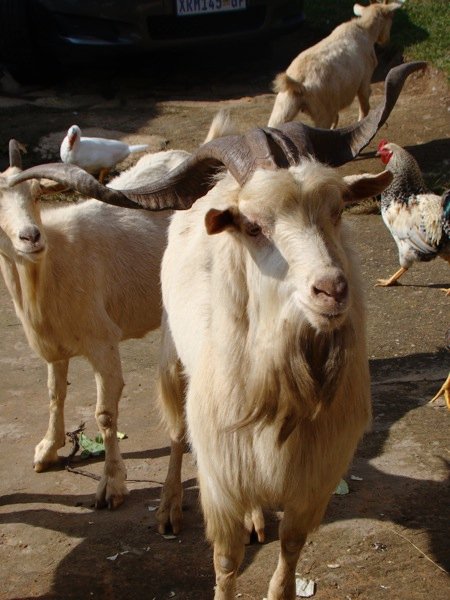 From their smooth slopes, come pineapples, citrus, and sweet sugar cane.
Many call Swaziland one of the world's most beautiful countries, and I can see why.
While the traditional people might eat something as simple as emasi, or porridge, which can be made with sorghum or corn, you'll also find corn, rice, and every kind of potato, including sweet potato. Many stews, such as spinach, pumpkin, or even green beans, grace the sides of such dishes. Salads are a given, especially when topped with avocado or beets [Recipe].
And did you know the Swazi eat beer? That's right… beer is yet another carb; the  Swazi consider their rich, thick home brew a food. (I read about it in the World Cookbook for Students.)
If that's too boozy for you, perhaps a simple slice of mealie bread  [Recipe] (think corn bread with bolder, fresher flavor) would do the trick?
In fact, corn makes its way into many dishes, from samp and beans (hominy with beans), to pap (like the papa we made for Lesotho), to cornmeal breakfast pancakes (served with tangy yogurt and the occasional sprinkle of powdered sugar).
P.S. I'd like to go back to that "beer for food" idea for a minute. Can you imagine beer making up an entire meal? Would this appeal to you? Or do you need something to go along with beer to feel that you've eaten?  (Or do you not drink beer at all?)
P.P.S. Special thanks to Jenny Buccos, who shared almost all of the photos in this post from her trip to visit a friend in Swaziland. Her travels have made our stovetop travels all the richer.