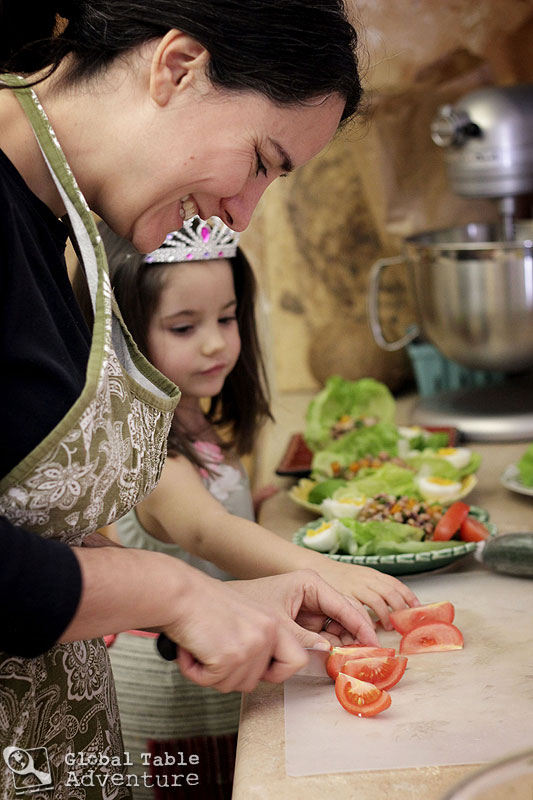 "Little by little one catches the monkey in the jungle." – Senegalese Proverb*
A reader recently asked me what my New Year's Resolutions were. I'm almost loathe to admit that I spent New Year's Eve fast asleep, head pressed firmly into my dreams, but the reality of the matter is that the only place I wanted to be at midnight was fast asleep in my cozy nest of blankets. Our bedroom holds steady at 64 degrees, guaranteeing that the tip of my nose stays cold all through the night, which makes snuggling all the better.
Brrr.
To answer the question, though, I'll say that, while I've given up resolutions in the traditional sense, I've taken on year-long challenges instead.  It sounds the same, but it's not. These aren't broad, sweeping resolutions like "lose weight" or "have more fun."
These are small, measurable, and manageable challenges.  Little by little, they add up.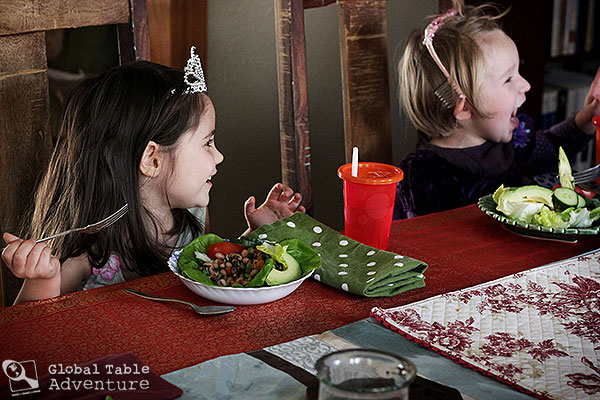 Plus we start them around Thanksgiving which, I suppose, makes them Gratitude Goals, not New Year's Resolutions.
Last year, for example, we vowed to only eat out once per week with a floating bonus day each month for surprise rendezvous with family or friends.  And we did it! It was tough at times, and we struggled, but the routine stuck and now it's simply a habit.
A really great habit.
This year, we took on another eating related goal:
 To always, always, always split a plate whenever we go out to eat.
Pretty simple, but quite a game changer for us. Now we have to consider someone else when we order, so we're both eating healthier (go figure), and, aside from the obvious financial benefit, the goal reminds us how unnecessarily large (humongous) the servings are at restaurants in these parts.
Before, when we didn't share, that excess was dealt with in one of three ways:
a) doggy bag
b) scraping our plates as our mothers taught us, but feeling full as only a glutton could.
c) waste basket
Of these, there was no great solution.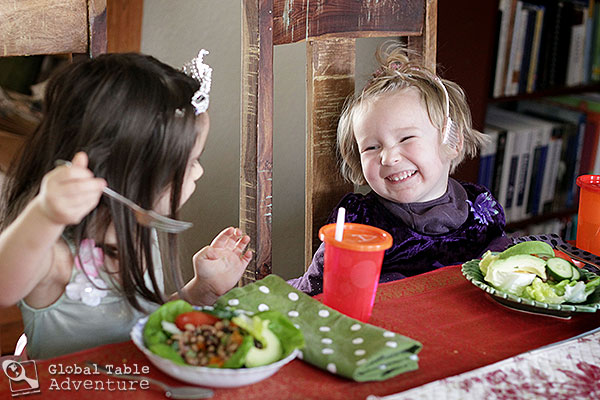 So sharing is now the rule. Waiters are happy to split the dish for us and we scrape them clean in return, but without over stuffing ourselves.
But that's just part of the story.
Here's the deal: I'm tired of learning about the strain on our human neighbors while personally living in excess.
And if I ever thought being served a 1,800 calorie dinner wasn't living in excess, I was wrong.
Small changes add up.  They do matter.
Or, as they say in Senegal, "Little by little one catches the monkey in the jungle."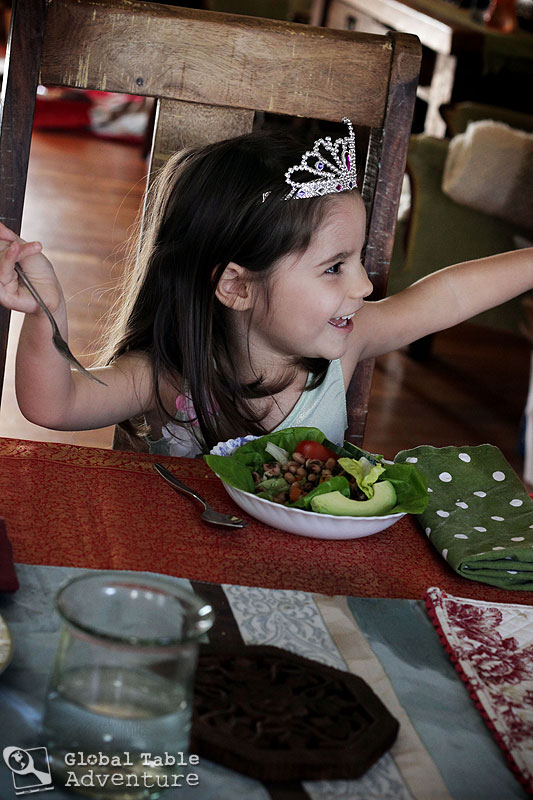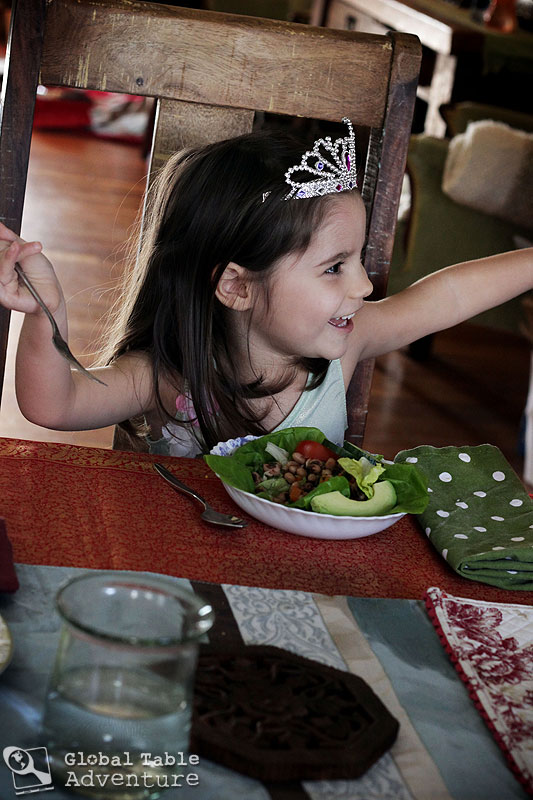 THE FOOD
Senegalese Salad [Recipe]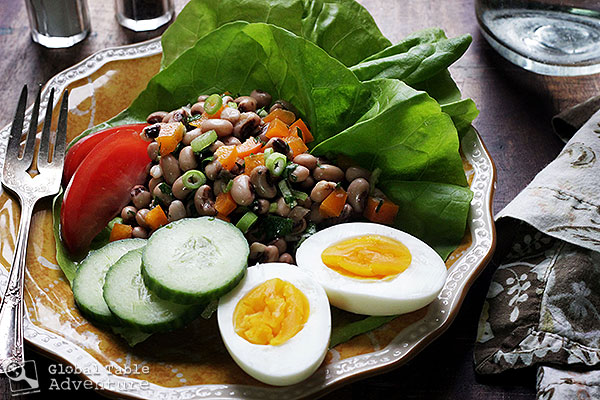 What I love most about this dish:
Everything. Ava, her friend Bea, and her mom went nuts for this (I opted to leave the habenero out so that all tender mouths could enjoy the salad). I love that I could mix the beans up a day before I needed them; it's fresh, healthy, with plenty of protein all wrapped up in the fresh lime juice dressing. I particularly love this for young children as they can pick their favorite bits "finger food" style much easier than with a traditional salad.
What I love least about this dish:
Just be sure that, if you make it the day before to check the seasonings, as the black-eyed peas will absorb much of it. Nothing a little squeeze of lime or sprinkle of salt can't fix, though.
Chicken Yassa [Recipe]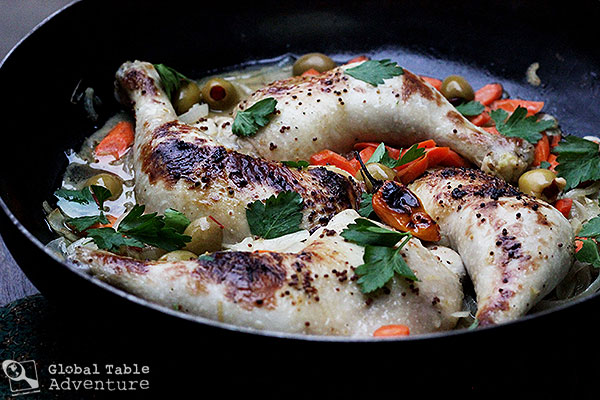 What I love most about this dish:
I've always loved the brightness of lemon chicken. I've also always loved sweet, softened slivers of onion. Chicken Yassa is the best of both words. The fact that it bubbles happily away while I get the rest of dinner ready? Even better.
Keith, Ava, and I all loved it; it's hard to stop eating when scooped with a happy mound of rice.
What I love least about this dish:
Not much. The longer you cook it, the better it gets.
Senegal's PB & Peanut Sugar Cookies | Cinq Centimes [Recipe]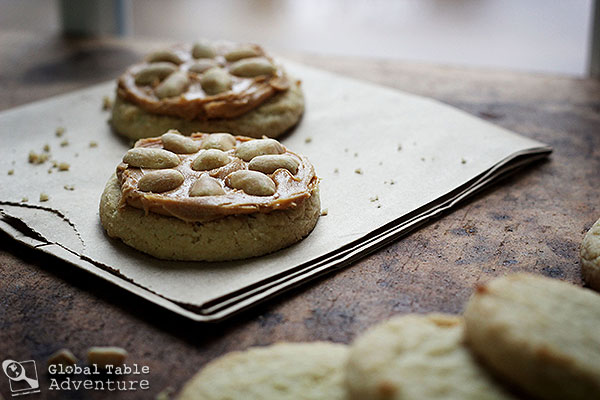 What I love most about this dish:
This would be a great recipe to have on hand for "in a pinch" desserts…Three ingredients. That's it. Awesome. Mr Picky ate an entire tray of these before I could turn around. Ava giggled uncontrollably when she saw them. It  was all good.
What I love least about this dish:
Nothing.
Watch Ava's Corner:
Weekly Giveaway Winner:
Congratulations, Megan! The nicest thing someone did for her, recently, was this…
My mother paid a ridiculous amount of money to ship Christmas and American treats to me and my husband in South America (the package just arrived two days ago). I never knew how much something simple like barbecue kettle cooked potato chips could remind me of home. It was so nice to have a taste of home. Now I'm trying not to eat everything too quickly!
Contact me by January 21st to claim your $50 Gift Card to Ten Thousand Villages – each purchase will pay it forward for a hardworking artisan in a village somewhere in this beautiful world!