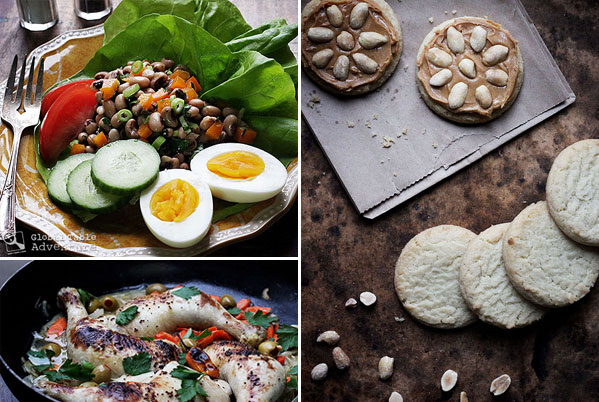 Those of you who have read this blog before know my refrain "We create peace when we learn about each other, when we understand one another."
To be clear, learning is not the same as understanding, but to understand we must learn. And we can do this through food.
And so here we are.
Well, today I found a very similar saying from Senegal:
"In the end we will conserve only what we love;
we will love only what we understand;
we will understand only what we are taught."
The beauty of these words is in their simplicity. To conserve is to protect. Yes, our environment. But also each other. We must find our way to love through learning, friends. This week, by learning about Senegal, we're coming closer to love. To peace. To conserving each other and our beautiful cultures.
Let's do it.
All recipes and the meal review will be posted throughout the week.
Senegalese Salad [Recipe]
It's not too late to bring in the New Year right. Try this lime squeezed black-eyed peas salad tossed with peppers, parsley, and green onion. Served with sliced cucumbers, tomatoes, avocado, and hard-boiled egg. This is health itself.
Chicken Yassa  [Recipe]
Chicken braised in onions and lemon juice, spiked with mustard and green olives. All served over rice.
"PB & Peanut" Sugar Cookies | Cinq Centimes [Recipe]
An indulgent treat inspired by the street vendors of Senegal. You'll only need 3 ingredients.
Weekly Giveaway
Today, because there's nothing better than helping others, I'm giving away a $50 Gift Card to Ten Thousand Villages.
If you haven't been to this amazing site yet, you're in for a treat. Each product is Fair Trade and made by local artisans in Asia, Africa, Latin America, and the Middle East.
That means everything you purchase helps people in villages who are working hard to make a living.
It's honest. And cuteness abounds.
Here's just a few of the hundreds of products they sell…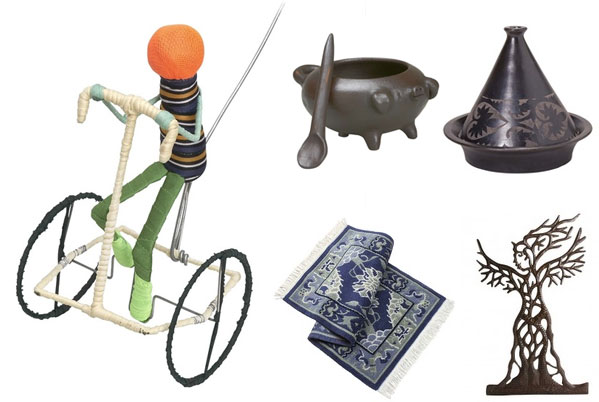 The little bicycle dude toy? Ava's getting one for Valentine's Day.
Lil' Mr. Orange Head is only $10, which just about knocks me over.
Of course, there's also fine products selling for several hundred dollars, if you're looking for something fancy pants.
[dropshadowbox align="center" effect="lifted-both" width="350px" height="" background_color="#f1f1f1″ border_width="1″ border_color="#dddddd" ]How to Enter:
1. Leave a comment in this post and tell me the nicest thing someone has done for you lately.
2. For extra entries, share the contest on Facebook, Pinterest, and Twitter (#GlobalGiveaway). [/dropshadowbox]
UPDATE: Loving all these comments today! Makes my heart happy to know such love and kindness is in your lives. We can keep the goodness flowing, by paying it forward. xo Sasha
UPDATE #2: A winner has been selected (scroll to the bottom of our Meal Review to see if it's you!)
Winner will be chosen at random and announced on January 14, 2013. Prize must be claimed by January 21, 2013.