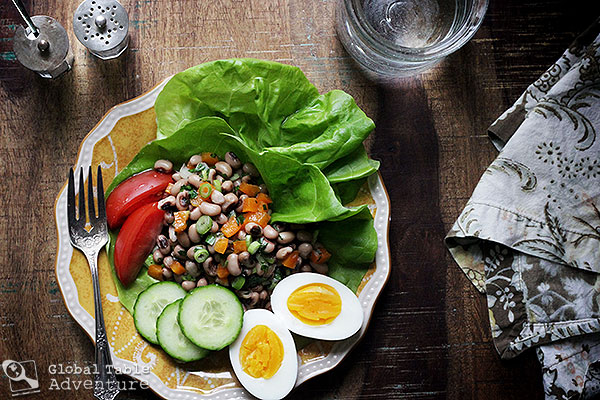 This New Year, I'm making room for sunlight to lay across the floor. No more discarded shoes to trip over. No more stacks of books or useless tchotchkes.
Senegal inspired me.
I saw photo after photo of her beautiful waters… vast expanses where sunlight runs free, unhampered by clutter. Less stuff in general, with more of the right stuff – friendship, laughter, love.
This is how I want my home and my life to be.  I want to eat fresh and right. I want sunlight in my body.
There's nothing like starting the New Year with Black-eyed Peas in a crisp, cheerful salad, loaded up with all of her favorite friends: tomatoes, cucumbers, avocado, and hard-boiled eggs. Coincidentally, the mild, tender bean (it's not really a pea) is a Senegalese staple.
You can find salads like this in restaurants along the coastal cities, either dressed simply with fresh lime juice, or coated thickly with a French dressing inspired mixture of ketchup and mayonnaise. Some will serve the beans spicy with minced habenero, while others keep it mild.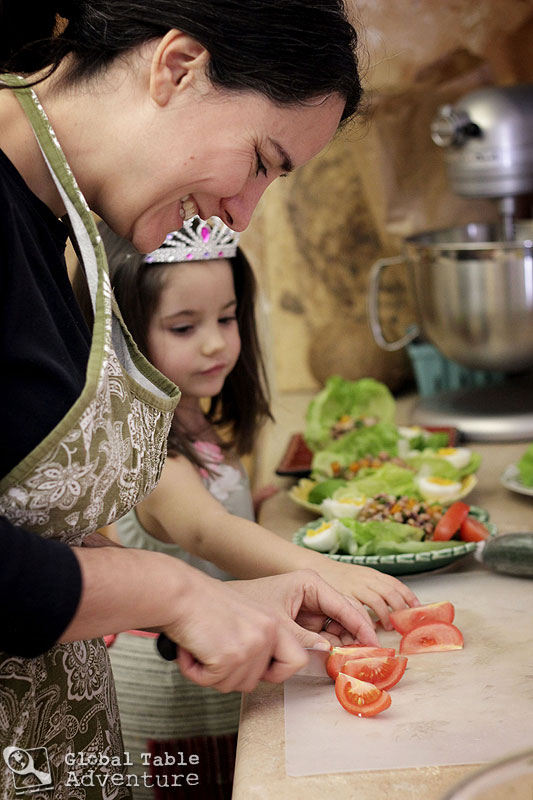 The mixture makes for a great, light lunch, especially since you can assemble all the plates ahead of time and refrigerate until needed.
A little helper is a must.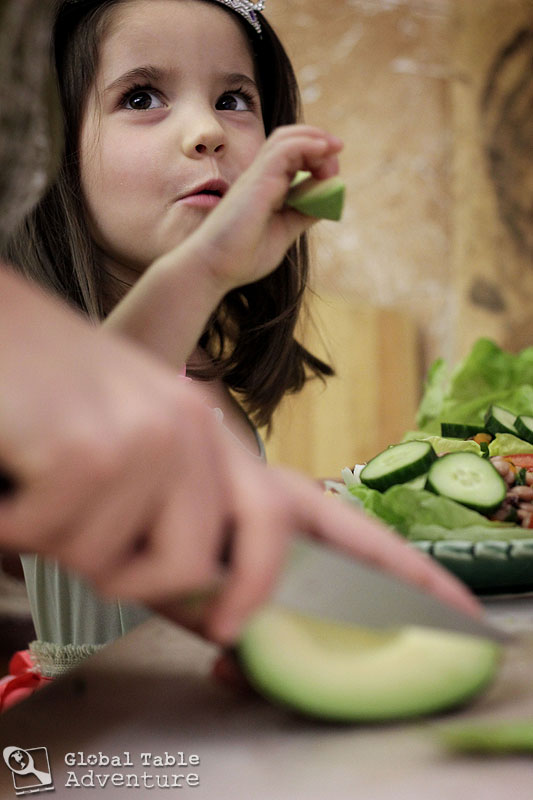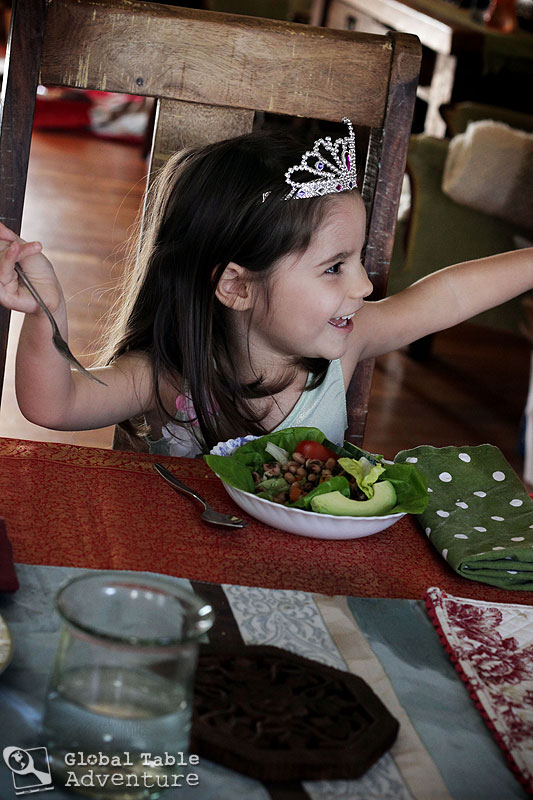 Our version combines two recipes. First, I borrowed the idea of dressing the salad in fresh lime juice from a Senegalese recipe in Saveur. Second, I tricked out my plate with loads of good veggie accompaniments, as suggested in The World Cookbook for Students.
Serves 4
Ingredients:
For the salad
2, 15 ounce cans of black-eyed peas, drained and rinsed
handful parsley, chopped (about 1/4 cup)
2-3 green onions, sliced thinly
1 bell pepper, chopped
minced habenero pepper, to taste (optional, for heat)
1-2 limes, juiced (to taste)
2 Tbsp vegetable oil
salt & pepper, to taste
Accompaniments
Lettuce
Tomato wedges
cucumber slices
hard boiled egg (omit if vegan)
avocado
salt & pepper
Method:
I feel healthy just looking at this salad.
Does that make up for the warm chocolate, cinnamon, banana tortilla roll-up I ate for lunch yesterday?
I hope so.
This recipe is a simple toss and enjoy, which makes it great for weeknights, or fuss-free weekends. Enjoy while listening to a bit of Senegalese music.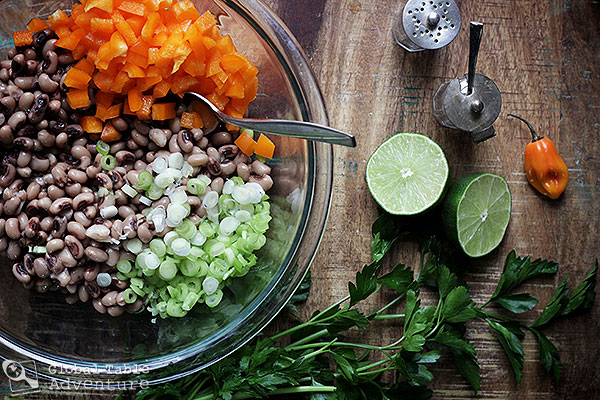 The key is to mix the black-eyed peas, parsley, green onions, bell pepper, and habenero pepper (if using), with enough lime juice, vegetable oil, salt and pepper to make the salad sing.
Refrigerate until needed (this can easily be made a day ahead of time, although you may need to add a splash more lime juice and extra sprinkle of salt).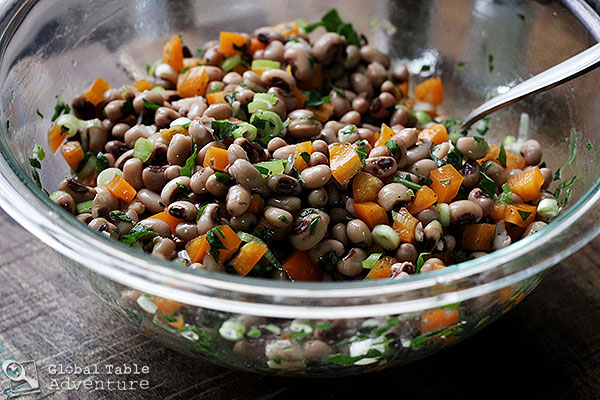 To serve, scoop the black-eyed peas onto lettuce leaves and decorate with sliced cucumbers, tomatoes, avocados, and even a hard boiled egg (or three).
If a princess can help you, great.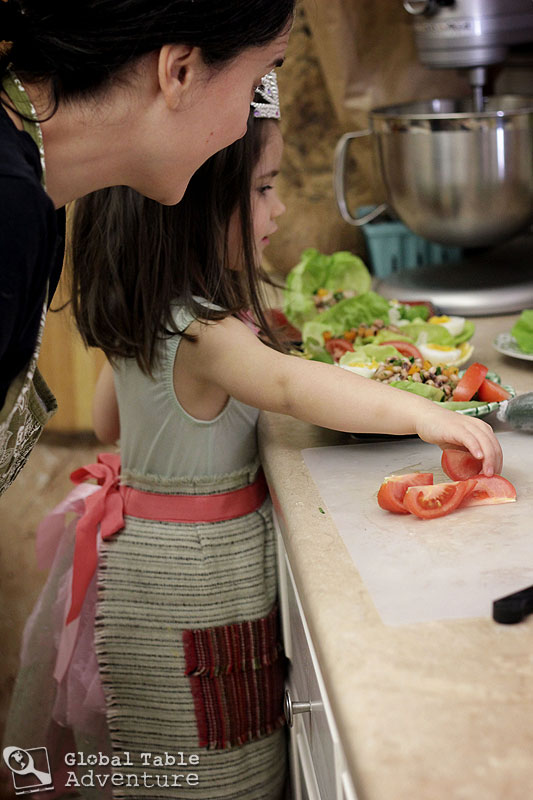 This is a fun meal for toddlers because there's lots of finger food to enjoy.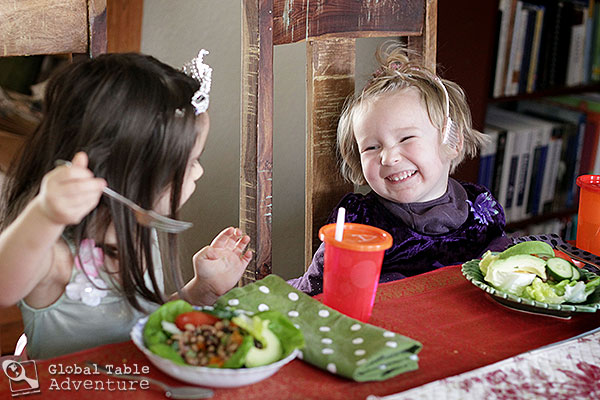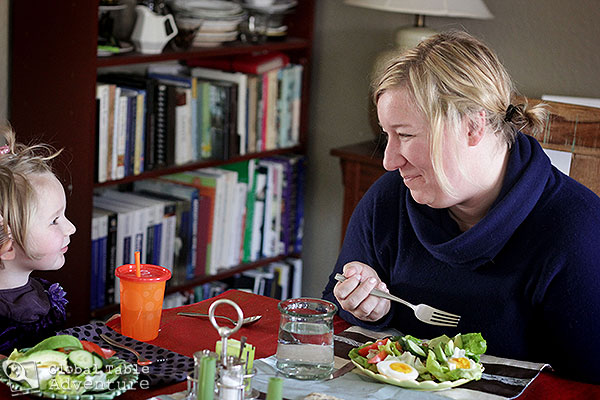 Laughter is the best seasoning.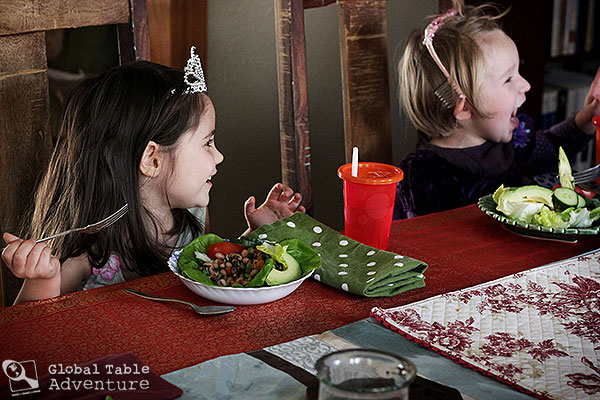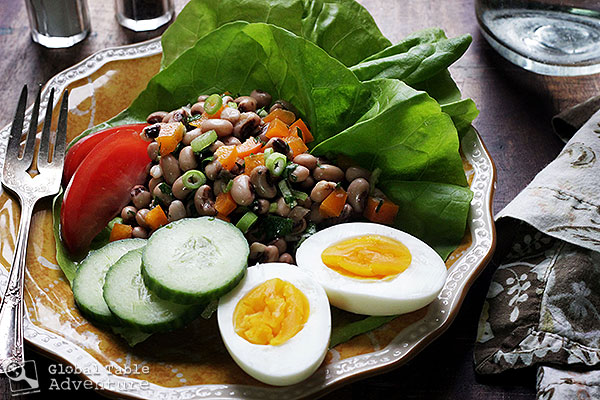 Enjoy your Senegalese Salad on a beautiful, cloud-dotted day.
Happy New Year, friends.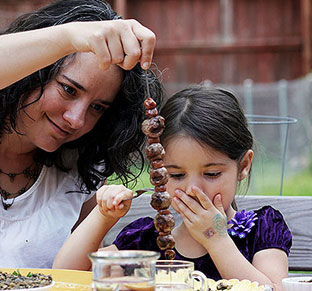 Hungry for more?
Be notified when National Geographic releases my memoir.
Simply fill in your details below.