"If I am a prince and you are a prince, then who will lead the donkeys?" – Saudi Proverb
We sat in the middle of the tight, woolen rug, cross legged, our toes bumping the edge of the soft cotton table cloth. Without a table to drape upon, the cloth looked like a slack sail, hungry for the wind. Sunlight streamed through the windows, massaging our backs.
It felt good.
If I shut my eyes, the windy, freezing day that clattered against our window almost disappeared. In fact, if it weren't for the glittering Christmas tree at our side, there'd be no sign this was winter.
The scent of black cardamom and fennel in our Saudi pizza dough made the room smell sweet and woodsy, while the ground lamb and green onion topping felt like an early spring.
My friend Becky and her mom joined us for lunch. I hadn't seen Becky in more than a year and I hiccuped a tiny laugh, despite myself, when I opened the door to find the entire door frame full of her frizzy, auburn hair. I almost couldn't see Becky's freckled face and I certainly couldn't see her mother, tucked quietly behind her. It took me two hours to bring up enough courage to ask Becky about her new, voluptuous hair.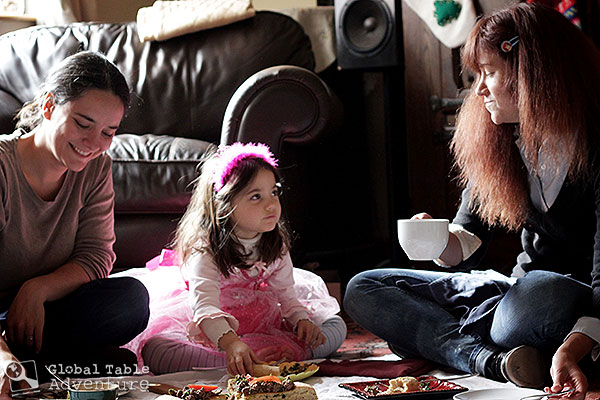 When I did, I found I couldn't come up with the right words, so I simply leaned forward, cupped her thick hair in my hand and fluffed it like a down pillow. It sprung back agreeably.
"Becky, your hair…" I began.
She looked at me, her eyes laughing.
I began to laugh tenderly. "It's amazing."
For years, Becky flat ironed her hair until it shone like tar after a thunderstorm. The procedure took several products and many hours. She always emerged a princess.  Watching her hair swish and slide along her thin shoulder blades invariably left me feeling incredibly frumpy in my low ponytail. (Incidentally, my amazement with her hair is how it came to be that she did my hair for my wedding, which – when she had had her way with it – hung so low and black and shiny that I nearly didn't recognize myself).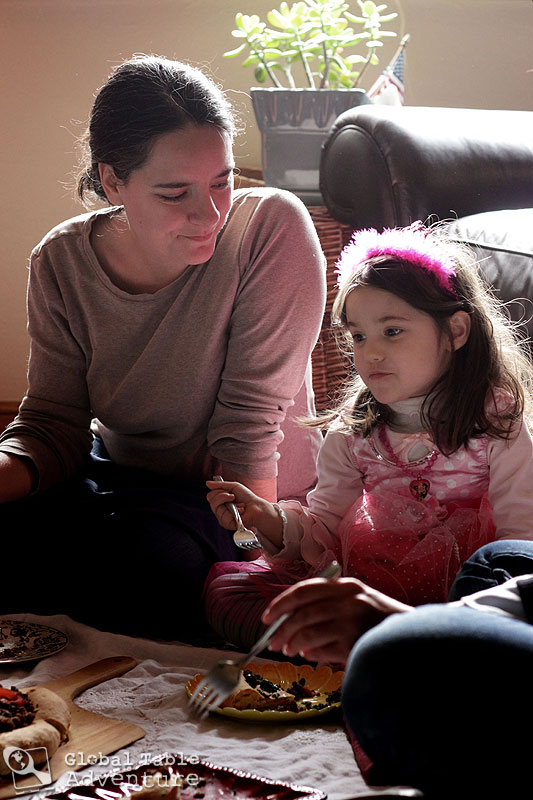 Turns out that there was no big deal story to be told, regarding her giant mane. Becky simply decided to let her wild hair be wild. I don't think it's a coincidence that sometime over the last year she's also sloughed off the last of the major boy troubles, started her own company, and stopped caring so much what other people thought. She's never been more in control of her destiny. More of an inspiration. More of a leader.
She's never been more beautiful.
Sometimes we try so hard to be princesses. We try so desperately to fit the glass slipper on. But when we let all those expectations go and just be ourselves, we find out what we're really made of. 

As for that Saudi Proverb at the beginning of this post, whose to really to say what's better: a princess or a leader of donkeys?
We all play a part.
Whatever the part, may we all let our wild hair be wild.
THE FOOD
Saudi Lamb "Pizza" | Aysh abu Laham [Recipe]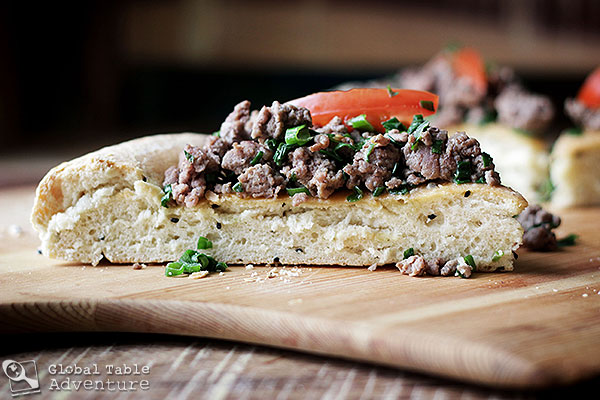 What I loved most about this dish:
This pizza is really more of a flatbread with lamb topping; it was an unexpected crowd-pleaser. After lunch, I even found Mr Picky hunched over the pizza peel, sneaking leftovers in the kitchen. The simple bread is highly spiced in a completely addicting way, great with moist lamb and a hit of the tahini sauce. The overall flavor is reminiscent of spiced sausage.
What I loved least about this dish:
I made this dish twice. The first time I cooked the meat with the pizza, but it released too many juices all over the bread to really work. Perhaps if the meat was tossed with flour or something it could come together… instead I followed a traditional recipe which simply tops the bread after baking.
My biggest regret is that, since the first method didn't work out,  I couldn't use these photos in the recipe post: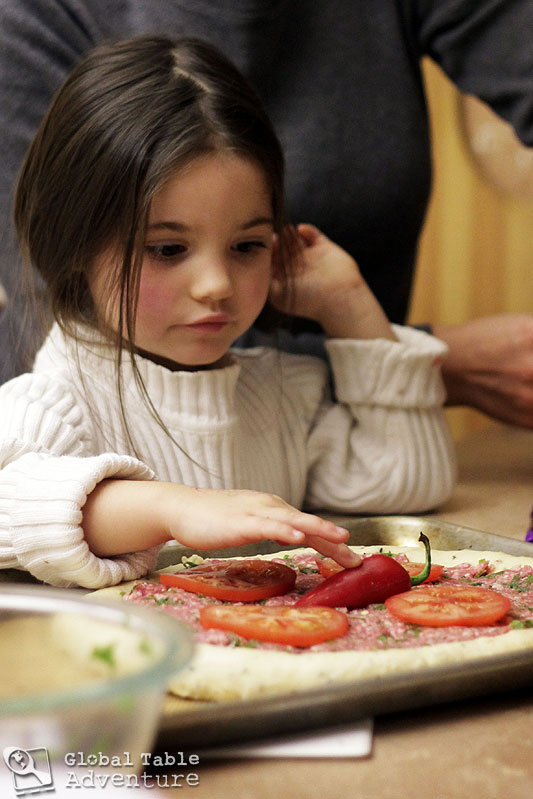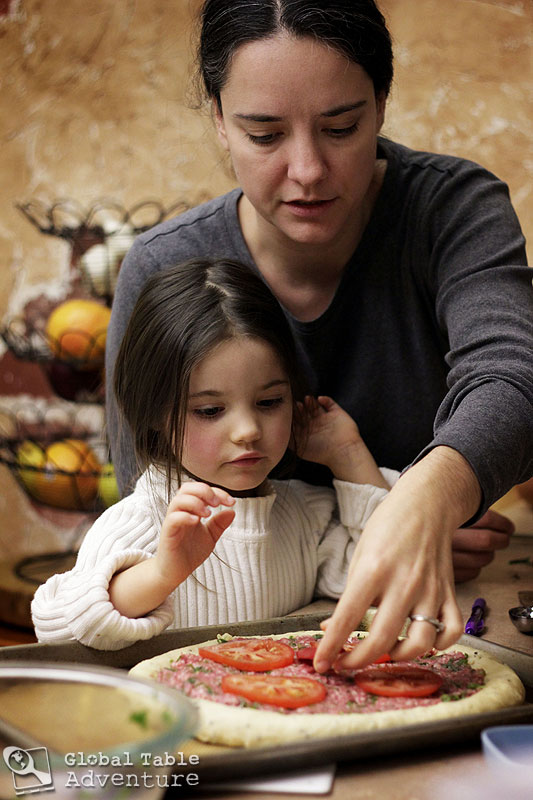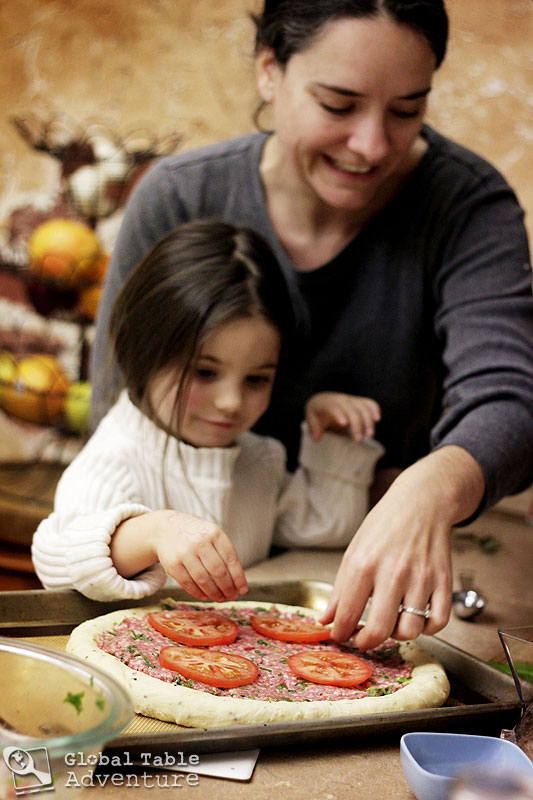 (Thanks for indulging me)
Sweet Semolina Cake with Lemon & Rosewater | Basboosa [Recipe]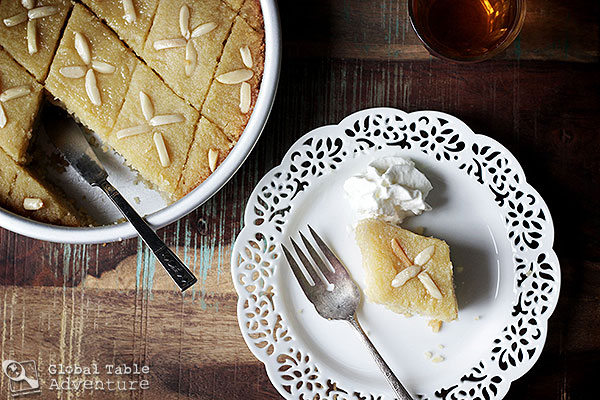 What I loved most about this dish:
Oh, goodness. Sweet rose water and lemon syrup? On a semolina cake? This was another unexpected crowd-pleaser. The moistness, the delicate, magical flavor makes it perfect for teatime on a sunny winter afternoon. We all liked it very much with whipped cream (which Ava especially loved to serve up).
What I loved least about this dish:
This dish is great but be careful what kind of semolina you buy because it really does matter to the finished dish. I used durum semolina from the local Middle Eastern market and the cake came out perfectly.
Watch Ava's Corner:
Weekly Giveaway Winner:
Congratulations to Sharisse… she says she "plans on traveling to Easter Island this year – or Provence…can anyone help me decide?"
I say Provence, by way of Easter Island…!
Enjoy your pizza stone, Sharisse! Please contact me by  January 14, 2013 to claim your prize.