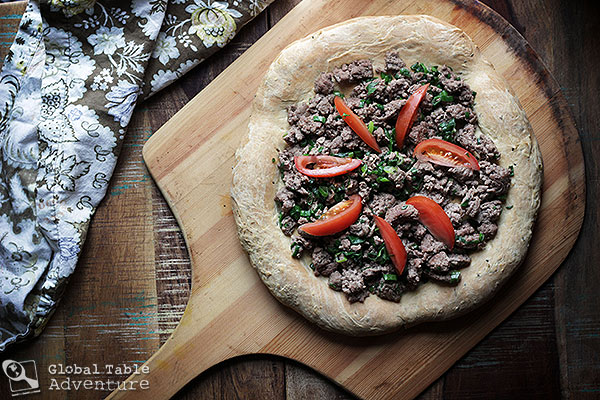 In Saudi Arabia, there's an old saying "A friend is known when needed." In other words, when you need help, true friends show up. They might ask "Can I do anything?", but more than likely they'll simply roll up their sleeves and get to work. Because the answer is clear, yes, you need them.
A true friend quietly brings over a covered casserole after you've given birth to your first child. They take your child to the park so you can sleep off a fever. They silence their phone and hold your hand until you're done crying. Their heart breaks when your heart breaks. They laugh with you until happy tears roll down your cheeks again.
That's true friendship.
As for the rest?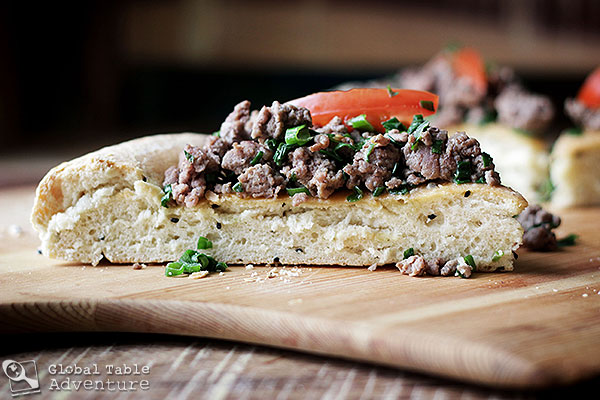 They're just there for the pizza. 
Oh, don't lose hope. One day this, too, could change. 
After all, pizza is the gateway food for true friendship.
All good friendships have a slice or two in their history. Pizza is one of those late night, snacky bites that magically draws community around it. The simple act of reaching for the same food, communal style, says that "we're on the same footing."
(Unless there's only one slice left and two hungry people, in which case you'll just have to split it into skinny slices.)
The worse the weather, the more people want pizza. The tougher the times, the more comfort we find with each bite. It's pizza for goodness sakes.
And all this is also true of Saudi Pizza.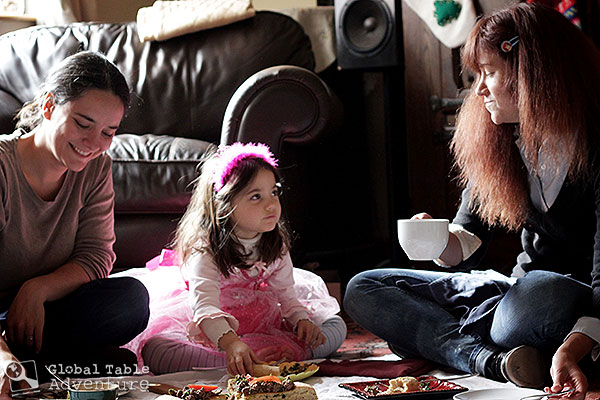 I should warn you.
While Saudi pizza has all the community benefits of slices everywhere, she lacks nuts and bolts westerners might expect, like tomato sauce and cheese. Instead, she's loaded with earthy fennel and black caraway, lamb, and green onion. The fennel and the lamb combine to make a sausage-like flavor, while the green onions give a hint of spring in each bite. Traditionally, Saudi's would mix the lamb with kurrath, not green onion. Kurrath is a cousin of garlic also known as spring leek, but I've never seen this in Oklahoma.
The pizza is served with a lemon, garlic, tahini sauce. A little drizzle adds subtle flavor to the meat and binds it all together.
One of our readers informed me that the Arab name, Aysh abu Laham literally translates to Bread, father of meat… or something like that… which is just about the coolest name I can think of.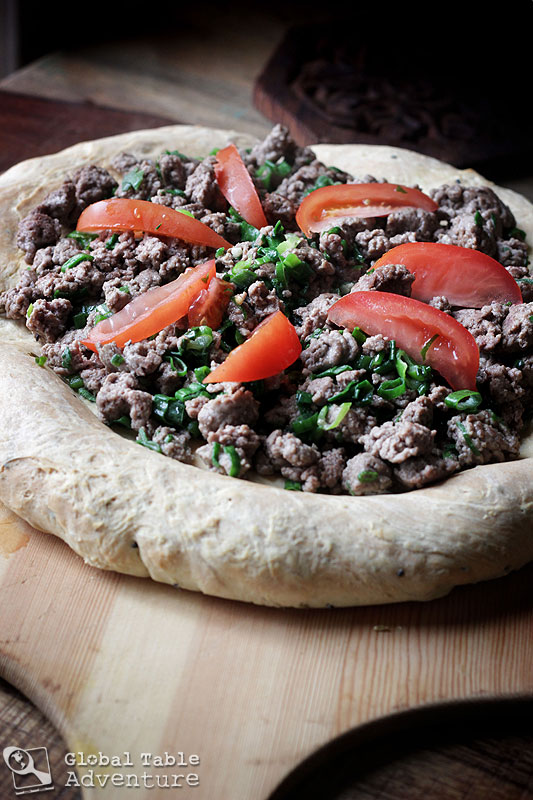 P.S. I got the idea to make this Saudi "Pizza" when I saw it parade by the camera on Anthony Bourdain's No Reservations and was thrilled to find a recipe in a 1975 article Saudi Aramco World (P.S. this publication recently featured my photo of the amazing pistachio date balls we made for our Iraqi Global Table). My adaptation goes lighter on the sauce and makes a slightly wetter dough for the pizza. I also chose to leave my fennel seeds whole, as I enjoy the texture and "pop" of flavor.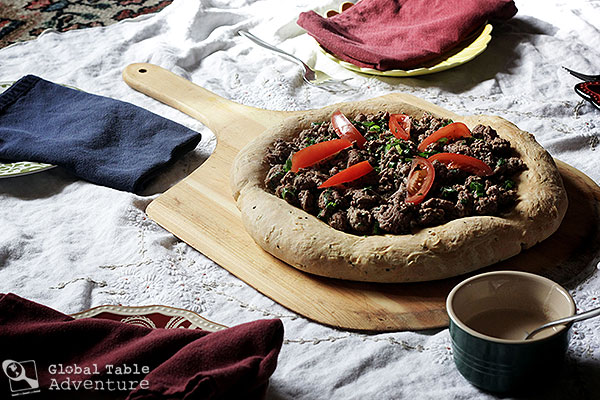 Makes 1 pizza
Ingredients:
For the bread
4 cups flour
1/3 cup shortening
2 eggs, beaten
2 tsp yeast
3/4 cup warm water
1 tsp. salt
1 1/2 tsp fennel seeds
1 1/2 tsp nigella, a.k.a. black caraway
Olive oil, for brushing
For the sauce
2-3 tbsp. tahina (sesame seed puree)
1 tbsp. lemon juice
1/2 cup water
2 cloves garlic, mashed
salt & pepper
For the topping
3/4 lb ground lamb
1 cup sliced green onion
salt & pepper
1 tomato, sliced
Method:
Let's find a great rock on which we can create the foundation for good friendship… good community…  a.k.a. Pizza.
If you can't find such a big rock, you might want to enter our Emile Henry Pizza Stone Giveaway. That'll work, too.
Next, mix together all the dough ingredients and knead well. Breathe in deep; enjoy the spiced dream you're creating. Cover with a damp cloth and let rise until doubled in bulk (about 2 hours).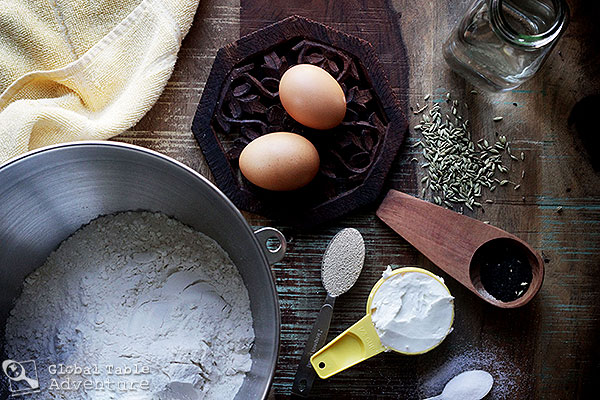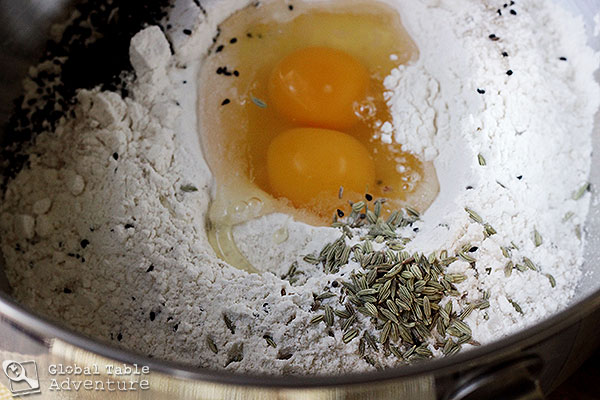 As the dough puffs up into a giant, spiced pillow, call a dear friend you haven't seen in a long time. Invite them over for an impromptu pizza party.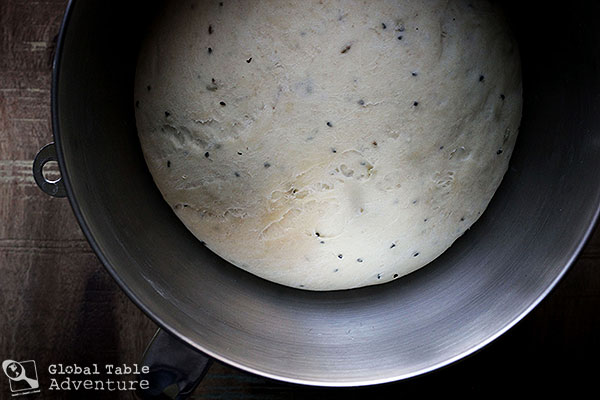 Next, press the dough into a 1/2″-3/4″ thick rough round, being sure to leave the sides slightly lipped. Place the dough on a lined pizza pan (traditionally, they use an oversized round baking dish with high sides, but I don't have something this size).
Let the dough rest again, meanwhile preheat the oven to 350F. Brush liberally with olive oil and bake until light golden and cooked through (25-35 minutes, time will vary depending on the thickness of your dough).
The dough will bake up firmer thanks to the eggs, which makes  a great base for the lamb topping.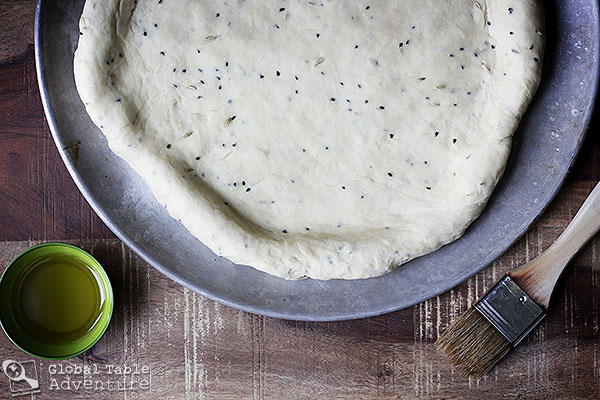 Now time for the topping!
Mix together the tahini sauce in a small bowl. Be sure to add plenty of salt and pepper.
Then fry up the lamb until the whole house smells like "good."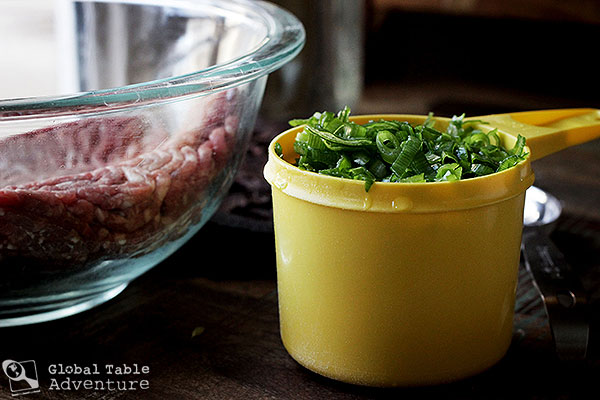 Remove from heat, add the sliced green onion, and stir in some of the tahini sauce (to taste, reserve the remainder for the table). Sprinkle on the salt and pepper.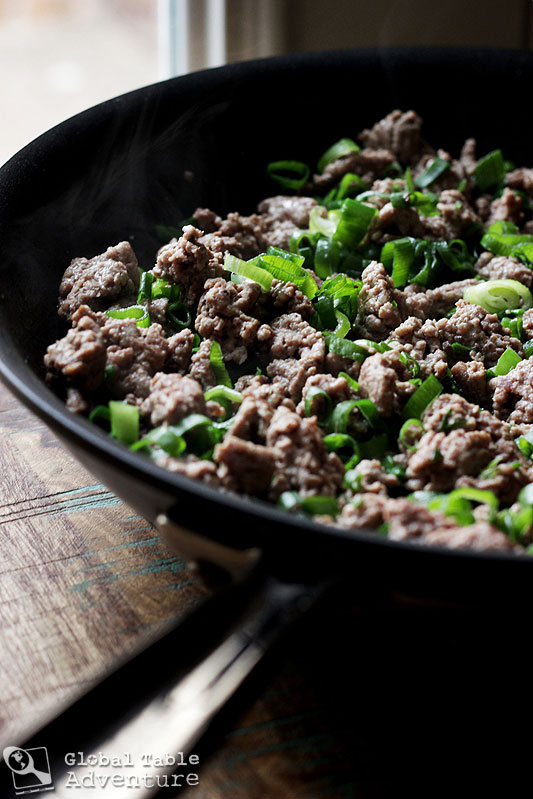 Top the pizza with the lamb mixture and finish it off with a few tomato slices for color and moisture.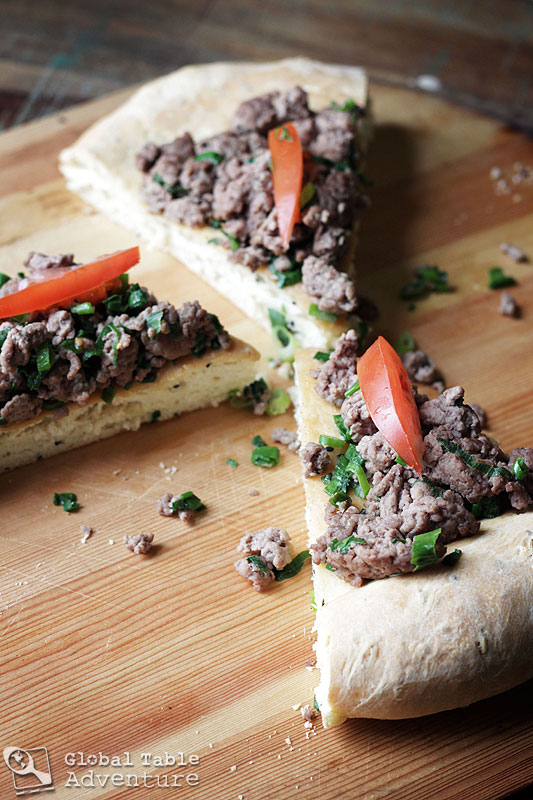 Welcome to "Pizza happy." It's like sunlight, for our bellies.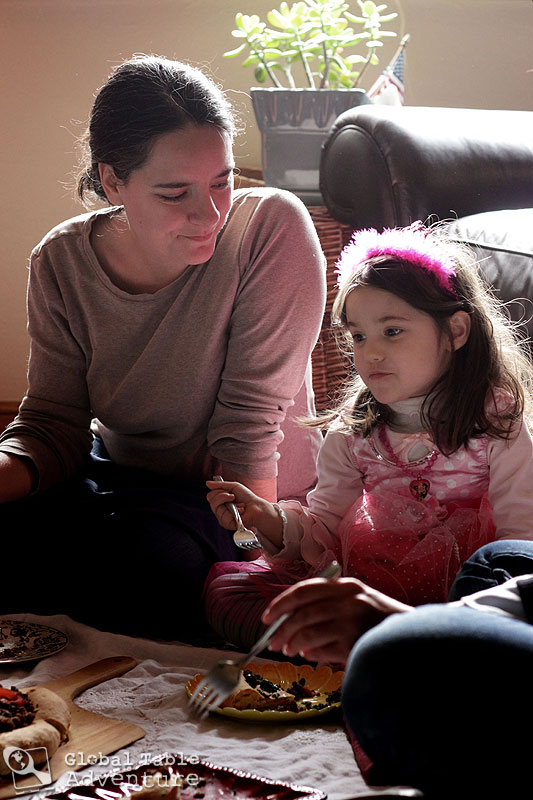 Enjoy, this fun recipe, dear friends and have a beautiful weekend.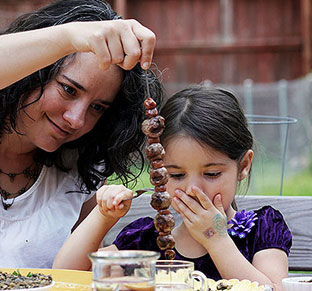 Hungry for more?
Be notified when National Geographic releases my memoir.
Simply fill in your details below.