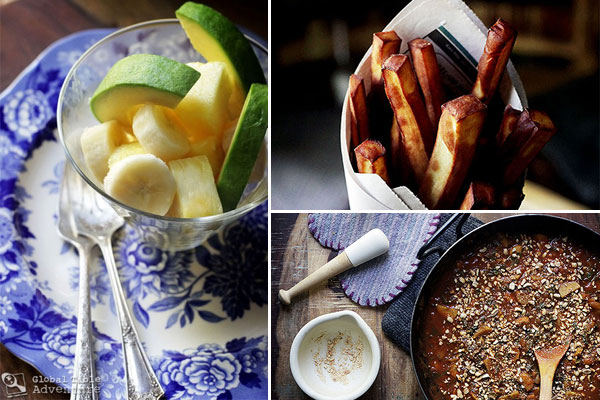 Today is one of those days. I feel like singing. You see,sometimes a country is so far from anything I know, I have no idea what to expect. Then a meal like this happens. Fun. Interesting. Satisfying.
With each bite we're a little closer to our friends across the deep, salty blue.
This is Rwanda: simple food, full of cozy comfort. Each item on the menu is a regular staple, from the bananas to the plantains, and from the sweet potatoes and to the crushed peanuts.  Let the warmth carry you through the blustery chill, all the way to the other side of winter.
P.S. Consider enjoying  this meal lakeside, as though you were in Rwanda.
P.P.S. If you can include a gorilla in your company, even better. Rwanda is known for her beautiful Mountain Gorillas.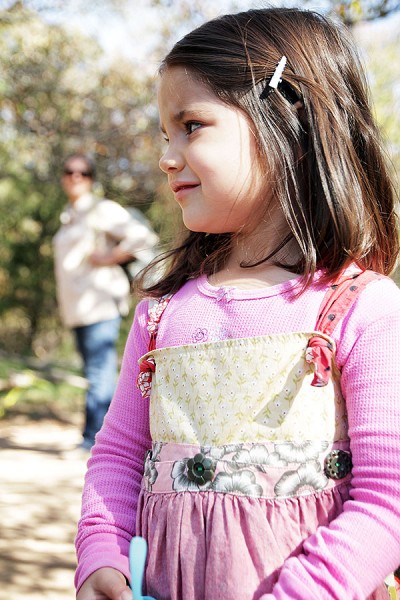 All recipes and the meal review will be posted throughout the week.
Vegetarian Agatogo with Collard Greens  [Recipe]
A nutritious and satisfying stew of plantains and collard greens simmered with tomatoes, onions, and garlic. Finished with a sprinkling of crushed peanuts.
 White Sweet Potato Fries [Recipe]
Sweet potatoes are one of the main staples in Rwanda, and are especially beloved as fries.
Tropical Fruit [Recipe]
 Rwandans love any and all tropical fruit (think pineapple, mango, bananas and more), but especially enjoy their salads with a bit of fresh, butter avocado.
WEEKLY GIVEAWAY
Get your fall cooking in gear with this Global Gourmet Gift Basket from Saffron Road.
This gift basket has a set of super cute wooden spoons, spring green measuring cups, a coordinating dish towel and a World Cuisine apron. Finally, you will be equipped with three premium quality broths to whip up your favorite fall recipes.
If you can't use the gift basket yourself, the holiday season is just around the corner. Gift hunting for your Great Aunty, twice removed? Done!
Love, love, love!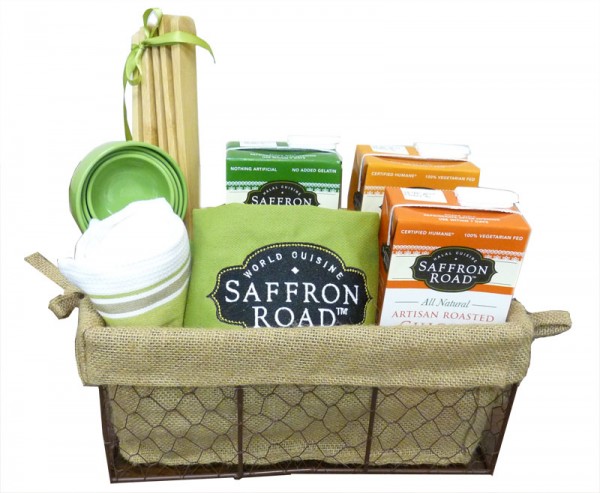 These are the all-natural (yay!), kettle cooked broths you'll find tucked inside:
And, in case you were wondering, Saffron Road offers All Natural, Halal certified products. In their words:
"We know that great food begins at the farm, so we source our ingredients from only the finest producers available. It's no coincidence that we buy from small sustainably run farms. All of our livestock are humanely raised with 100% vegetarian feed and are never given antibiotics. Our Halal tradition demands their proper care and welfare."
.. they can be found in your local Whole Foods. Plus… they are now at more than 3 dozen retail locationsnationwide, including Stop and Shop, and Food Giant. Hello… that's great news!
TO ENTER:
UPDATE: 
Congratulations, Kc192 who said if they had to eat the same soup for five years:
Oh wow… I love soup… My first thought was baked potato soup. Then i changed to creamy chicken and wild rice. Then I think I settled on tomato. Although chicken and corn chowder sounds sooooo good….
Please email me by November 19 to claim your prize!
Answer our Giveaway Question:
If you could only eat one soup for the next five years, what soup would it be?

There's no right answer, so have fun with this one…
That's it!
Bonus entries will be provided for those that tweet this giveaway with hashtag #globalgiveaway and/or share it on Pinterest and Facebook.
Leave your answer in the comments below. One winner will be chosen at random and announced in the Monday Meal Review on November 12 , 2012. Prize must be claimed by November  19, 2012. Saffron Road is sponsoring this giveaway. They wanted to share some global foodie love with you. Enjoy!