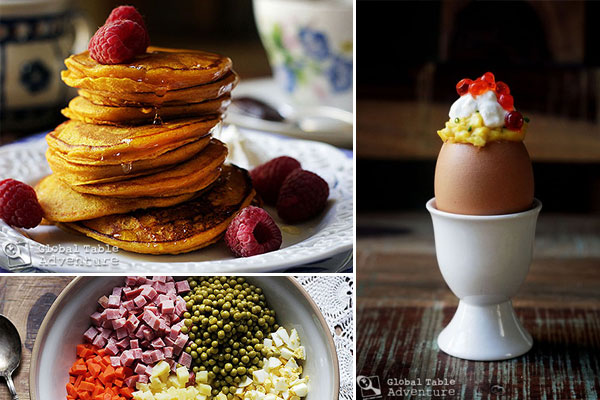 There's a Russian proverb which states "The appetite comes with eating" (Appetit prikhodit vo vremya yedy). Sometimes, when trying new foods, we just have to dig in (especially – oh goodness – when it comes to trying caviar the first time). Only then can we know if we have an appetite for the new dish. Thanks Russia! We definitely used this advice this week.
All recipes and meal review will be posted throughout the week.
Pumpkin Olad'yi [Recipe]
This is Russian breakfast at her best. Think fluffy pancakes, but smaller. While typically made with buttermilk, these olad'yi also have a happy helping of pumpkin puree, which makes them perfect for right here, right now.  Served with honey, sour cream, and fresh berries.
Russian Potato Salad | Olivier Salad [Recipe]
 This classic salad contains everything but the sink: ham, peas, pickles, carrots,  hard boiled eggs, and potatoes. Welcome to the ultimate potluck celebration dish in Russia.
"Egg, Egg, Caviar" [Recipe]
This fun concoction is something saw on Andrew Zimmern's show. Imagine a gently scrambled egg with cream, chives, and topped with a blast of sour cream and caviar. For bonus points, serve the whole shebang in a pretty egg shell.
Russian Tea [Recipe]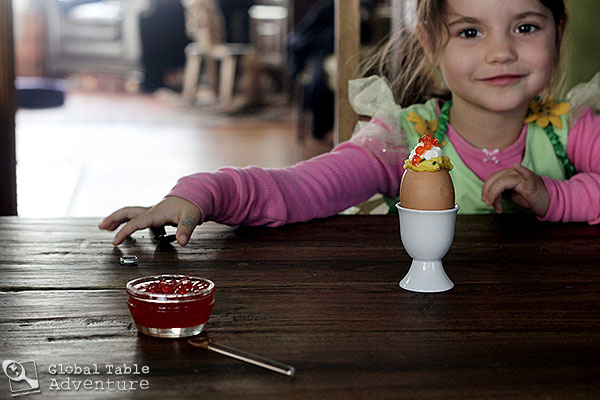 THE GIVEAWAY
Today we have two fun giveaways for one lucky winner.
I have been eyeing these adorable Russian themed measuring cups for a long, longtime. I'd like to say I want them for my daughter, but that would only be partially true. I want them for me, for you, and for everyone ever.
Just because.
They'd make the sweetest housewarming gift.
They are fun to reassemble.
And they actually get the job done.
Are you in love yet?
In addition, since it's Halloween here in the USA, I just have to give away one of these drinking carafes:
Aw. Poor, poor Matroyshkas. This makes me chuckle every time.
Slurp.
Enjoy, friends.
TO ENTER:
What global goodies would you make with the measuring cups? What will you drink in the carafe? Or will they be a gift? Tell us all about it!
Simply leave a comment with your answer. That's it!
UPDATE: 
Congratulations to Nicole who said:
While I would love to keep and cherish them, I would give them as a gift to my neice, Gabriella, who was adopted into our forever family from Russia. My sister has recently completed their fourth international adoption and we can now call our family the "U.N." since we cover: Russia, South Korea, Ethiopia and China. Gabbi would love to use these measuring cups in the kitchen baking all sorts of yummy things.
Please email me by November 12, 2012 to claim your prizes.
Bonus entries will be provided for those that tweet this giveaway with hashtag #globalgiveaway and/or share it on Pinterest and Facebook.
One winner will be chosen at random and announced in the Monday Meal Review on November 5, 2012. Prize must be claimed by November 11, 2012. There are no sponsors for this giveaway. I simply wanted to share some Russian love from me to you. Enjoy!