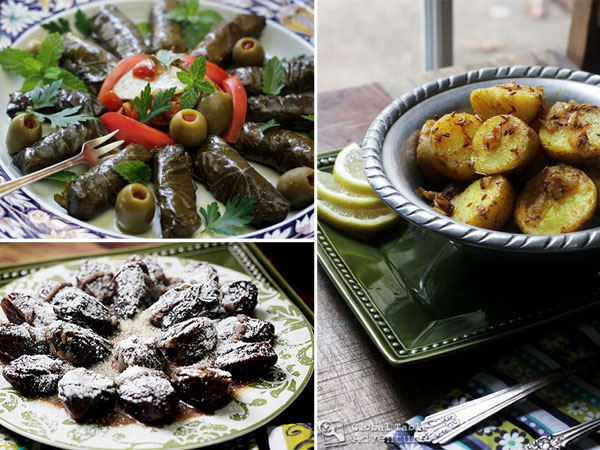 I'm telling you right now: there's something in the air.
It's that thing that makes me want to snuggle under the comforter and watch the leaves fall off the trees with one eye cracked and a steaming teacup nearby. There's just one problem. It was 85F yesterday.
Here's the deal: even though summer is being stubborn, I'm moving on. I don't care what the weather may be – if the leaves are red, then you can find me in bed with more blankets than I really need.
Just because.
And I might have some of these Qatari treats in there with me.
Shhh, don't tell.
All recipes and the meal review will be posted throughout the week.
Cumin Seed Potatoes | Batata b'kamun [Recipe]
Friends, this is your weeknight global fix. Simply fry up an onion with cumin, turmeric, and coriander and toss with boiled golden potatoes. An explosion of sweet, earthy spices awaits. Qatari comfort in a bowl.
Olive oil Stuffed Grape Leaves | Warak Inab [Recipe]
Headed to a potluck? This party dish can be made a day or two ahead of time. Inside each grape leaf is rice, fresh mint and parsley, green onion and tomatoes.  The entire pot is cooked on a bed of sliced potatoes, buried in chopped tomatoes, and bubbled away with nothing more than olive oil and lemon juice.
Cinnamon Buttered Dates | Al Rangina [Recipe]
A celebration of one of Qatar's most beloved crops: impossibly sweet dates resting in a thick, cinnamon butter sauce and dusted with powdered sugar. Another great potluck dish.
THE GIVEAWAY
We're inching in on that time of year: furious festivity all piled into an ongoing collection of parties. Some of these parties will be ragers. Some will be quiet dinner parties. Still others will delight in cocktails and hors d'oeuvres.
To go with all this fun, I have an oh-so-adorable goody for you…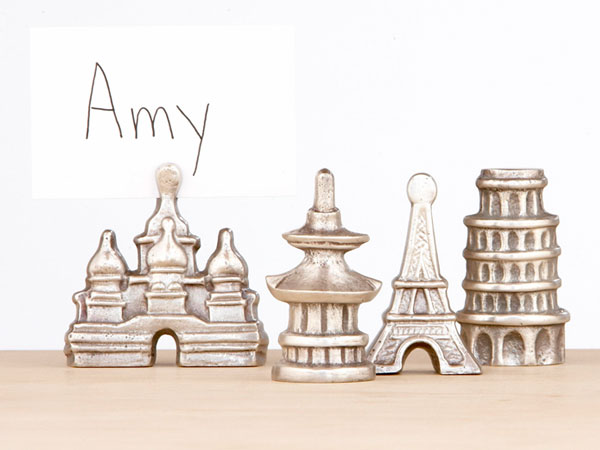 (Psst, for any fellow Whovians… no, this is not a hint that Amy Pond will be coming back to Doctor Who anytime soon. I wish.).
These Global Place Card Holders offer a unique and delightful welcome to each guest at your table by holding their name, a favorite quote or a photo by their plate. More than that, you can also use them to hold the names of globally-inspired dishes and canapés that you set out on a buffet. Huzzah! And of course, as a set, they make a very fun hostess gift as well!
Yup. To my mind, they are perfect for any gathering.
I want one of you to have them.
There are only four to a set, so I'm giving away two sets to one lucky winner.
UPDATE: 
Congratulations to Anna who says:
My favorite part of Halloween is pumpkin carving and then getting to use the extra pumpkin flesh for pie, or custard when I'm feeling too lazy to make a pie crust. This year I planted a buttercup squash plant in the garden, so if everything goes well I should be able to make buttercup squash pie too.
To Enter:
Leave a comment telling us what global goodies you'll be making for Halloween. If you don't celebrate, share what you think is the perfect end of October dish.
Bonus entries will be provided for those that tweet this giveaway with hashtag #globalgiveaway and/or share it on Pinterest and Facebook.
One winner will be chosen at random and announced in the Monday Meal Review on October 22 , 2012. Prize must be claimed by October 29, 2012. There are no sponsors for this giveaway. I simply wanted to share some global foodie love with you. Enjoy!