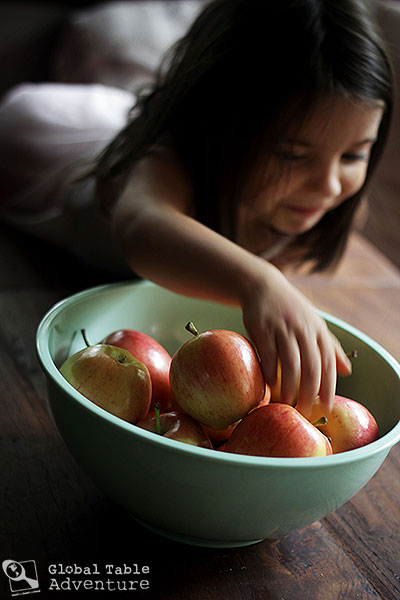 I never expected a picnic to be so difficult.
There's a Polish saying, "Bez pracy nie ma kołaczy," which means "Without work, there won't be supper." This was most definitely the theme of our week at the Polish Global Table.
For starters, I spread out the cooking of each dish over the course of three days, slowly making each one when I could find the time.
When I finally finished cooking, we took the apple pie to the park to share with friends.
Keith didn't catch much of "the scene" on camera, so I'll have to relay it the best I can.
After our first game (ever) of Frisbee Golf (which was quite fun, actually), we set up our picnic under a covered gazebo. We ate our meal with gusto (Ava was particularly hungry, since she had eaten her breakfast at some ungodly pre-dawn hour).  The breeze was mild and the sun was shining. Simply lovely. As I rummaged in our picnic backpack for the Tupperware filled with Polish apple pie, I heard footsteps. I looked up to find a serious looking woman dressed in a suit sizing up our little picnic.
"We're having our company lunch here in an hour," she said grimly.
We'll just be a few minutes, is that okay?"
"People are coming right now to set up," she replied sourly.
I scanned the empty parking lot and the six other empty tables under the gazebo. Other than her clicking heels, nothing important was going on.
Still, I didn't feel like arguing. We gathered our things and stumbled over to another gazebo. I laid out our plaid table cloth again and set up the Polish apple pie. Again.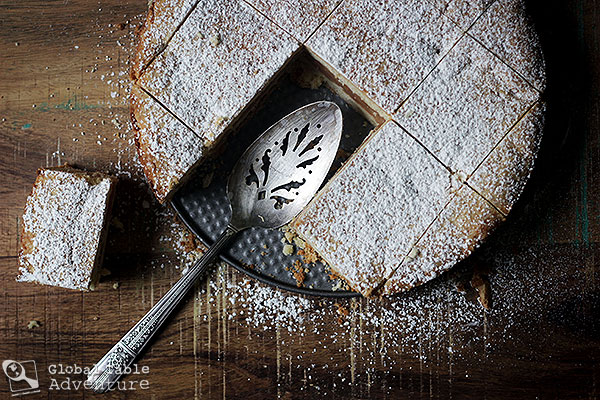 Keith turned on the video camera and began to record. We got just a few bites in when a sweet little birthday boy (2 years old, I soon learned) showed up with his parents. They looked like they had the entire contents of Party America in their pickup truck. They let us know (very kindly, I might add) that they would need the gazebo for little Michael's birthday party. They said that we could stay to finish our dessert if we'd like.
We gratefully offered our thanks and continued to eat.
Out of nowhere came the low, slow rumble of a gator. The guy inside was tight lipped and clearly on official gazebo duty. I self-consciously started to say "We'll be getting up in two minutes, they said we could stay."
Keith, used to me being a worrier, smiled and teased "Sasha, he doesn't care"  Which I repeated, as a question…although I'm not sure why.
But the man snapped back "No, I do care."
Pause.
"You need to leave," the man continued, "Now. Please."
For the rest of the conversation, see this week's "Ava's Corner."
We were stunned. Smacked. Spanked. Ava looked from our  burning faces, back to this man, back to us again. He just continued to glare at us. Waiting. We gathered our stuff for the second time, tail tucked between our legs and headed to the next table – not in a gazebo – where we (drum roll) finally finished our Polish dessert in peace.
So what did I learn about world peace in this afternoon at the park?
Much of what we say simply boils down to the delivery.  A warm smile go a long, long way. Saying "please" and "thank you" with heart make all the difference.
Let's make our days a little kinder, shall we? Especially when we wield powerful gators.
That being said, in the end the Polish were right… "Without work, there won't be supper."
Or Polish apple pie, as it were.
Cheese & Potato Pierogi [Recipe]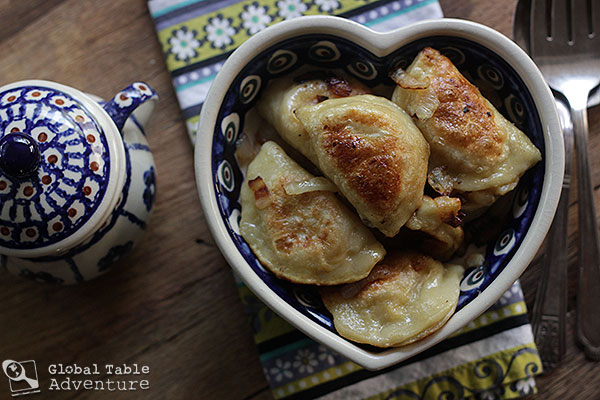 What I love most about this dish:
Pierogi are the ultimate in comfort food. From the sweet, haunting flavor of caramelized onion, to the sharp bite of cheddar cheese and sweet potatoes, there's nothing better. Mr Picky was all about these – the scent of them frying in butter drew him in the garage several times to see if they were done.
What I love least about this dish:
Miss Ava has eaten pierogi several times (from the supermarket) and loved them. This time, however she was not a fan. I think it's because of the caramelized onion (had I minced it, we would have been better off).
White Cucumber Salad | Mizeria [Recipe]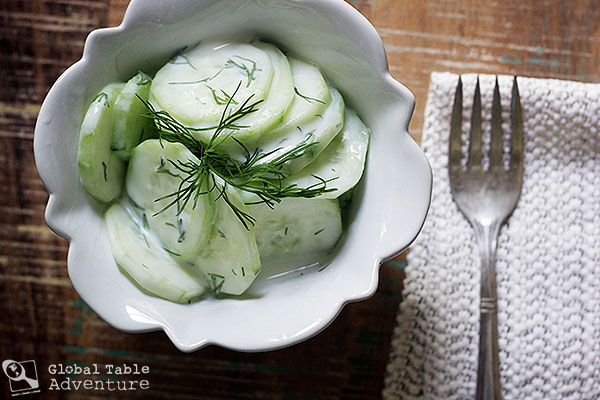 What I love most about this dish:
Cucumber salad comes together in a snap – the hardest part is slicing the cucumbers. We ate this snack at the park, with dinner, and one other time. It stayed crunchy and fresh with really good flavor. It reminds me of a similar Hungarian cucumber salad my mom used to make, although I don't think she included the dill.
What I love least about this dish:
I would probably skip the sugar next time (and I've read that this is personal preference, anyway). The tang from the vinegar is perfect though.
Polish Apple "Pie" | Szarlotka [Recipe]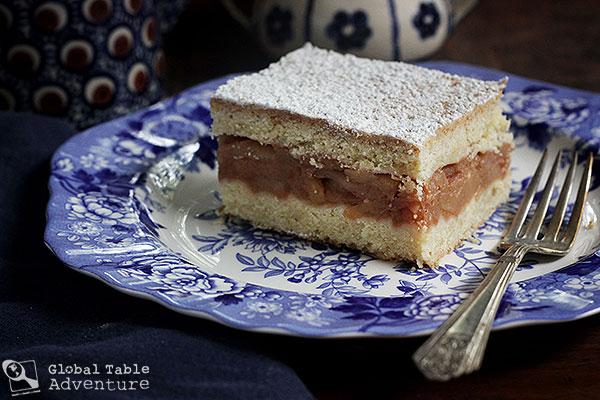 What I love most about this dish:
This is a crust lover's dream. The szarlotka sliced beautifully and would be a great treat to sell at a bake sale. Ava has never, never, never been interested in pie (of any shape or size) until now. She started off just eating the crust, but when she got a few stray pieces of apple in her mouth, then she went for those, too. It was great! I also loved that this pie stores really well in the refrigerator. It was not only great the next day, but held up well even a few days later. I think part of that is because the apples are pre-cooked, which removed most of the moisture, so the pie doesn't become soggy as it sits.
What I love least about this dish:
Nothing… just be sure to find some people to share with – this is a large, filling treat!
Ava's Corner
GIVEAWAY WINNER
Congratulations to the winner of our weekly giveaway – Megan, who said
The best soup I"ve ever eaten was a homemade Italian Escarole Soup. It was made mostly of vegetable broth, cannelloni beans, an entire head of escarole, and a little bit of orecchiette. The best part was the mix of tastes and textures, especially when you add your ideal portion of grated Romano cheese, Italian herbs, and even olives or hot sauces. The best soups are those that you can personalize! (Vietnamese pho or your recipe for Burmese Coconut Chicken noodle are others that come to mind!)
Yum. Please email me by 10/15/12  to claim your Saffron Road Gift Basket, Megan!