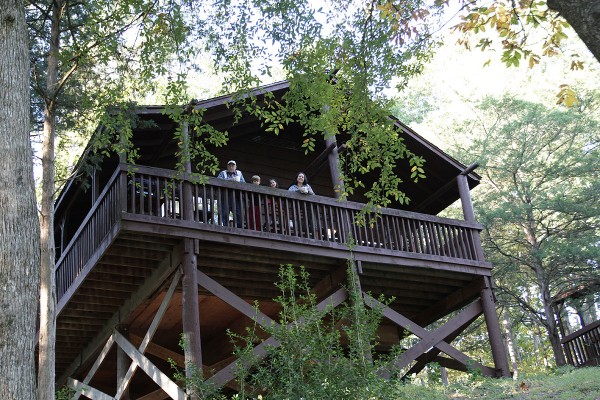 "Here at last," I think, as we pull up to our cabin at Beaver's Bend State Park. I gaze up at the tall, skinny trees and then down to the sturdy stilts which keep the cabin from falling into the river below. They are the same circumference. A familiar smile curls my lips and I look back at Ava. She's staring out the window in awe. Here is our little house on the water. A space to listen to the birds, feel the breeze, and watch the seasons change. For four days, at least, until the next family comes to call it home.
The cabin reminds me so much of the house we almost bought two years ago. The house that "got away" from us (due to failed inspections). They look nothing alike, but feel the same. The spirit of a house on the water is so different from a landlocked house; the water sliding past your window can easily trick you into thinking you're continually traveling, exploring, moving.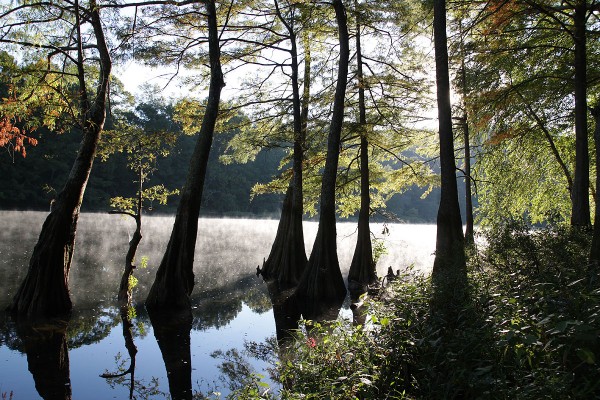 I'm still entranced by the view when Keith lifts his hand. He holds up the alfajores dough I'd made. He tells me he accidentally left it out in the truck bed for the entire three and a half hour ride. I can't muster enough negative energy to even be upset.
What peace a sweet place like this gives.
I take Ava by the hand and we walk straight over to the balcony where we look out on the waters. We can see every pebble, even from 30 feet away.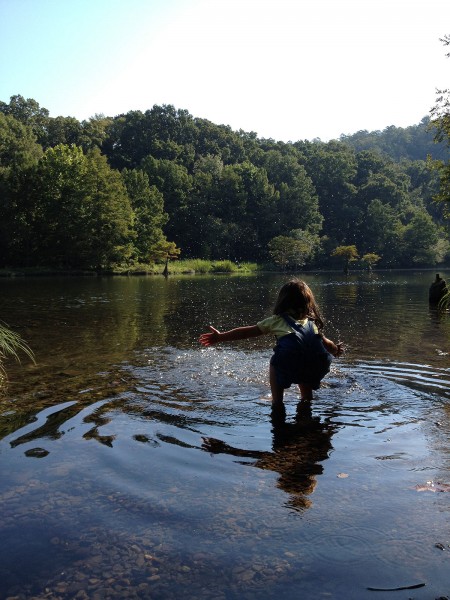 And then the fun begins. Eighteen family members roll in from three states and I get to work cooking Paraguay.
There was lots of baby love.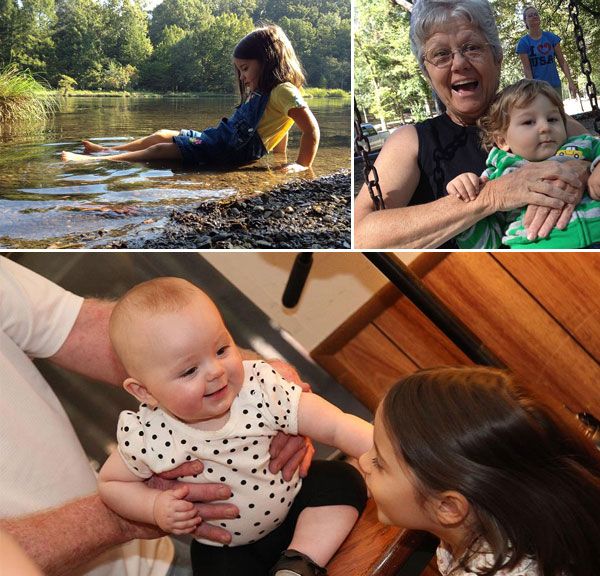 And gaggles of family love.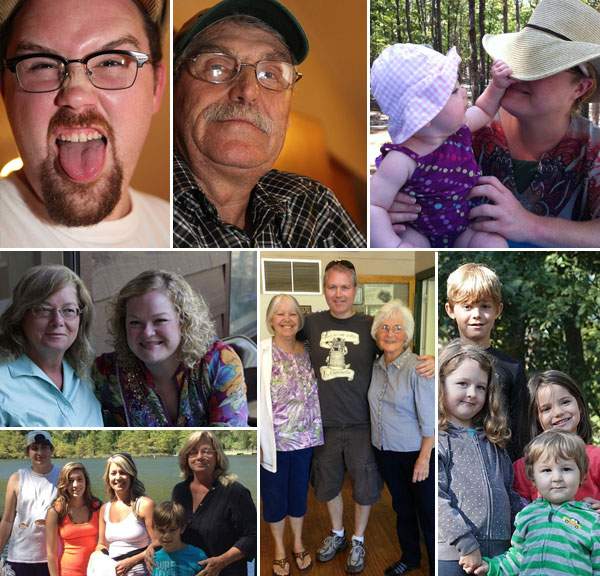 The weekend was a hodgepodge of swimming in 100F days, one giant rainstorm, followed by 50F degree mornings (which were, by far, the most blissful to me). Lots of fresh air and surprisingly friendly deer.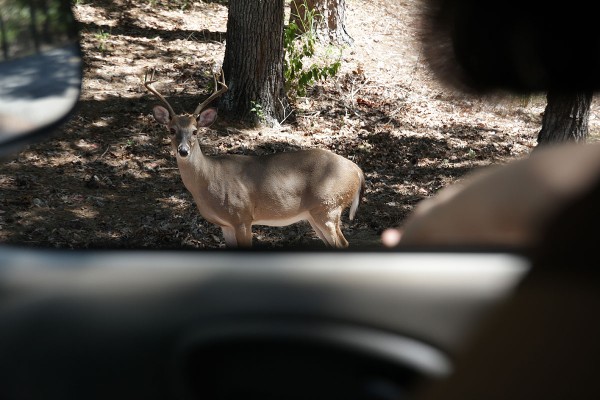 On that first night we sat around folding tables adorned with mismatched tablecloths and a stack of tortillas that was way, way more than necessary. Somehow the 3.5 pounds of carne asada and sopa paraguaya stretched to feed us all. Tucked into tortillas with all the toppings, it was the meal that broke the ice.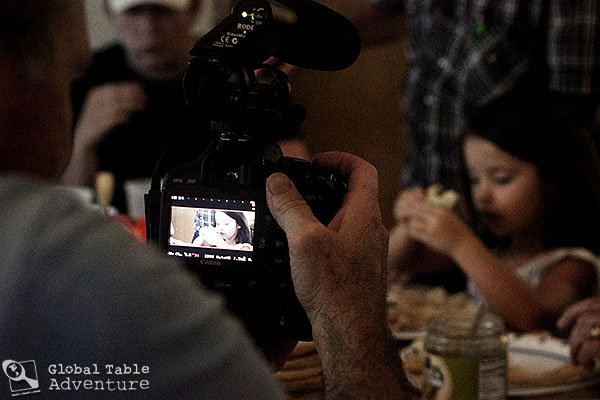 I'm not used to having flawless vacations. I always manage to muddle something up. It was only days later, when we were packing the pickup for our return and I stumbled upon the cookie dough ( I have no idea why Keith tossed the cookie dough back in the pickup bed, but he did), that I realized why everything went so smoothly.
We accidentally appeased the elves.
You see, in Paraguay, among the Guarani tribe, there are Pombero (a.k.a. hideous elves), who sneak silently on notoriously hairy feet through the forest, transforming into trees to keep out of sight.  These vile creatures are known for snatching children and drowning them in rivers. Ugly stuff. Turns out you can keep them away if leave them a pot of honey or other sweet to eat out in the forest.
Mission accomplished. Turns out that cookie dough served a purpose after all.
Thank you, Keith.
THE FOOD
Barbecued Meat | Carne Asada [Recipe]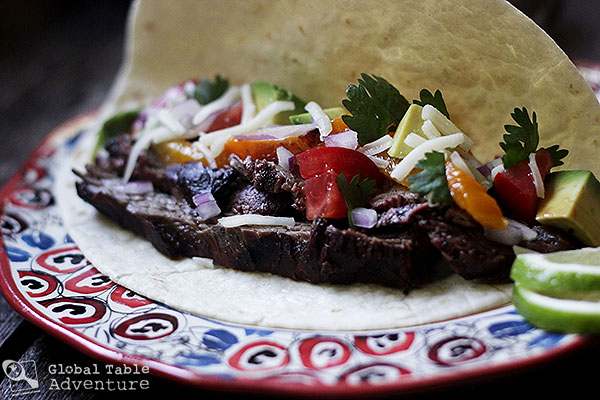 What I loved most about this dish:
The marinade for Carne Asada is finger lickin' – nothing like zest lime juice, garlic and oregano. I had no idea this would so fantastic. The crust on this meat was so good, there was discussion over who would get the end pieces. Even reluctant little Cade got on board and ate a good portion of steak. The flap meat is best when cooked to medium; all the toppings made it a fun DIY meal which made it especially good for even the pickiest eaters.
What I loved least about this dish:
Nothing. Be sure to chop up all your topppings and have them ready to go so that when the meat comes off the grill, so dinner can begin before things cool off too much.
Paraguayan Cheesy Cornbread | Sopa Paraguaya [Recipe]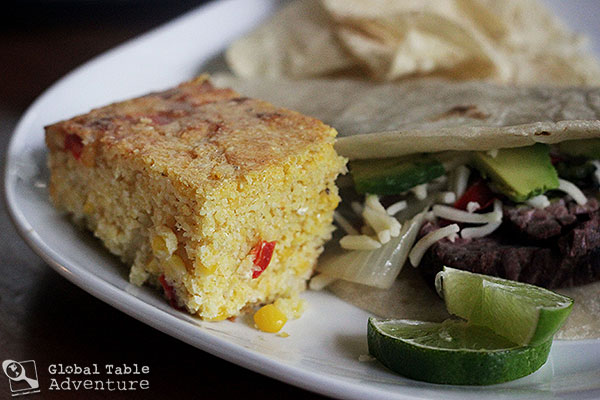 What I loved most about this dish:
This is a moist, flavorful cornbread. We ended up eating it twice – once with the carne asada and once with jambalaya. It is a great, all-purpose cornbread and I'd like to try it next to chili.
What I loved least about this dish:
When served warm this cornbread is absolutely wonderful. When chilled it loses a bit of oomph so I recommend heating it up before eating. That's what they do in Paraguay. Mr Picky had a cold piece and really regretted he'd missed the hot cornbread.
Dulce de Leche Cookies | Alfajores [Recipe]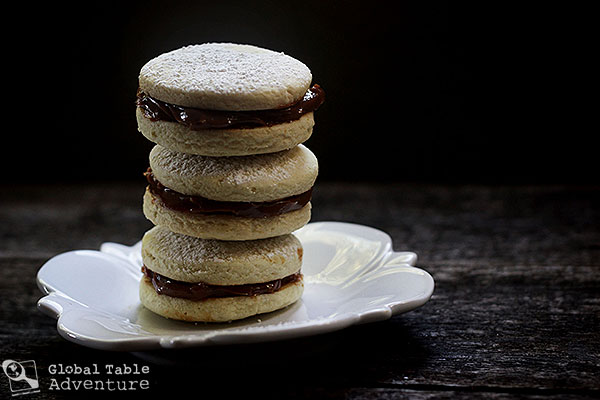 What I loved most about this dish:
Two batches of dough later, and I'm still glad I made them. These are wonderful – like light bursts of lemony clouds. The dulce de leche adds the most wonderful tender touch of sweetness. When we got home from vacation, Ava adored remaking these with me and especially had fun with her "own" piece of dough to make whatever she'd like with. Keith was in seventh heaven eating them.. and had trouble keeping his paws out of the leftovers.
What I loved least about this dish:
While the cookies are incredibly delicious, the cornstarch makes them so tender, they have a tendency to crumble. You have to use a very light touch when it comes to spreading them with dulce de leche. Patience and a delicate touch pays off, though, for the most wonderful cookies around.
Ava's Corner
WEEKLY GIVEAWAY WINNER
*Winner from this week's Paraguayan Menu Giveaway was selected at random by random.org. There were so many fantastic ideas for globally-inspired baking dishes.  Congratulations to Tabitha Brennenstuhl, who said:
"That is a really neat piece! I'd like to make some tandoori chicken in the oven with that! I usually use cast iron, but would love to see how it taste in that!"
Yum. Please email me by 9/24/12  to claim your handmade baker, Tabitha!