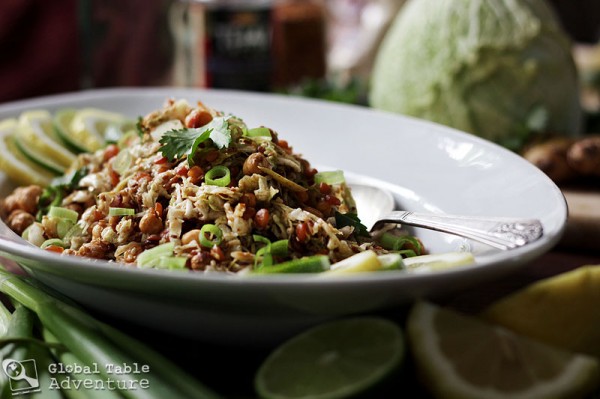 If we can't open our hearts to the "weird" things in life, we're not living fully. The girl who wears rain boots in the snow. The man that studies a bustling ant hill for an hour. The child that dips her scrambled eggs in molasses (Ava did this yesterday).
These people all have one thing in common: they see the world through a different lens. Their world has no limitations.
Wouldn't it be glorious if a salad could change how you see the world? If one bite could take away all your preconceived notions and open your mind to the new, the exciting, and – let's just be honest – the weird?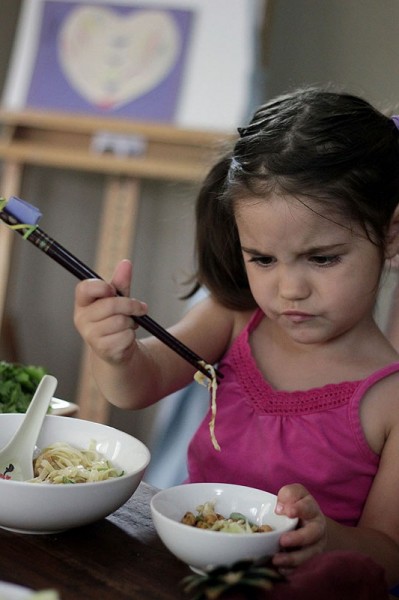 Today we're going beyond watery diner salads, sporting  browning lettuce, one measly crouton, a white-washed tomato, and a solitary red onion ring.
(Thank goodness)
Instead we're loading our chopsticks with fresh, spicy ginger, salty fish sauce, fried lentils and chickpeas, chickpea flour,  peanuts cabbage… and… and… so much happy goodness. This is a bouquet of flavor that sounds more … quirky.. than it really is.
This Burmese salad is extremely well balanced, which surprised me. No one flavor dominates the other. The chickpeas and lentils add protein, the cabbage binds everything together, the ginger is the occasional spicy bite, and even the fish sauce simply adds a salty dressing when combined with the bright acidity of lime juice and lemons.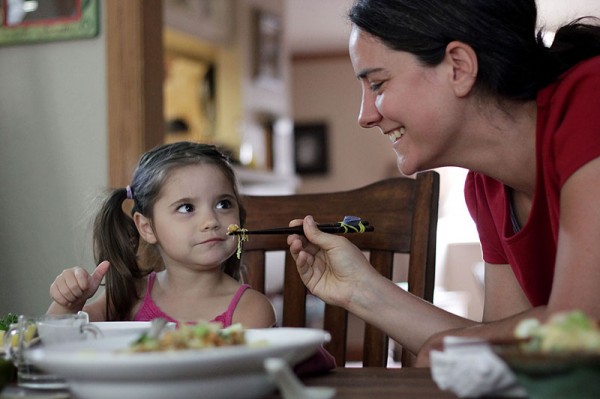 One bite in and you'll be hooked!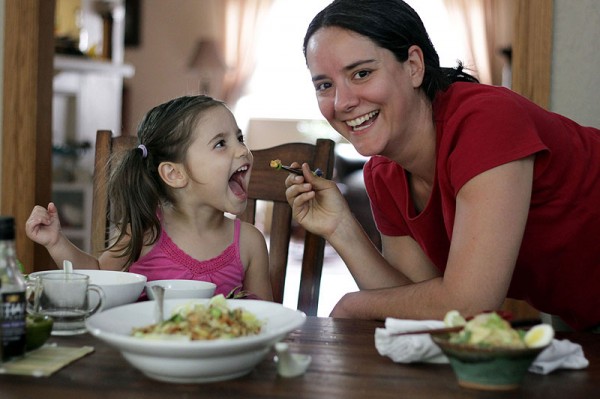 If that doesn't convince you, let the smiles of Burmese children encourage you on your stove top travels.
Serves 4
Ingredients:
1 thumb ginger, peeled and sliced in tiny matchsticks
1/4 cup lemon or lime juice
3 cups finely shredded napa cabbage
2Tbsp chickpea flour, toasted in a dry skillet (I used a chickpea/fava blend I found at Whole Foods)
For frying: 
1/2 cup dried chickpeas, soaked overnight in water
1/2 cup dried lentils, soaked overnight in water
3 cloves garlic, slivered
1/4 cup sesame seeds
1/3 cup peanut oil
Dressing: 
Fish sauce
Garnish:
cilantro, torn
crushed peanuts
green onion, sliced
Lime slices
Lemon slices
Red pepper flakes
Method:
SOAK
In the cool, calm evening, prepare the first few ingredients. Soak the ginger in lemon or lime juice, and soak the dried chickpeas and lentils in water overnight.
Be sure that ginger is sliced fine, fine, fine… or its bite  just might make you cry.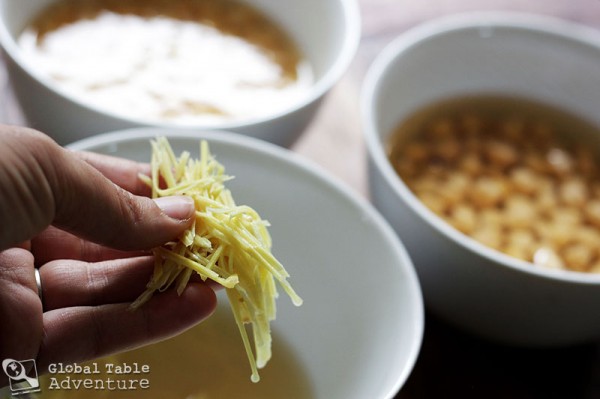 Now go enjoy a stroll through a sparkling Burmese night. Smile and say "Min ga la baa" (a.k.a. "hello") to at least three people.
While you're out, the overnight soak will help soften the ginger's bite and prepare the lentils and chickpeas for a quick dip in hot peanut oil. Some people like to soak the ginger for several days; it's up to you, but I didn't think it necessary.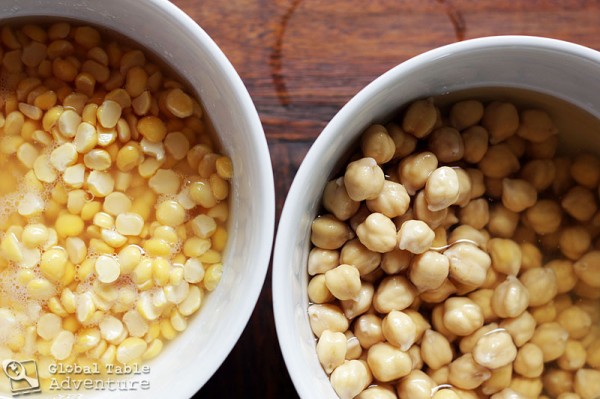 The next morning, squeeze out the ginger (Tip: add the juices to some hot water, vodka and honey for a lovely sipper).
Next, rub the chickpeas and lentils down in a fuzzy towel.
Welcome to Cozy Town.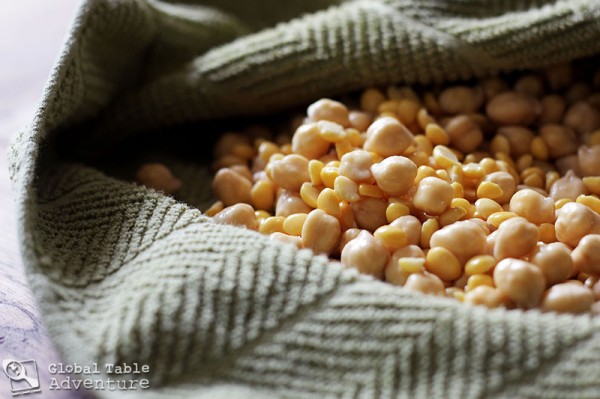 FRY
Now the serious work begins. Thankfully, it's easy peasy.
Fry the chickpeas and lentils in peanut oil until golden brown, about five minutes. Add the garlic slivers and cook until golden brown (about 1 minute).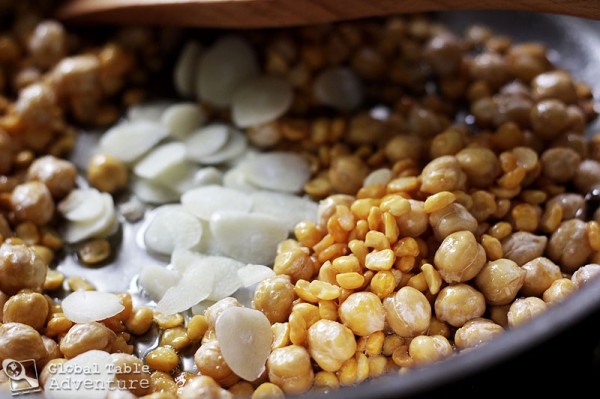 Finally, toss on the sesame seeds and fry for just 1 minute.
If you'd like things more or less crispy, adjust the cooking time.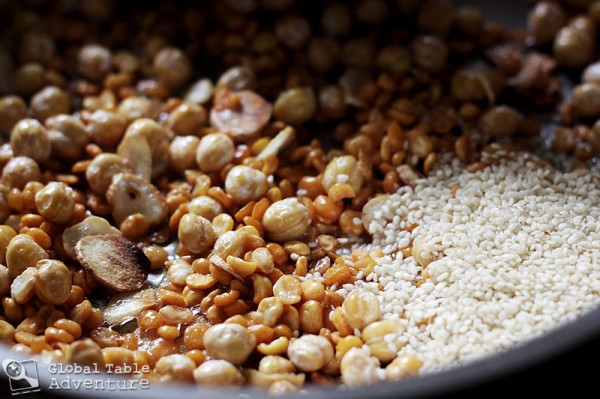 I took things a little too far and the lentils got really crunchy (I cooked them about 8 minutes before adding the other ingredients).  If you accidentally go this dark, just refrigerate the salad a while to soften the beans. They tasted great, regardless. If they turn black, however, start again. Burned food never tastes good.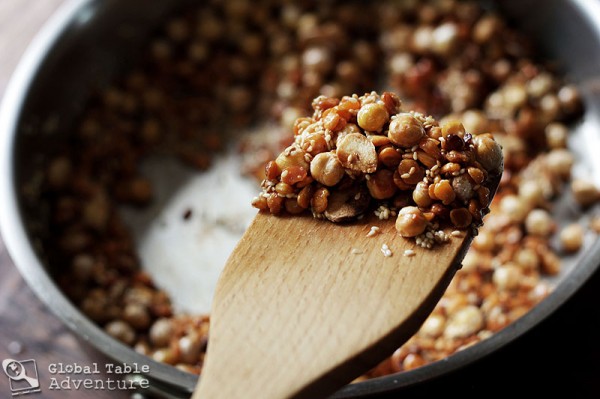 Now, nibble a few beans and set the rest aside to cool. Begin shredding the cabbage. I only needed 1/3 of a small napa cabbage for this salad.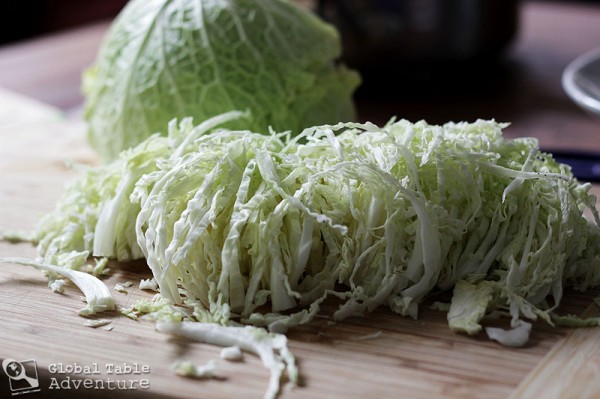 If you have some chickpea flour, toast it in a dry skillet (if you don't, buy some! you can use the rest to make the wonderful crepes we cooked for our Global Table for Monaco.) It'll turn chestnut brown after a few minutes; stir continually to keep the flour from burning.
ASSEMBLY
Next, add the cabbage, the fried lentil mixture (be sure to scrape in all that good peanut oil), and toasted chickpea flour to a large bowl. Splash on a good douse of fish sauce.
Traditionally, you would toss this salad with your hands which, if you are open to it, is a really great way to be sure it gets mixed thoroughly.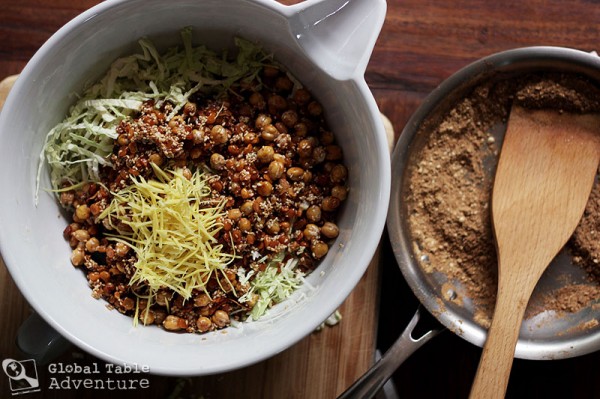 Garnish with green onion, crushed peanuts, lemon and lime slices (which your guests should liberally squeeze all over their salad), and cilantro.
Or, for a fun dinner experience, let everyone garnish their own salads with whatever they'd like.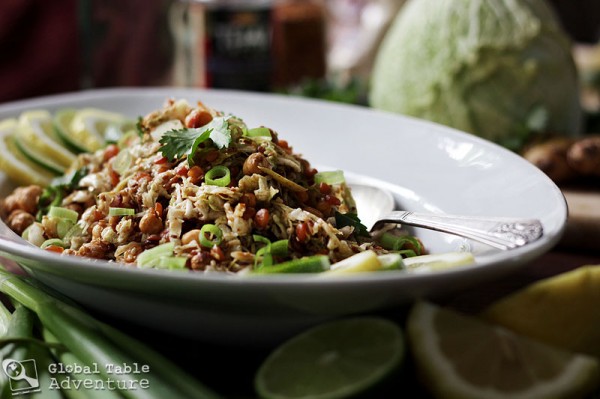 I find this tastes best after a thirty minute rest in the refrigerator, at which time it'll have soaked up much of the fish sauce and will likely need a refresher.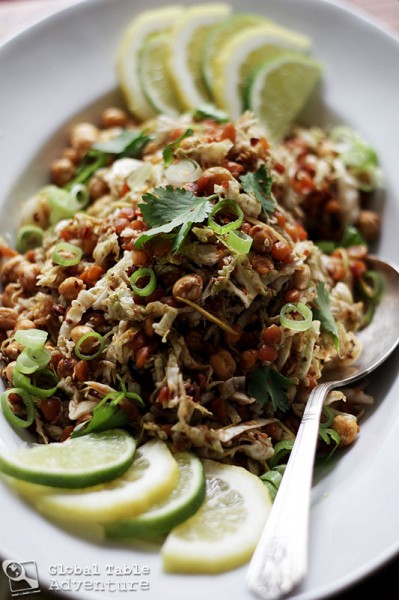 Enjoy how beautiful the world looks through this new lens.
Through this new experience.
Through a world of limitless possibility.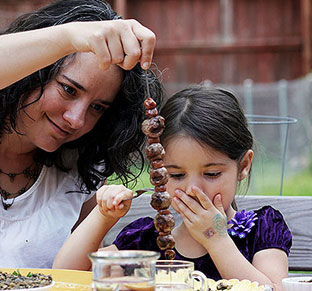 Hungry for more?
Be notified when National Geographic releases my memoir.
Simply fill in your details below.