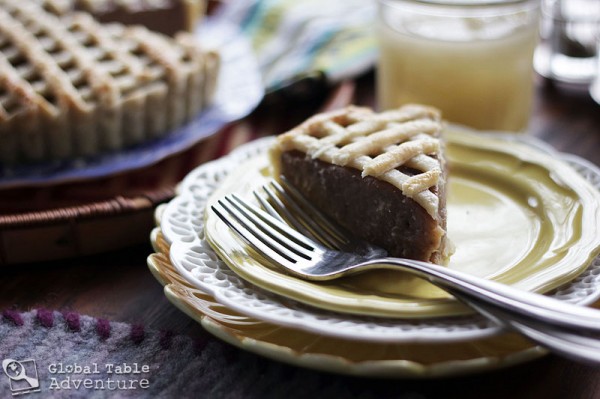 Don't let the startling geometry fool you. Today's Banana Tart is for those who like mellow desserts. Big bites of health. An entire banana tree in the belly, topped off with delicate lattice goodness.
I know. It's craziness.
You can thank the dreamy island of Mauritius, way out in the Indian Ocean, for teaching me this ingenious way to use up ripe bananas. The ingredient list is so simple and pure, I almost can't believe it. Bananas, barely a smattering of brown sugar, a pinch of salt, and a vanilla bean.
That's it.
Let's just say I'd be proud to serve this tart to the tiniest tot.
Now, if you'll kindly excuse me, I'll be in the corner, daydreaming about going back in time so I can bring this tart to Ava's first birthday party. The dense mashed banana would have made a fantastic, healthy first birthday "cake" (you could probably even leave the sugar out without harming the taste – just use very ripe bananas).
P.S. If you'd rather, you can always fly to Mauritius, where you'll find tray after tray of the pretty tarts in the local bakeries. Just save me a few.
Ingredients:
1 recipe prepared pie dough
10 bananas
4 tbsp brown sugar (more if bananas aren't very sweet)
scrapings of 1 vanilla bean
pinch salt
red, blue, and yellow food coloring (optional)
egg wash:
1 egg, beaten with 1 Tbsp water
Method:
Get your monkey fingers ready. We're going to peel a bushel of bananas. Place the peeled bananas in a large mixing bowl.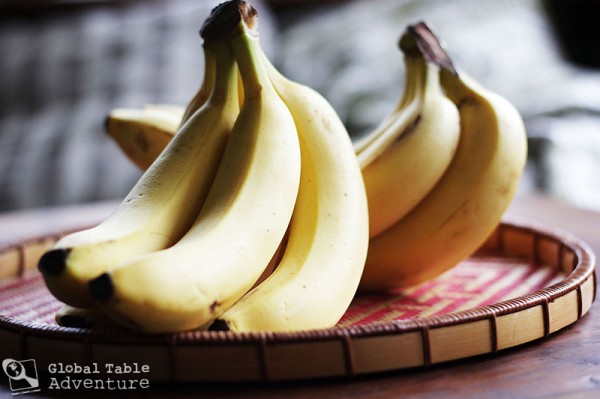 Next, scrape out the vanilla bean and add its black, sparkling caviar to the bananas along with the brown sugar and a pinch of salt. Enjoy the glorious aroma. Smile.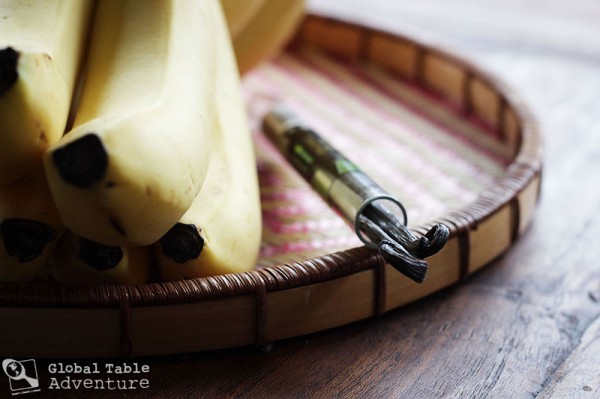 Now, mash everything together a bit (you can leave the bananas somewhat chunky). Then cook the mixture in a pot over medium/low heat for  20-30 minutes, or until quite dried out and thickened. Stir frequently to avoid burning, lowering heat as needed.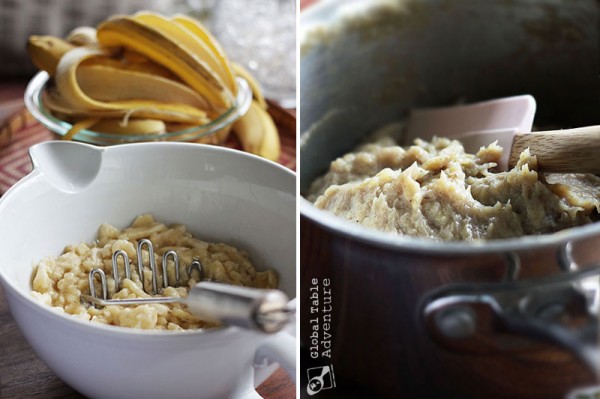 In a small bowl, mix together one drop each of the red, yellow and blue food coloring to make brown. Adjust as needed to get the exact color you'd like. Then, stir the color into the banana mixture – a little at a time – until darkened enough to stand out from the wheat-colored crust.
Preheat the oven to 350F and set the banana mixture aside to cool slightly. Meanwhile, roll out 1/2 the prepared pie dough and line the bottom of an 8″ tart pan.  Add the banana filling, using a spatula to smooth the top of the mixture as much as possible (it is nice if the tart has a slightly domed shape).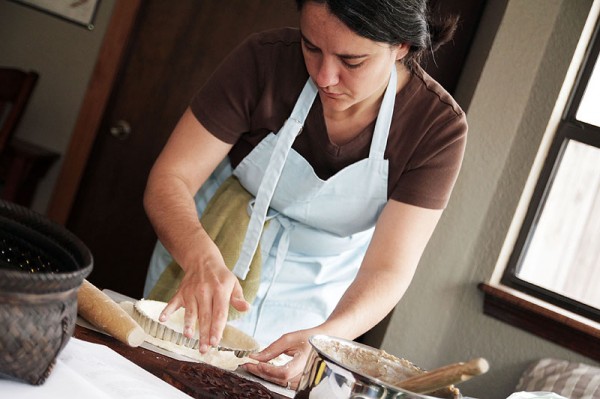 Next, roll out the rest of the dough and, using a ruler, cut long strips.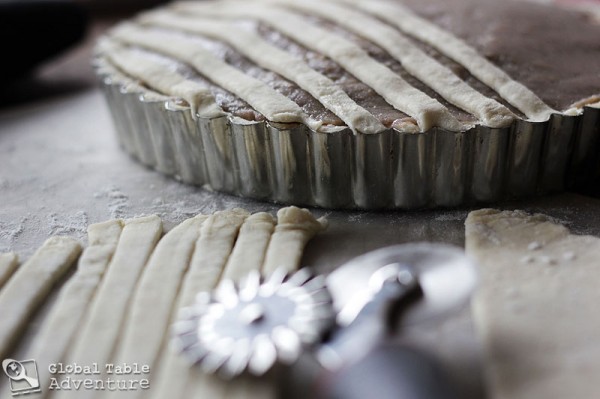 Criss cross the strips over each other without stretching the dough. If you stretch it, it will spring back while baking and pull away from the edges when baked. Use your thumb to seal each strip against the edge of the tin and press off extra dough.
Don't forget to nibble the extras. I won't tell.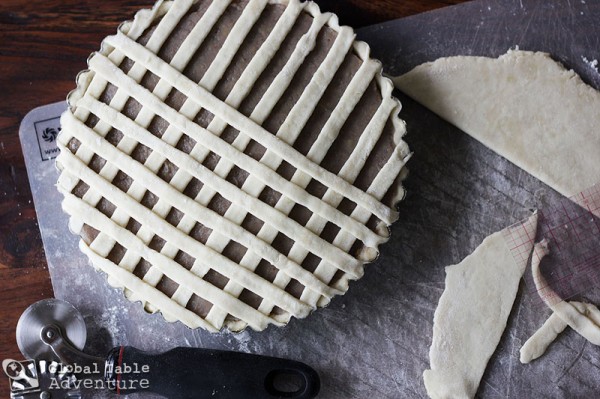 Brush with egg wash and bake until golden (about 45 minutes).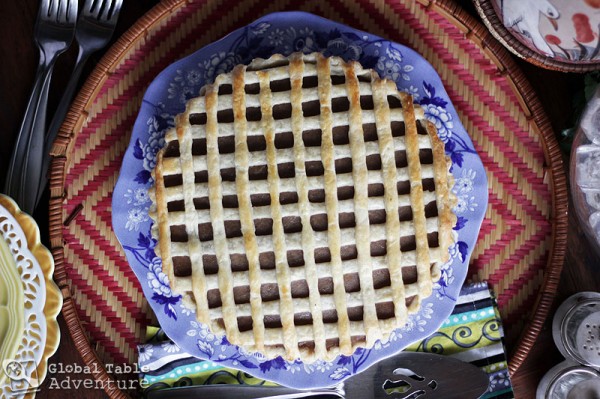 I like this tart any which way – warm, room temperature or chilled. It's all good.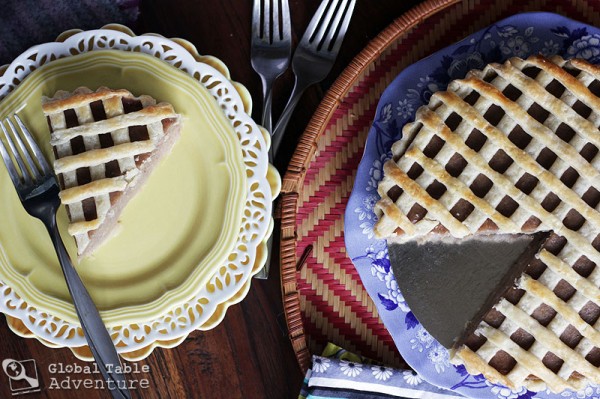 Enjoy, and if you have a sweet baby to share the tart with, even better.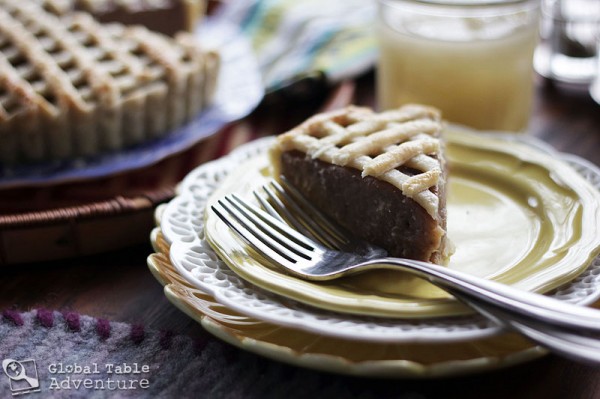 Happy bananas to you!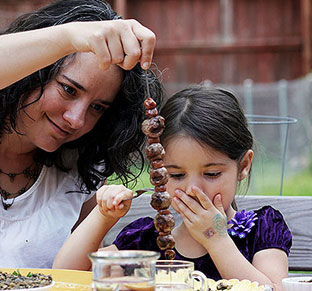 Hungry for more?
Be notified when National Geographic releases my memoir.
Simply fill in your details below.