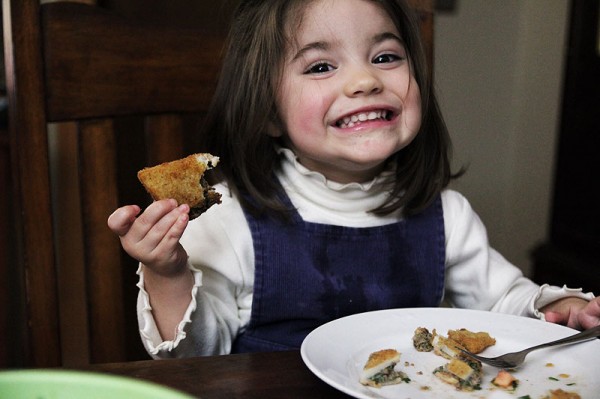 If I can pick food up with my fingers, I will. It just… tastes better. And forget double dipping… everyone needs their own dipping bowls in my house because theirs is not safe with me. I'm a triple dipper. Heck, I'm a quadruple dipper.
This week, because holiday entertaining is still going strong, and because I'm in the mood for a good dippable snack, I chose finger foods. I found that Libya has some of the best around and – as you can see by Ava's expression – she definitely agrees.
What sounds good to you?
Stuffed and Fried Potato Wedges (M'batan Batata) [Recipe]
This is the best munchie food in the world. Deep-fried potato wedges stuffed with spiced lamb and parsley. Yep. That about says it all. Oh, except that you can triple dip it all you like in tomato sauce. Yum and awesome.
Shortbread Cookies (Ghraiba) [Recipe]
Two different cookies made with ghee, one plain and one with a bit of rich cocoa powder. The little balls are topped with cloves and pine nuts for a bit of festive flavor and dandy decoration.
Middle Eastern PB&J [Recipe]
We made this dip for Kuwait a few months ago. I read that they're much loved in Libya as well… so give it a shot. All you need are a bit of tahini, date syrup, and flatbread.
*All recipes and the review will be posted by Monday morning.