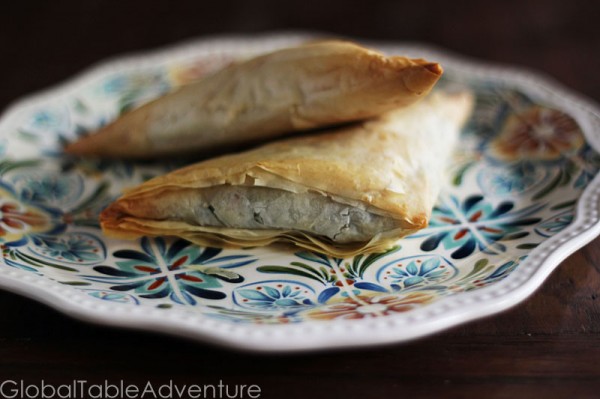 Makes about 18 triangles
While I probably ate Spanakopita in Greece, I can't be completely sure. You see, I was much too busy singing "Some say love" to my first boyfriend while walking around ancient ruins, holding hands. Literally. We blushed occasionally. Our palms were sweaty. Gosh. Corny doesn't begin to describe it, but – even still – I will attempt to convince you of the wisdom of Bette Midler which, ironically enough, applies directly to the mighty spanikopita:
It's the heart afraid of breaking
that never learns to dance.
It's the dream afraid of waking
that never takes the chance.
So here's my message for you: no matter what your trepidations might be, suppress them long enough to make spanakopita. Don't worry about unwieldy phyllo dough breaking – just keep it covered with plastic wrap so it doesn't dry out. Don't worry about falling asleep while making them – borrow a friend to help you. You'll laugh and conquer the challenge together! And, if you have a little spare time, take a trip to Greece and sing to a boy atop ancient ruins, even if your voice warbles and you'll go on to get kicked out of choir several years later.
Learn the dance, awaken the dream, do something fun!
This recipe is best made with a friend, so grab your mom, your daughter, your husband, your brother, your next door neighbor, or a puppy. Don't grab a cat though. They can be rather difficult to herd. You can freeze the triangles until ready to bake, so feel free to make them several days (weeks!) ahead.
Ingredients:
olive oil
5 green onions, sliced thinly
1 lb frozen, chopped spinach
1 egg
8 ounces crumbled feta
1/4 tsp ground nutmeg
pepper
1 package phyllo dough (1 lb)
melted butter for brushing, about 8 Tbsp (1 stick)
Method:
Remove phyllo from the freezer to thaw. This will take about an hour. Meanwhile, go for a jog. Or, rather, think about going for a jog while eating chocolate chips and browsing facebook. Next, gather the remaining ingredients… there's little I love more than freshly grated nutmeg (pictured left).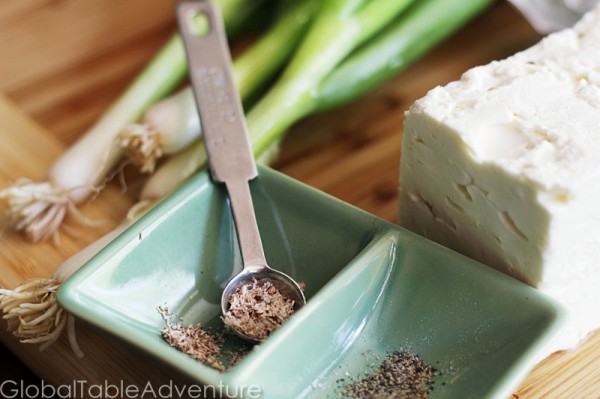 Start by cooking the green onions in a little olive oil until softened. They are all over the farmer's markets this time of year. Gorgeous.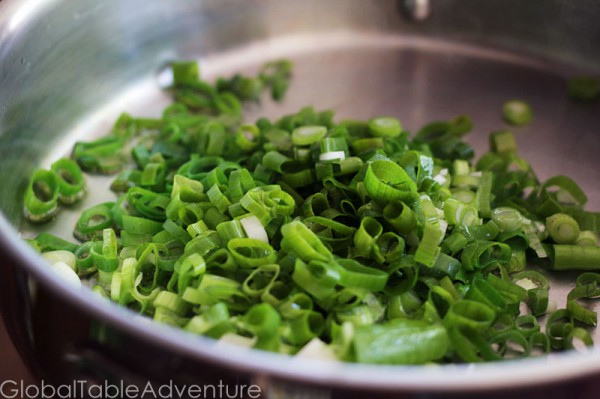 Add in the chopped spinach. If it is thawed, bonus points for you. You can also drop frozen spinach into the pan, like I did. It came out just as good. Shh, it'll be our little secret.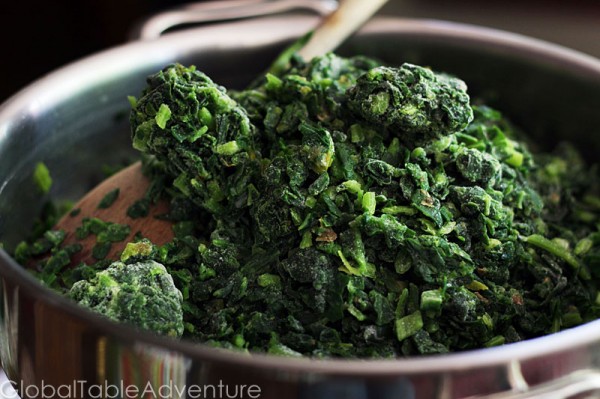 Cook until all the moisture evaporates and the pan is dry. Season liberally with pepper and nutmeg. Do not add salt – the feta is salty enough!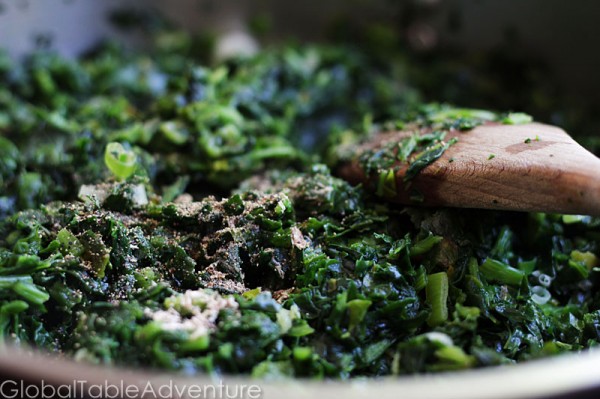 Remove from heat and let cool to lukewarm. Add in one egg, beaten.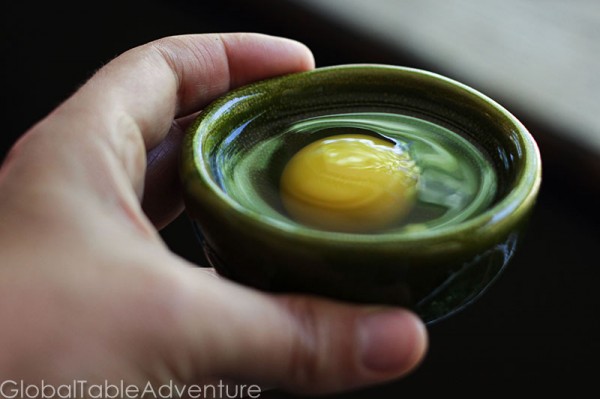 Next, toss in the creamy white feta cheese. Eat a few pieces, as desired.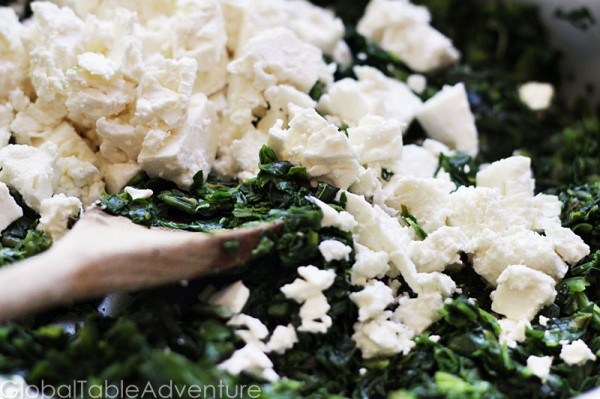 Mash the feta into the spinach until broken up into small pieces and evenly distributed.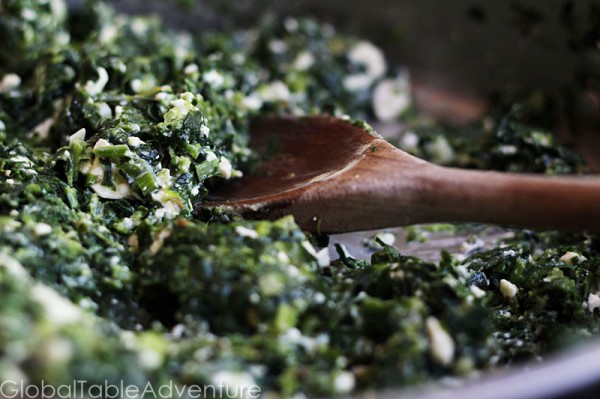 Now for the fun part!
Cut phyllo into 4″ wide strips. They should be about 12″ long (this is the short length on a standard box of phyllo).
Brush a strip of dough with melted butter. Add another strip. Brush with butter. Add a third strip and brush with butter.
Then mound a heaping spoonful of filling onto the upper right corner of the phyllo dough. Stay about an inch from the edges.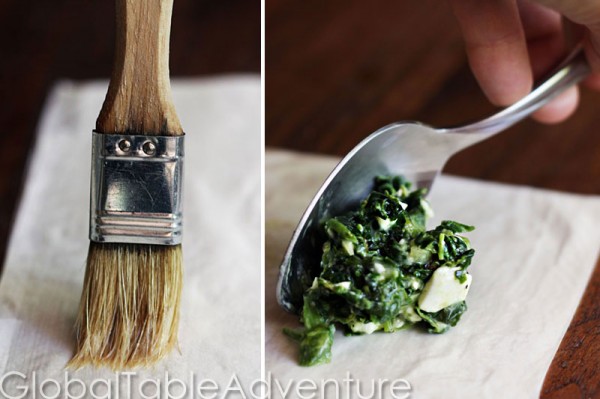 Fold the phyllo over the filling, making a triangle shape.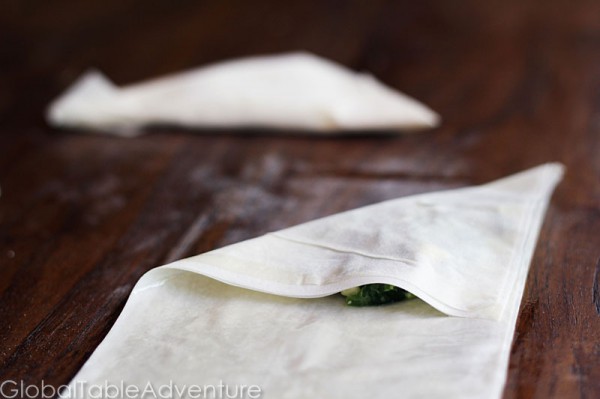 Continue folding the dough down, over itself, until a neat little packet is formed. Brush the top with butter and pack onto a cookie sheet. Keep covered so they don't dry out.  Freeze on the cookie sheet, then bag. This will keep them from sticking to each other in the bag.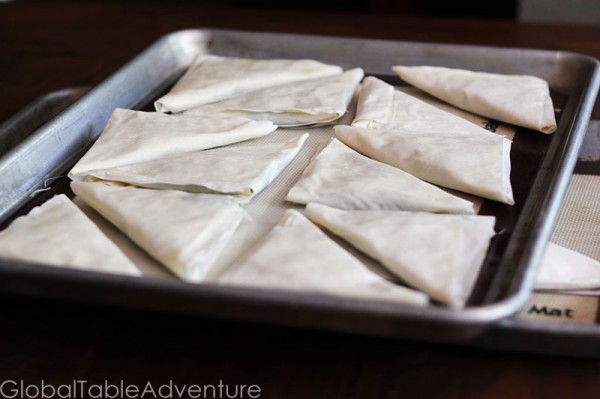 When ready to bake, have a child – who recently pulled a cat's tail and got a big scratch on the face – lay the frozen triangles on a cookie sheet.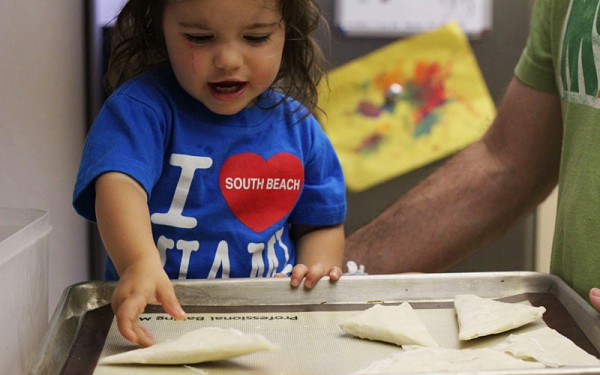 Bake frozen spanakopita in an oven preheated to 350F for 30 minutes, or until golden brown.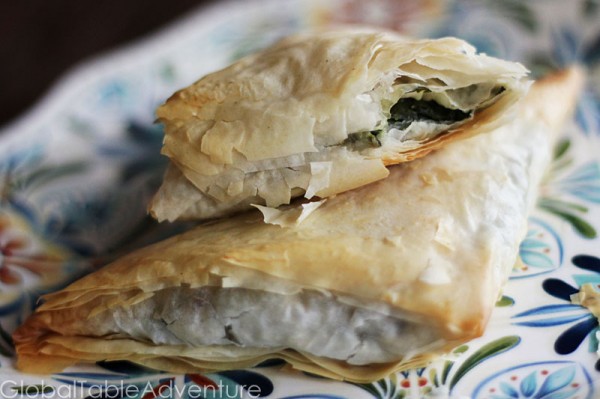 Serve with your best friend. My bff's name is Keith Martin. I'm so lucky he's also my husband. And a wonderful father.
Like, really lucky.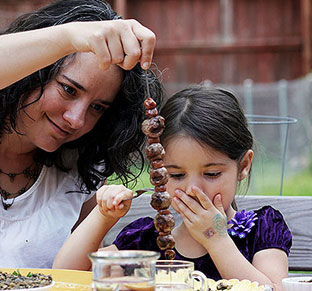 Hungry for more?
Be notified when National Geographic releases my memoir.
Simply fill in your details below.