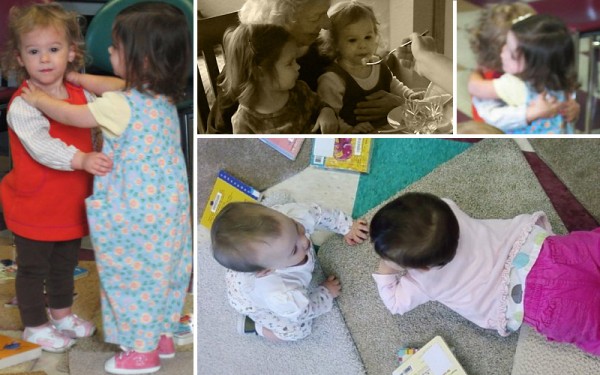 THE SCENE
I didn't tell Ava on purpose. I couldn't wait to see the look on her face.
When I opened the front door she squealed and jerked her body to the side. She pitter-pattered her feet up and down in a "wobble-wiggle-squat" move, her bulky diaper-butt leading the way. This was her happy dance, like I'd never seen it before.
She got so excited she actually fell over.
She popped right back up, her tiny body shaking in a hysterical giggle-fit, and toddled out onto our front stoop in her stocking feet. Her arms were open and raised up in the frosty air.
"Anya, Anya!" she shouted.
There, getting out of the car, was her old friend Sanya (they've known each other since they were just a few months old), coming for our French Global Table Adventure.
Ava spent the next ten minutes running around the house, shouting in high-pitched, giddy baby-babble, grabbing toys and presenting them to Sanya. She even grabbed the cat, grunting as she tried to lift it across the slippery hardwood floors, over to her friend.
She screamed intermittently.
I have never seen her so excited.
Later, at dinner, the two girls sat at the heads of the table. Ava munched on the soft bread, while Sanya went to town on the sweet, brothy, French Onion Soup. They watched each other eat and smiled, oblivious to us adults sitting between them.
When they'd had enough, they ran off to play, reading books, going "shopping," and cooking in the mini-kitchen. We grown ups sat for a long while, chatting the chilly afternoon away – glad to have a few stolen moments of adult conversation.
Friendship is a thing of beauty. And no friendship is so pure, so simple and honest, as the one formed between two children – two babies, who have been on this earth less than 2 years. They can't even speak to each other in sentences, but yet have the most fun -ever – in a million, billion years. May we all form friendships so joyful and sweet.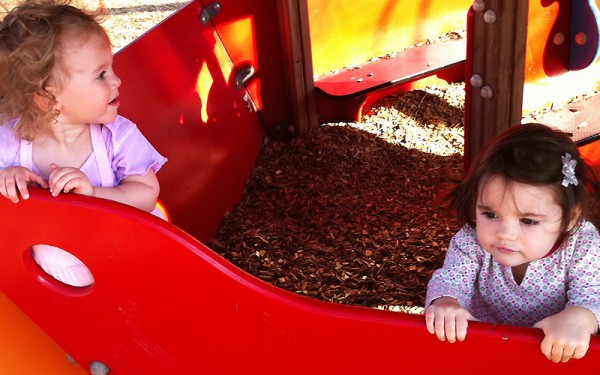 THE FOOD
Ratatouille [Recipe]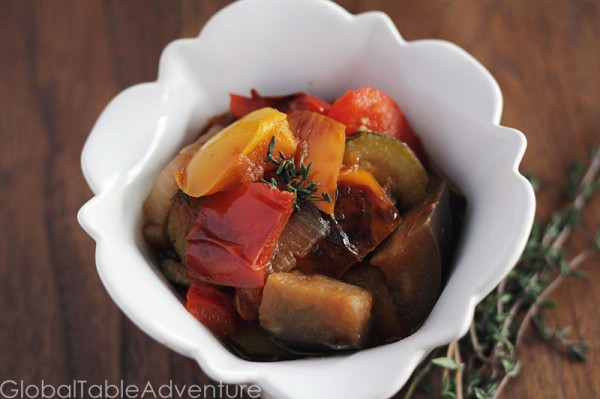 What I liked most about this dish:
Fresh and healthy, ratatouille is one of those dishes that I can't stop eating. My mom made it all the time when I was a kid, so I suppose I have no choice but to love it. Ava wanted no part of it, so we did the old "I'll be right back" trick, leaving her alone in her high chair, with her bowl. Mr Picky and I peered around the door and watched her eat several bites, smacking her lips and nodding her head. Success!
What I liked least about this dish:
Not much. To do it properly, you should sauté each ingredient individually in olive oil, then combine them. I don't really have the time for that which makes me sad. Mr Picky wasn't a huge fan, but I think if I'd had all that extra browned goodness, he might be converted.
Teardrop Onion Soup (French Onion Soup) [Recipe]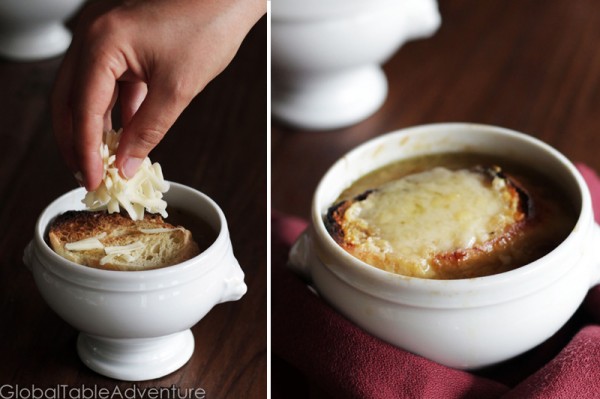 What I liked most about this dish:
I always love a good cry, especially when it results in spectacular soup. Mr Picky was a big fan, especially of the cheese. Ava thought the onions were noodles and wanted no part of the soup when she realized they weren't.
What I liked least about this dish:
Nothing.
Artisan French Bread [Recipe]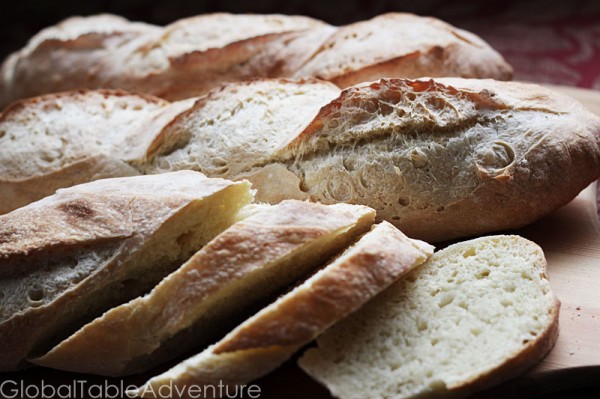 What I liked most about this dish:
This bread never fails me. The long, slow rise makes for the most complex flavor and is absolutely addictive. If you give the bread a spray of water right before it goes into the oven, the crust becomes even crispier. Everyone in the house loves this bread.
What I liked least about this dish:
I would eat this every day if it didn't go straight to my thighs.
Triple Pots de Crème (Chocolate, Espresso & Vanilla) [Recipe]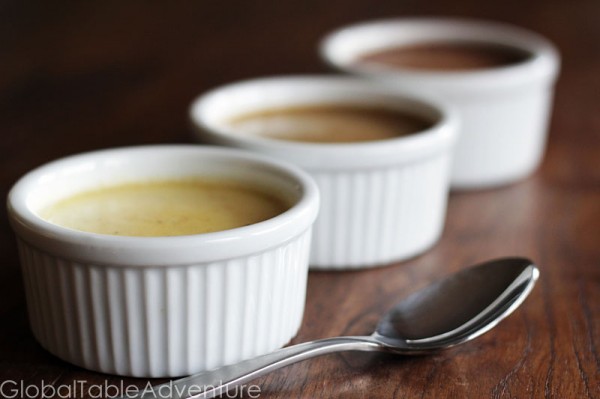 What I liked most about this dish:
This recipe is light and luxurious – no heaviness – and allows for freedom of choice. Ava was a dainty sweetheart, so we gave her a nibble of vanilla. Mr. Picky is a chocoholic, so the cocoa pot was perfect for him. I was feeling bright and perky, so I loaded up on espresso.  This dish will please everyone, no matter what their preferences.
What I liked least about this dish:
Make sure you let the custards chill completely before eating. We dug into it when it hadn't quite finished (it was cool, but not cold). The pots were good, but later – when they were fully set -they were twice as creamy and velvety. They are totally fine chilled overnight.
Ava's Corner