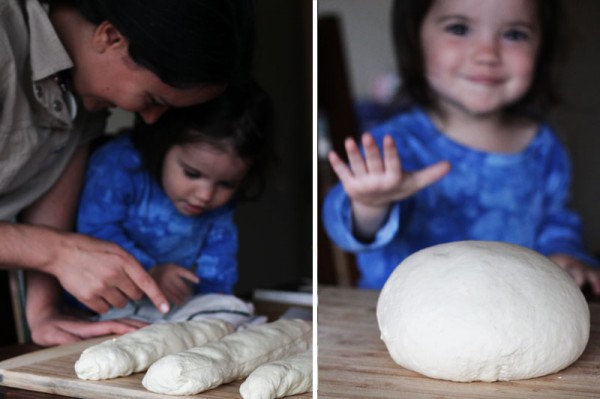 The look on Ava's face says it all – a child is never too young to help… to play in the kitchen… to experience the magic of food. Dear readers, thank you for reading.  You came, you voted, and now… without further ado, I present your French menu, sampler style. Thank you for making my belly happy and taking me on a journey back to Paris. Yesterday I laughed and cried. Looking forward to the rest of the week.
Teardrop Onion Soup (French Onion Soup) [Recipe]
This classic Parisian soup is made with little more than wine, water, and onions. We took our cue from Paris' own Cordon Bleu and left out the beef stock. Instead, a little flour and butter gets mixed in for richness and texture. Fresh thyme adds depth, while a crusty crouton covered with a thin coating of gruyère makes everyone happy.
Ratatouille [Recipe]
Provençal vegetable stew made with eggplant, zucchini, sweet bell peppers, onions, tomatoes, and a healthy dose of olive oil. Enjoy it hot or cold.
Artisan French Bread [Recipe]
Get drunk on French bread in your own home. It's easy. Just be sure to start three days ahead of time. And be sure to hold the butter. This artisan bread contains only flour, salt, yeast, and water.
Triple Pots de Crème (Chocolate, Espresso & Vanilla) [Recipe]
Unlike rich, heavy Pots de crème you might find in America, a true French recipe is delicate, rather like a custard. Ours brags three flavors – espresso, chocolate, and vanilla. This fun assortment is great for dinner parties.
Bonus: Grapefruit & Ginger Tart [Recipe]
A French inspired tart made with grapefruit curd and gingersnap crust. Traditional tarts would include lemon or orange flavorings.
*All recipes and the meal review will be posted by Monday morning*