THE SCENE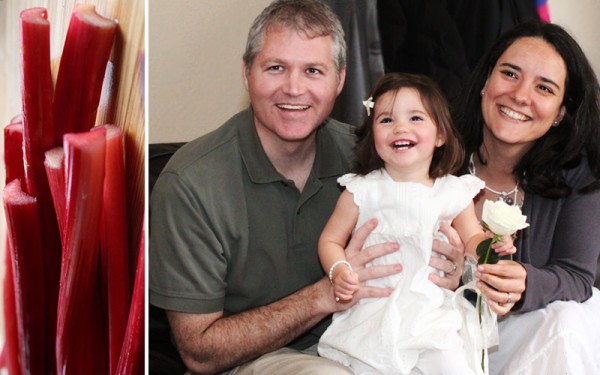 I walked back and forth, haunting the spot where the rhubarb was supposed to be. The sign read "Rhubarb – $6.99/lb" but the bin was empty, empty, empty. Not even a week ago a mountain of lipstick red rhubarb overflowed from the bins, the first pick of the season.
The clerk confirmed my fears. There was no rhubarb – not here, not in the back, not in an upcoming shipment. He explained that he had to pull the rhubarb because it was starting to turn and they couldn't sell it any more.
I was in shock, not simply because it was now gone, but also because I couldn't believe I had expected it to be there – like mathematical certainty, like the sun would shine, or the earth rotate.
Ava was getting antsy. She squirmed around in the sportscar shopping cart, and struggled to reach a package of "booboos" (blueberries). I put the package in our cart and we took off – per the clerk's suggestion – to the frozen fruit department. I had promised to make a rhubarb tart for our Estonian Global Table – and I had a sinking feeling frozen rhubarb might be the only way to deliver on that promise.
I pulled up to the frosted case and peered inside. Raspberries, strawberries, mangoes. I looked again. No rhubarb.
I tilted my head to the side and shut my eyes. "Now what?" I mumbled.
Ava perked up and offered "booboos?"
I smiled. "Let's go take a picture, Ava, so they know I tried."
We wandered back to the empty bin. I pulled out my cellphone quickly, hoping not to draw much attention. Still, a lady browsing the parsley was curious and I found myself explaining the situation.
She looked over my shoulder and pointed. "Honey, there's rhubarb right there!"
I blinked twice. What? But hadn't the clerk said… I turned my head slowly and there, in a cardboard box, sitting on top of a trash can, was a pile of rhubarb.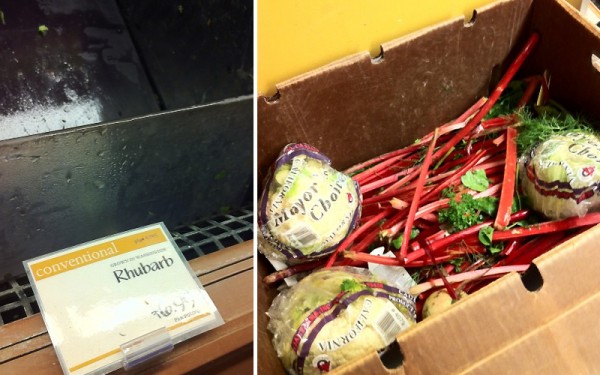 She walked right over. "It doesn't look bad." she said, "just snap off the ends and take what you need."
She reached into the box and demonstrated what she meant. My cheeks burned and I flashed back 25 years, to when mom took us curbside shopping for discarded toys. I could almost hear her voice: "beggars can't be choosers" and "waste not, want not." Mom made trash picking an adventure. It wasn't until years later that I realized the adventure was born out of necessity.
I peered in the box. Rhubarb, cauliflower, turnips – all dubbed "past their prime," waiting for their final exit to the trash.
"Really – it looks ok," the lady said and tossed the trimmed piece to me. "You'll be saving it from the landfill."
"I guess I will," I said.
THE FOOD
Herring Dip [Recipe]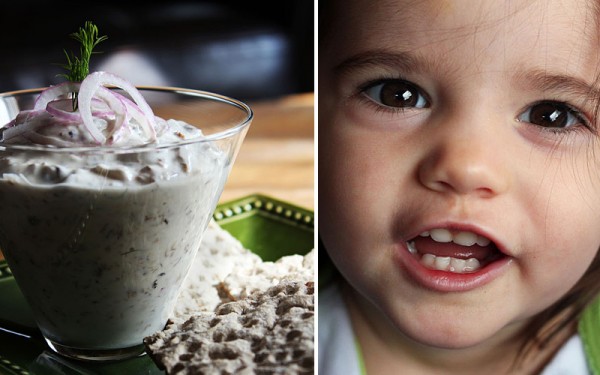 What I liked most about this dish:
The tin of smoked herring says that it can be substituted anywhere you'd normally use tuna. While this is a pretty decent suggestion, I think the smoked herring has better flavor, simply because it's smoked. Adjust the amount of sour cream sauce you add to the fish. I liked the full amount, but Mr Picky said it would have been better with a drier mix.  Just for the record, I cant believe he actually tried it.
What I liked least about this dish:
This isn't the healthiest dish, but the flavors are wonderful. I never thought I would like it, but the lemon juice makes the sour cream completely tangy, rather like yogurt. I think next time I'll use more red onion.
Strawberry Rhubarb Pie [Recipe]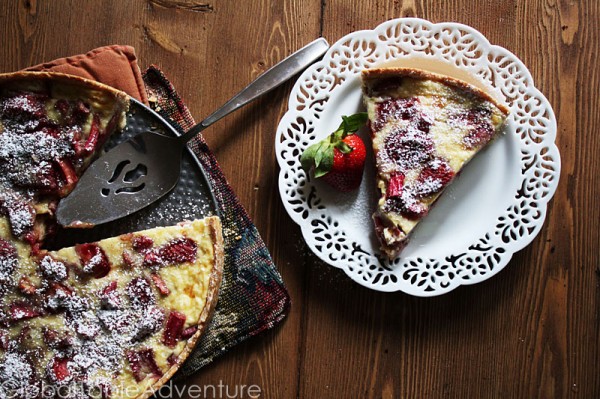 What I liked most about this dish:
The sweet strawberries and tart rhubarb is a great combiation but gets even better thanks to the creamy custard poured over top the tart. A heavy sprinkling of powdered sugar is a must – it looks so pretty and adds another dimension of flavor.
What I liked least about this dish:
Not much – this was a big hit. Make sure your berries aren't too sweet or too sour – or you may need to adjust the sugar. Mr Picky asked what raw rhubarb tastes like which brings up a good point – you can't eat raw rhubarb, it has to be cooked or it will make you sick.
Gingerbread Cookies [Recipe]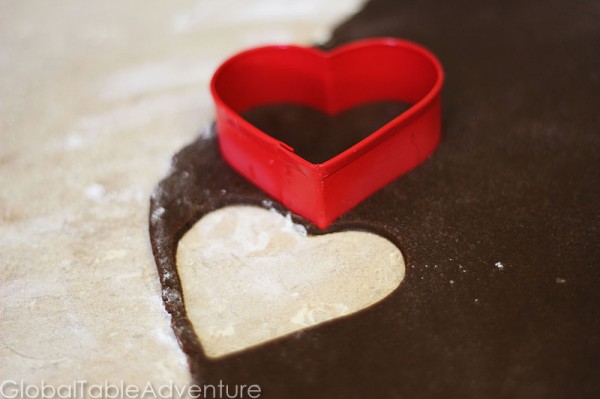 What I liked most about this dish:
I finally messed around enough to come up with a great, spicy gingerbread recipe. This is my new go-to gingerbread recipe.
What I liked least about this dish:
I didn't have any vanilla ice cream to sandwich between two cookies.
Gingerbread Ricotta Tart ("cheesecake") [Recipe]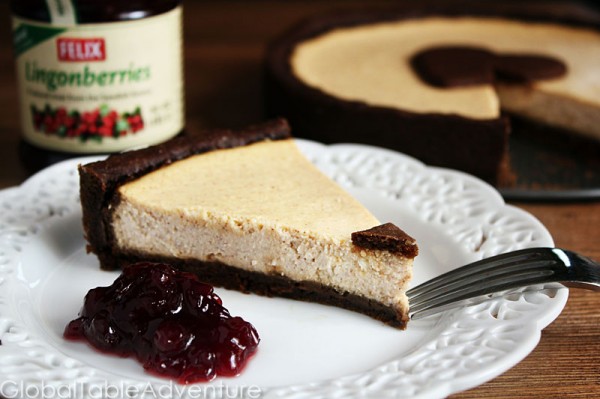 What I liked most about this dish:
This tart is totally great because it is not overly sweet- instead it is creamy and rich and spicy. The lingonberry jam is a great addition – it tastes somewhere between strawberry jelly and cranberry sauce, it has a sweet/tart profile that is hard to beat with the ricotta filling. It also stands up to the gingerbread too.
What I liked least about this dish:
I had trouble with the ricotta pulling away from the crust on the edges but I think this is from putting it in the refrigerator too fast. Also, you might check your pans – my springform pan leaked in the water bath and needed to be wrapped in aluminum foil.
Ava's Corner