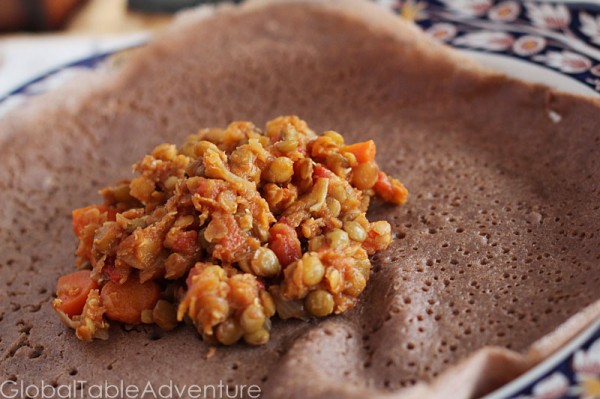 Do you dream of cleaning out your cluttered silverware drawer? Are you totally tired of your dishes? Try a happy bite of Injera, the gorgeous Teff flatbread adored in Eritrea, Ethopia, and other East African countries. Sour and funky… Injera is almost as thin as a crepe, but spongy like a pancake … and is traditionally used both as a platter for spicy stews and to replace silverware.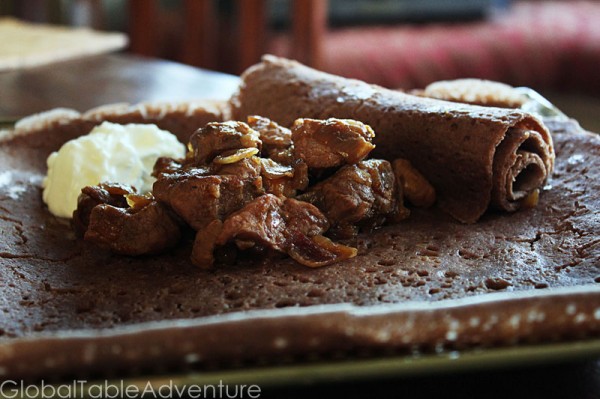 Three tips for foolproof Injera making:
1. Consistency
Make sure the batter is almost the consistency of crêpe batter (between crêpes and pancakes) . Any thinner and the bubbles won't form. Much thicker and it won't look like traditional Injera. Practice makes perfect.
2. The Pan
If you don't have the traditional mitad (I didn't), you can use a large, short sided pan. You'll have the best luck with a nonstick pan or a really well seasoned crêpe pan. Cover loosely with aluminum foil if it doesn't have a lid.
3. Play it cool
Absolutely cool the Injera before stacking or attempting to move it around much. They are super sticky when warm, but become easy to handle once they reach room temperature. Once cool you can stack or roll the injera into tubes.
Let's Make Injera!
Serves about 6
(Recipe adapted from Flatbreads & Flavors: A Baker's Atlas)
Ingredients:
3 1/2 cups teff flour
1 cup all purpose flour
1 1/2  tsp Instant dry yeast
4 1/2 cups water
1 tsp salt
1 cup water for boiling
Plus extra water for thinning to desired consistency
Method:
DAY 1
Add Teff flour to a large mixing bowl. You'll find it at health food stores.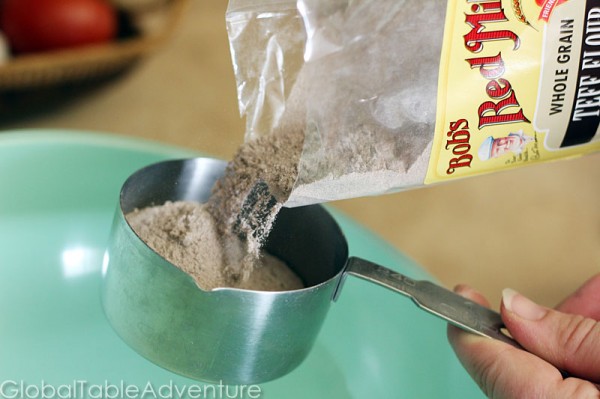 Stir in some all purpose flour.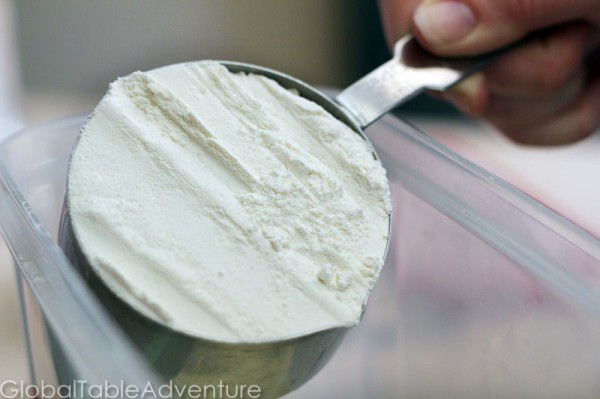 Then sprinkle in a sprinkling of yeast.
Fun fact: Purists actually make injera without yeast. Instead they patiently wait for the batter to capture wild yeast from the air. I'm way too controlling to subject myself to the whims of wild yeast.
Are you?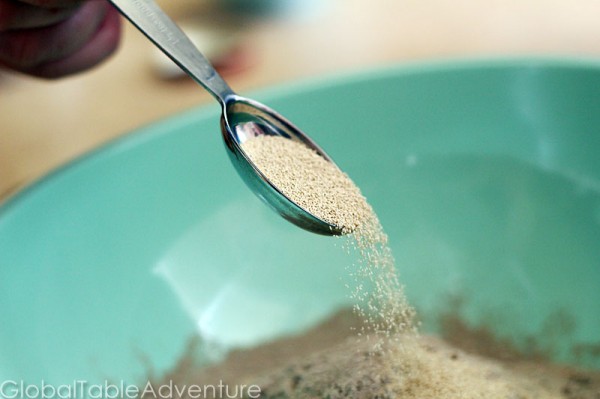 Add some salt, for flavor.
Another Fun Fact: Purists don't add salt. Instead they rub the special giant injera pan with salt, which thereby infuses the pancake and renders the pan nonstick. Pretty cool.
Hey, that's my sister's hand! Hi Sister!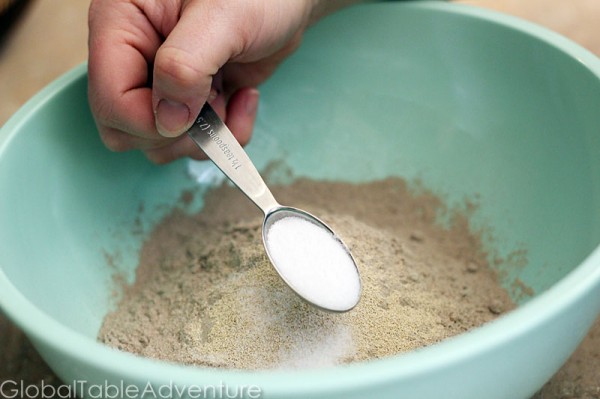 Next, splash on the water – enough to make it almost runny, somewhat closer to crêpe batter than pancake batter. I used 4 1/2 cups. Whisk together and let sit, covered, until bubbly and sour smelling – a day or two.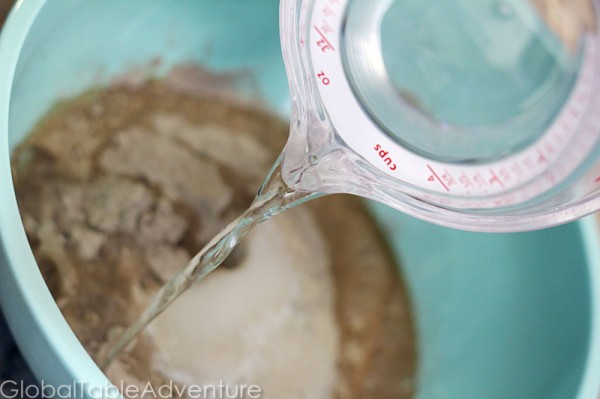 DAY 2 or 3
Mmm, bubbly and sour smelling… Next, pour off the blackish liquid that floated to the top of the mixture. Bleck.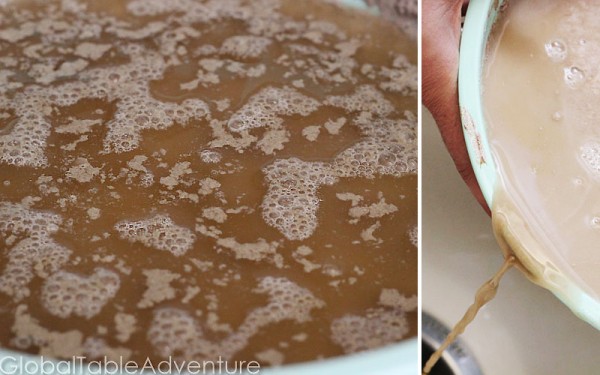 Whisk the remaining batter smooth again. Smooth is good. Sigh with joy.
Next, boil a cup of water.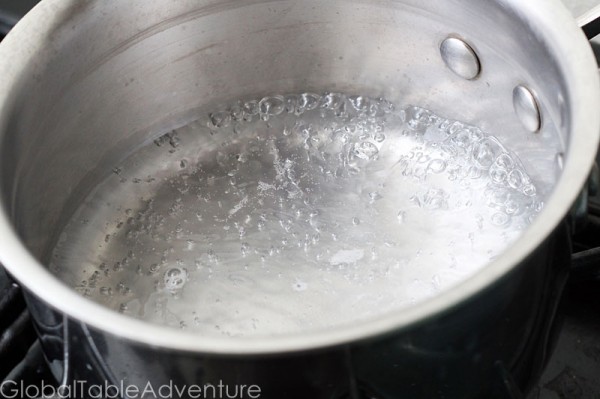 Ladle in a half cup of the batter and whisk continually…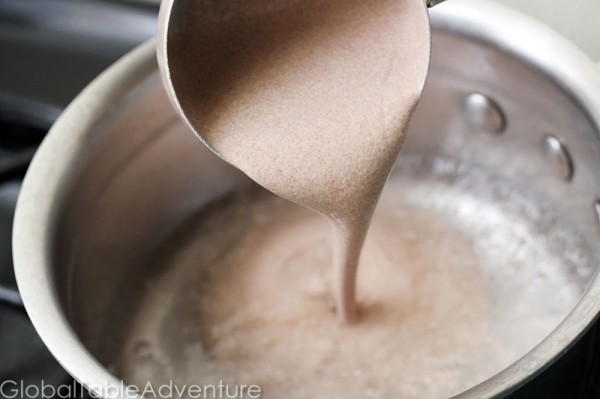 …until thick and the mixture resembles toffee pudding.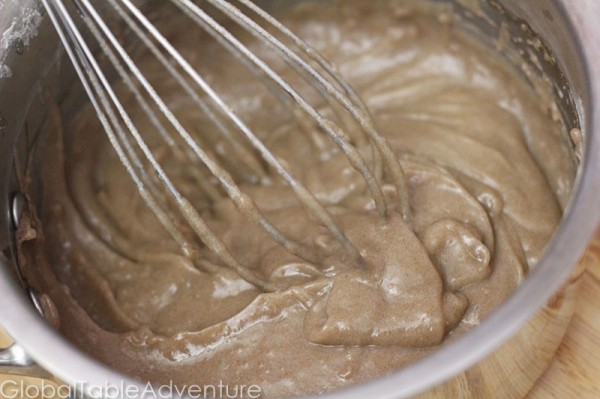 Let cool until lukewarm and then whisk vigorously into the Teff batter.
This cooked mixture gives the teff batter the structure needed for the air pockets to form in the finished pancake.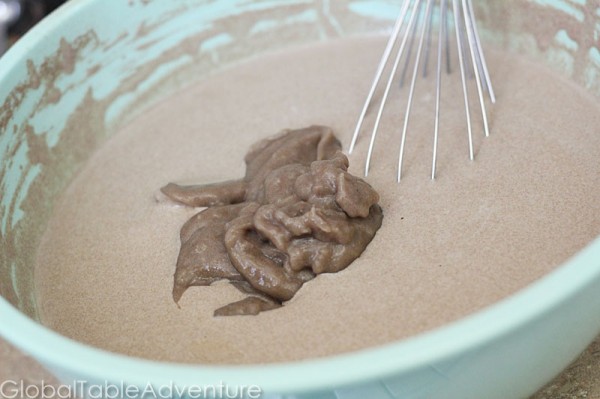 Again, make sure the mixture is almost runny, between the consistency of crêpe batter and pancake batter. Add water if needed.
Let the resulting mixture rest for about 30 minutes. Wait for the bubbles to form.
Hello bubbles!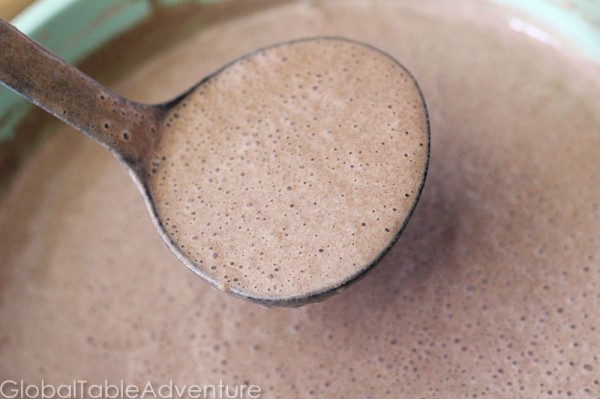 Preheat the largest nonstick pan you have over medium heat (you may need to adjust this for your stove).
Ladle the batter into the pan. Traditional Injera will be a foot and a half round! My pan was square and that looked pretty cool too.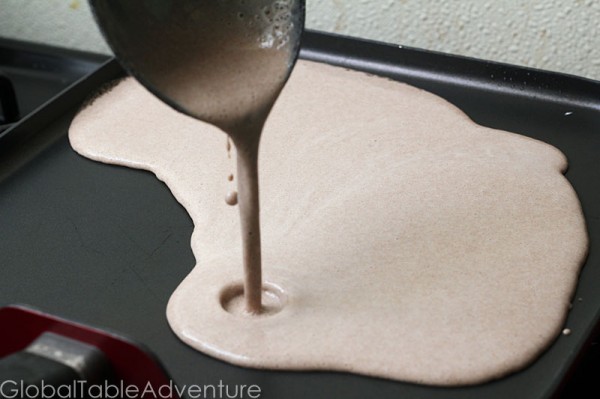 Swirl the batter around to completely coat the pan with a thin layer.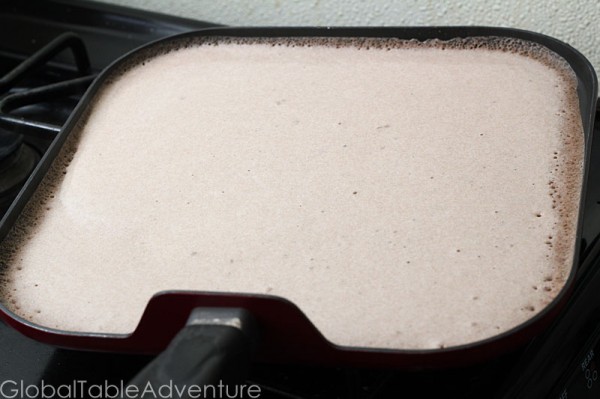 Cover loosely with a large piece of foil, or a lid – but leave the lid cracked so steam can escape. The traditional mitad pan actually has a steam vent built in. As for me? I used foil and it worked perfectly. I just shook off the built up steam every few injera.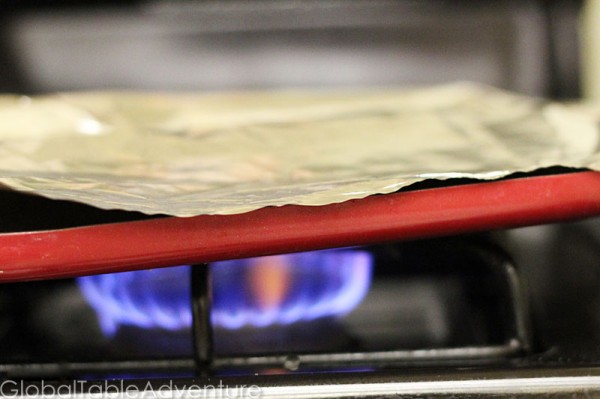 Cook until the surface of the injera dries out and is full of little holes. Also, when ready, the edges will curl.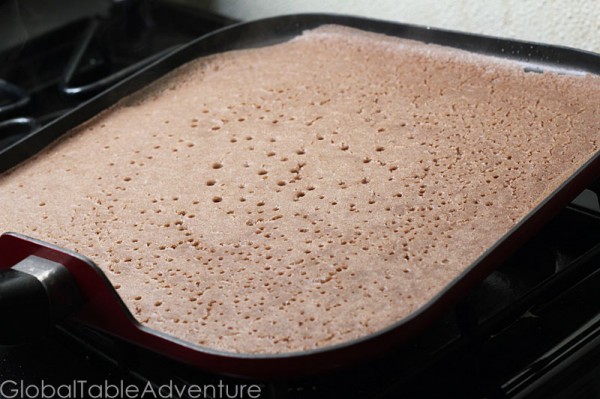 Carefully Injera transfer to a towel to cool (it will stick to a plate when hot). How to transfer this widemouthed flatbread: some people use large round woven discs. Others use thin wooden peels. You can even use a combination of spatulas and flipping. Take your time and enlist help if you need to.
Once cooled, you can stack the injera as needed.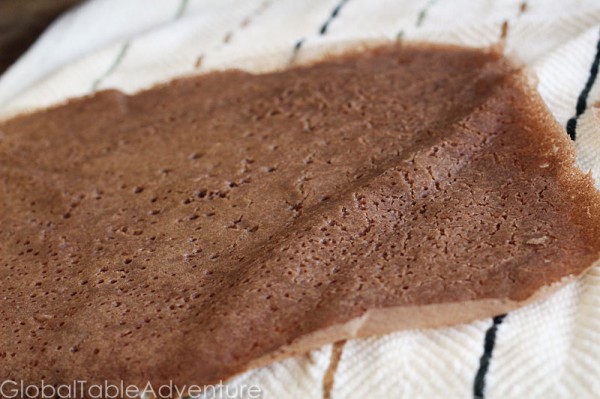 Mmm, injera!
NOTE: If your injera doesn't produce enough holes, boil some more batter with water – to help thicken it up. Wisk it in as shown above. I'll be tweaking this recipe when we get to Ethiopia.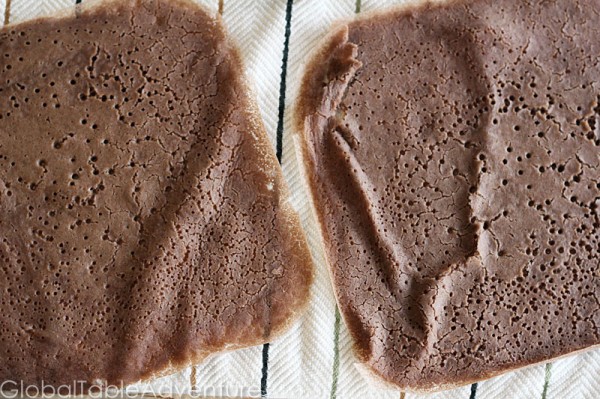 Ladle with thick, spicy stews..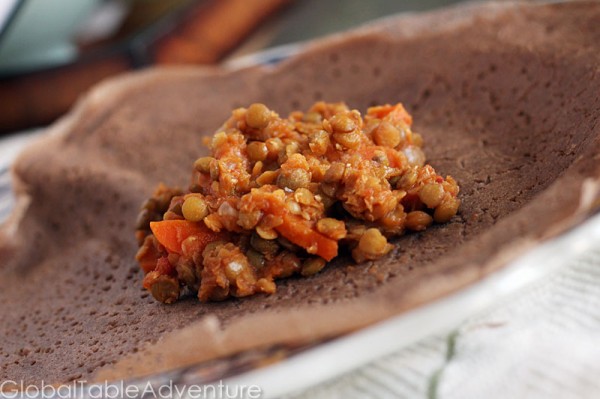 and tear off pieces of the injera to scoop up the stew.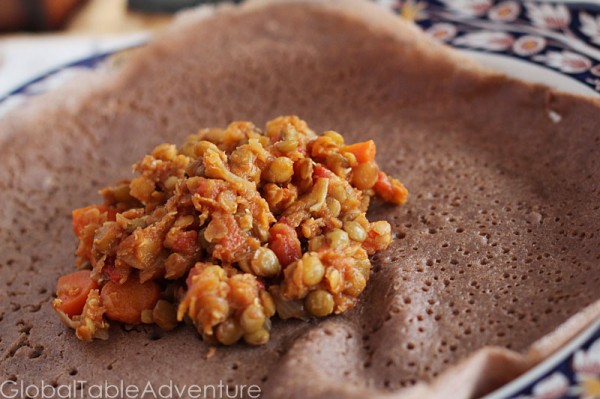 Take a moment to congratulate yourself on another great voyage via stovetop travel!
Then laugh like a child as you, dish-less and silverware-less, eat with your fingers
yum…
…
…
..
..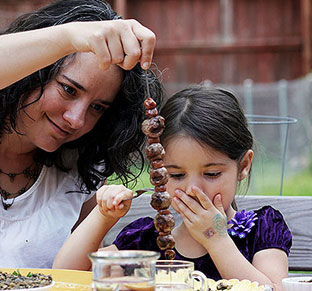 Hungry for more?
Be notified when National Geographic releases my memoir.
Simply fill in your details below.