Do you like colorful birds? What about ruins – ancient, gothic, and colonial? Step right this way. Meet El Salvador, a tiny country freckled with mighty volcanoes, thickly coated by lush tropics, and so much more.
In this steamy dreamland, I discovered a theme: corn.
First, there's pupusa – thick corn flour (masa) based tortillas stuffed with cheese, meat, or beans. Pupusas [Recipe] are often served with a bright, vinegary scoop of curtido [Recipe], or cabbage slaw, and fresh salsa. Then, there's a corn drink called atol [Recipe]. Made with fresh corn, sugar, cinnamon and milk, it's so rich you'll think you're drinking sweet custard, and you'll be just as happy. And, finally, let's not forget riguas, a moist mixture of corn (rather like tamales), spooned onto a banana leaf and griddled until firm enough to handle.
Whew.
And then there's the produce. Mounds and mounds of gorgeous tropical goodness. Vivid. Fresh. Fabulous.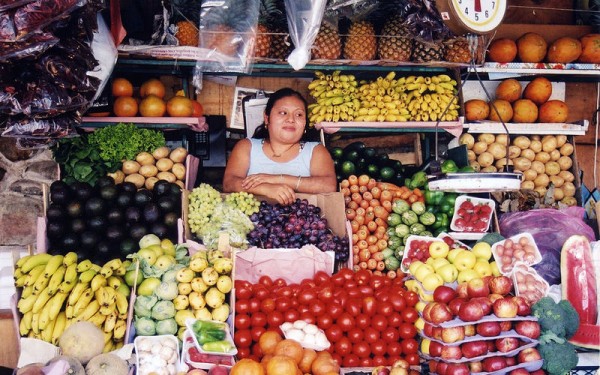 Just look at this lady. She knows she's got a good thing going on.
Still hungry? No worries. There's more at the Salvadorian Global Table.
Bring on the boats – filled with seafood. Serve it up with rice and beans, or perhaps a healthy smattering of fried plantains [Recipe].
When it comes to sweets, it's hard to go wrong – try rice pudding or quesadillas [Recipe]. Yes, quesadillas are dessert in El Salvador. Literally "cheese cake," they taste rather like a salty/sweet poundcake – nothing like Mexican quesadillas. The rich goodness is typically served with a cup of coffee for breakfast or a snack. Now that sounds like a great start to a good morning!