I ladled the thick batter into the pan and pushed it around. Sizzle-sounds swizzled through the air. A few moments later air bubbles sluggishly began to push their way through the batter. Pop. Pop…. pop.
Mr Picky walked over and sniffed the batter. "What is this stuff? It smells weird."
"Laxoox, from Djibouti, but I'm not sure how to pronounce it. It's got yeast in it. Like, for bread."
"Oh," he said, perking up at the word bread.
We leaned against the counter and watched as the bubbles slowly dried out.
Tick, tick, tick. I shifted my weight around a bit. This was a lot like watching paint dry, but without the noxious fumes and I was a lot hungrier.
Eventually the glossy sheen was replaced by a soft, dull surface. Perfect, I said, scooping the finished flatbread up and taking a giant bite.
Mr. Picky's eyes got huge.
"You'll burn your …"
"Tongue..?" I interrupted, "Nah. Want a bite?"
He looked at the pocked surface carefully.
"Is it good?"
"Yeah, dip it in honey."I said, as I swooped it down into a bowl of golden goodness and passed it to him.
He winced in pain.
"It's hot." He paused, thought a moment and said "It's kind of like a pancake!"
"A little," I said, "But… better, since you don't have to flip it. I was thinking, since we don't know how to say it and since it is so ooh la la good,  we could just nickname it something romantic, like "la x.o.x."
"Sure," he said, took another bite, and gave me a hug and two kisses.
Djiboutian Lamb  & Rice (Skoudehkaris) [Recipe]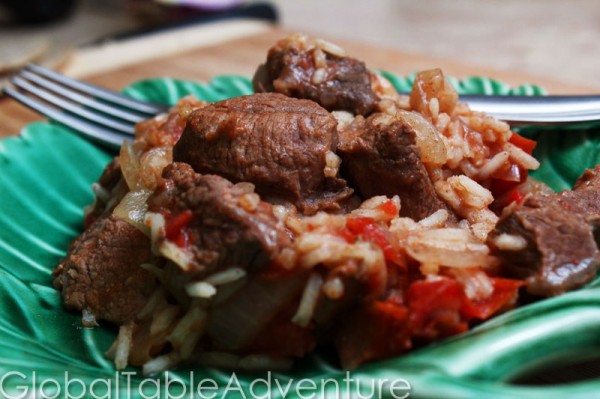 What I liked most about this dish:
This dish has nice heat to it – just enough to make me feel it, but not so much I could cry. I also liked that this was a one-pot meal, making clean-up a breeze. This is real "hungry man" food.
What I liked least about this dish:
Things dry out towards the end, so you really have to watch your water – add a little if needed to ensure the rice gets cooked well.
Rainbow Rice Palau (Dyed Rice) [Recipe]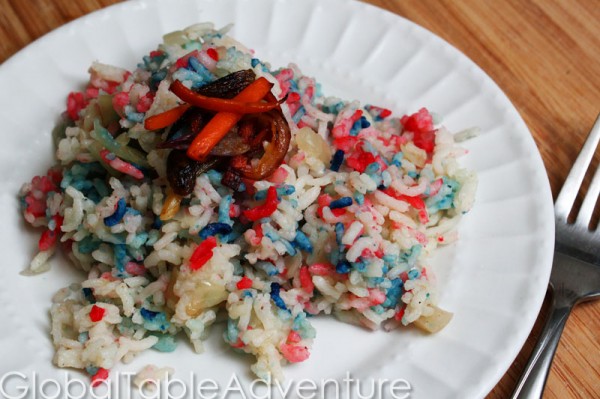 What I liked most about this dish:
First of all, I loved the flavor of this rice. Even if you don't dye it, this combination of spices is well worth your time. As for the color – I'm totally into making food festive. This was such an interesting concept that seems very western, and yet we don't do it here. Of course the colors are bright and it is easy to go overboard with them. I asked Mr. Picky if he liked it. He said "As long as I don't have to look at it." He added that the bright colors made him think it was a dessert and, when it wasn't, he was saddened.
What I liked least about this dish:
I had a little trouble with colors bleeding and learned a few tricks to help. First, don't overcook the rice. Mushy rice is wet and bleeds. Second, be sure you let the rice with color on it set for five minutes or so. Once the steaming stops, it will have absorbed quite a bit of the liquid color, making it less likely for the colors to bleed.
Yeast-Risen Flatbread (Laxoox) [Recipe]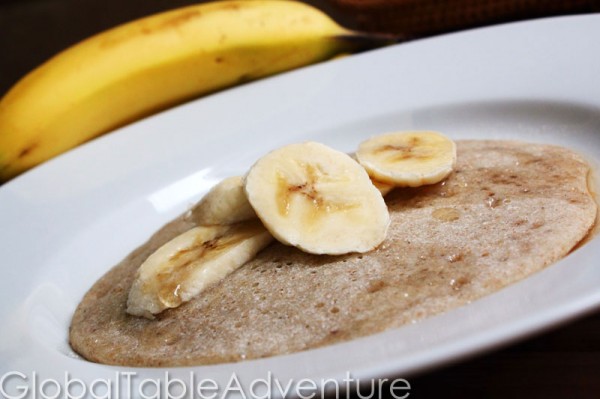 What I liked most about this dish:
Laxoox was great. The tangy, whole wheaty flavor was lovely, especially with butter.  I particularly enjoyed how the bread doesn't get flipped, leaving the neat open air-bubble pattern. I liked it best as a "breakfast" food.  With bananas and honey drizzled over the top, I started to feel like I was eating some sort of pancake.
What I liked least about this dish:
They take a while to cook – I think these would be better for an intimate breakfast for 2-3 people. The first time I made them (yes, I've already made them twice) I waited too long to eat mine and they got a little cold. If you are trying to feed a group, be sure to keep them in a warm oven until they are all made. That way even the cook gets a hot one. Another trick – warm your plates in the oven as well (if they are oven safe). One other note -they seem to stick to each other a little when stacked. Perhaps you can spread them out on a cookie sheet until you are ready to eat them.
Ava's Corner