Today really is a happy Saturday! I've been smiling, ear to ear, reading your entries to our book giveaway. I am impressed with all of you; what Adventurous foodies you are! Thank you for participating, reading, and being my online buddies. I'm the luckiest girl in the world
Random.org chose the winner for me (thank goodness because otherwise I would have never been able to)
Congratulations to Katie!
Katie said:
I love experimenting with different recipes and incorporating new ingredients. I think it is important to not only expose our children to different cultures and tastes but also that variety makes for a healthier diet. This summer we grew thai chiles, tomatillos and asian green beans in our Maryland garden.
Contact me at sasha @ globaltableadventure dot com to claim your prize – one copy of Linda Bladholm's book Latin & Caribbean Grocery Stores Demystified! Yay
And now for a couple of videos:
First, beautiful Colombian Ceviche and other dishes. The use of citrus is ubiquitous.
httpv://www.youtube.com/watch?v=WPUUnWLrzNk
And, did you know, 900,000,000 kg of coffee is exported from Colombia each year (wow!) … watch the harvesting process:
httpv://www.youtube.com/watch?v=evCf7YYZk3w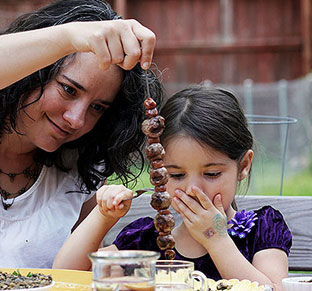 Hungry for more?
Be notified when National Geographic releases my memoir.
Simply fill in your details below.