Serves 2-3
This is an Austrian's answer to Mac and Cheese. Totally wonderful and, as a bonus, vegetarian! One taste and you'll want to move to Austria.
Ingredients:
2 eggs
1/2 cup milk
1/2 tsp salt
1/2 tsp pepper
1 1/2 cups flour
1 Tbsp butter
1 onion, sliced thinly
1 cup shredded Gruyère cheese (or more to taste)
Method:
1. In a large bowl, combine eggs, milk, salt, and pepper. Add flour a 1/2 cup at a time. Stir with a wooden spoon until smooth. Let rest 10-20 minutes. The dough should be like pancake batter – thin with more milk if necessary.
2. Meanwhile, saute onion in butter until golden. Set aside.
2. Preheat oven to 350. Drop nocken through the holes in a sieve (see techniques) into simmering water. Cook until the nocken float.
3. Remove the nocken from the water with a strainer. Place in a buttered casserole or oven-safe pan.
4. Sprinkle with grated cheese and caramelized onion. Bake for 15-20 minutes. Serve out of pan.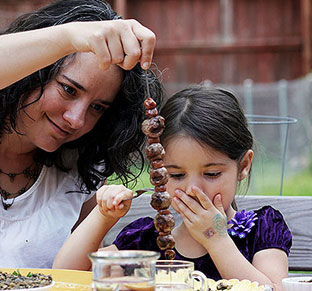 Hungry for more?
Be notified when National Geographic releases my memoir.
Simply fill in your details below.