"What did you call me?"
"Sausage-gobbler!"
"Why, I oughtta!!!"
"No, no! It's a compliment in Austria!"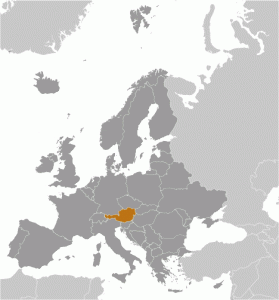 Austrians appreciate good, meaty, fried, stick-to-your-ribs-after-a-day-of-hiking-or-skiing food, followed by so-decadent-they-should-be-illegal pastries and desserts.
True, modern Austrians trend towards eating a more healthy, low-fat diet. However, traditional Austrian diners are affectionately referred to as Wurstfressers (sausage-gobblers). Wurstfressers are Austrians who enjoy so much of the country's high-fat meaty, fried foods that they get huge pot-bellies.
Austrians typically eat a prodigious amount of delicious but rather unhealthy fare, rich with meats, cheeses, potatoes, and dumplings, which makes the Austrian dinner table a delight but which also contributes to a high national incidence of heart disease and other diet-related health problems.

Source: Austria, Alan Allport
The most popular meat dishes in Austria include weiner schnitzel (breaded and fried pork or veal), Backhendl (fried chicken), Zwiebelrostbraten (roast beef smothered in fried onions), and Tafelspitz (boiled beef in horshradish). Meat is usually served with potatoes or dumplings. Popular vegetables include cabbage and sauerkraut.
Bacon, referred to as "speck," is used in many dishes as a salty/spicy element. This certainly contributes to the high incidence of heart disease in Austria.
Hunting for game is a popular pastime in Austria thanks to the incredible land:
– 75% of Austria is Alpine mountain.
– More than 66% of Austria is meadow and woodland, making the it the most densely forested nation in central Europe.
– There are more than 35,000 miles of hiking trails.
More interested in sweets?
Austria does not dissapoint when it comes to sweets. The three most famous desserts are the infamous Sachertorte (the Sacher Hotel's rich chocolate cake with apricot filling – the original, secret recipe is so protected, its been the subject of a famous lawsuit!), Linzertorte (almond shortbread with jam and lattice top – named after the town of Linzer), and Apple Strudel (apple and raisin filled pastry). Enjoy any of these desserts with a good cup of coffee and you'll be living the Austrian café lifestyle!
Yum, I'm looking forward to this week's Austrian Global Table!