"You just might do it wrong," said the little squeaky voice inside my head.
I looked up from the Empanadas recipe and frowned.
"I've made little filled pastries before." I replied, "Just cut circles, fill with meat, fold in half, and seal the edges with a fork. Easy!"
"There's probably a proper way to make empanadas," said the voice, a little louder. "You should find out, before you make a fool out of yourself."
The voice inside my head became louder still, chattering on until I admitted defeat. The voice was right – I needed to find out once and for all.
Fast forward through several google searches and YouTube videos (seeing as my cookbook was no help in this area).
Wouldn't you know, there actually IS a proper way to shape empanadas and it does NOT include sealing the edges with a fork. The method is to "repulgue," or roll the edges to make the appearance of a two strand braid.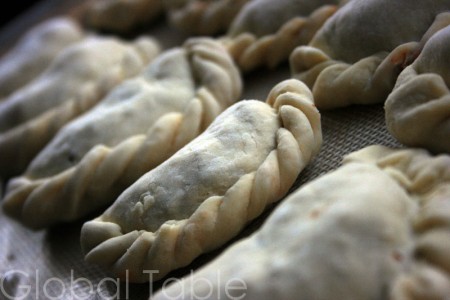 As fate would have it, an Argentinian blogger living in Paris just happened to blog about this very technique 12 days ago! Huzzah! That's what I call good fortune 🙂
Here's her lovely video, demonstrating how to "repulgue" an empanada.
Edited to add: Here's our very own video on how to do it: