This week at the Global Table we're eating like Angolans, lovers of hot and spicy food. I've never cooked with Habanero peppers, so I am eager for this challenge. Hopefully I don't burn our mouths off!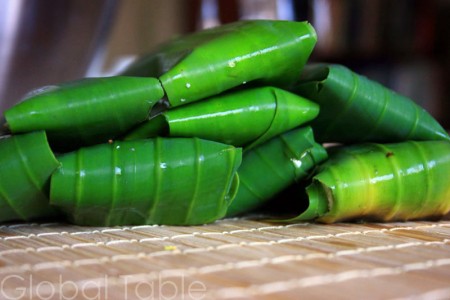 Camarao Grelhado Piri Piri (Grilled Prawns with peppers) [Recipe]
Marinated Prawns in garlic, green onions, cumin, and habanero peppers
Muamba de Galinha (Chicken Stew) [Recipe]
Chicken seared in red palm oil, then stewed with pumpkin, okra, onion, tomatoes, and habaneros
Baton de Manioc/Chikwangue (Cassava Sticks) [Recipe]
Cassava (also known as Yuca) is soaked in water for 3 days, then ground into a paste and steamed in banana leaves.
Cocada Angolana (Coconut Dessert) [Recipe]
Use fresh coconut to make this pudding-like dessert.